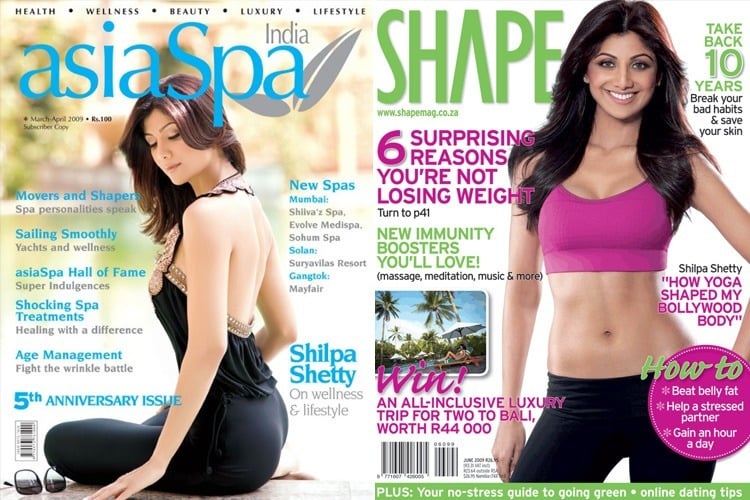 How would you call her? An ace Bollywood celebrity, a health-yoga-and-fitness guru, a wellness diva, a hot and sexy mother of one, actress to have judged the dance reality show "Jhalak Dikhlaa Jaa" or simply by Shilpa Shetty magazine cover.
Take a Look At Shilpa Shetty Magazine Cover Photos
Yes, her slim bod and beautiful skin has enough potential to be written online and in newsprint. But it is Shilpa Shetty magazine cover photos that emerge as a scene-stealer, no matter the year or the name of the magazine.
Ever since she started off with her first role in the film Baazigar with SRK, Shilpa Shetty has turned a sexy lady whose hot body and curves have made her an unchallenged fashion icon. And her marriage to Raj Kundra has never come in her way of acquiring a waistline to die for.
[Also Read: Lisa Haydon Magazine Cover Looks]
Come let us do a spot selection of a list of magazine covers featuring Shilpa Shetty that had everything in it, from her looks and talent to international feel oozing out in full steam.
Femina, December 2015
There is certain uniqueness about this Shilpa Shetty magazine cover. In the fact that she is a hottie at 40 despite her entrepreneurial skills, looking after her baby boy and managing busy schedules all in one go. That's why this yummy mummy knows how to beat the age as she looks radiant on Femina cover.
Hi Blitz! January 2014
B-town mommies are setting an example to follow and Shilpa Shetty magazine cover of Hi Blitz! January 2014 is ample proof.
Such is her feminine grace on the magazine cover of Hi Blitz! that she looks a prima donna in a commanding position from head to toe.
Masala, October 2013
In this magazine cover of Masala, Shilpa Shetty reveals how she was depressed with her post-baby bulge and how she regained her fab figure. This Shilpa Shetty magazine cover is a reference point for all celeb and hi-gentry moms who wish to get back into shape after maternity blues.
Hello! India May 2013
Amongst the list of magazine covers featuring Shilpa Shetty is the one of Hello! India which shows our beautiful damsel in a white cropped top and loose sexy pyjamas. And then there is her cute son Viaan Raj Kundra who looks super cute in a crisp white suit having a cool pocket square, denims and uber cool moccasins. This mom-son equation on the cover looks so stylish and picture perfect, it is hard to miss a glance.
Harper's Bazaar India October 2009
This celebration issue of Harper's Bazaar showed Shilpa few months prior to her impending marriage to Raj Kundra.
As it so happened, this issue focused on the best in bridal buys and everything related to wedding shopping.
[Also Read: Sassy Sonakshi Sinha Magazine Cover Looks]
Vogue India June 2009
Shilpa Shetty Magazine Cover Photos on Vogue India June 2009 issue show her in a teeny weeny denim mini skirt. Looks like she did full justice to getting this body shape given the hours she spent in the gym and doing yoga. This is one reason why her rocking body is the envy of many B-town heroines and wannabees.
Grazia May 2009
Meet the doll and dolly of Bollywood as you lay your hands on Shilpa Shetty magazine cover of May 2009. Her sense of cool composure speaks volumes as Shilpa does a bit of talking in this issue on her boyfriend, her IPL cricket team Rajasthan Royals, not to forget the secret behind her ultra slim hot body.
[sc:mediad]
Hi! Living April 2009
Meet IPL's Glamour Girl Shilpa Shetty who dresses up for cricket on the cover of Hi! Living magazine. You can't miss out on Rajasthan Royals' t-shirt that she wore with a rossette corset and sequined pads.
Cosmopolitan June 2007
Who steals the show in Cosmopolitan June 2007 issue – Ms Shetty or her revealing bathing suit? I think both.
Tell us which Shilpa Shetty magazine cover kept you in attention for the picture value and the dress.