With the GES,2017 concluded, a throwback to Ivanka Trump's India visit is imperative. While the summit was a success bringing to spotlight the budding entrepreneurial energy in both the nations, Ivanka Trump's wardrobe choices for the three-day summit seem to have raised eyebrows.
While some claim that the Indian influence in her dress up was meant more to be politically correct than a testimonial to the rich Indian culture and heritage.
Ivanka's authentic intention has been put to question primarily because the woman instead of wearing silhouettes made in India opted to wear garments sourced from other countries that boasted of Indian influence and were more of a result of their fantasy about India.
The daughter of U.S President Donald Trump, also an advisor to the President was here as the head of the U.S delegation representing women across nations, considering "Women First" was the core foundation of the summit this year.
Be it from India or having an Indian influence, we have to admit we wish to applaud Ivanka's tastefully done formal wardrobe which appeared as a synergy of the cultural and colorful India. We also appreciate Ivanka for opting to go more demure and covered up thereby honoring the more conservative Indian culture when compared with the U.S.A
Over a period of Ivanka's 2 and a half day stay in Hyderabad, India the woman wore a total of 6 looks. Here's all Ivanka Trump wore during her first visit to India.
For her touchdown in India on Monday evening, Ivanka Trump layered up in a black Tory Burch "Sylvia" jacket. The black jacket escapade was adorned with beautiful mother of pearl embroidery. The lady surely attempted to make her initial appearance at Hyderabad special by wearing pearls to the city known as the "City of Pearls".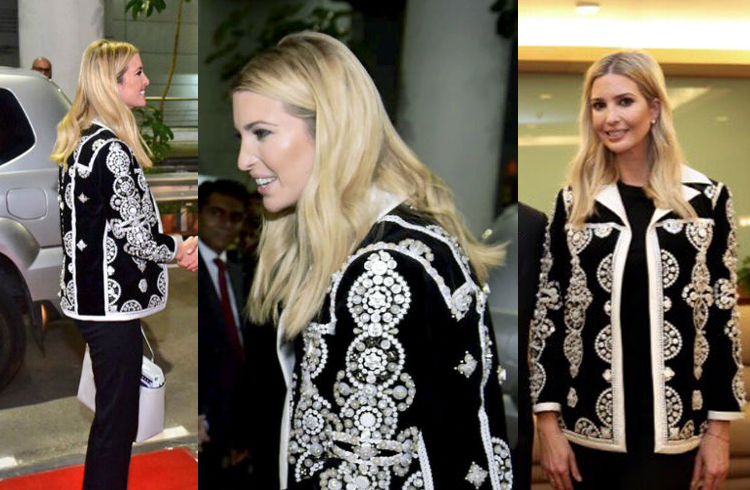 For the first day, the inaugural day of the 3-day summit, Ivanka Trump dressed up in tea length dress from Erdem. The green brocade dress adorned with pink and yellow flowers looked pretty on the lady leading her troop. The dress boasted of an impressive keyhole neckline drop-down panels. Ivanka completed her look on the first day with a pair of black mules from Zara.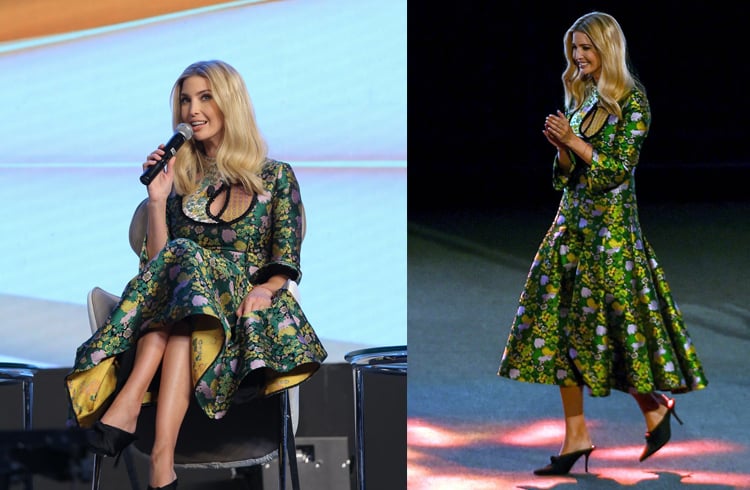 At a dinner hosted at Taj Falaknuma for the delegation later that evening, Ivanka Trump was sighted in an elaborate gown from Tory Burch. While rumors about Ivanka wearing a Neeta Lulla saree that was specially made and gifted as a welcome gesture did much rounds, Ivanka shone to the dinner wearing a long-sleeved gown in midnight blue covered with overall golden floral embroidery.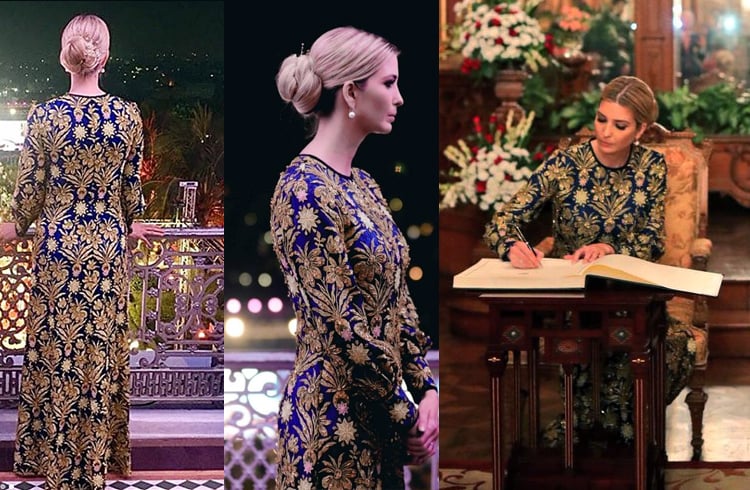 For her day 2 at the eighth edition of the GES 2017, Ivanka opted to wear a pretty dress in red from a Bombay born by based in London designer Saloni Lodha. The print boasted of an Indian influence and the black fringes added on to its beauty.
[sc:mediad]
A tour of the Golconda Fort marked the end of Ivanka Trump's India visit. For her day out with the U.S delegation at the fort, Ivanka dressed up in a monochrome dress from the house of an Indonesian designer Biyan Wanaatmadja. Ivanka paired her black and white dress with a pair of white ballerinas.
For her departure back to U.S, Ivanka dressed up in an Indian inspired A-line kurta dress in white and green.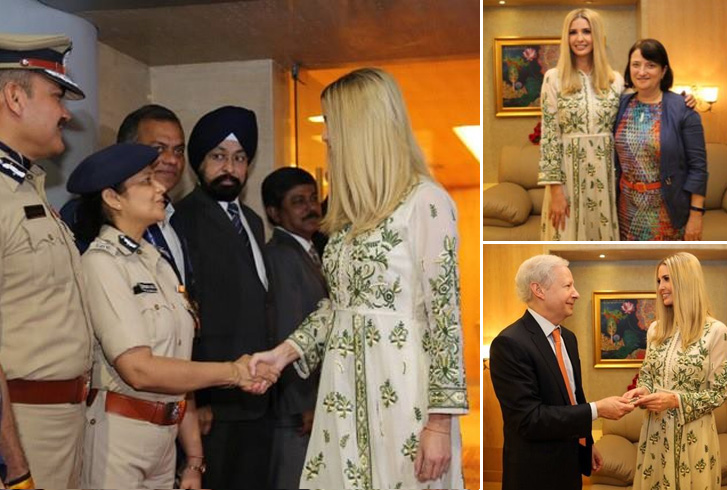 While the debate on her trip closet continues, Ivanka Trump surely made for a fashionable India visit.
Images Source: instagram