With summers a few days away, we ladies have to get our summer wardrobe ready. From linens to beachwear to sun-proof cosmetics and suntans, ah yes the hats, the range grows as we count. Let's not miss out on the waterproof gear too.
Can fashion be waterproof?
Well, umbrellas aren't boring anymore so why should your watches be? That takes me to tell you about 10 best waterproof watches for women.
If you find yourself in water most of the time, indulging in water sports, or loving and playing with water in the pools, you need a waterproof watch.
The waterproof watches might give you the idea they are lacking in style because of their waterproof tag, but that doesn't mean you are wearing something boring. The watches for women are getting a cult status. Ditto with a waterproof watch for swimming.
So let's keep our notions and fears aside and get ready to shop for 10 best waterproof watches for women. Happy playing with water! Not the watch.
1. Armitron Sport 45/7012 Digital Chronograph Watch
Water resistance – 100m (330 ft.)
Band color – Blue/Silver and Multi-color
Resin band with buckle closure
Digital dial with day/date display
27 mm case with acrylic dial window
Chronograph, dual time, and backlight
Polished top ring and tonal pushers
Suitable for swimming and snorkeling, but not diving
Should only be opened by a qualified watch technician
Seen as best product for nurses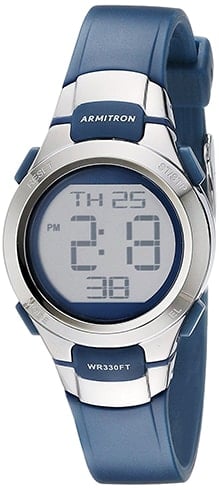 2. Casio Women's Stainless Steel Watch
Water resistance – 100m (330 ft.)
This girls waterproof watch is available in White and Multi-color
12-hour indices, small 24-hour indices, and date window at 3 o'clock
33 mm resin case with mineral dial window
Japanese quartz movement, analog display
Resin band with buckle closure
Suitable for swimming and snorkeling, but not scuba diving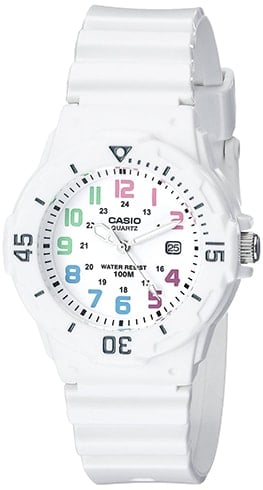 3. Timex Ironman Essential
Water resistance – 100m (330 ft.)
Countdown timer and alarm
Easy to view at night with INDIGLO night-light
100-hour chronograph with a 10-lap recall and 100-lap counter which you can stop, start or restart
Shows easy-to-review data after your workout.
The entry-level functionality of the Timex Ironman line.
Offered in multiple colors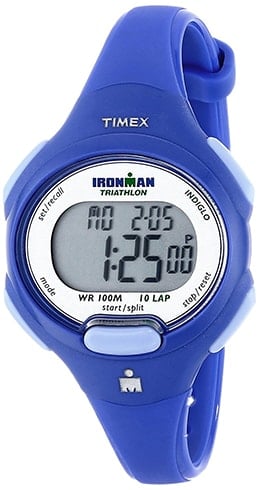 4. Tommy Hilfiger Women's Gold Plated Watch
Water resistance is up to 30m (99 ft.) so not recommended for swimming
Most fashionable product and elegant
Compliments any color of clothing or jewelry
Number-engraved bezel with Arabic number markers,
Gold-tone stainless steel band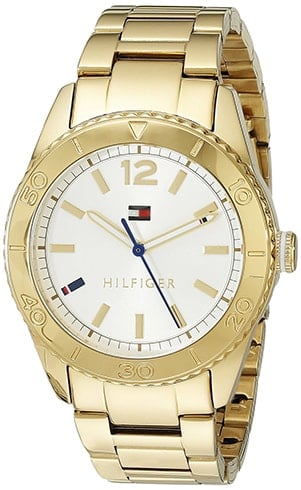 5. Fossil Riley
Water resistance – 100m (330 ft.)
Scores high when it comes to product design. In fact, Riley watch is one of the best water resistant watches today, without sacrificing on style.
Stainless steel, push-button closure
37mm stainless steel case
Crystal-embellished bezel
Three chronograph sub-dials
2 Years International Warranty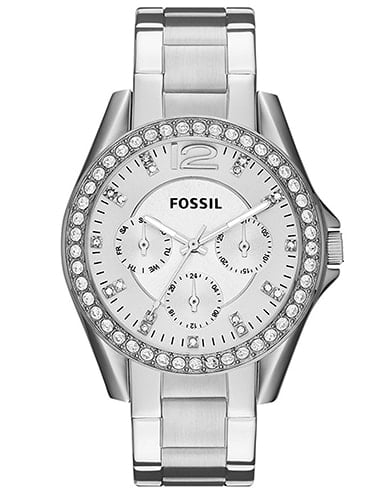 6. Marathon by Timex
Water resistant up to 165 ft
Eye-catching mix of black, silver, and violet
[sc:mediad]
Not suitable for snorkeling but you can wear it in the shower or on a swim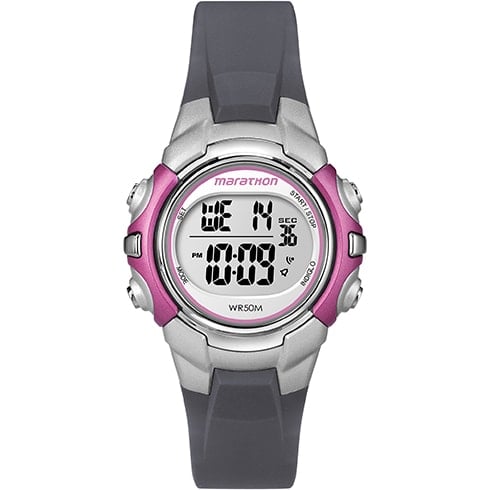 7. Casio G-Shock Atomic Solar Watch
Water resistant up to 200 meters (656 ft.)
Fully automatic EL backlight with afterglow
Four daily alarms with a fifth snooze alarm
A 1/100 second stopwatch, an hourly time signal
Countdown timer, a calendar, 12 and 24-hour formats
Highly recommended even for scuba diving
Solar powered, tied to the atomic clock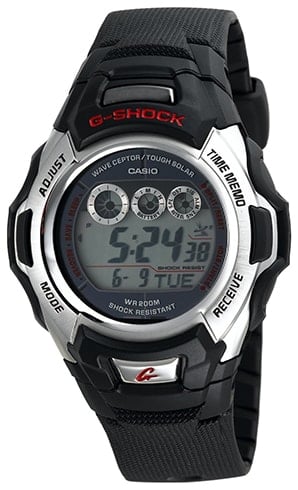 8. Timex Women's T5K8139J "Ironman" Blue Digital Display Watch
Water resistance – 100m (330 ft.)
Tough-looking watch that looks like the tread on a tire
99-lap counter and a 30 lap memory recall
24-hour countdown timer, and 100-hour chronograph
Comes in three color options – black, purple and yellow
Has an occasion mode which lets you store up to 15 different events (that's a bonus point for athletes)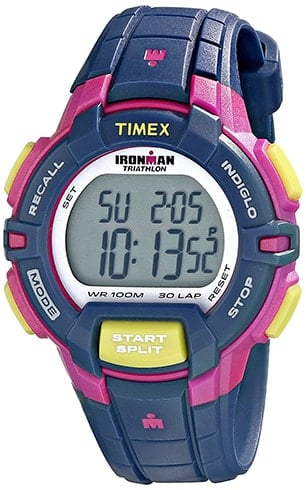 9. Armitron Sports Women's 45/7051 Digital Jelly Strap Watch
Water resistance – 100m (330 ft.)
This ladies waterproof watches come in four different colors: blue, pink, purple and clear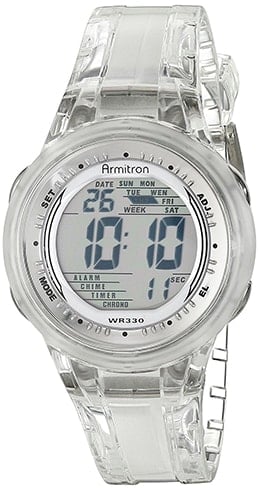 10. Timex Women's T5K187 Ironman Essential Pulse Black/Purple Resin Strap Watch
Water resistance – 100m (330 ft.)
Sports Stopwatch with Pulse Calculator
Durable Resin Strap with Buckle Closure
Indiglo Light-Up Watch Dial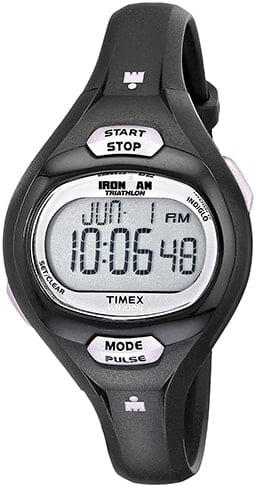 How to make out which waterproof watches are good to go? The next section tells you that.
Buyer's Guide For Best Waterproof Watches For Women
There is a lot to consider before you make the final purchase in women watch brands. Here is a quick buying guide which will make your job easier:
Style
It's a myth that waterproof watches always come in sporty styles. They also come in sophisticated and elegant shapes. Bottomline – there are gorgeous watches that don't look waterproof, but they are!
Durability
Do you plan to use a watch for a long time – even while swimming in the pool or in the ocean? Then remember that salt water and chlorine in the water bodies can wear down or stain certain watches. So do check out the waterproof watches and try to find out what it consists of.
Functionality
Since its a waterproof watch for swimming, style might be important but what is equally significant are the functions – stopwatches, timers, or just alarm. Depending on your comfort level vis-a-vis the waterproof functions, buy a waterproof watch. The watch should not look and feel to be overcomplicated.
Price
Just because a watch is high-priced doesn't mean it's going to provide you all the features you are looking for in a waterproof watch for swimming. Know what you want first, and what the watch can provide you.
Type
Analog or digital – which type of watch is your mind fixed on? Some users are not comfy finding out the time in an analog watch because they are more used to their smartphone digital display.
Though the analog displays look more elegant, sophisticated, and expensive – but they can be problematic for users with poorer eyesight. Keep your comfort factor in mind while buying waterproof watches for yourself or gifting.
Hope you got a fair understanding of how to go about buying ladies waterproof watches and women watch brands.
Want to go one step ahead?
Watch this video which explains waterproof markings. This will help you clear your mind:
So all you adventure-seeking ladies, how did you find these 10 Best waterproof watches for women and women watch brands? Is there any of these ladies waterproof watches that you possess or wish to buy? Tell us in the comments below.