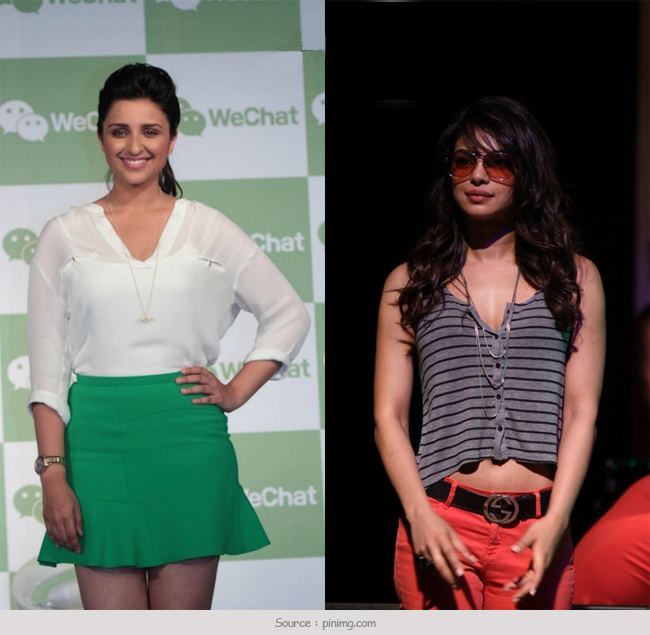 Bollywood stars are like 'The Mega Stars'. I wish I could say the same about their personal sense of style as well. Of course everyone has their own stylist now but that solves only half their problem. Some of our Bollywood stars have a poor taste of fashion and they add on it to it by pushing it too hard to dress right. That's where their game plan falls apart.
There are some of our movie stars who have dressed hazardously at several occasions that we had to bring forth.
1. Parineeti Chopra
I have never seen Parineeti Chopra in a 'wow' dressy moment. That one appearance at the Toronto Film Festival was enough to explain everything. Nothing is right – from the cherry lips, to the slick hair, to the black and white ensemble. She should have chosen to be more spontaneous and gone color bold.
Yet again she wore this rather frumpy outfit in the IIFA 2014 Green Carpet. I don't know what she was thinking when she chose to wear this hideous dress. Well she could have avoided all bad reviews by simply wearing a plain dress. That definitely would have made more sense.
2. Aditi Rao Hydari
Aditi Rao Hydari may not always be listed among the bad dressers list but even she's had her oops moments. At the finale of the Kingfisher Supermodels Contest, she chose to wear a dare bare halter neck crop top. There is nothing wrong with the whole outfit, but it just didn't strike the right chord. It does nothing for her petite frame.
The suit ensemble she sported at IIFA 2014 is downright boring. A plain white or black would have actually done the trick!
3. Priyanka Chopra
Quite recently when Priyanka Chopra went onstage to launch her new single in Mumbai, she garnered a lot of attention for all the wrong reasons. She looks presentable but unfortunately her sheer fabric skirt couldn't hide away everything that was underneath it.
And in another popular Television channel show, she put up a blackZadig et Voltaire dress. No complaints about the dress but when the cameras started rolling, it captured everything under the dress which was visually not so inviting.
4. Prachi Desai
Prachi Desai has a poor taste in fashion and she seriously needs some tips on how to dress right. She hits the extreme button of sweet and sexy every time rather than putting on something that is comfortable for her skin. Seen in the picture is her dressing down moments. The leopard print dress with minute detailing does not match her personality at all.
[sc:mediad]
The golden dress work at Apsara Award Ceremony has peacock sequin embellishments which look pathetic with the slip-of-the-toe-moments.
5. Mallika Sherawat
Lately, Mallika Sherawat is getting more attention days for her bad dressing rather than her non-existent movies.  Her Dolce & Gabbana lacey number is too boring for the eyes. And the pale yellow dress is enough to list her in the category of the most-boring-dressed celebrities.
6. Vani Kapoor
Guess both the actresses of the movie, "Hasee Toh Phasee" want to fall in this category. Vani Kapoor made it a little awkward for the press by revealing a little too much in a saree. Her deep ill-fitted blouse not only exposed too much skin, but also had almost an oops-moment when she bent down to adjust the sari. Althought she looked out-standing in her Kanjeevaram saree, glass bangles, brocade blouse, flowers around her hair and traditional jhumkas, the horrid moment cannot be forgiven.
Bollywood celebrity designers must also watch what they deliver to these celebs and make sure it suits their personality. These celebrities need to carry off the outfit with most style and comfort as it not only reflects on them, but also on the designer brand label as well.
Watch this space for more. Everyone does have their bad moments but Bollywood leaves a lot of room for blunders. They ought to discover what look suits them the best rather than experimenting with every look.
Tell us what you think about these celebrities and if you have come across any other badly-dressed Bollywood celebrities.