Natasha Poonawala, a billionaire wife, a socialite, an Economics graduate from the London School of Economics, a foodie and a 'simple at heart'. This daughter-in-law of the Poonawallas, the lady has one more hat that she dons, of a fashionista, a true Diva. With a generous heart, Natasha Poonawala believes in giving back to the society in whatever way possible and also having a cupboard of designer pieces she adores. A girl can never have too many clothes, shoes and in this case too many hats too.
We steal a look from her fashion moments, her moments of glitz and verve.
Natasha Poonawala: A Closet Full of Labels
Natasha Poonawala is the perfect example of a designer queen; she owns her labels and does full justice to the pieces she wears. From Louboutins, Paco Rabane, Dior, Givenchy to Manish Malhotra and Sabyasachi, she wears them all. Each time she makes an appearance, the paparazzi is all set to find that teeny bit of a fiasco in her fashion quotient and are disappointed every time. She wears them all like second skin and so shall we believe.
1. Natasha Poonawala in a classy monochrome floral gown at Kokilaben Ambani's 80th Birthday Bash
2. Natasha Poonawala in a silver constructed Paco Rabane dress designed by Manish Arora for spring 2012, she looked her dazzling self at Lakme Fashion Week S/R 2013.
3. Natasha Poonawala in Mary Katrantzou's fall 2012 at Grey Goose Style Du Jour Party, Natasha got the gown altered into a dress and paired it with black Louboutins and the perfect hair and the glossy pout.x
4. Natasha Poonawala sported Indian for a number of occasions choosing her favourite Indian designers all the way. The first Anarkali lehenga cum gown is by Manish Malhotra for a celebrity's Sangeet function. The second fearless lehenga by Sabyasachi Mukhrjee was worn by her for Kareena wedding functions. The third one is by designer Varun Bahl that she wore for the Swades Foundation Event. She definitely knows how to dress to occasions, classy and fabulously.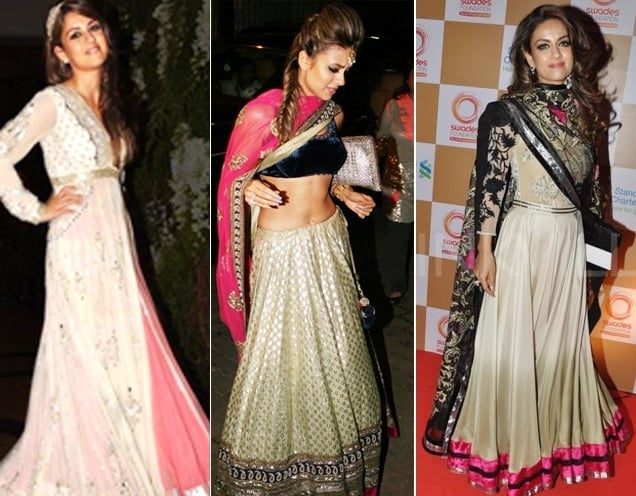 [sc:mediad]
5. Natasha Poonawala for the am FAR gala, Dior was her pick. With the clean neckline, her diamonds, her hair and her better half by her side, she sure looked like the "billion bucks".
6. Derby Love – Every single time, Natasha Poonawala makes sure she has a noticeably fantastic head wear with a matching sense of style and fashion. For McDowell Signature Premier Indian Derby 2014, she wore a red sleeveless jumpsuit by Roland Mouret, looking her phenomenal self. Her derby look is incomplete without her right accessories, in this case, her bag and her sunglasses. Natasha Poonawala at the HELLO Classic Derby Race in Mumbai decided to wear Dior and platform pumps to go with her elaborate and beautiful hairdo.
7. Golden Girl – At a party to celebrate Pallavi Jaikishan's 42 years of being a part of the fashion world, Natasha Poonawala wore a glittering gold Givenchy dress and elegantly paired her attire with complimenting black pumps and the Givenchy clutch.
8. A regular at the fashion weeks and shows, Natasha Poonawala was dressed in an Alexander McQueen cut out dress for Manish Malhotra show Summer 2014. She looked exotic in her carefully messed up hair and the Valentino lock clutch bag.
9. Hats Off – We love Natasha Poonawala for her artistic and classy head wear at each one of the Derby events. The fascinator in the first picture is from the Mid-day race. The bee hat was a bold one that she wore with a red jumpsuit.
10. Hubby Brigade – We have seen how much of a fashionista Natasha Poonawala is and she looks even more radiant when at rams with her billionaire husband, Adar Poonawala. At Amitabh Bachchan's 70th birthday bash, she was stealing light in the off shoulder rich black gown. Natasha and Adar Poonawala at Forbes India Trophy, where she wore a grey tank with the gorgeous Lanvin skirt. What we love: that she paired them with blue pumps and aviators. Simply awesome! At the Hello hall of fame awards 2013 held in Mumbai, she was spotted wearing a hot pink strapless number which was a little unflattering yet she pulled it off with her gracious self.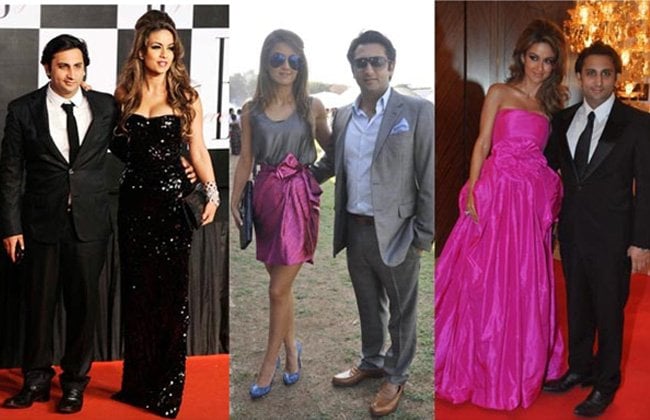 11. At the 25th Anniversary Fashion Show of Vikram Phadnis, Natasha Poonawala wore a black saree. She carried an Alexander McQueen clutch and wore diamond earrings. Natasha Poonawala saree image is a treat to the eyes.