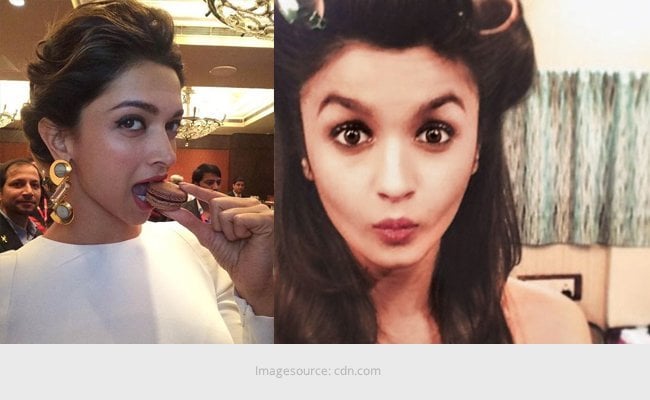 Ellen DeGeneres may have clicked the iconic selfie at the Oscars, but Bollywood stars have been way ahead on this trend. The selfie bandwagon is nothing new to Indian celebrities. Let's take a look at some of the best and most adorable Bollywood selfies.
1. New Princess on the Block
Alia Bhatt is the new Bollywood kid on the block. Whatever people may say, none can deny that she does look rather adorable. And if you can't get enough, her Instagram feed is full of her selfies with either her cat or her best friend.
Follow Alia Bhatt on her on Instagram @aliaabhatt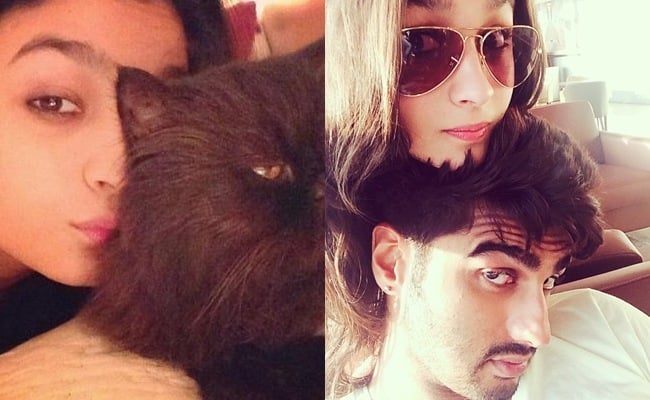 2. Epic Bromance
Ranveer and Arjun – Dhinadin dha! Need I even say more? This duo has rapidly become everyone's favorite pair of buddies. You even watch reruns of their hilarious episode of a certain coffee based talk show. You may secretly admit it only to yourself, but you want to see a lot more of this bromance. Well, here is an absolutely adorable picture that will just melt your hearts!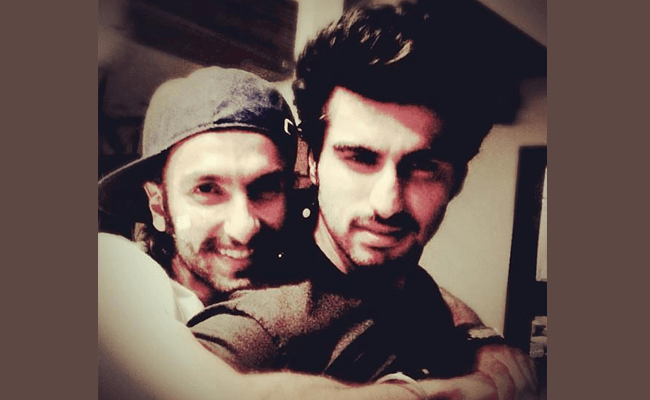 3. Feeling Exotic?
With her new found singing career and her long standing appeal as one of the hottest Indian actresses, Priyanka Chopra is all set to combust your screens through her sizzling selfies. Taken on the beach, while in the car on the way to a shoot or while travelling, her Instagram feed is full of these selfies.
Follow Priyanka Chopra on her on Instagram @priyankachopra.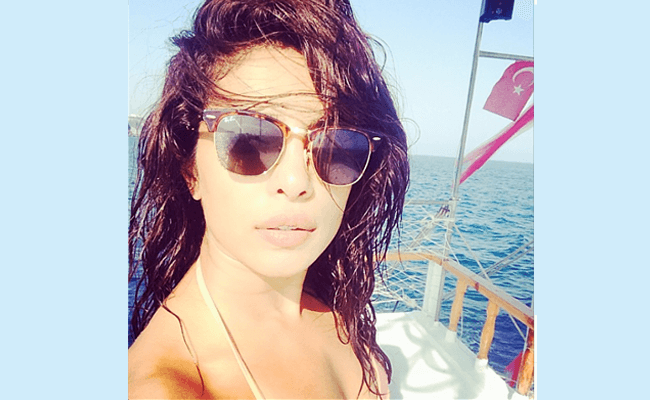 4. On Screen Chemistry
Bollywood actors Sonakshi Sinha and Akshay Kumar aka the Khiladi definitely have a great on screen chemistry. But their pictures look adorable too! Check out this selfie taken at the Dance India Dance little masters appearance.
Follow Sonakshi Sinha on her on Instagram @aslisona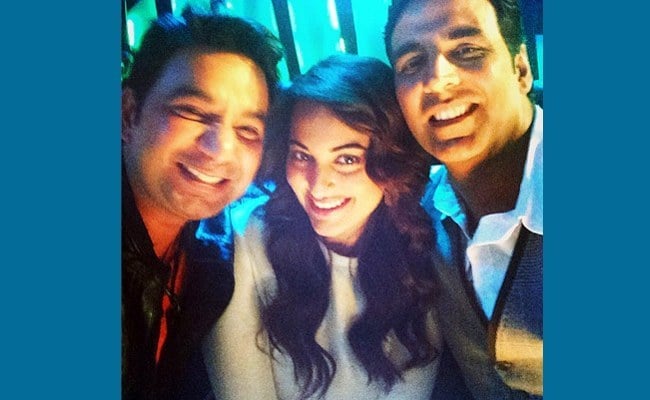 5. Two States
So we can't get enough of Alia and Arjun. During the shoot, Arjun photobombs Alia's innumerable selfies. Take a look.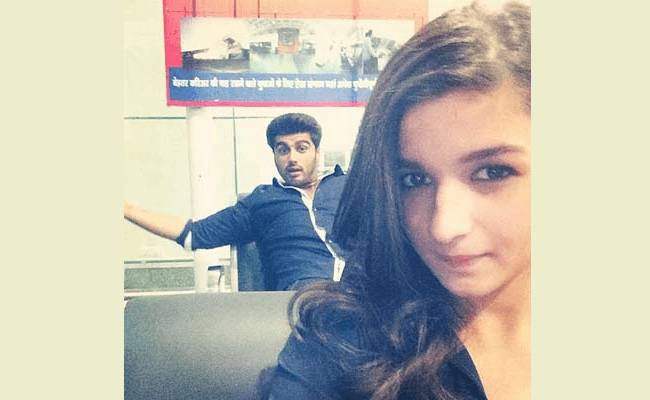 6. On Screen, Off Screen
Jacqueline may seem shy and reserved during her public appearances, but her Instagram page says otherwise i.e. full of love, friends and quirkiness. And of course, the selfies!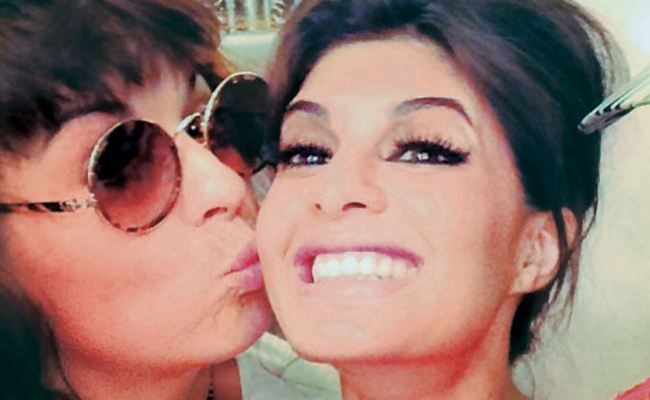 7. Selfie Queen
Sonam Kapoor's sense of style is great, so is her sense of the selfie. Her Instagram page, like many of the new age actresses, is once again full of self-love. But cute ones, so we don't mind! This adorable selfie of Sonam and Ayushman, may have us staring more at the boyish cutie, and we have to say, but it is one charming picture.
Follow Sonam Kapoor on her on Instagram @sonamkapoor.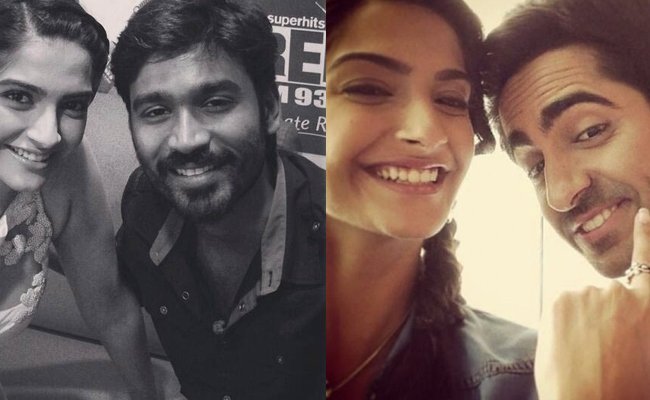 8. The Duo Selfie
While everyone was busy taking a group selfie at the IIFA awards, Hrithik Roshan and Vivek Oberoi had a little picture party of their own. After the success of their last film Krrish 3, they could also win for the swag in this picture.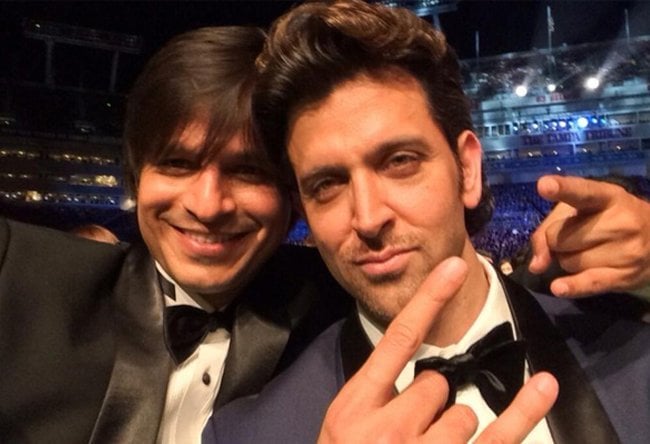 9. Get Real
Sonakshi Sinha is an actress who is as natural as she can be. With no airs around her, she really does seem like the-girl-next-door. And she isn't afraid to reveal her goofy self either. She doesn't mind being seen au natural. She put up this picture during her make up with dozens of clips and pins in her hair.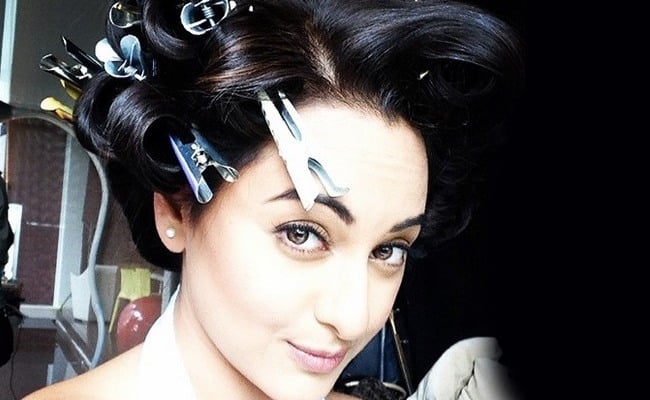 10. Bollywood legacy
It's quite a known fact that Kajol gets along splendidly with the gracious Jaya Bachchan. The two were spotted having a great time with little sister Tanisha, who made sure to capture the moment in a super happy selfie.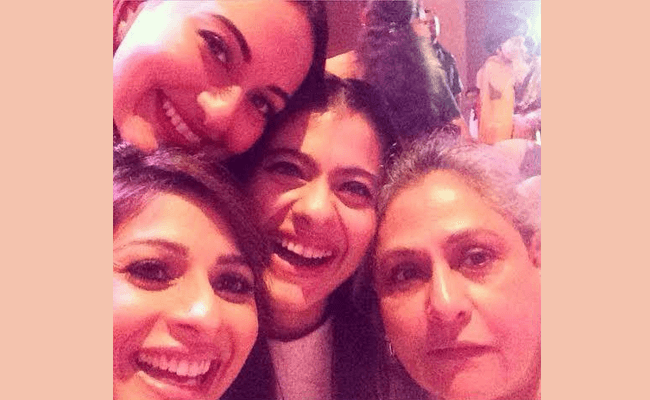 11. King of Bollywood
The selfie obsession has over taken all, and the king has not been left behind. The Baadshah is seen clicking a quick mirror selfie. The charm is still quite irresistible, we must say!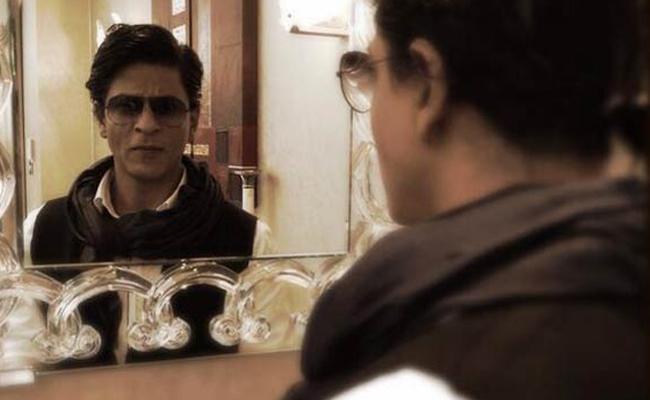 12. Bromance 2.0
Another bromance was launched by Karan Johar in his film 'Student of the Year'. The two male leads are known to be good friends, and their selfies together make that evident too.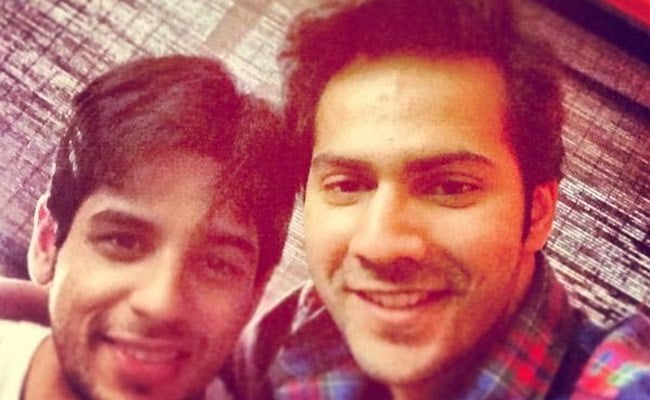 13. Dream Hunk
Isn't this a dream of every girl? Having Hrithik Roshan blow us a kiss? While his recent split from wife and high school sweet heart has left most of you heartbroken, an image like this is sure to get your spirits up. Now don't we all just wish this really happened to us?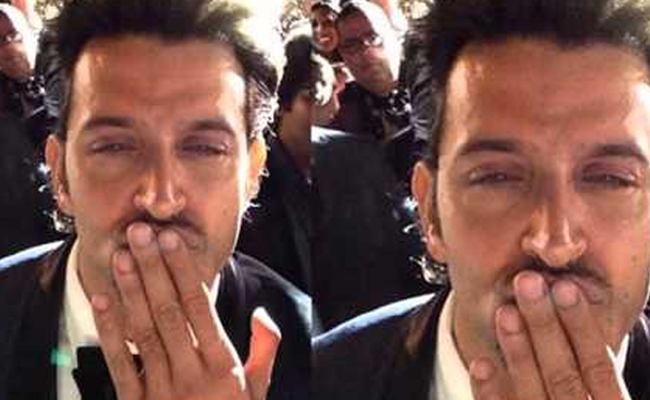 14. Chaddi Buddies
Nothing makes us happier than long-time friends pairing up for a quick selfie – Preity Zinta and Rani Mukherjee. Too bad that the screen couldn't fit in designer Manish Malhotra too.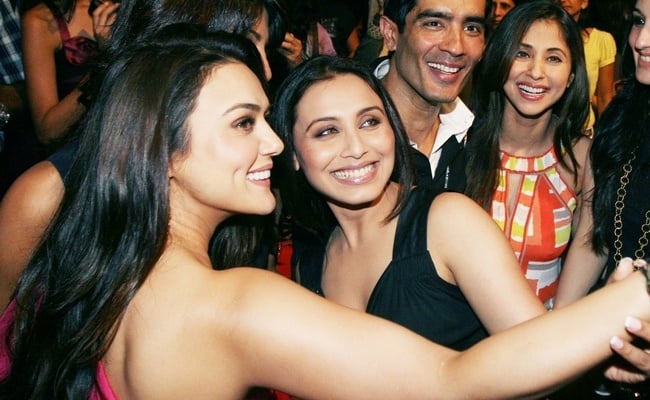 15. For My Fans
We cannot get enough of this gorgeous diva. Neither can her fans. And how nice is it that she stopped by to team up and give them a selfie. Way to go Deepika!
Follow Deepika Padukone on her on Instagram @deepikapadukone.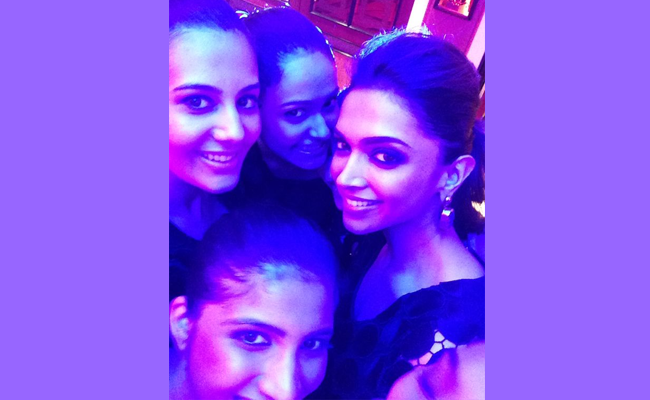 16. On The Move
Varun Dhawan gets one on the move with his 'Main Tera Hero' co-stars Nargis Fakhri and Ileana D'cruz.
Follow Nargis Fakhri on her on Instagram @nargilove.
Follow Ileana D'cruz on her on Instagram @iliana_official.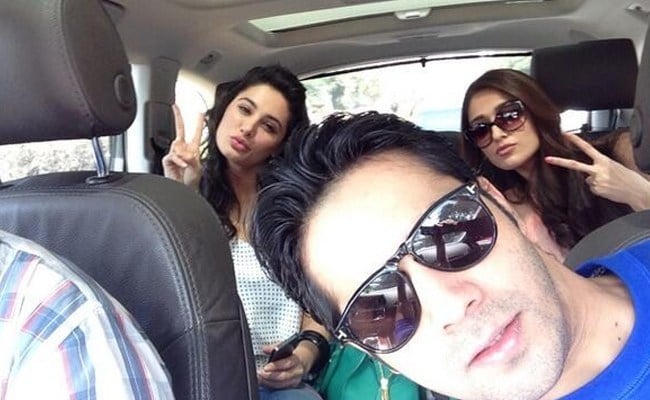 17. Spunky!
We absolutely love this candid shot taken at the IIFA awards by Sonakshi Sinha and Riteish Deshmukh. So much spunk in one picture!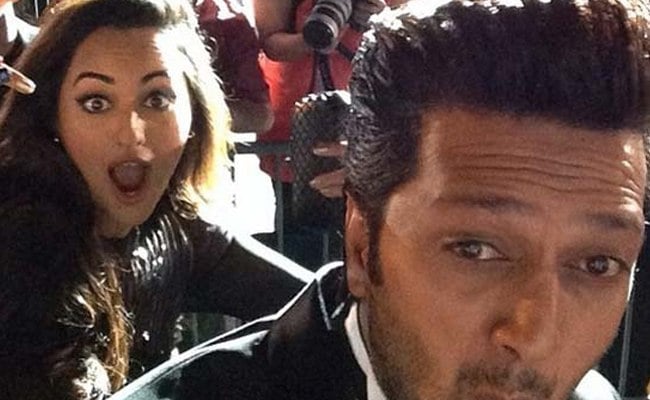 18. Tongue Twister
Poses and pouts are a thing of the past. Now is the time for the MAD selfies! And the tongue sticking out seems to be a favorite one. Here we see that Katrina Kaif and Jacqueline Fernandez are striking the quirkiness for their selfies.
Follow Katrina Kaif on Instagram @katrinakaif_official.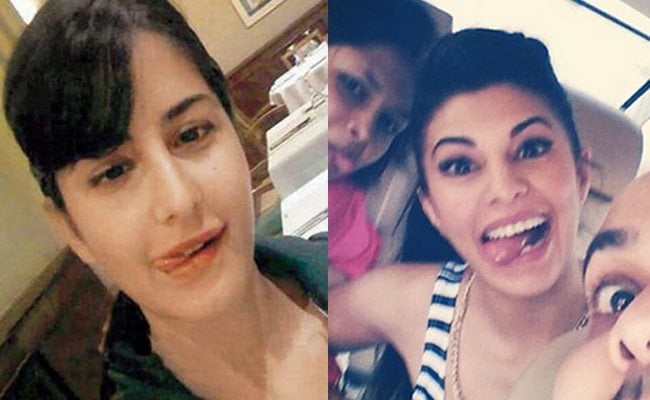 19. Stuck!
Stuck in traffic? No worries, just – Let me take a selfie! That seems to be a trend with our stars these days. Two such great ones were posted by Anushka Sharma and Ileana D'cruz. Hope to see many more.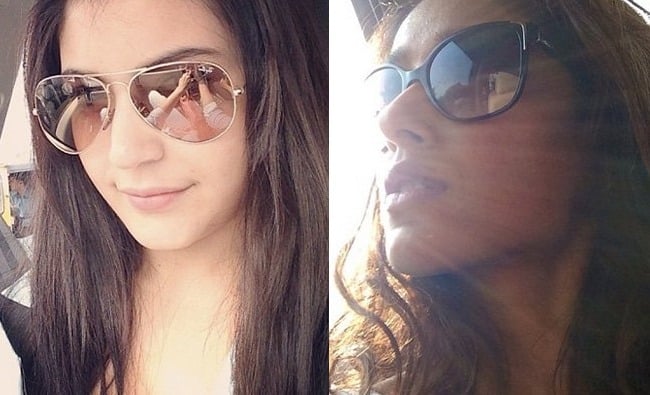 20. Classic Diva
Quirky, mad, funny, photobombing selfies are all great and fun. But sometimes even a beautiful picture can make your day. Neha Dhupia puts up one gorgeous picture of herself. Minimal make up and a great smile are definitely doing her good!
Follow Neha Dhupia on Instagram @nehadhupia.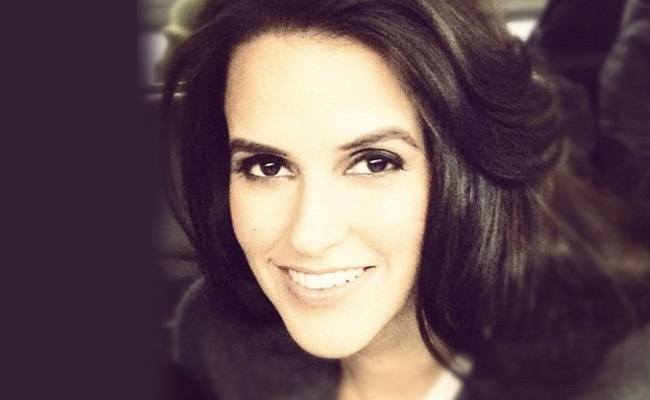 21.Work It Out
Sonam Kapoor shares a snap of her workout space.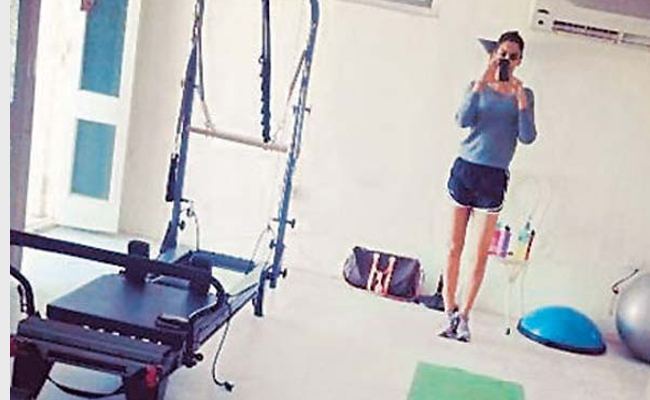 22. In Shape
Another celebrity shares a healthy-bod selfie. Not while working out, but the after effects of the exercise. Sonakshi Sinha sure seems to be in a great shape! Bollywood actresses love clicking selfies to show off what they are upto.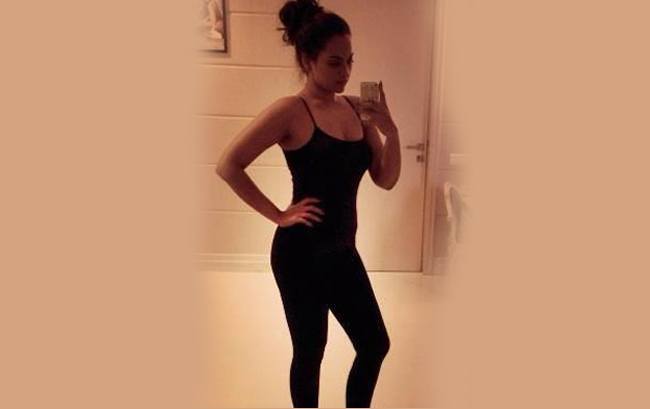 23. The Students of the Year
The leads of the Karan Johar's back-to-school film share a hurried snap before the shoot of a show. Alia is expected to pout, but I'm not sure how much it goes on Varun. Nevertheless, it's a cute picture perfectly defining their camaraderie.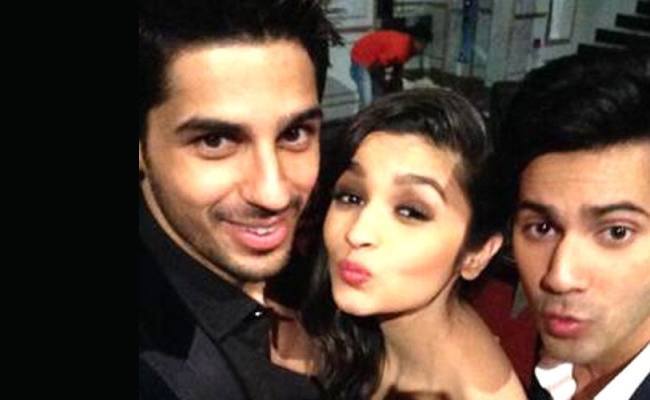 24. The Star Studded Selfie
After Ellen, how could Bollywood fall behind? After the Oscars, it was a time for IIFA. Group selfie is in the next big trend in the world of selfies! All the big league stars pose with the internationally celebrated Kevin Spacey for the Great Big Indian Bollywood Selfie.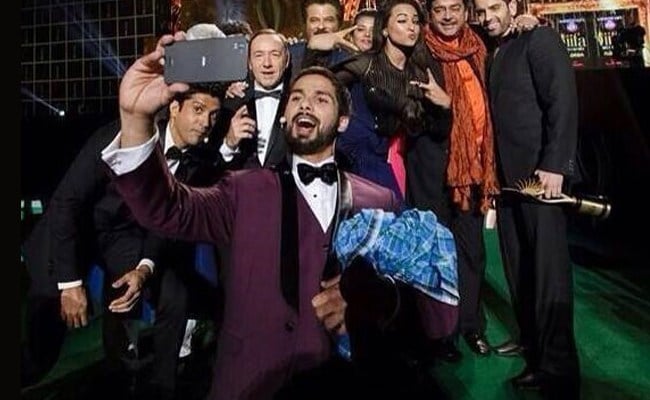 25. People of the Year
After the IIFA, our celebs also clicked another star studded group selfie at the NDTV Indian of the year Awards night. In the selfie taken by Ranbir Kapoor, we see Deepika Padukone, Kangana Ranaut, Soundarya Rajinikanth, Aamir Khan and NDTV's Prannoy Roy, Vikram Chandra and Nidhi Razdan.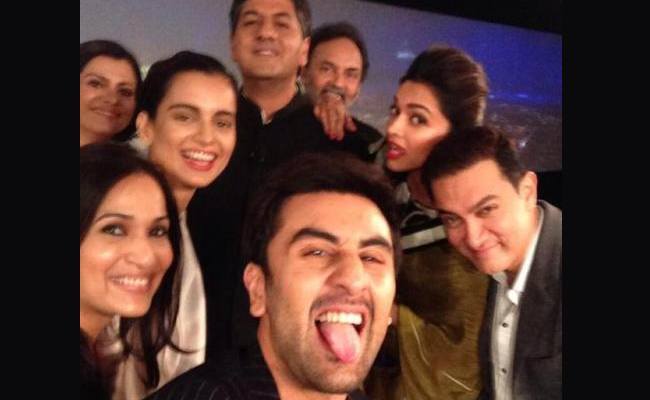 So, who is your favourite selfie star?