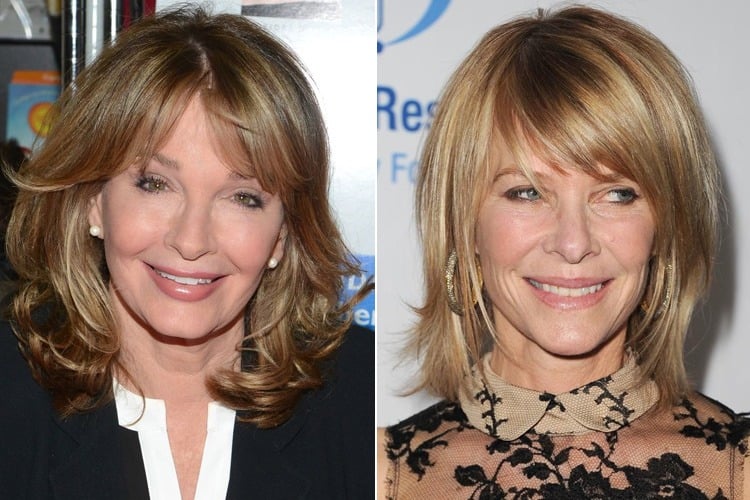 Says who that fashion is not for women above 40 or 50? You may have been in the dark or past century all the while if you thought women in their 50s could not look like divas! Have you seen the likes of Lilette Dubey, Rekha, Meryl Streep, Sofia Vergara and more? These are names that are ruling the Bollywood and the Hollywood industry like pros. So without much ado, let's take a look at some of the most beautiful hairstyles for thin straight hair, Medium hairstyles for fine thin hair, hairstyles for thin hair over 50, easy medium hairstyles for thin hair, medium hairstyles for thin hair today. These are just one part of the fashion statements that women above 50 can flaunt. Here goes!
LOOK CHIC IN SUPER SASSY AND CUTE HAIRSTYLES POST 50- SOME POINTERS TO FOLLOW!
Here are a couple of Hairstyles for thin straight hair.
1. Never get bangs
This is a mistake most women as they mature in age, make, say celebrity stylists. A foolproof plan is what you need when thinking of hairstyles for thin straight hair, and with bangs, you may just end up with sparse hair on the frontalis or the forehead, and that would make you look super-aged. Wispy bangs were maybe perfect when you were in your mid-20s and early 30s, but they do not make you look elegant and graceful as you come into your 40s and 50s. your stylist should be told to focus on long layers instead and make more volume come through.
2. Do not layer the back
While we did say that your stylist should get long layers done for you, don't fall prey to too many layers at the back. While in theory, layers look great and they add volume and density to hairstyles for thin straight hair, Medium hairstyles for fine thin hair, you may just end up hating your hair more than ever.
Care for your hair
A volumnizing cut is what you would need
What you should then opt for are cuts that go mid-length to short, and those that won't weigh down the length of your hair. Most experts would ask you to check for light layering on the hair. This gives the hair a bounce and plenty of volume.
Your roots needs lifting
By lifting the roots, we mean that you need to add a lift to the scalp so that an illusion of thickness is created with your hair. Learn the art of blow drying your hair the right way, and do it the light way, until it is slightly damp. Then use a reputed volumnizing product on the hair roots and set the lift you want, with the help of the blow dryer on minimum, again. What happens here is that the hair would stop sticking to the scalp and the texture would look thicker.
Individual strands need to be thickened
There are a wide range of volumnizing products available in the market. Some come as sprays, some as gels and some as lotions or mousse too. What you should not be using are waxes, creams, mold muds and serums. When in doubt, always ask your hairstylist for recommendations.
Color can add dimension too
While you think about hairstyles for thin hair over 50, do not forget that the right color along with the right cut can make a world of a difference to your look and personality. With thin and fine hair, you can have the right hair color chosen. It can be placed in such a way, as to make the scalp look full and nice.
For dark hair, lighter highlights will do fine, since it would remove the bridge between the scalp and the hair that glares at the world openly.
Using haircolor always makes the shaft of the hair expand, which makes the hair look thicker and with more volume too. But try using natural hair colors and those with lesser bleach, because your hair is fine and thin.
Do a different partitioning
If you have parted your hair one way for many years, it is time to change to the other side or the center. When the hair has been flattened and combed into one direction always, when you switch, the hair lift would be away from the scalp. This would seem as though your hair is thicker and with more volume; it also helps get you the best hairstyles for thin straight hair, Medium hairstyles for fine thin hair and more as well.
[sc:mediad]
No heat please
Since you already have thin hair and are going to use hair products for the hairstyles for thin straight hair, Medium hairstyles for fine thin hair, hairstyles for thin hair over 50 and more, it would be wise to bring no heat to the hair when styling it. Heat on fine hair makes it more brittle and would make it break sooner too. What you should opt for would be air drying your hair naturally.
Protection is a must
Damage to the fine hair you have can happen for real. We always use thermal products when we use curling irons, blow dryers and heat rollers when styling our hair, isnt it? They help protect the hair for sure, and bring down the friction of the thermal tools to the hair, and the heat to the hair too. They should be used right at the end, after the defrizzing or volumnizing products are used.
Select The Right Hairbrush
This is a very important point to note, and that is about selecting the right hairbrush when styling your hair or doing hairstyles for thin hair over 50. When using a blow dryer or any thermal tool to style your hair with, it is important not to use metal brushes, since they can heat up fast with the hot air blowing out. This can damage the hair. Even brushes made from hard plastic bristles too can cause breakage, and they tend to snag the hair which is thin and fine, so you don't want to use that as well. Choosing hair brushes that have bristles made from boar hair or flexible nylon would be the best.
Use waves and curls for more volume
Nothing beats the jazz of waves and curls on your hair, which will instantly boost the style and create an illusion of thicker and voluminous hair. There are many ways to go ahead and get heat free curls and waves. However, do apply hair mousse liberally and on damp hair, before you do the heat free curl therapy. This will add more zing and retain the moisture in the hair, as you go ahead and style from hairstyles for thin straight hair, Medium hairstyles for fine thin hair to hairstyles with curls for thin hair.
Here are a couple of examples for –
Medium hairstyles for fine thin hair
Hairstyles for thin hair over 50
Easy meduim hairstyles for thin hair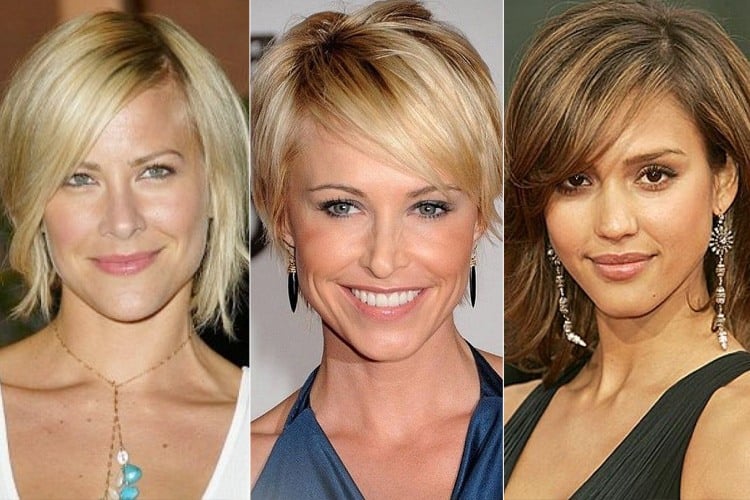 Medium hairstyles for thin hair
Final words
In most cases, women above the age of fifty, especially in our country for some reason still feel fashion is not for them. But did you know, the latest trend is that fifty is the new twenty, and a new youth. So this is the time, you now can enjoy life to the fullest. It means you should not stop at trying out new styles and cuts with your hair.
Do write in and let us know how you liked this post on medium hairstyles for thin hair. We await your suggests, comments and ideas.