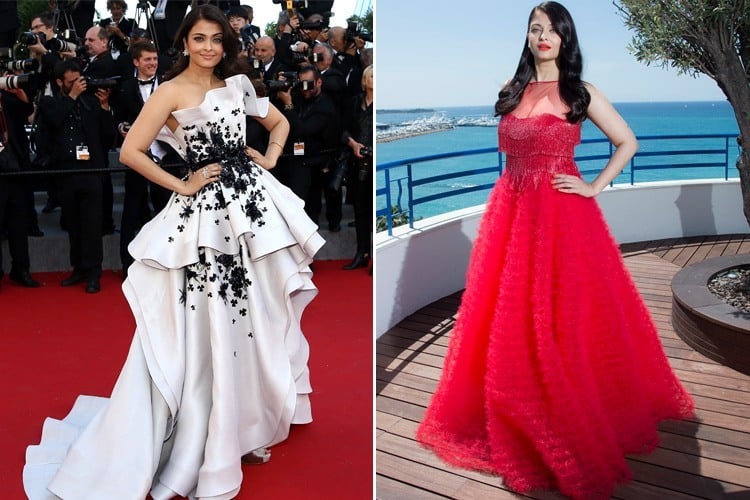 In the fashion glossary, there is one buzzword that is doing the round. It is Red carpets. And this ain't any two letter word. It's a passport to international limelight (that doesn't happen overnight) which places you in the gallery of big names in fashion and entertainment.
Having said that, there is one name that has been a constant face at Cannes film festival. She is a gorgeous lady, whose career graph from being crowned Miss World 1994 to getting Best Actress award for Bollywood films have made her a name to reckon with.
[Also Read: Aishwarya Rai At Cannes 2016 Writes A New Chapter In Fashion]
AISHWARYA RAI AT CANNES OVER THE YEARS
Am talking about Aishwarya Rai at Cannes. Yes, Aishwarya Rai red carpet, Aishwarya Rai Cannes, Aishwarya Rai gowns are the most hunted words on social websites. What will increase your interest in Cannes red carpet is Aishwarya Rai at Cannes who completes a good fifteen years this year.
Aishwarya Rai has constantly experimented with her makeup, outfits, looks and hairdos over her years at Cannes. While some have been awesome, some have been reasonably fair, and some not appropriate. Let us check them out.
Year 2003
This is when Aishwarya Rai decided to wear outfits designed by famous fashion designer Neeta Lulla for the Cannes red carpet. It is a different matter that Ash got major criticism for her red carpet dress.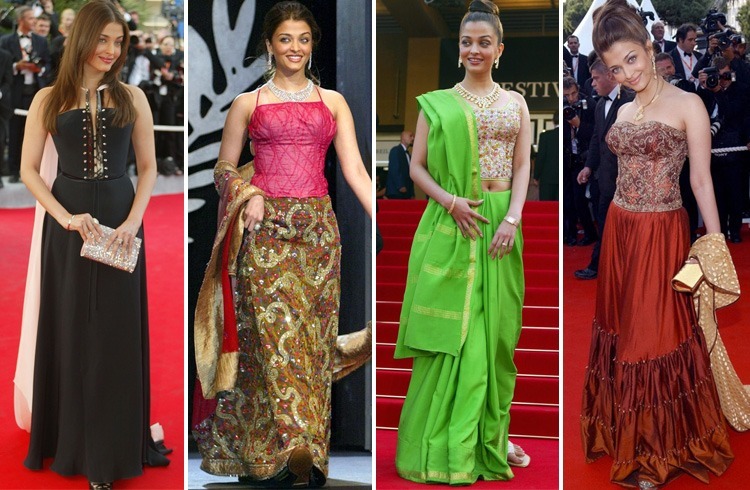 Year 2004
Now was the time for Aishwarya rai to create a big noise and win laurels for her red carpet dresses at Cannes film festival. Aishwarya rai gowns started winning all the praise this year, thanks to the revealing dress designed by Neeta Lulla that showed the best of Ash in gowns and Chopard jewellery.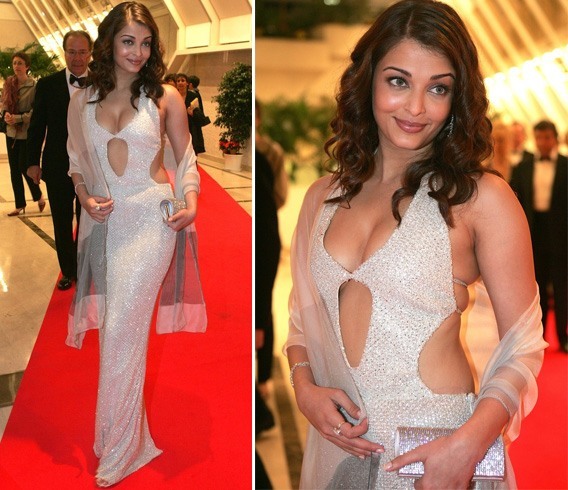 Year 2005
Know what it takes to look stunning? Ask Aishwarya Rai Cannes as she looked a true stunner in her black costume designed by Gucci that had a short train and a plunging neck.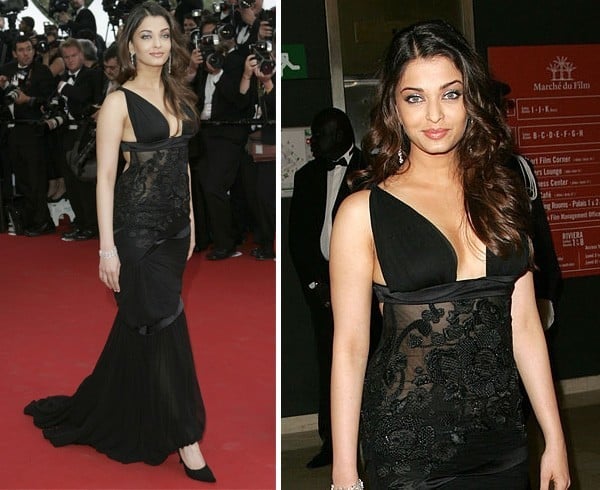 Not to miss the flirty printed dress that Aishwarya Rai wore designed by Giorgio Armani.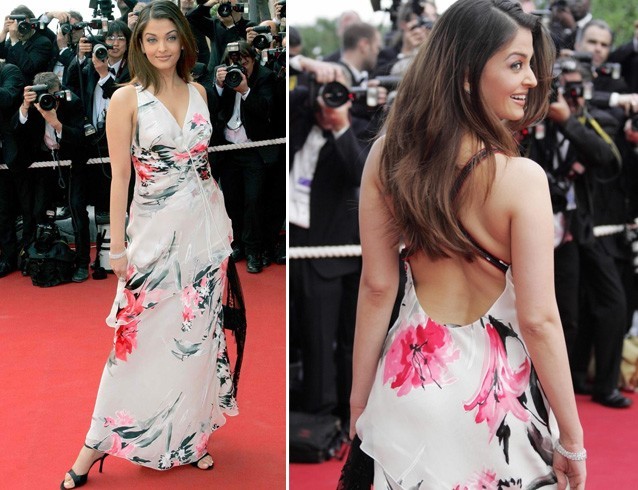 Aishwarya Rai gowns truly evolved over the years, which speaks volumes about the actress and her designer picks for Cannes film festival.
Year 2006
Ash chose a navy blue strapless gown at Cannes film festival 2006. She got a thumbs-up for her choice of snake-like neck piece.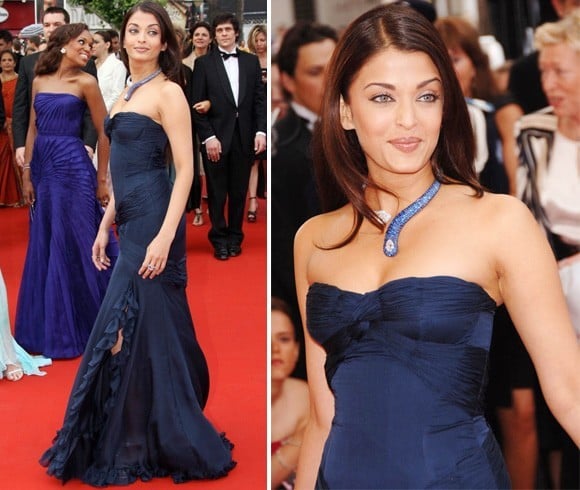 Year 2007
A month after they officially got wedded to each other, Abhishek Bachchan and Aishwarya Rai made their first public appearance at Cannes. As for Aishwarya Rai gowns, she was dressed in white Giorgio Armani gown.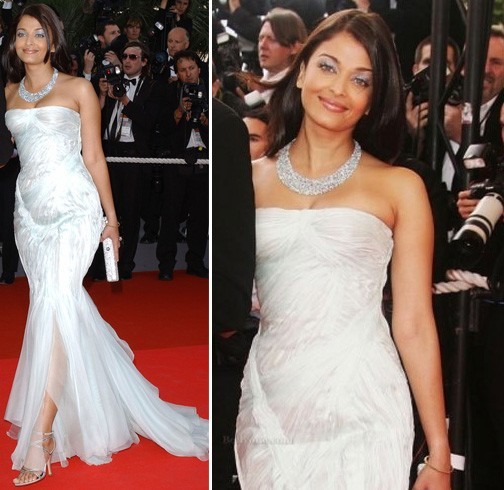 Year 2008
Papa Bachchan it seemed was more than happy to join Aishwarya Rai at Cannes, this time with his son Abhishek and wife Jaya. Family bonding showed up at Cannes film festival.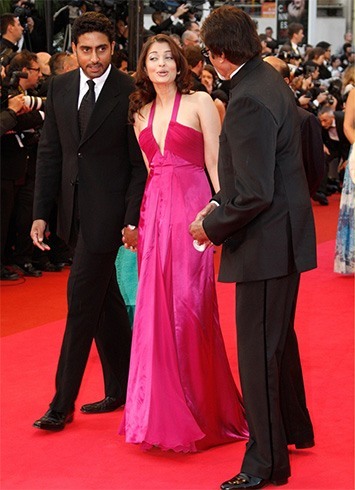 Coming to Ash, I guess, she let her plunging neckline and minimal jewellery do most of the talking at the Cannes red carpet.
Her golden gown was followed up by black gown and then a bold fuschia gown.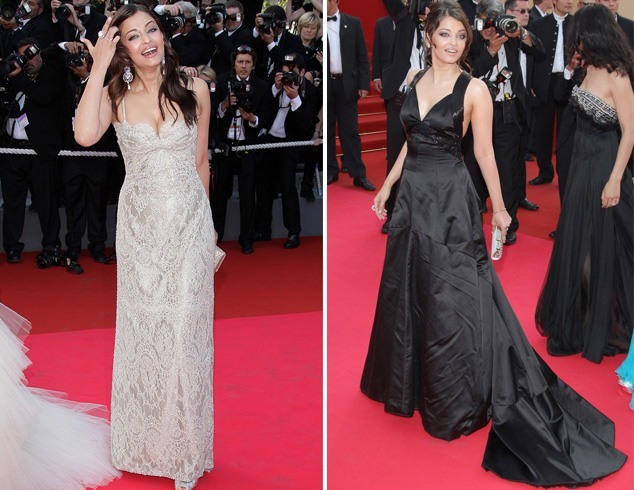 Year 2009
Now this was the time when the colossal affair of Aishwarya Rai at Cannes and red carpet dresses with a short train got inked. This was also Ash's best ever appearance on red carpet at Cannes.
Day 1 saw Ash creating a wow factor in this Roberto Cavalli strapless white gown.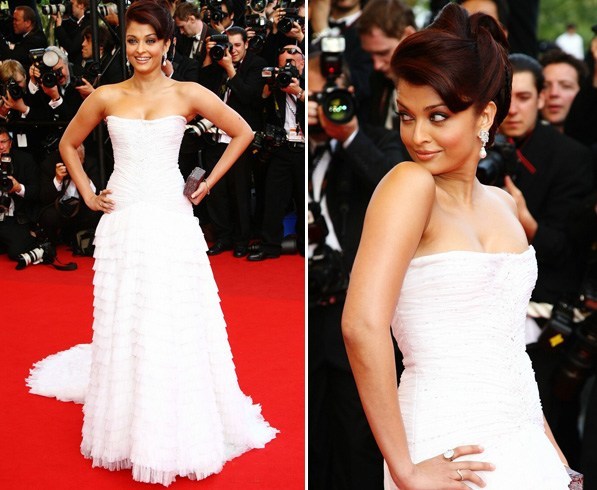 On Day 2, Aishwarya Rai mesmerised everyone in a grey coloured Elie Saab one-shoulder gown and hair slicked back.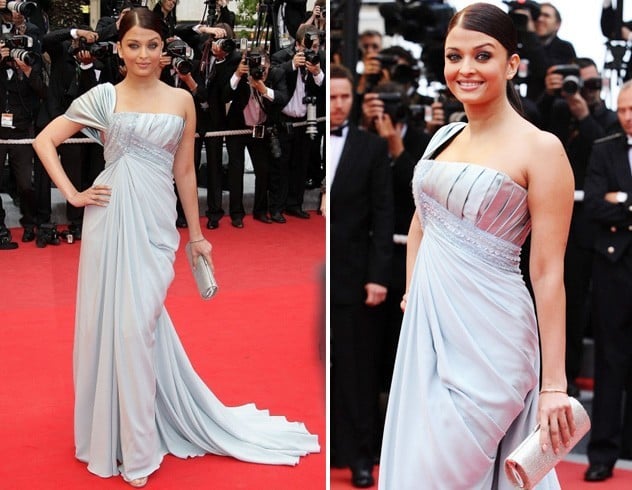 Year 2010
This lovely looking Gucci gown made Aishwarya Rai red carpet a thing to watch out for. In fact, around this time Elie Saab had come to be Ash's favourite designer. A fact that showed up in the violet mermaid gown that Aishwarya Rai wore which had a beautiful train and sheer shoulders.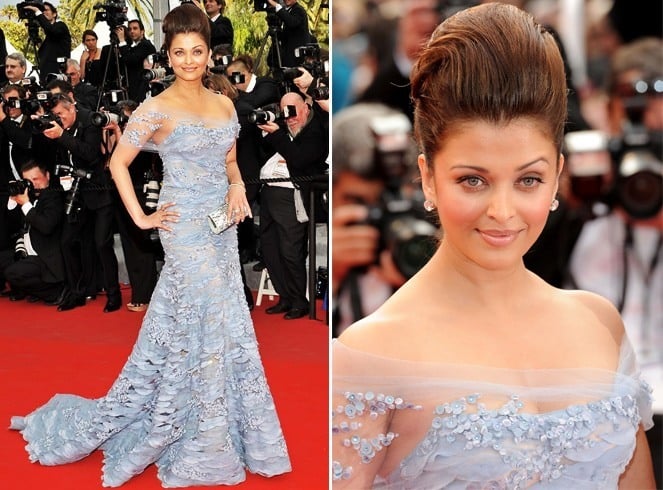 Incidentally, it was in 2010 that Ash was promoting her film Raavan at Cannes and for the photo call opp in the afternoon, Mrs. Aishwarya Rai Bachchan wore an off shoulder dress.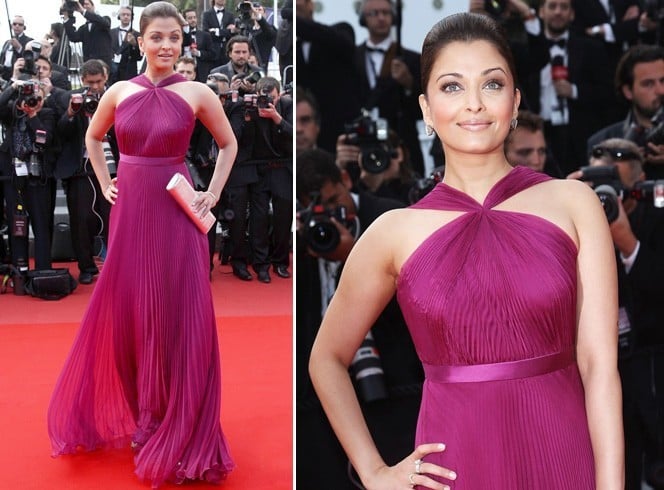 Aishwarya Rai gowns have all the gossip material. Nothing deterrred Ash from sporting a strapless black Armani Prive gown which she complemented with a red lipstick.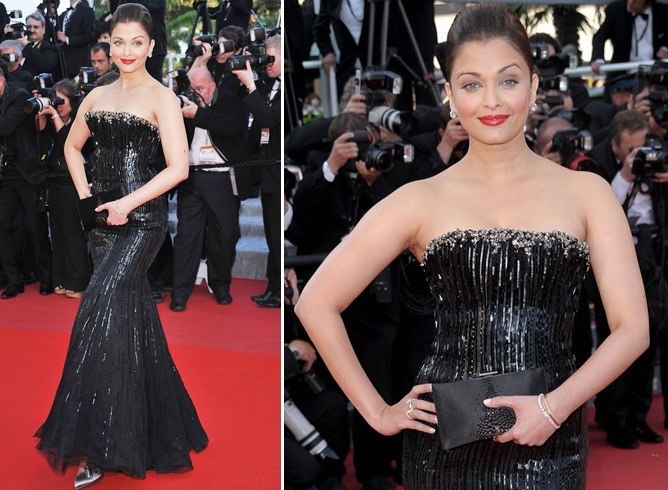 Year 2011
Of the stunning red carpet dresses that Aishwarya Rai wore in Cannes 2011, one was an Elie Saab one shoulder embroidered gown.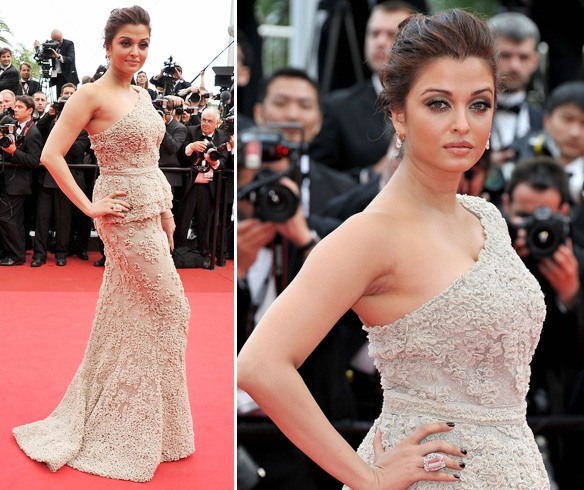 She followed it up by putting on a geometric Armani Prive dress with her smokey eyes that are her most beautiful asset.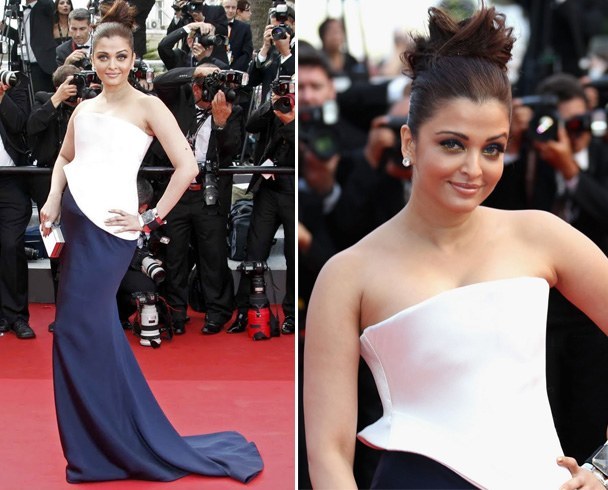 Year 2012
The new mom Aishwarya Rai it seems got more brownie points for her choice of costumes as her grey Elie Saab gown showed her plus size curves.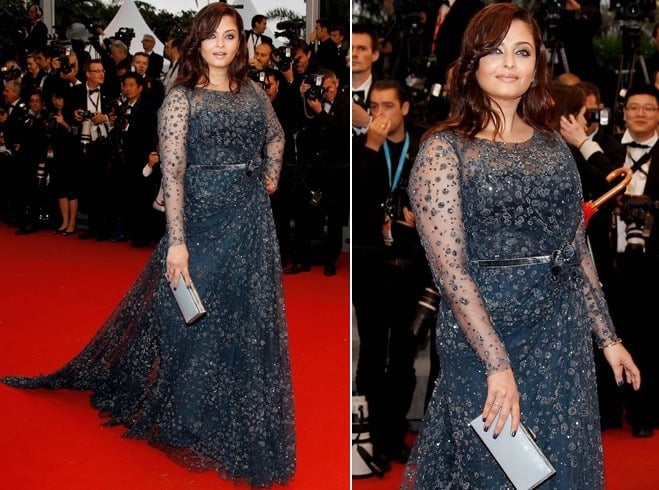 She was first seen in Angelo Katsapis maxi dress, then a cream chikankari Abu Jani – Sandeep Khosla sari with an embroidered jacket, and finally a kaftan from Roberto Cavalli.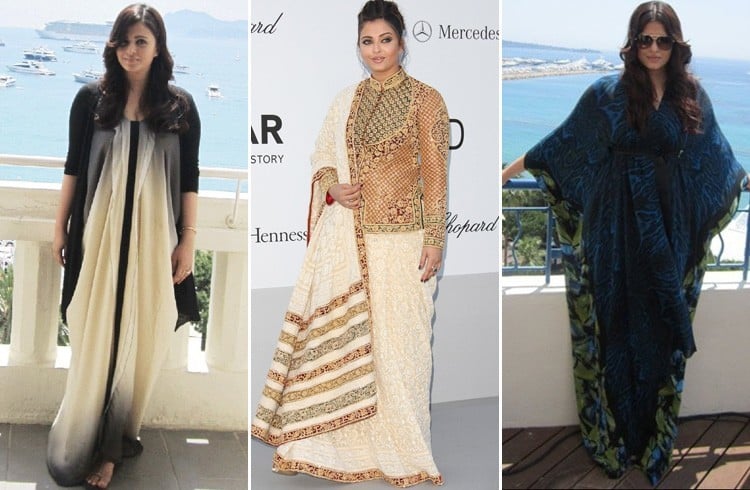 [sc:mediad]
Year 2013
Aishwarya Rai wooed the fashion police on Day 1 at Cannes with her one-shoulder teal Gucci Premiere gown.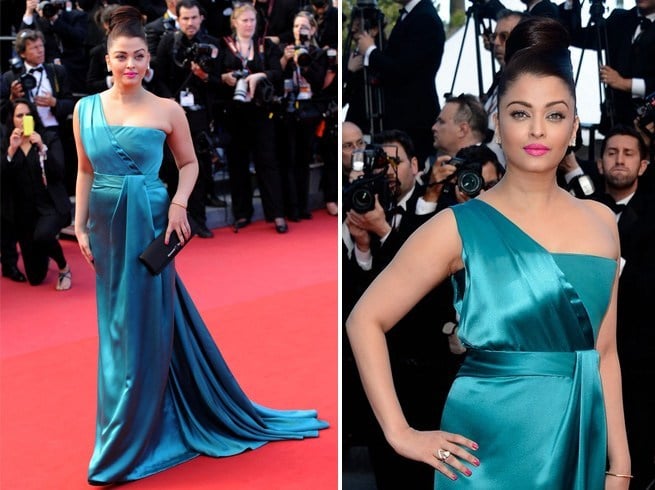 This was followed by Abu Jani-Sandeep Khosla floor length anarkali.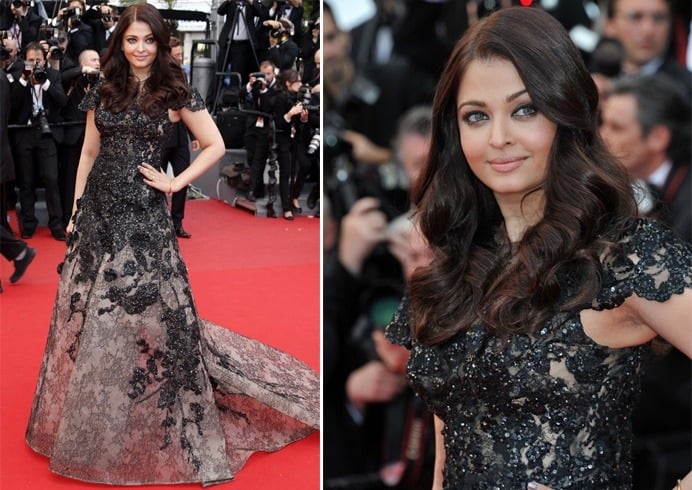 Year 2014
Aishwarya Rai at Cannes made two gorgeous appearances, thankfully both in Roberto Cavalli that had a train. Her first look in strapless gold gown impressed the fashion meter.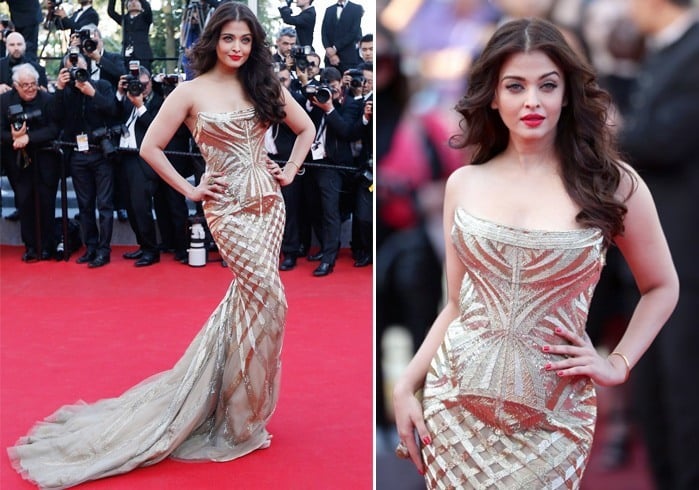 Her second look featured a dazzling embellished white gown.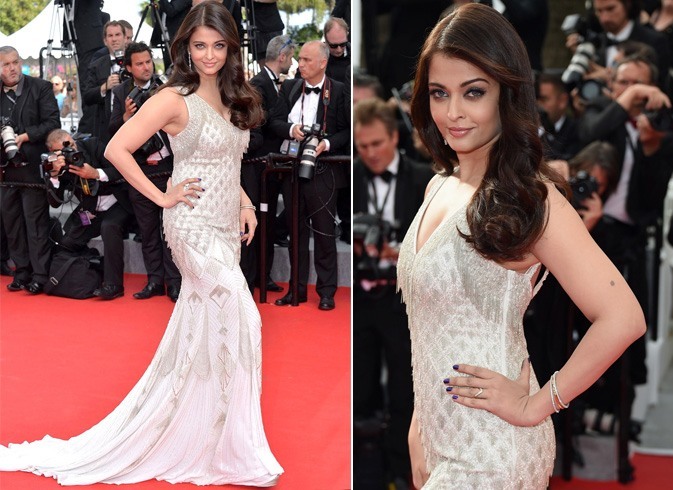 Year 2015
Being the face of L'Oreal Paris, Aishwarya Rai stunned everyone in an emerald green evening gown designed by Elie Saab.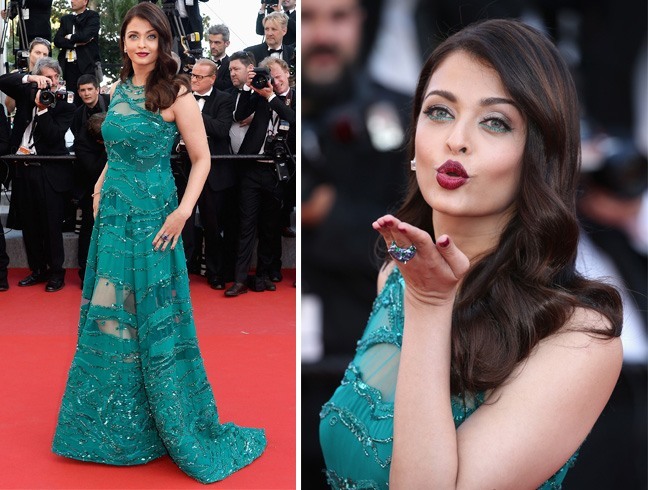 Flaunting her curves in a chic white Georges Chakra gown that had a fishtail bottom, Aishwarya Rai was a picturesque sight.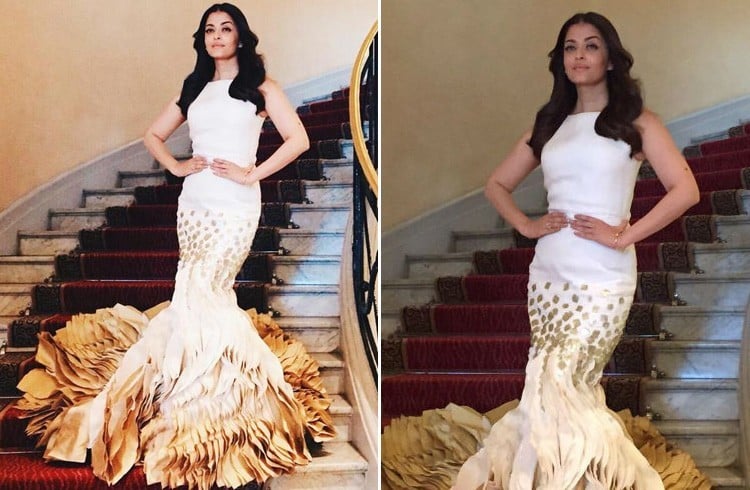 Year 2016
Aishwarya Rai was elegance personified on her 15th year at the Cannes film festival where she wore a golden Ali Younes Couture gown.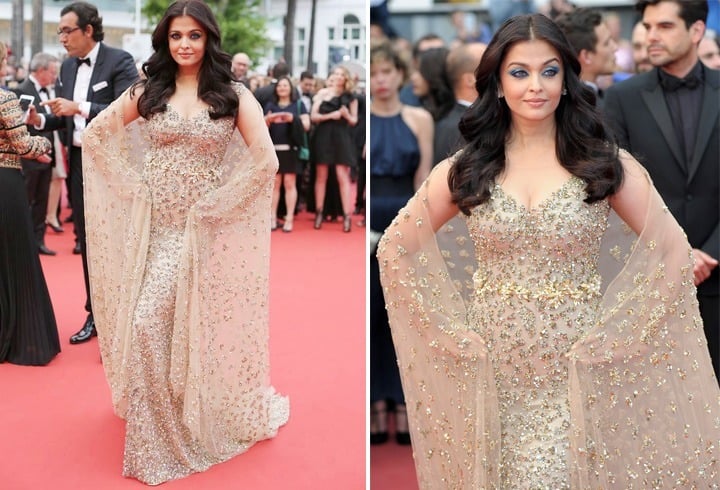 On Day 2, Ash wore a lovely red ruffled gown from Naeem Khan.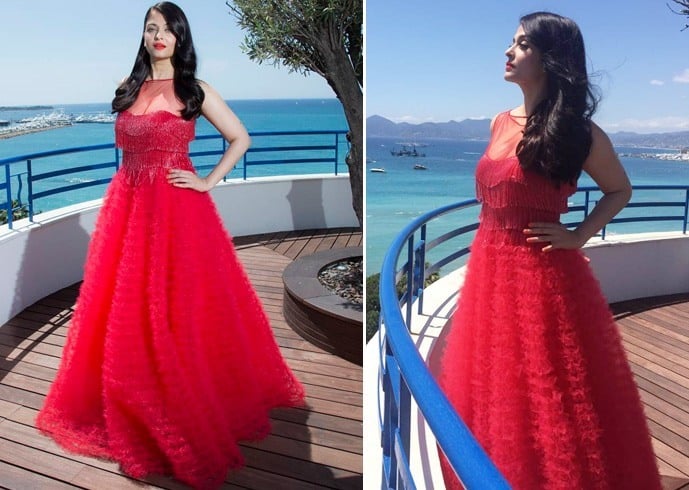 Now tell us how you found the journey of Aishwarya Rai at Cannes. Give us your honest views on her outfits, makeup, and looks.
Images Source: pinterest.com, justjared.com, popsugar.com