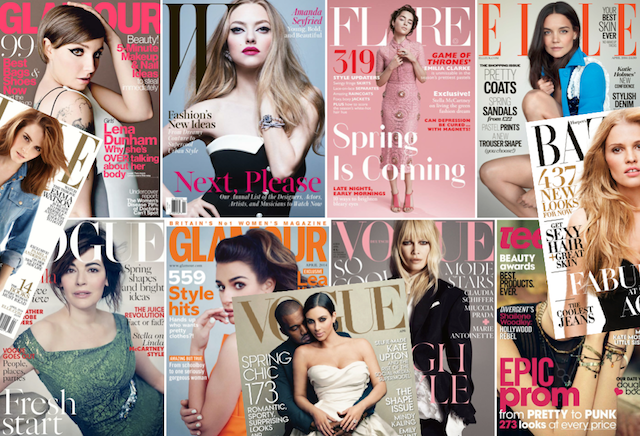 Once again we are back with our periodical issue and this time with April 2014 fashion magazine covers. With temperature already rising in your city, the April issues are going to make your room hotter with some sizzling photo shoots by glamorous celebrities.
While Vogue has managed to capture Kim Kardashian and Kanye west; Lauren Conrad looks smoking hot for Allure's April 2014 issue. Even the cover girl is dubbed as 'the girliest girl's girl', the actress has however shown her edgy side with vampy mesh and smoky eyes.
Other stars who are heating up the April issues include Lily Collins for Lucky, Amanda Seyfried for W, Naomi Campbell for Shape, Emma Watson for Elle, Jennifer Lopez for InStyle and the cast of Game of Thrones for Vanity Fair to name a few.
Back in India, the Ashiqui 2 actress Sraddha Kapoor is gracing the Vogue India April 2014 issue, while the 2 States actors – Alia Bhatt and Arjun Kapoor are featured on Filmfare's fortnight issue.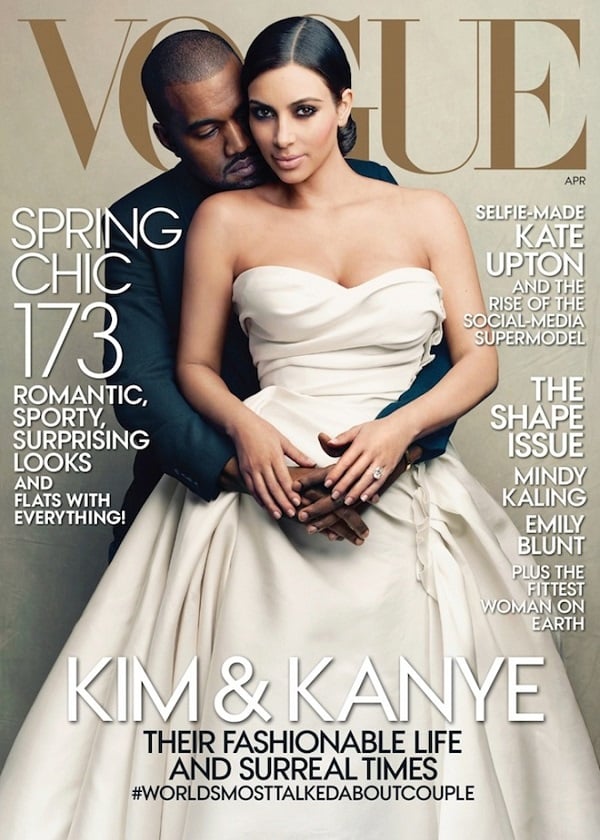 Kim Kardashian has finally bagged herself and her beau a Vogue cover shoot for this month's issue. The love birds were photograpped by the legendary photographer Annie Leibovitz.
I was really shocked to see Anna Wintour's (Vogue's editor-in-chief) decision of putting the self-proclaimed celebrity Kim along-with her fiancee Kanye West, as she is the one who had been against putting her on her magazine.
Before hitting the newsstands, Kim's cover shoot has already become viral. Even though it's controversial, Vogue is estimating to be the best selling magazine of the month for featuring Kim and Kanye.
Rumors had it that Kim had approached the editor several times convincing her to feature Kim on the cover page.
In October, he argued, "There's no way Kim Kardashian shouldn't be on the cover of Vogue. She's like the most intriguing woman right now. She's got (veteran U.S. newswoman) Barbara Walters calling her like everyday… and collectively we're the most influential with clothing."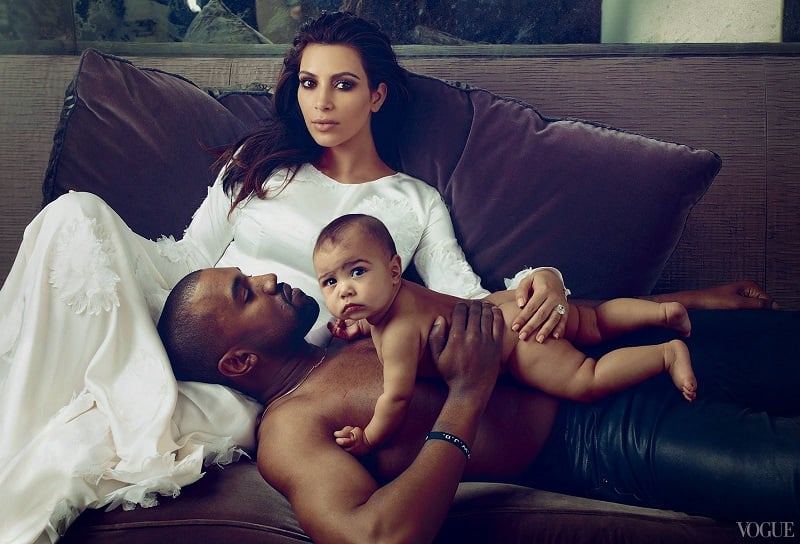 No matter how much Vogue editor-in-chief Anna Wintour has defended her decision to put Kanye West and his reality TV star fiancée Kim Kardashian on the cover of the fashion bible; a majority of people are already against her decision. While Sarah Michelle slams Kim Kardashian's Vogue cover saying she is cancelling her Vogue subscription; there is an array of comments doing rounds on Twitter. Have a look!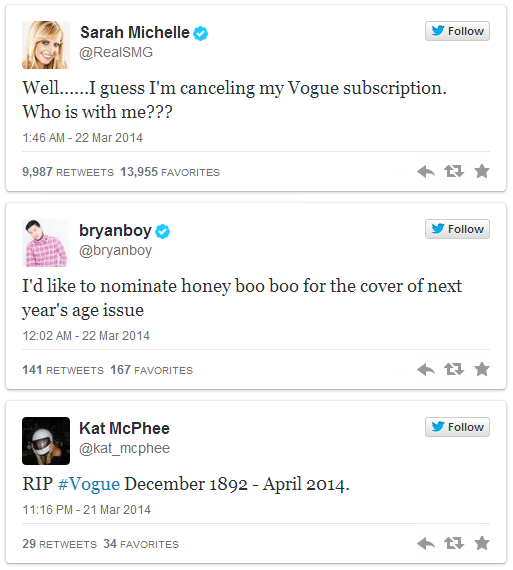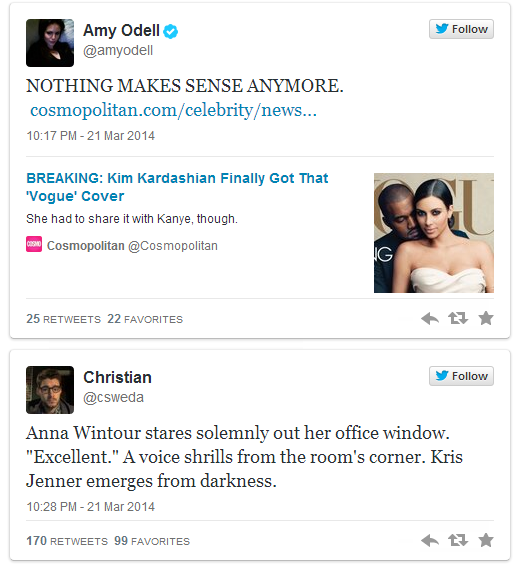 Even Naomi Campbell had a laugh and weighed in on Kim when she was asked about the cover shoot, she said that she didn't want to comment before bursting into laughter.
When she was asked if she thinks Kim and Kanye haven't earned the right to be on the cover, Naomi had this to say,
"Those are your words, not mine. I'm being politically correct."
Do have a look at other fashion magazine cover pages!