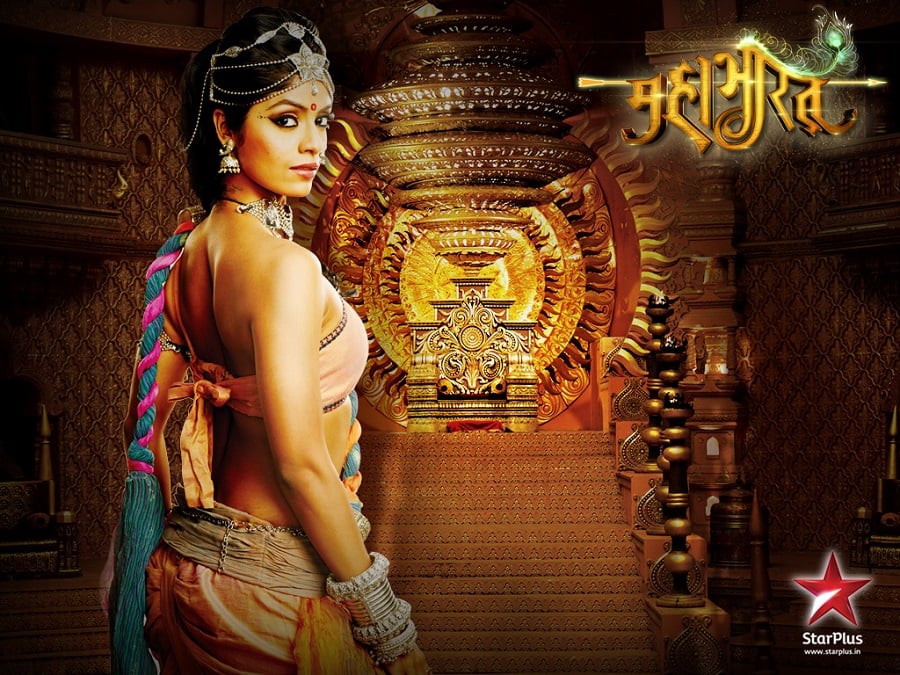 Touted to be the most expensive serial on Indian TV so far, Mahabharat 2013 has been made on a whopping budget of Rs. 100 crore.
This daily shop which is aired on Star Plus is a 6-month project featuring lavish VFX, larger than life sets and outlandish costumes. The outdoor shoots have mainly adhered to such a huge budget for the producer Siddharth Kumar Tewary, who worked for 4 years before launching his dream project.
With more than 400 people involved in the production, this 100 crore mega serial outshines the mega 40 crore budget movie Jodha Akbar by Ashutosh Gowariker. The lavish set designed by Omung Kumar is sprawlingly spread across 10 acres in Umargaon. Some of the scenes were also shot in exotic locations like Kashmir, Jaipur, Ahmedabad, Jaisalmer, Bedaghat, Nepal and Sri Lanka. Apart from that, the team has also used extensive 3D conversion to enable the serial with cutting edge effects.
When the producer was asked about the 100 crore budget, he had this to say,
"The channel should be able to comment on the numbers. It might be the overall cost of the project. I'd say it's a premium fiction series. Every story has different sides; we have tried to tell it without painting characters black or white or calling situations right or wrong. Our show is an attempt to show the human side of every character, and re-interpret the old text without tampering with the sensibilities."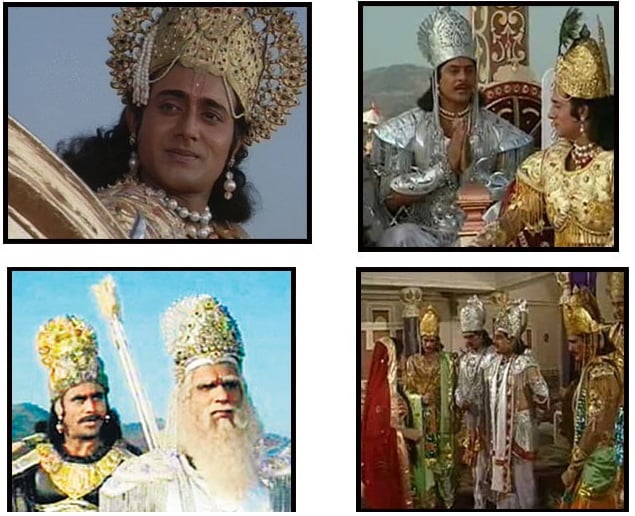 While I was completely smitten by the early 90's Mahabharat by B.R.Chopra, its characters have become immortal in audience's memory. The flawless casting, the utmost dedication involved in production and above all the honesty the serial had portrayed keeping the true essence of our epic are some of the major reasons why the new Mahabharat series have been not able to outshine the original serial.
Alas the Balaji version – Kahaani Hamaaray Mahaabhaarat Ki of 2008 was terminated before it could launch due to poor TRPs and criticism completely convinced me. Hence I became determined to catch this latest version of Mahabharat.
No matter how many times it is aired on TV with top costumes, cutting edge technology, high end melodramatic style of cinematography and exotic locations; it's always hard to despoil the original content showcased by B.R.Chopra. Moreover, the epic itself beholds magnificence that it redeems even this retelling.
Here are the show's details
Show  –   Mahabharat (Original airing on 16 September 2013)
Runs – Monday to Friday at 8:30 pm on Star Plus
Starring –   Shaheer Sheikh as Arjun, Pooja Sharma as Draupadi, Saurabh Raj Jain as Lord Krishna, Sameer Dharmadhikari as Shantanu, Vivana Singh as Ganga, Sayantani Ghosh as Satyavati, Arav Chowdhary as Bheeshma, Puneet Issar as Parshurama, Rio Kapadia as King Subala, Ratan Rajput as Amba, Mansi Sharma as Ambika, Shafaq Naaz as Kunti, Praneet Bhatt as Shakuni, Rohit Bharadwaj as Dharamraj Yudhisthir, Arpit Ranka as Duryodhan, Aham Sharma as Karna, Vibha Anand as Subhadra,  Vin Rana as Nakuul
Producer – Swastik Pictures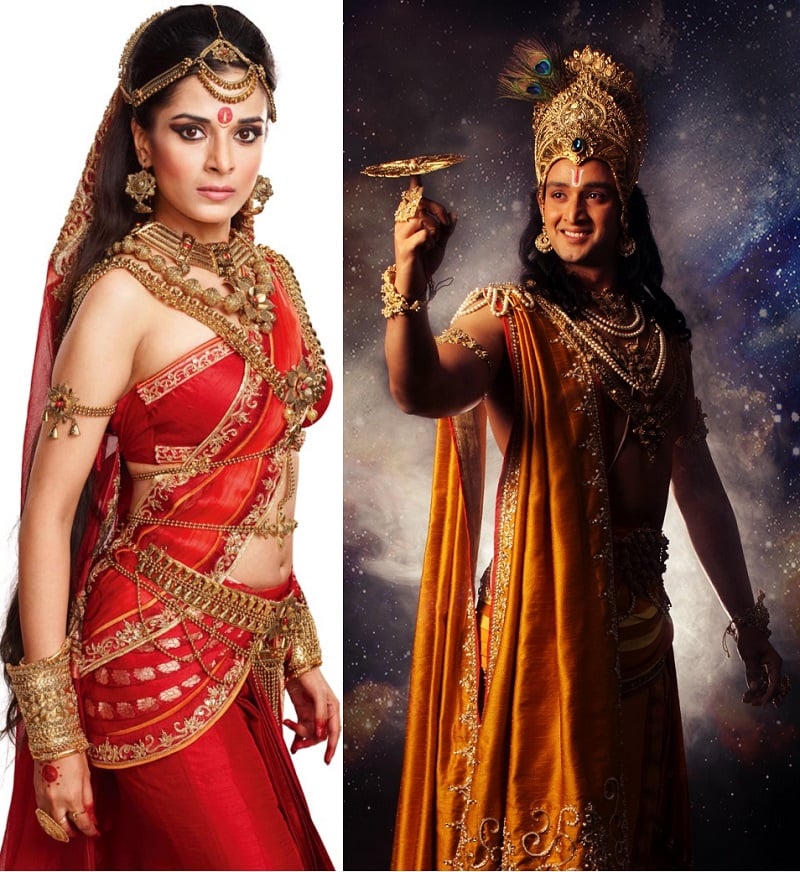 Here are the two sides of the New Mahabharat – good and bad
The good side –
One cannot give makers of the serial much credit for the story because it was Ved Vyasa after all who first documented this marvelous story, history, mythology, call it what you will. This epic story is a part of the Indian ethos and as such each Indian should be familiar with it. If the story is told in a simple, accessible, serialized, dramatic format on TV, it would have been better then.

The phenomenal reach of the TV itself ensures that the Mahabharat serial now performs the function that grandfathers and grandmothers did, telling stories to kids. The near prime time slot for the serial each weekday and the daily soap style format of the show will ensure that people are hooked to the serial whether for entertainment, reasons of faith or any other motive.

The title track is good and some of the alaaps in the beginning were decent too. The sets are elaborate and glitzy, the show even has some amount of dancing and it generally entertaining and well packaged, never mind trifling details such as historical accuracy and authenticity.
The bad side –
The makers of the serial have faithfully relied on calendar art to dress and deck up the characters in Mahabharat. Clearly no reliance is placed on actual research, and there is no concession made to how people might possibly have dressed thousands of years ago. We are stuck with extremely elaborate costumes, impossibly ornate head gear and jewelry (sometimes rather tacky) and some really serious make up. The makeup is so over the top that you can clearly see Krishna's lipstick and Satyavati's fake eyelashes.
If you shut your eyes while watching the serial you may be forgiven for believing that this is any old daily soap – it sounds so much like my mother's TV each evening when she is immersed in her evening TV fix. The soaring, clashing background music, the highly melodramatic dialogue delivery (albeit in chaste Hindi, seeing that this is supposed to be thousands of years ago); all sound very daily soap-ish. Even the camera angles, the slow mo, the exaggerated facial expressions are daily soap style.
The best part of New Mahabhrat – Costumes & Ornaments
Apart from the exotic locations and avant garde cinematography with 3D effects; costume is another receding factor for its popularity.
In order to get close to the originality of the content, the design team of the show had approached Ancient Voice website to help them with the sets and costumes.
[sc:mediad]
The Swastik Pictures had approached the website seeking information on details on the Pandavas and Kauravas, life of Pandu and Dhritarashtra, the costumes used by the people during Mahabharata period etc.
Ornaments worn by different characters!
Shri Krishna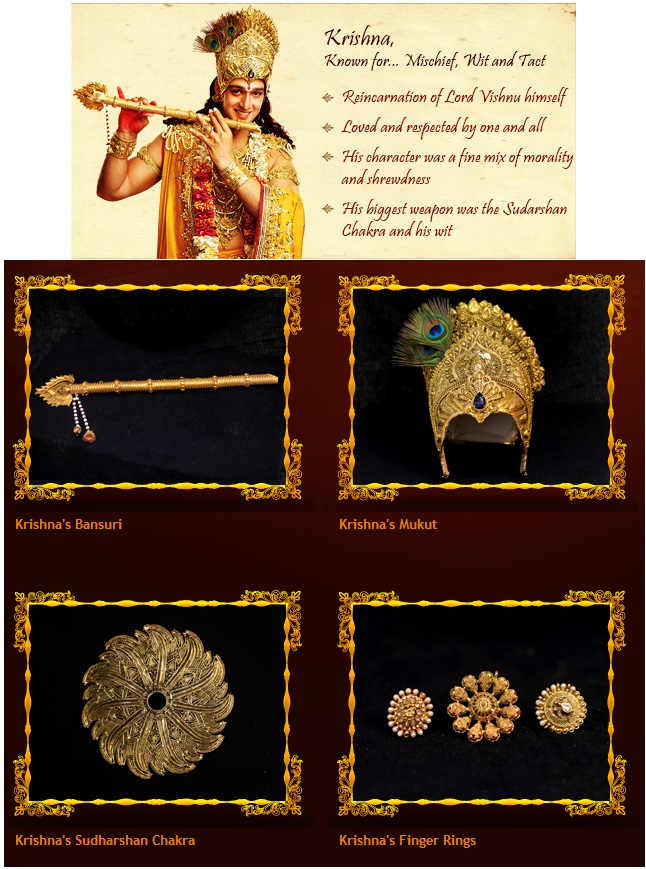 Draupadi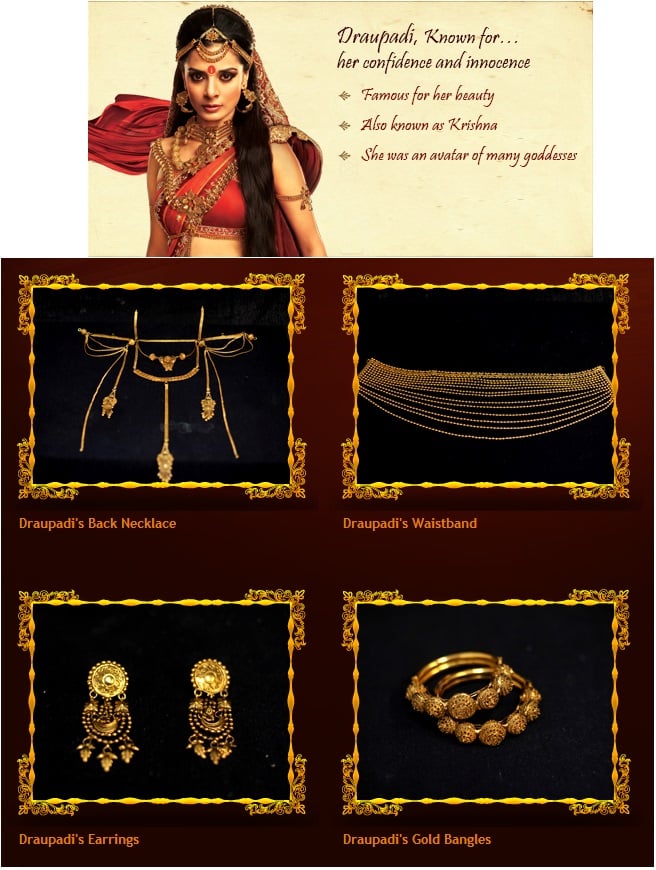 Gandhari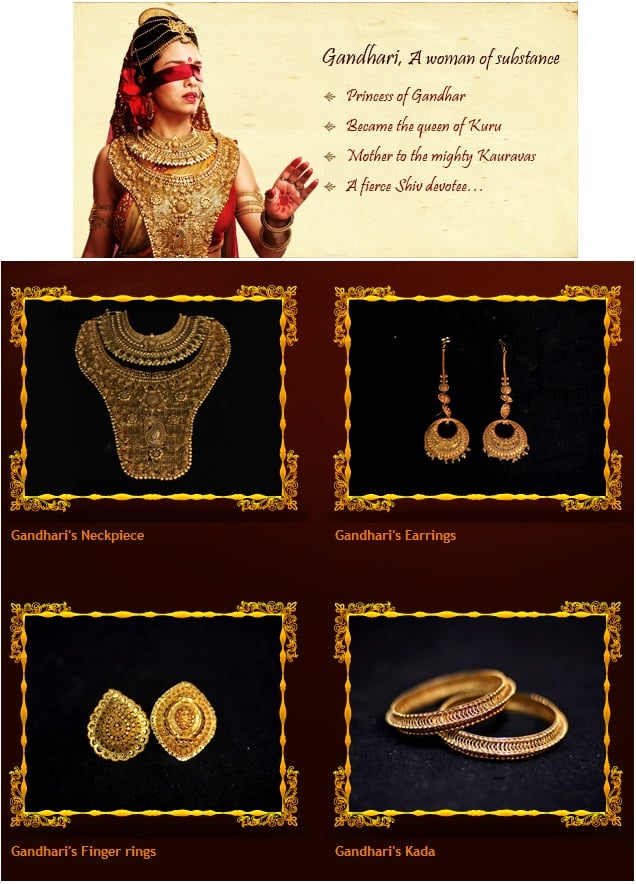 Arjun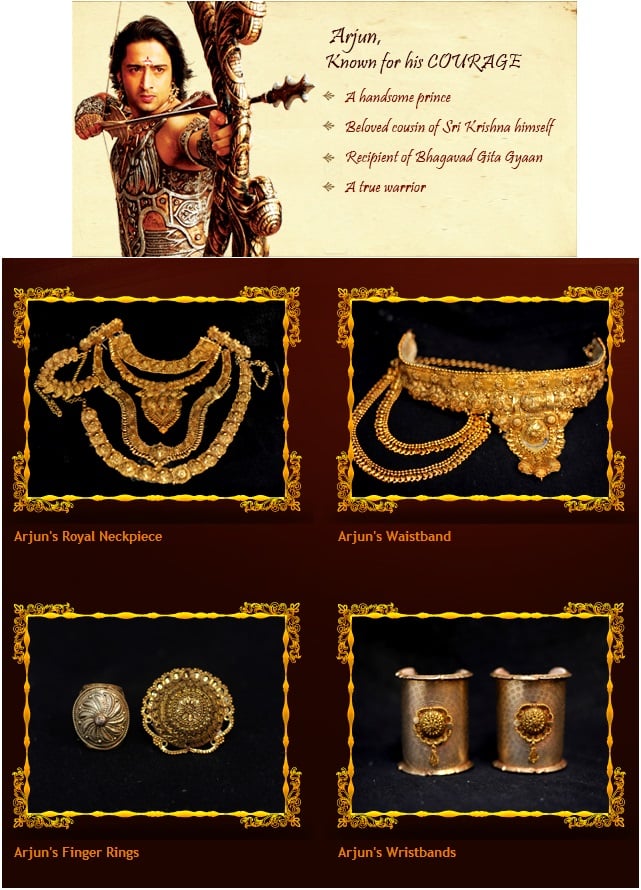 They even wanted information on the wall paintings – fresco's and murals of those times in such kingdoms and something that will help them design the thrones, the Chariots and the inner chambers of such character's in Mahabharat, mainly Bheeshm, Dhritrashtra, the Pandavas, Karna. etc.
Since every character of the epic was identified with a particular color say Bheeshm always wore white and his chariot was also white; the costume designing had to be carried out accordingly.
Here is an excerpt on color of the costumes –
Krishna liked to wear yellow robes, Balarama liked to wear blue robes. As we have seen, Kekaya warriors liked to wear purple. Yudhisthira and Arjuna liked to wear white robes and silver coated ornaments. Bhishma too in his old ages liked to wear white. Duryodhana and Bhima liked to war red cloths. Nakula liked to wear yellow cloths like Krishna, while Sahadeva liked to wear blue cloths like Balarama.
Sakuni liked to wear black cloths.
Vaisyas (traders) usually wore yellow colored cloths, Sudras, black colored cloths, Kshatriyas red or purple cloths and Brahmanas white colored cloths.
The costume designers of Mahabharat
The designer of this serial Nidhi Yasha who along with her consultant Bhanu Athaiya, had referred 450 books related to period textiles, costume and jewelry to give justice to the mythological characters played in this modern version.
As everything about this cutting edge serial is outlandish how ornaments could be left behind. From crowns and body armor to necklaces, armlets and earrings; every piece of jewelry is a masterpiece.
The best thing is every character is given equal importance as per its role. While Gandhari's costume and ornaments justify her Maharani position, the fierce character of Draupadi is also complemented by her makeup and costumes.
Hope you enjoyed this special edition on 2013 Mahabharat!