Nanda dies at 75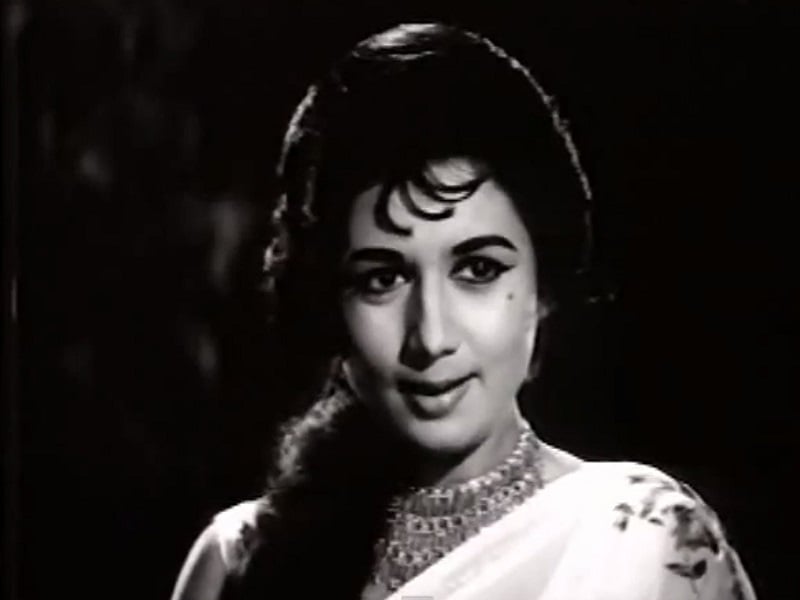 The legendary Bollywood actress Nanda, who sizzled the silver screen in the 1960s and early 70s with her stellar performances in Hum Dono, Jab Jab Phool Khile, Gumnaam etc. passed away last week following a massive heart attack.
I was deeply shocked to hear the demise of the 75-year-old actress, as these past 2-3 years I have been seeing quite a loss of the gems of the Indian cinema. From Dev Anand and Shammi Kapoor to Suchitra Sen and now Nanda; Bollywood is grieving on such irreplaceable losses.
Nanda, who was the niece of legendary filmmaker V Shantaram, died at her Seven Bungalows in the northwest suburb of Andheri on 25th March morning following a massive heart attack. It was indeed shocking news as the actress did not have any history of illness. "She breathed her last around 8.30 a.m. It happened so suddenly we could not even call a doctor," her sister-in-law Jaishree said to the reporters.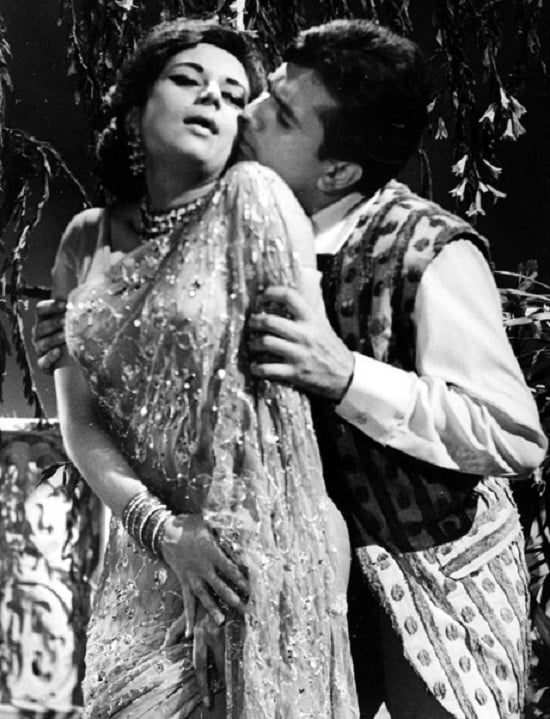 The Jab Jab Phool Khile actress, who excelled equally in playing roles with modern sensibilities as well as a coy Indian beauty inspiring millions of girls towards fashion, was counted among the leading actresses of her era. She was paired up with the big stars onscreen including Ashok Kumar, Kishore Kumar, Dev Anand, and Rajesh Khanna and mostly with Shashi Kapoor. The duo gave us some of the greatest hits of Indian cinema with some immortal songs like Na na karte pyar tumhise kar baithe…
Not many from this generation would be knowing this actress, but sing some of the memorable tunes from her movies and they'll easily recognize her. From the sensual Yeh sama, sama hai yeh pyaar ka from Jab Jab Phool Khile, the romantic Jaane chaman shola badan from Gumnaam and the divine Allah tero naam from Hum Dono to the hypnotic Gulabi aankhen jo teri dekhi from The Train and the haunting Ek pyaar ka naghma hai from Shor; the actress has left behind a legacy to be cherished.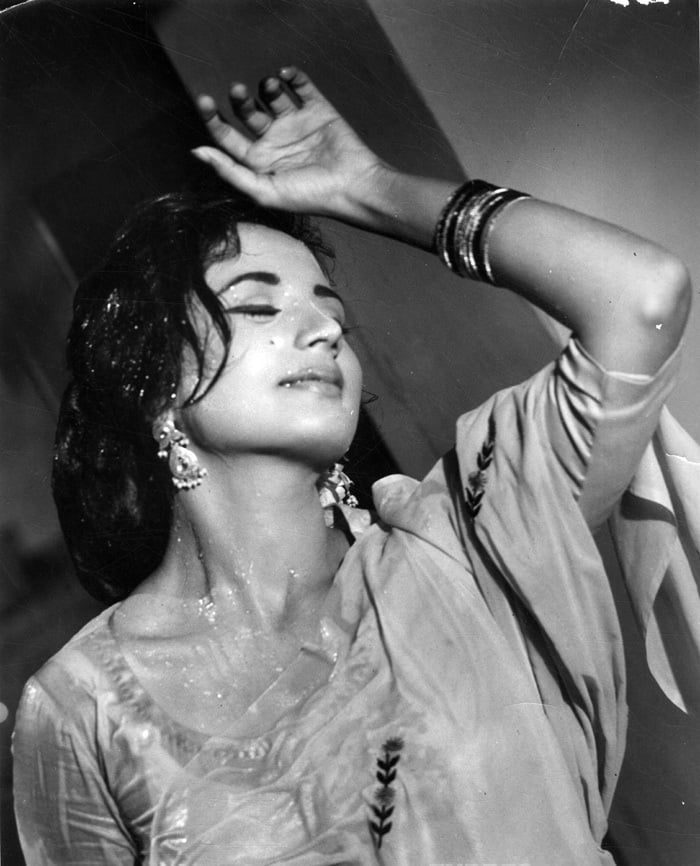 About Nanda
Nanda was born to a Maharashtrian family, who was in the show business. Her father Vinayak Damodar Karnataki, who was a successful Marathi film producer, director, dies when Nanda was only 8 years old. Her mother Meenaxi was also an actress. Nanda made her debut in 1948 with Mandir as Baby Nanda.
Her uncle V. Shantaram gave her the first big break by casting her Toofan Aur Diya in 1956. The next year she was nominated for the first time for Filmfare Award for Best Supporting Actress for her role in Bhabhi in 1957.
Her illustrious film career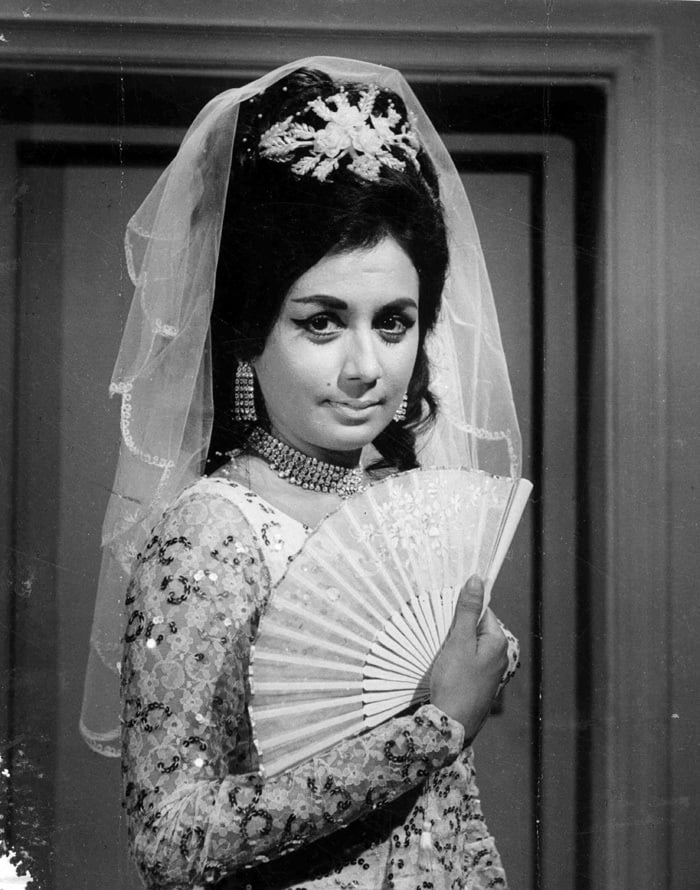 She then graduated to other supporting roles in Dev Anand-Waheeda Rehman starrer Kala Bazar, followed by lead roles in Gumnaam with Manoj Kumar, with whom she teamed up again in Mera Kasaoor Kya Hai.
During her prime she mostly worked with Shashi Kapoor and the duo featured in super-hit movie Jab Jab Phool Khile, still remembered for its music and hit songs, including the song Ye Samaa, picturized on the actress.
Nanda – Shashi Kapoor's lucky charm
Nanda was said to be fond of Shashi Kapoor, who enjoyed his first solo hit in Jab Jab Phool Khile with her. She also happened to be the actor's first heroine and he, too, was fond of her.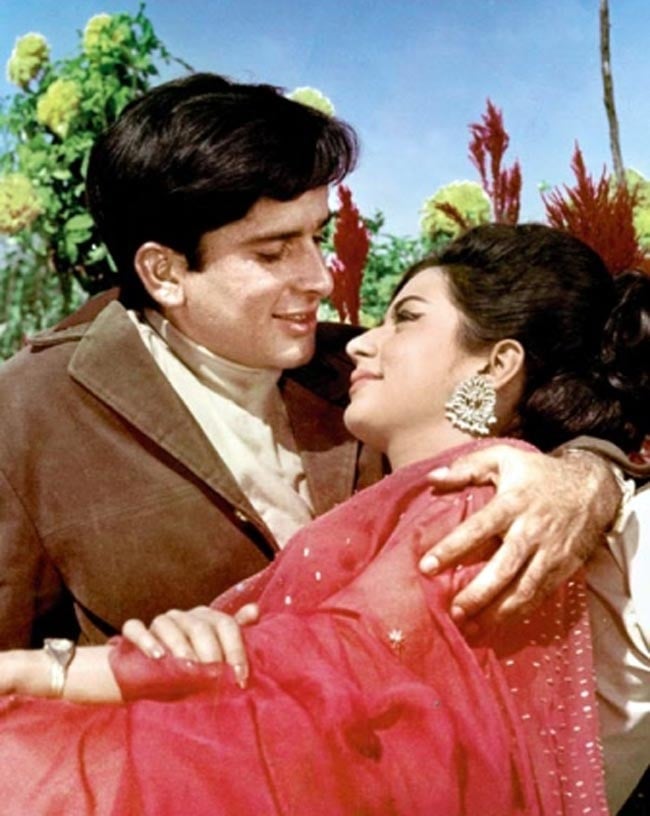 She even played the female lead opposite Dev Anand in films like Hum Dono and Teen Devian. In the late 1960s, she was seen with Rajesh Khanna, a newcomer at that time, in Ittefaq (1969) and her performance in the suspense thriller won her a Filmfare Awards nomination as Best Actress. The duo also worked together in another thriller The Train (1970) and comedy Joroo Ka Ghulam (1972), which were successful at the box office.
Shashi Kapoor used to consider her as his lucky charm. Industry folklore also has it that it was Nanda who recommended the then up and coming Rajesh Khanna to producer Rajendra Kumar for The Train, one of Khanna's initial hits.
Her personal life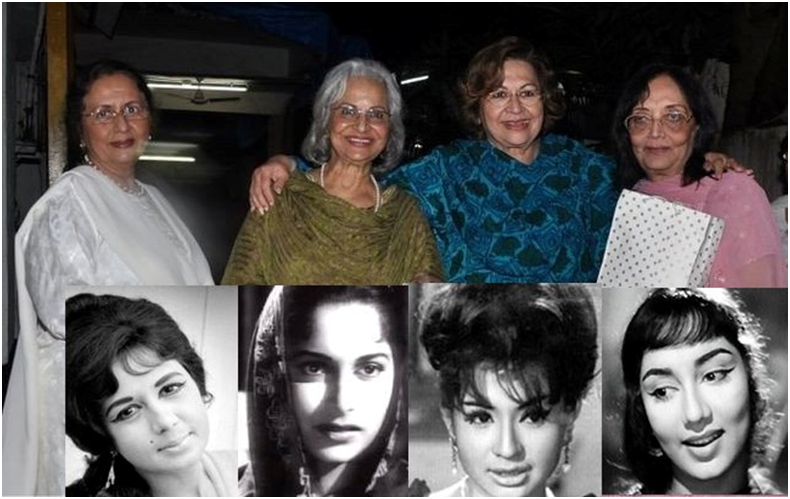 Nanda was never married. In 1965, the Jab Jab Phool Khile director Suraj Prakash was approached by a Maharashtrian lieutenant colonel who was smitten by Nanda. Suraj Prakash was asked to forward his marriage proposal to her mother but that didn't work out. Nanda's brothers brought her many good proposals, but she turned them all down.
It was only in 1992, she was in the news for her engagement to legendary director Manmohan Desai at the urging of her long time friend Waheeda Rehman.
[sc:mediad]
Her affair with Manmohan Desai was short lived as within two years after their engagement, Desai died in 1994 after falling from the terrace of his rented flat in Girgaon. Nanda, in her late life was in touch with her family members and friends like Waheeda Rehman, Asha Parekh, Sadhna, Helen and Saira Banu. She had made a rare public appearance with Waheeda Rehman for a screening of Marathi film 'Natarang' in 2010.
Saira Banu on her demise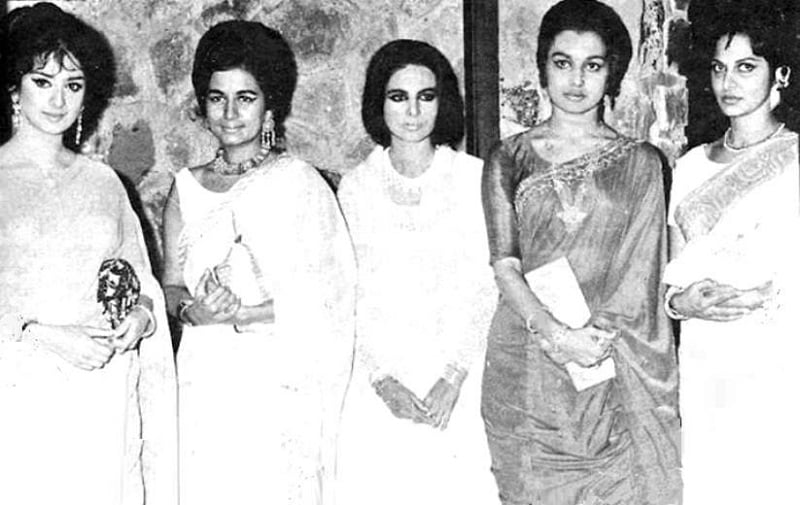 Yesteryear actress and her long time friend Saira Banu couldnot believe that her good friend and 'Jab Jab Phool Khile' star Nanda was no more. "It's terrible to hear this sad news. I am devastated. She was a very sweet and loving person. She was homely and family oriented. She was not a party person… This was a common quality between the two of us," Banu told PTI.
Saira Banu became friends with Nanda in 1983-84 and since then they have been sharing good bond. She further added,
"I loved her the most in 'Chhoti Behan', 'Jab Jab Phool Khile'. I admired her work a lot, she was a very talented actress."  "We used to meet once in two-three months… We used to go to each other's place. She loved biryani, shami kabab a lot at our place. Then she cut down on her eating habits and then she, Dilip Sahab and I used to have snacks. We shared a lovely friendship. We both respected, loved each other. We had a lot of regard for each other. We three used to go on drive as well," she said. Banu spoke to her last Saturday and had gifted her a white outfit, which Nanda loved a lot.
Nanda in Jab Jab Phool Khile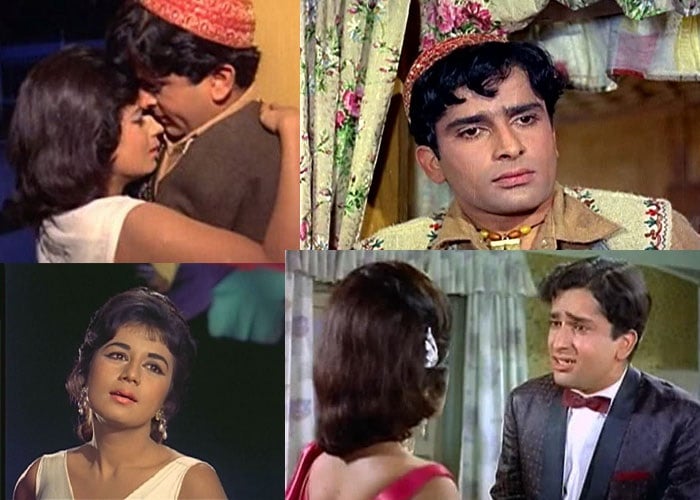 I just can't forget her glamorous role in Jab Jab Phool Khile, which is one of my favorite movies' list that also includes Arzoo, Shagird, Padosan and Junglee to name a few.
In this movie, Nanda plays the character of an elite opulent girl, who has just returned back to India from USA in this very entertaining romantic film.
Apart from the strong storyline and exotic location of Kashmir, her wardrobe fashion is something that will instantly catch your attention.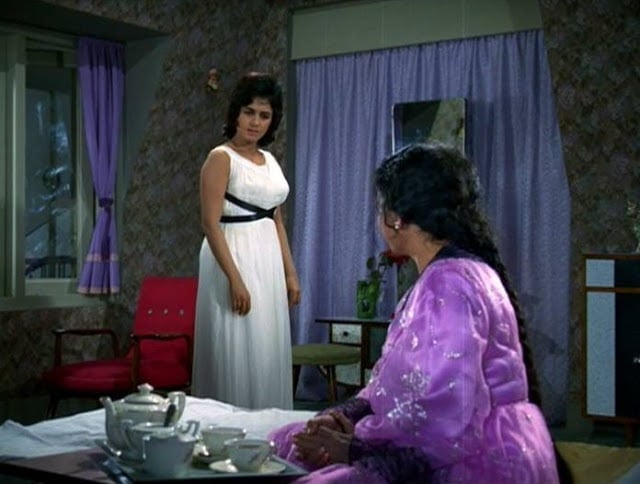 Perhaps Jab Jab Phool Khile was the best movie of her career, giving her fans some of her best looks. Some of the outfits that she had worn in the movie still correspond to the new age fashion. I especially liked her white night gown which featured the black X band underneath her bust.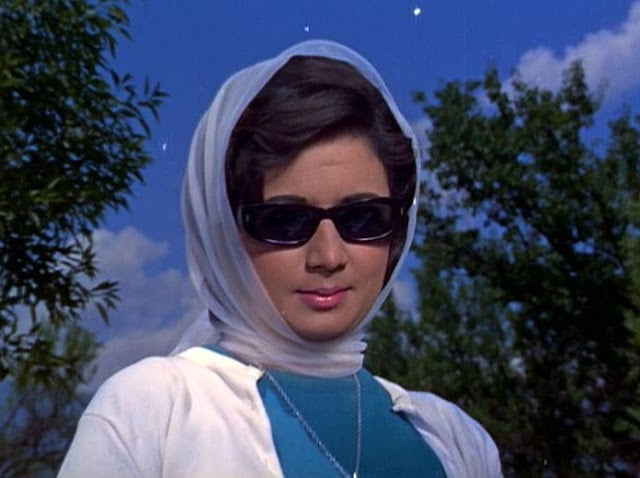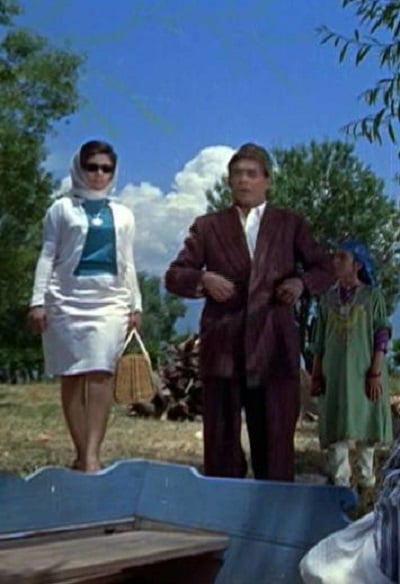 Upon her arrival in Kashmir, she wears classic attire. She looked every bit of screen siren as she appeared in a white skirt suit paired with a blue knitted top and not to mention her headscarf and black sunglasses.
She took the entire nation by storm as she overnight became a fashion icon with inspiration to many.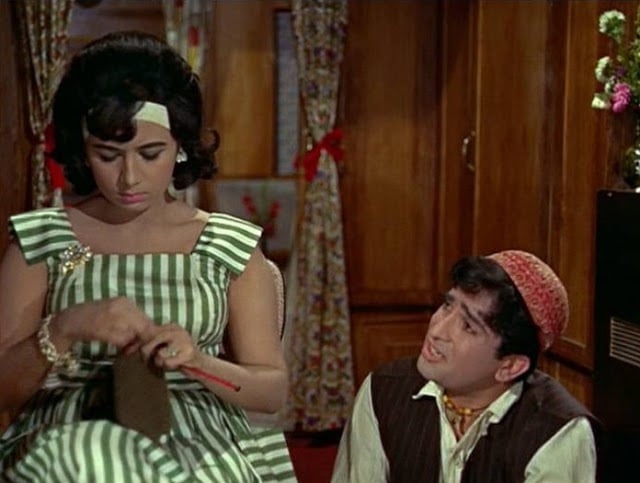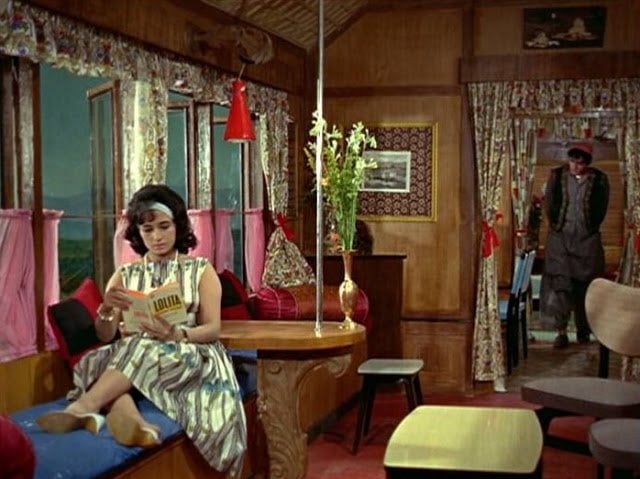 And how could we ignore her stylish tea dresses, including the white and green striped dress, which she had accessorized with a smart gold and diamanté brooch on the right side of the dress.
Another fabulous outfit from her movie's wardrobe was the high waisted blue pencil skirt which she had paired with what looked like a cropped top (in trend today). She had kept her look clean as she had only opted for a white headband and silver bangles.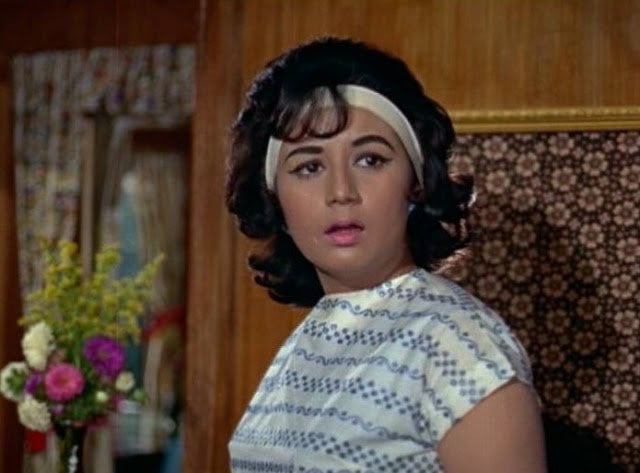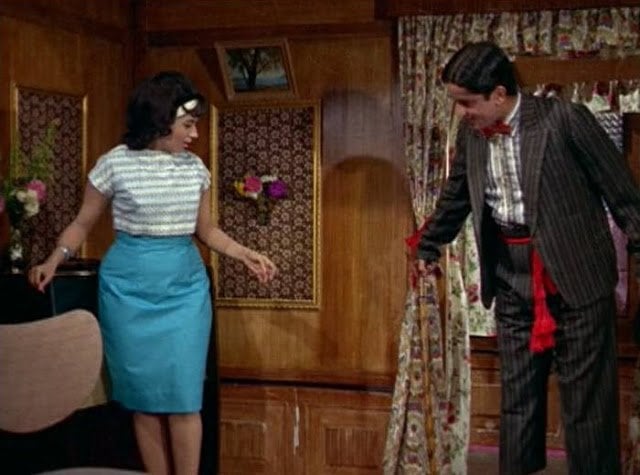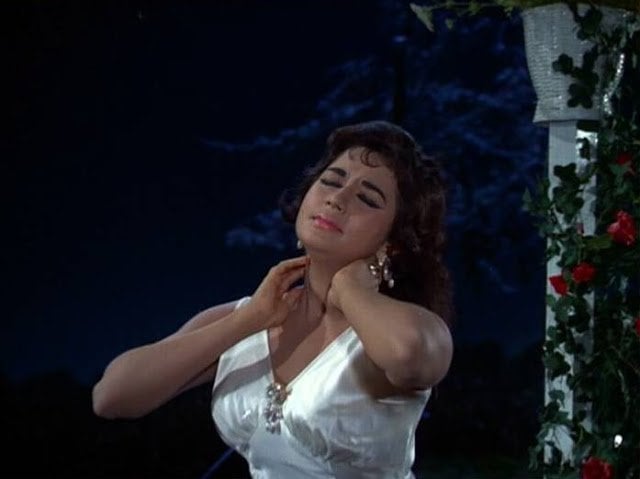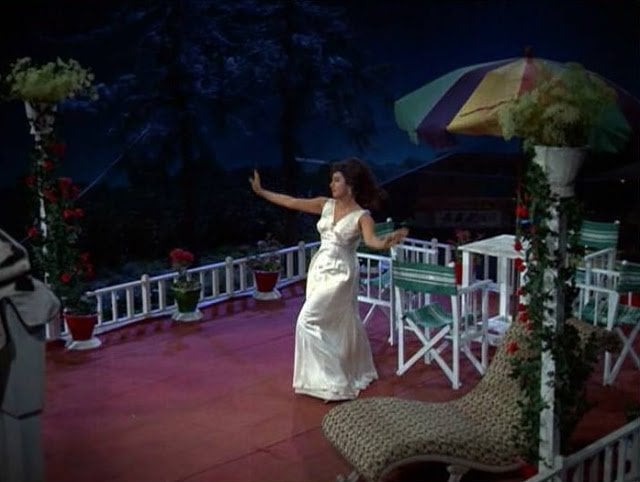 Talking about her Jab Jab Phool Khile fashion, her 'Yeh Sama' song sequence is the most remembered one where she wears a luxe silk white gown. She looked every inch of an upscale gal who was in abroad learning every page of fashion Bible.
Nanda was last remembered for playing Padmini Kolhapure's mother in Raj Kapoor-directed Prem Rog. In the mid 1990's she bid adieu to movies and stayed away from the media glare.
We will miss you Nanda for your work and moreover the golden heart that you had full of love and compassion!