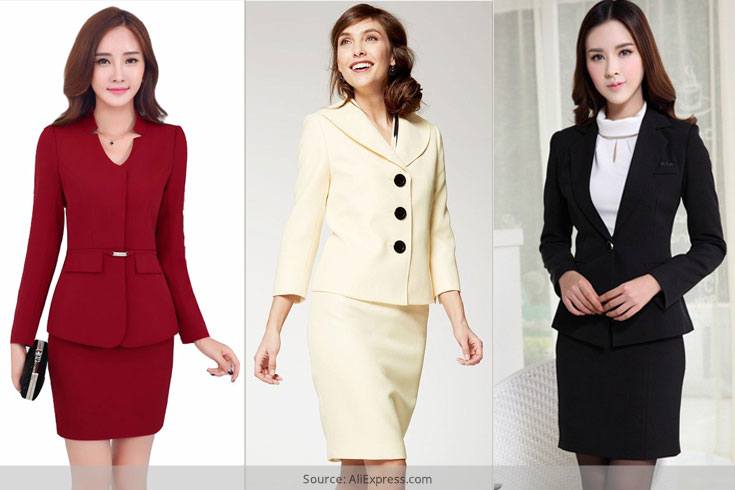 We all know workplaces are defined by an employees' dress code to ooze the right professionalism and courteous vibe! However, it need not be boring and uniform like! Professional looking , yet stylish and functional work outfit ideas are required which not only make you feel confident and stylish but also creates a good impression on all those you come interact with. You cannot forget that your attire not only reflects your environment and position but also forms the basis on which you will continually get judged. This will inevitably affect your performance and then your pay packet and growth prospects. To make the task easy for you, we have rounded up some awesome tips on what to wear to office. Check it out!
Office Wear Ideas
A Blazer Is A Must
One of the handiest and necessary items for your varied business outfit ideas is the blazer. Very few realize the difference it can make to your overall look! A casual outfit can easily be upgraded to a work outfit by simply adding a blazer. You can stick to single neutral colors like black, grey, brown, etc., for the formal days, but bright prints and shades which are not loud can make your business casual outfit ideas, a cakewalk! In case, it is missing, add a couple of blazers on a priority basis to your wardrobe.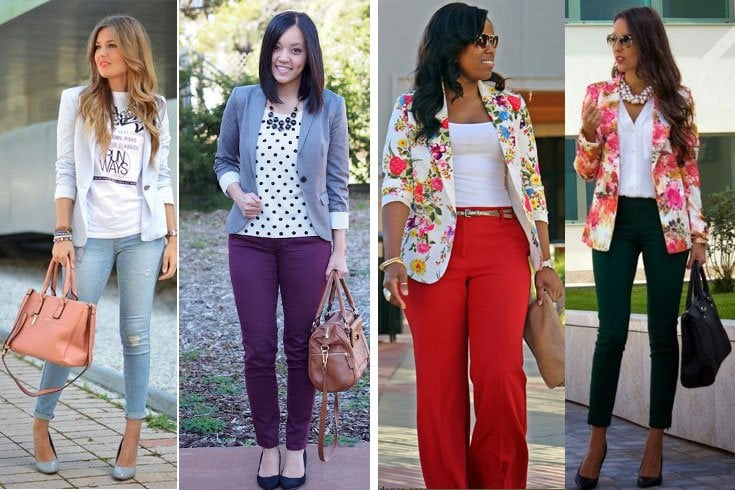 Skirt Suits Make A Terrific Impact
Do you know that trouser suits are seen as a symbol of ruthless ambition and success? This inevitably cannot lead to a highly positive impression. Instead use skirt suits for your various work outfits. They not only let you feel all feminine and sexy but also make a strong impact on others! They are perfect to impress anybody yet pass the message emphatically that you mean business. Not only do they lend you unmatched confidence but they are also super easy to pull off! You need not sweat too much over office wears ideas. Be it in monochromatic feminine hues or in contrasting shades of both neutral and soft feminine hues, they lend you a style to reckon with!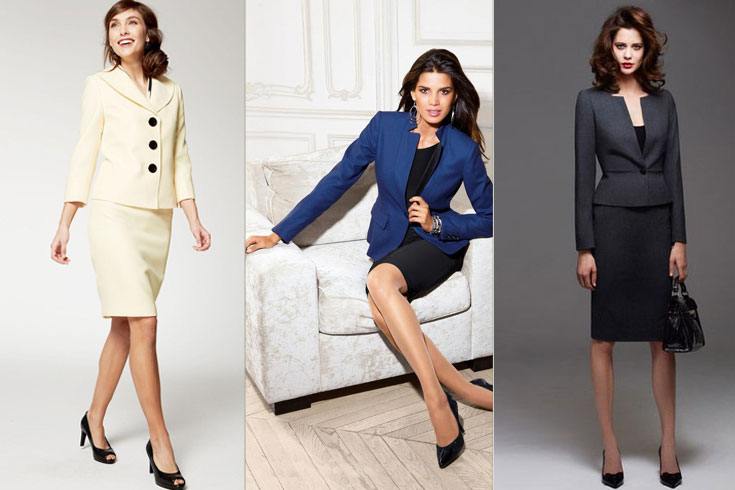 Accessories Are Important
Appropriate jewelry and accessories are all too important to polish off any of your work outfit ideas! The ever popular plastic fancy jewelry may look fantastic everywhere but your workplace! Always opt for some timeless elegant pieces like pearl and diamond earrings and necklaces, diamond studs or any other elegant pieces would work. Do not wear loud jewelry or those that make noises like the bangles. Again jewelry must be minimalistic so that they complement your outfit and not overpower it. Similarly, your bags should be stylish and chic. Whether you are opting for colored or classic bags, they can be your perfect companion to add that extra style statement to any of your business casual ideas as well as the formal ones!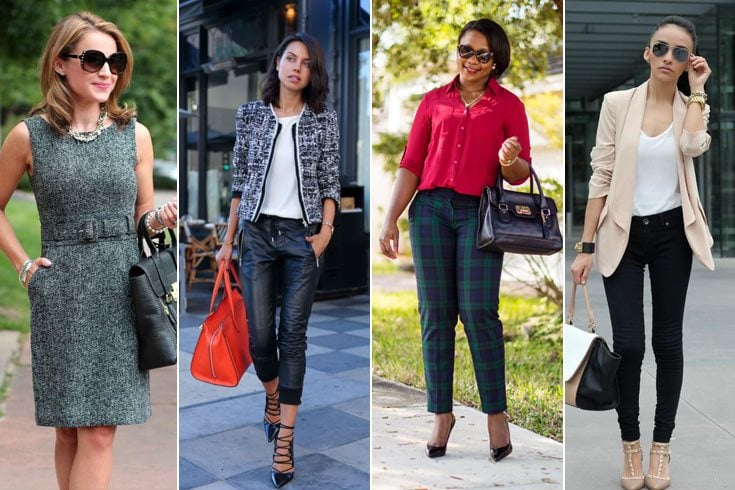 Pop Of Color
We females need that pop of color to feel all bright and sexy! While loud colors and bright colors are not exactly workplace friendly, their smart and clever infusion in your casual work outfit ideas can break the monochromatic and boring look! Add that pop of color in subtle ways to your everyday work outfit with maybe a pair of colored shoes or purse or even a nice scarf around your neck! Today, we have plenty of trouser and skirt suits in feminine colors like pink, yellow, pastels and even red which are getting accepted with aplomb! However, they should be best worn in the monochromatic ensemble! Their cut should always be conservative so as to not draw too much attention to itself but simply an extension of your personality.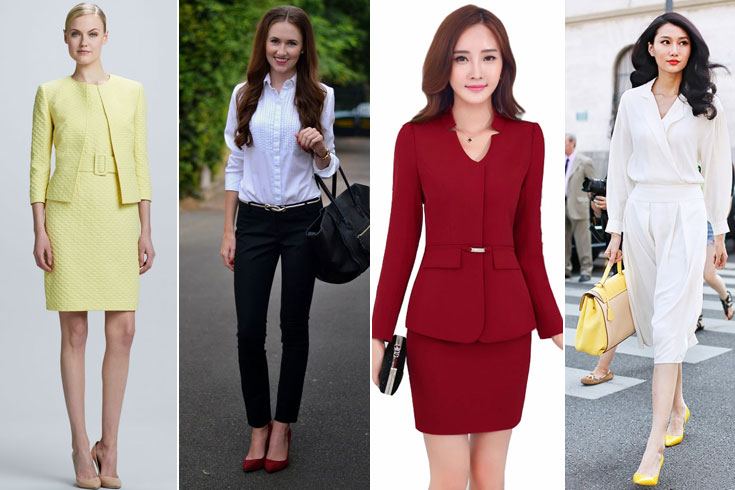 Heels Add That Extra Oomph
Heels give you that extra length and a slimmer vibe which not only enhances your confidence but also adds that extra 'oomph' to lend you the fierce look required for a workplace! If you are in a senior level position, the extra height works to your advantage in intimidating any man and letting your power be known! Regarding health concerns, one can simply slip them off when at the desk and slip back into them when required to move.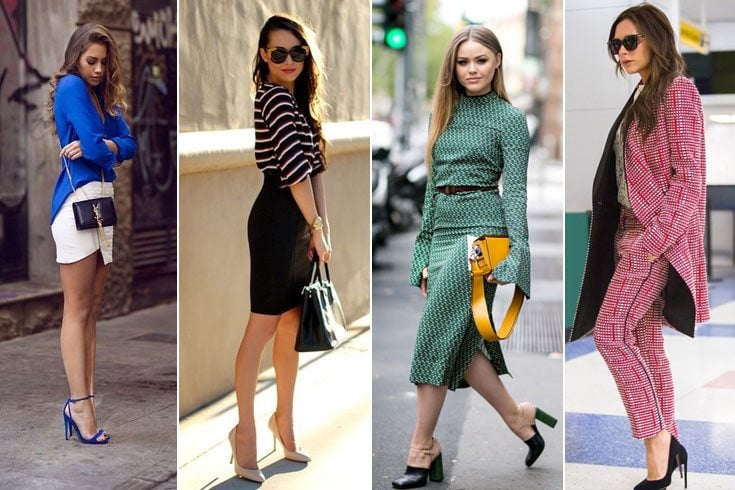 Makeup And Perfume
These are no less important than your work outfit and can actually make or break them! Always wear minimalistic makeup that enhances your natural look, especially in the office fluorescent lights and does not make you like a dolled-up girl. Similarly, the perfume should not be so overpowering that it attracts attention. Soft floral scents are simply wonderful to wear at the workplace.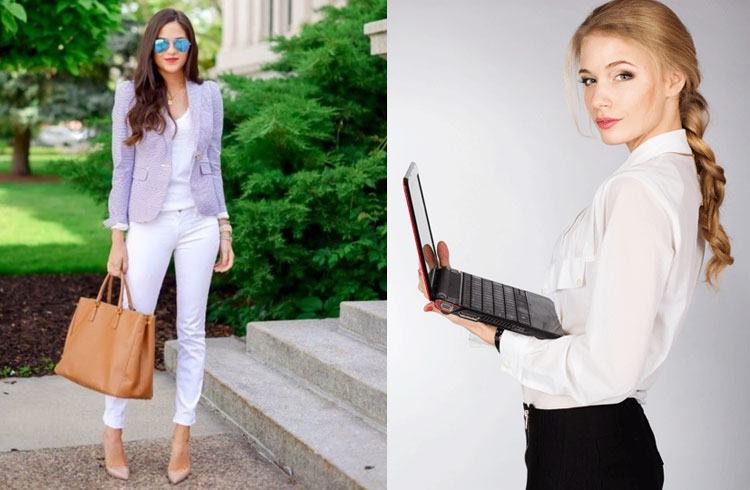 Now that you have quite a few work outfit ideas up your sleeve, let us know how you rocked them! Do you have any other ideas to share with us?
Images Source: pinterest.com