What do you do for your dry and parched skin? Apply moisturizing creams, right? This particular skin is 10 times thinner than the skin on your face and starts to age 36 percent faster than the rest of your skin. It is high time you use eye creams for wrinkles.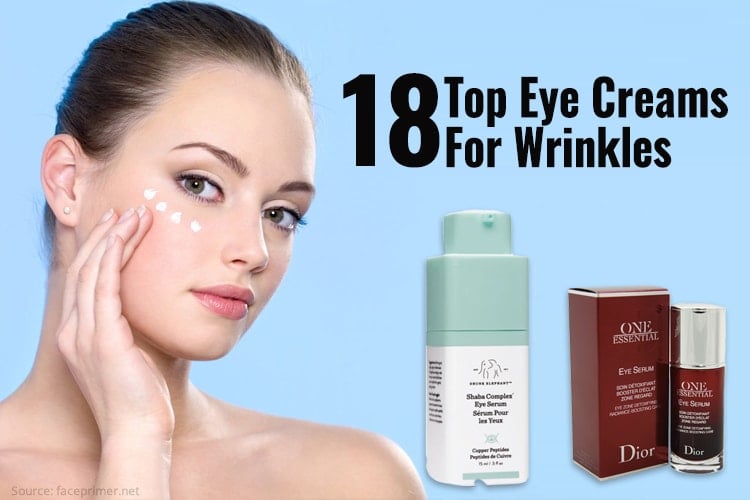 Yes, eye creams target a lot of issues with one principle in mind – that your under-eye skin looks younger, plumper, devoid of wrinkles and give an effect that you slept the whole of 8 hours last night…actually, so!
Here Is The List Of Best Eye Creams For Wrinkles:
If eyes are a window to one's soul, then you need to have gorgeous and nourished under-eye skin as well. How else will your eyes look tempting? The market has plenty of eye creams for wrinkles that work. Credit also goes to best anti wrinkle eye cream drugstore to make the wrinkles around eyes a thing of the past. The top 18 eye creams for wrinkles for you:
1. Shiseido Benefiance WrinkleResist 24 Pure Retinol Express Smoothing Eye Mask:
Concentrated treatment sheets with retinol technology that reduce the wrinkle appearance with just one application
The moon-shaped retinol patches of this under-eye mask sit snugly on your under eye skin
With each use, the eyes look vibrant and awake
In fact, you can also use it to combat laugh lines under your mouth
Apply and leave on for just 15 minutes
Also, the Winner of Allure magazine's 'Best of Beauty' award for Best Mask for Eye Area, 2017
Price: INR 4,757.19
2. TATCHA The Pearl Tinted Eye Illuminating Treatment:
2-in-1 makeup and treatment formula
A tinted moisturizer for your eye area and the coverage of a lightweight concealer
Reduces the look of dark circles under eyes and wrinkles instantly
Price: $48
3. Dr. Dennis Gross Hyaluronic Marine Dew It All Eye Gel:
A multidimensional eye corrector from Dr. Dennis Gross, a nationally recognized dermatologist
The active ingredients in it leave your eyes smooth and hydrated for up to 72 hours
Target areas include puffiness and fine, dry lines around the eyes
Hyaluronic acid and Japanese green caviar algae provide line-filling hydration at the eye surface
Caffeine in it minimises dark circles
Price: INR 3,513
4. Dr. Brandt Skincare Needles No More No More Baggage Eye De-Puffing Gel:
Dr. Brandt Skincare created its Filmatrix technology which forms an invisible, biomimetic film
A breakthrough under-eye solution which smooths the under-eye contour
Cuts down the appearance of bags, puffiness, and dark circles
Free of Sulfates, Parabens and Phthalates
Price: $42
5. Drunk Elephant Shaba™ Complex™ Eye Serum:
A silky eye serum, this one has copper peptides and black tea ferment to give you firmer-looking appearance around the eyes
Niacinamide and antioxidants in Co-Q10 fight future fine lines and wrinkles.
No silicones, chemical sunscreens, dyes, perfumes, or fragrant essential oils in any of Drunk Elephant products
Price: $60
6. L'Oreal Paris Advanced Revitalift Eye Cream:
Specially formulated with Hyaluronic Acid
Replenishes the skin volume around the delicate eye area
Has caffeine to reduce under-eye shadows
Reduces eye puffiness and eye bags
Price: $25
7. Nia Fake Awake Triple-Action Eye Gel:
Check this 'power nap' for tired eyes which instantly brightens, smoothens and de-puffs
Patented anti-aging molecule NIA-114 and skin-plumping hyaluronic acid are the go-to ingredients in this eye gel
Price: $36
8. Aveeno Absolutely Ageless Eye Cream:
Grab this eye cream for the "dimethicone" which smoothens fine lines, and mica that blurs imperfections
Blackberry leaf extract and dill in this eye cream help say goodbye to any future wrinkles
Apply a small amount of the cream under eyes, morning and night, patting it gently until the product gets absorbed
Price: $18.69
9. January Labs Skin Essentials Advanced Eye Technology:
This clinically proven eye cream has Regu-age® to lighten under-eye dark circles and reduce puffiness, hyaluronic acid to repair, renew skin; beta glucan to smooth fine lines and wrinkles and peptides to help collagen synthesis
It also has a pro-collagen amplifier to lift wrinkles and refine your skin's surface
Featured in Vogue: "10 Best Eye Creams"
Price: $87
10. Algenist Complete Eye Renewal Balm (with Alguronic Acid):
An eye balm that reduces fine lines and wrinkles around the eyes, hydrates, and soothes with caffeine, cucumber, aloe, alguronic acid, vitamin C, and green tea extracts
Preps the eye area for longer-lasting makeup application
Parabens, sulfates and phthalates free
Price: $68
11. Clinique Pep-Start Eye Cream:
A shot of espresso for your face. Yes, that's the goodness of Clinique Pep-Start Eye Cream
Anti-ageing peptides in it plump up the eye area
The add-on: lightweight base serves as a primer
Its cool touch and de-puffing keeps eyes looking fresh
Allure 2017 Best of Beauty award winner.
Price: $26.50
[sc:mediad]
12. Estee Lauder Advanced Night Repair Eye Serum Synchronised Complex II:
Lightweight, intensive eye serum
Fights visible signs of aging around the eye area
Exclusive ChronoluxCB™ technology maximizes the power of penetration into the skin
Price: $66
13. Origins GinZing Refreshing Eye Cream to Brighten and Depuff:
Brightening botanical eye cream
Its fast-absorbing formula reduces dark circles, puffiness, and boosts hydration
Ingredients include ginseng, coffee bean, and magnolia-extracts
Price: $32
14. Talika Eye Detox Specific:
Why is it labeled 'specific' because it is one!
Targets sagging skin, eye bags and dark circles that increase with aging
Vitamins and antioxidants in this eye cream trigger micro-circulation, thereby reducing puffiness and stimulating collagen production
Key ingredients include Escin (stimulates blood circulation to minimize eye bags), Oats Extract (to smoothen uneven texture) and ChromaDetox Compound (proprietary blend of brown algae extract that reduces hyper-pigmentation)
Comes with a metal roller applicator
Price: $57
15. Philosophy Uplifting Miracle Worker Eye Cream:
A cool-lift™ and firm eye cream
Fights dark circles, puffiness and loss of skin elasticity
Ceramic applicator that calms any inflammation
Persian silk tree-infused cream brightens and firms your skin
Price: $69
16. BeautyRx by Dr. Schultz Gentle Exfoliating Eye Cream:
Innovative glycolic eye cream which exfoliates gently
Effectively reduces fine lines and dark circles under the eyes
Dr. Schultz is a board-certified dermatologist who has a thriving practice in New York over the last 30 years
Paraben free, Fragrance free, Dermatologist tested
Price: $60
17. Dior One Essential Eye Serum:
Enriched with detoxifying red hibiscus (from the Dior Gardens) which pulls toxins from the under eye area
Strengthens and re-energizes delicate eye skin
Price: INR 7,805
18. Lancôme Advanced Génifique Yeux Light-Pearl™ Eye Illuminator:
Eye-illuminating serum which comes with cooling, rotating applicator
Flexible massage applicator so that you can use the rounded tip to give your under eye area a mini massage
Price: $69
Amazed are you looking at the wiiiide range of eye creams for wrinkles? Good. Apart from eye creams, there is a lot more you can do to restore skin elasticity around the eyes. Let's find out.
Tips:
Wear sunglasses if you have to step out in the sun for a longer period of time
Wear wide-brimmed hats which can shield your eyes from the harmful UVA and UVB rays
Facial sunscreen is something you must slather on your face half an hour before going out.
Disclaimer:
The information shared above is for educational purpose only. Before using any product on your skin, it is recommended to consult a healthcare professional.
Hope you found this blog on eye creams for wrinkles helpful and thought-provoking. Share your views, likes, and comments and put it up on your social network too.