Eye Creams? Hello, why and whatever for? Face creams and serums have a task to themselves but how would an eye cream help. It will. Eye-bags and wrinkles were never a woman's best friend. This created a space for the best eye cream for wrinkles, best eye cream for bags and wrinkles, best eye serum for wrinkles and what have you. Their task obviously is to help banish wrinkles, creases, puffiness under eyes, dark circles, and a host of such problems. And they aren't dirt cheap either. Nuance Salma Hayek Age Affirm Firming Eye Balm (named after the stunning-beyond-hell Hollywood actress Salma Hayek) is a case in point. Her eye balm is so insanely rich in ingredients it can give amazing results even on overnight flights. OMG!!
So this blog will open your eyes to the eye care you need in the form of under eye wrinkles cream and best face cream for wrinkles. Let's start knowing about eye creams and serums which can safely show aging the door.
Top 11 Anti-Aging Eye Creams:
Go ahead and check out our list to know about the best eye creams that can reverse the signs of aging and help you remain an eye-candy forever:
1. January Labs Advanced Eye Technology
This best eye cream for bags and wrinkles (suitable for 12 months a year, not January alone) is a concentrated eye treatment which stimulates the production of collagen and promotes skin firmness and elasticity. The best part is that it diminishes wrinkles, lines and puffiness around the eyes in as little as 4 days.
What makes it achieve this? This under eye wrinkles cream is a high-performance formula rich in peptides which enhance elasticity and diminish deep wrinkles and beta-glucan that helps fine lines and wrinkles fade away. The product also contains Regu-age a clinically proven anti-aging peptide that lightens under-eye dark circles and minimizes puffiness.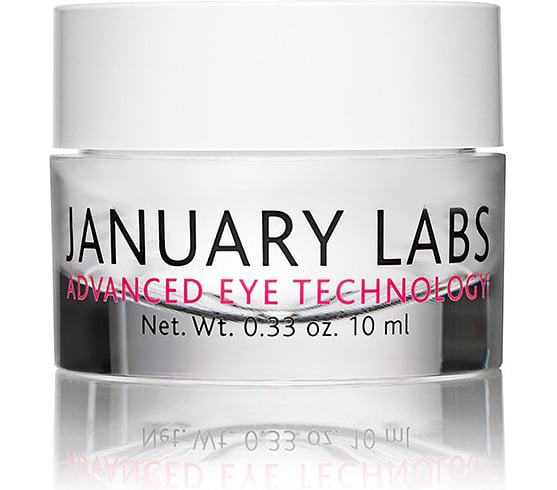 2. Dr. Brandt Do Not Age Triple Peptide Eye Cream
Eye Illuminator! Powered by exclusive "triple peptide" complex, this best eye cream for wrinkles has an ultra-rich formula to rejuvenate and reverse signs of time. Post application results include a reduction in puffiness and dryness of the skin around the eye. It also aids the fading away of dark circles and wrinkles. The best thing about this under eye cream is that it recharges tired eyes.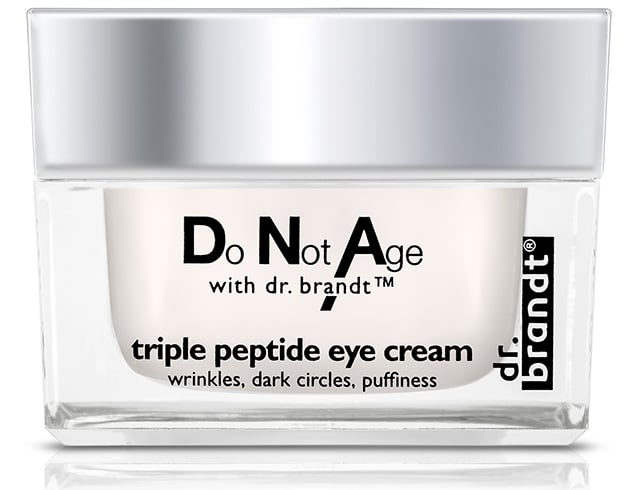 3. La Mer The Lifting Eye Serum
Wanna give your eye area a luxurious and lifted look? Meet La Mer The Lifting Eye Serum. Sea botanicals (Sea kelp to be precise) in this best eye serum for wrinkles promote the natural production of elastin in the skin and help lift and shape the look of natural eye contours, visibly elevating everything from lid to brow.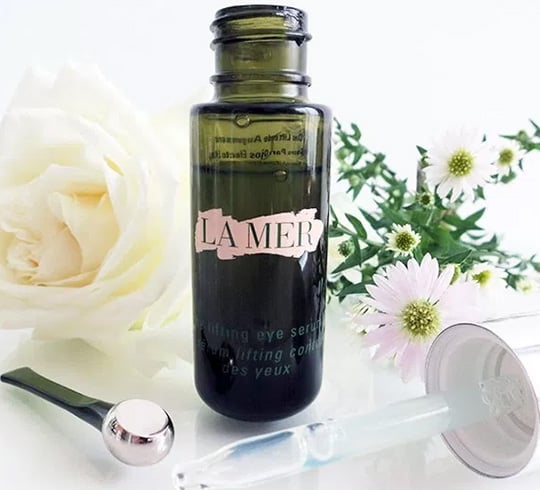 4. Dr. Dennis Gross Skincare Ferulic + Retinol Triple Correction Eye Serum
Loaded with a potent ECG Complex™, and anti-aging oils this product promises smooth, younger-looking eyes. This under eye wrinkles cream contains Retinol that diminishes fine lines, wrinkles and crow's feet while ferulic acid brightens. The Willow bark extract in it helps reduce puffiness and soothes the under-eye skin.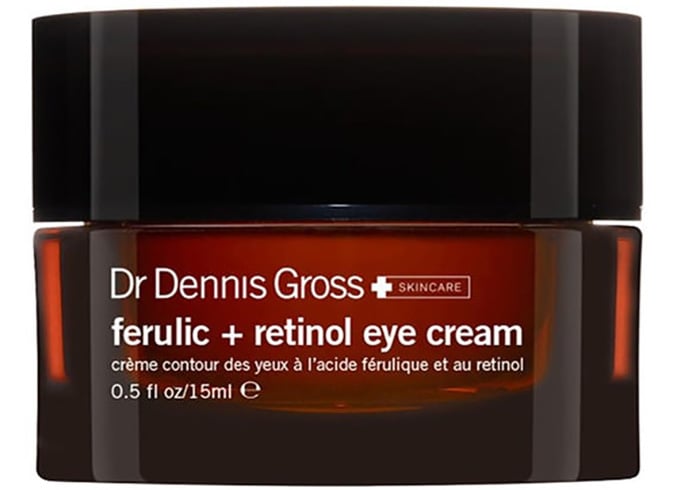 5. Clinique Pep-Start Eye Cream
Did you know the round tip of this tube works like a magic wand? It can make the signs of aging disappear from your face in the blink of an eye! This eye cream is like a shot of espresso for your face. Use it to give a gentle massage around your beautiful eyes which have been troubled by fine lines and wrinkles to look wide awake and refreshed. This lightweight hydrating eye cream fights dryness and puffiness. This best eye cream is super safe as it does not contain – Parabens, oil and fragrance. This product is non-allergen and tested by ophthalmologists.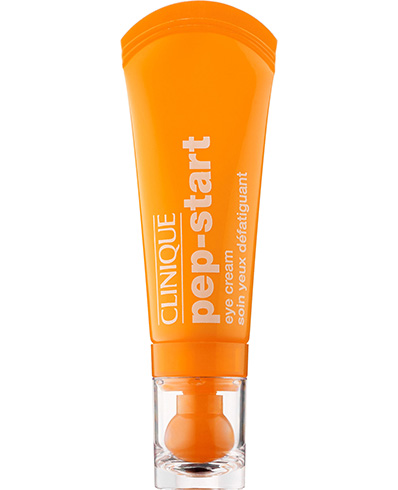 6. Estee Lauder Re-Nutriv Ultimate Diamond Transformative Energy Eye Creme
Any product from Estee Lauder is a hallmark of luxury itself. So is the lightweight yet intensely rich Re-Nutriv Ultimate Diamond Transformative Energy Eye Creme. The best eye cream for bags and wrinkles to revitalize the skin around your eyes leaving it refreshed. The product has the precious Black Diamond Truffle extract to reenergize your under eye skin. Its cooling golden alloy massage wand, empowered with next-generation sculpting technologies rotates to gently stimulate the regeneration of the skin around your eyes. As a result of which, aging signs including dark circles, puffiness, fine lines and wrinkles, look visibly reduced. Rejoice!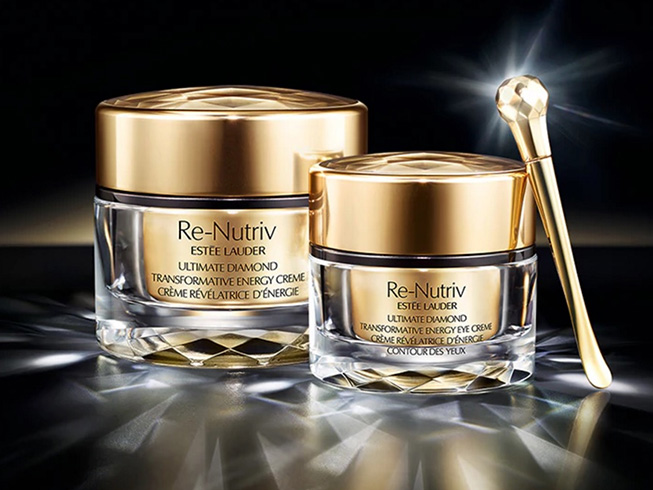 7. Murad Professional Eye Lift Firming Treatment
The tag "Professional" confirms the fact that this is Dr. Murad's most sought-after and breakthrough anti-aging formula for the under eye area. It instantly lifts, firms, and tightens the under eye skin visibly reducing the appearance of fine lines and wrinkles. The use of eye pads enhances the penetration of this wonderful under eye wrinkles cream giving you optimal performance and results. The product promises 2X visibly firmer skin instantly. It also claims that 86% users noticed a reduction in the appearance of fine lines and wrinkles within a week.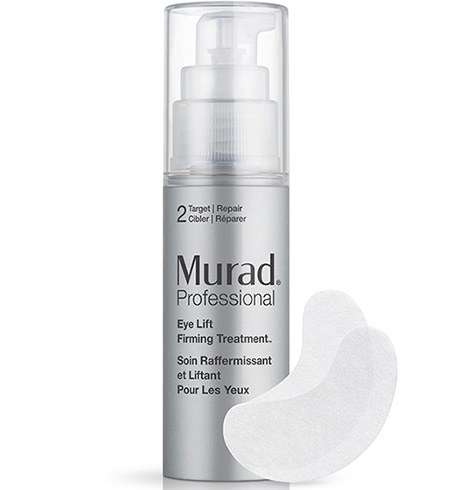 8. Yves Saint Laurent Forever Youth Liberator Eye Zone Serum
This best eye serum for wrinkles targets the eye zone: under-eye wrinkles, crow's feet, fine lines, as well as bags and dark circles. It's a plumping potion for your under-eye skin. It features the patented Glycanactif™ complex.
Interesting find –
The product bagged the 'Best of Beauty' award by Allure magazine for Best Breakthrough in the year 2012. It is a perfect example to show how technology scores a point in beauty innovations.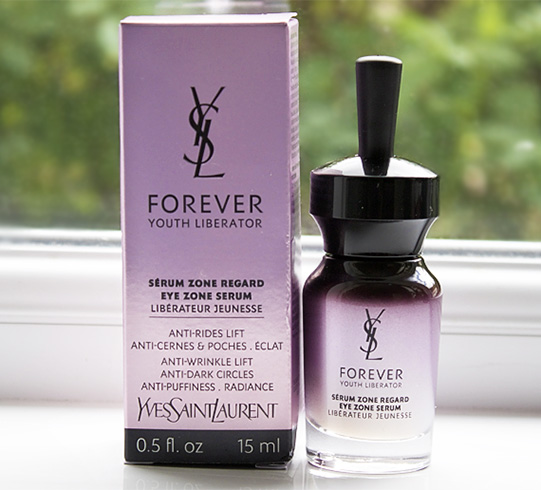 9. Estee Lauder Advanced Night Repair Eye Serum Synchronised Complex II
The lightweight serum works as an anti-aging eye treatment that brings back the youthful light of your eyes. In fact, its Youth Light Measurement™ shows that the product adds a 25% more youthful—vibrant, brighter—look to your eyes. And then it has exclusive ChronoluxCB™ Technology which maximizes its impact through the night. This fast-penetrating serum is tested by Dermatologists and Ophthalmologists. It is non-acnegenic too! This best eye serum for wrinkles is definitely a treat for your eyes!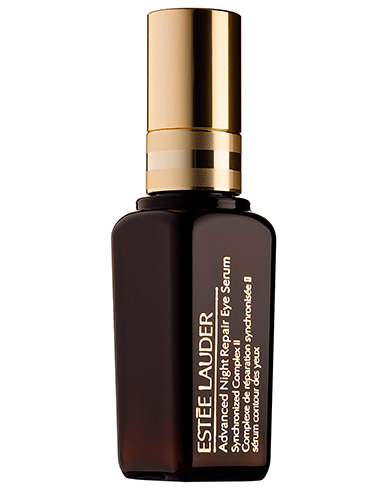 10. This Works No Wrinkles Tired Eyes
Does it? Yeah, it does. This Works best eye serum for wrinkles tightens the skin and reduces the signs of fatigue. What's special about it? The premium product boasts that it has exotic Persian Silk Tree extract that stimulates detox overnight, while its Superblend of Encapsulated Retinyl Palmitate, Hyaluronic Acid, botanical oils and plant extracts helps in skin rejuvenation.
BTW, this eye care brand was the Winner of Image Business of Beauty Awards 2014.
Whoa! This is jolly well proof of the claim that This Works (pun or no pun).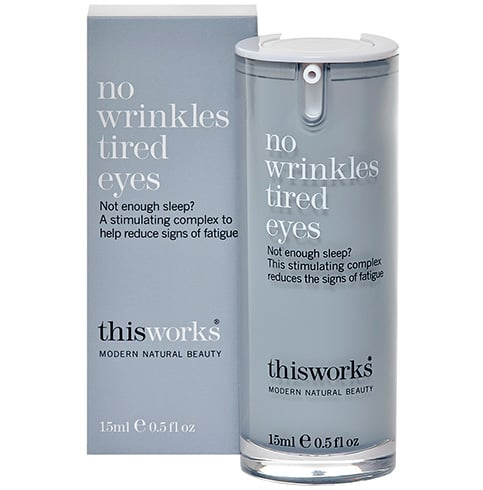 11. Dermalogica Age Smart Multivitamin Power Firm
You take multivitamins for your body, why not for your eyes? With ingredients like wrinkle-fighting Vitamin A (Retinol) along with brightening vitamin C and hydrating vitamin E (anti-oxidants to reverse aging you see), you have a perfect under eye wrinkles cream. Dermalogica Age Smart Multivitamin Power Firm has the goodness of  Seaweed Extract to help minimize the tiniest of lines and imperfections. This product has absolutely no artificial fragrances and colors. It can help prep your face for a crease-free makeup.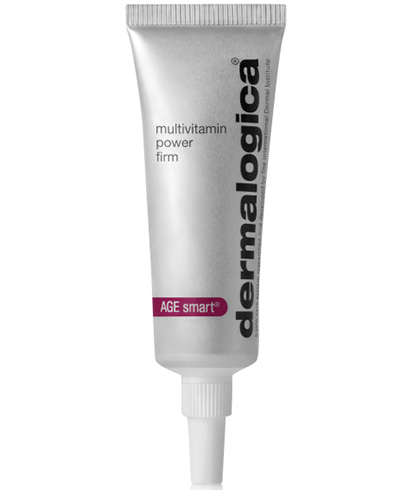 I know buying one of these best eye cream for wrinkles is going to burn a hole in your pocket. But beauty fades away one day. Would you like to look old with sagging skin when you are in the prime of youth? Nah! Invest in under eye wrinkles cream and they will return the favor by giving you porcelain under-eye skin. Remember these under eye creams will help you remain the cynosure of all eyes no matter what your age is. Have you tried any of the above products? Share your review with us in the comments section below.
Images Source: pinterest