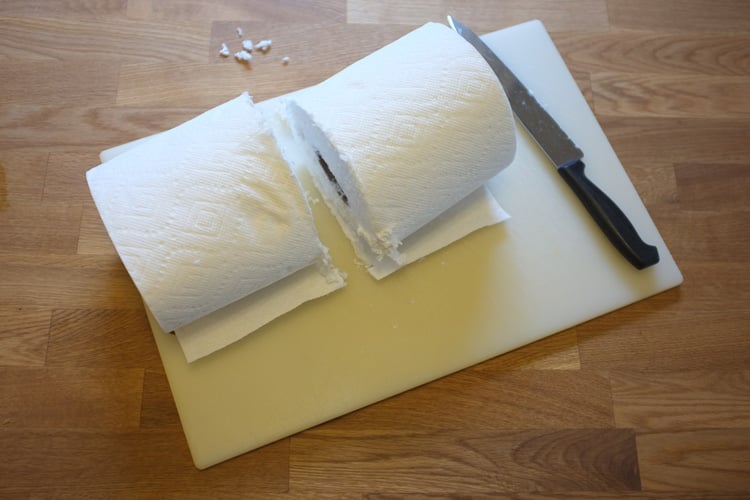 Looking after your coochie-coo is a full-time task (but one full of joy too). From their oils, soaps, shampoos to diapers, all have to be safe and quality perfect. Then only you will feel the assurance of being a good mom.
The same expectations are applicable for baby wipes. Ever checked out on the ingredients of popular brands of baby wipes?
It's Shocking!
Brand 1:
Ingredients: Water, Disodium EDTA, Xanthan Gum, Caprylic Triglyceride, PEG 40 Hydrogenated Castor Oil, Benzyl Alcohol, Iodopropynyl Butylcarbamate, Sodium Hydroxymethlyglycinate, Citric Acid, Fragrance.
Hazard Rating: 5 (out of 10) and warnings include possible allergies, immunotoxicity and organ system toxicity.
Brand 2:
Ingredients: Water, Potassium Laureth Phosphate, Glycerin, Polysorbate 20, DMDM Hydantoin, Tetrasodium EDTA, Methylparaben, Malic Acid, Aloe Barbadensis Leaf Extract, Calendula Officinalis Flower Extract, Camellia Oleifera Leaf Extract, Cucumis Sativus (Cucumber) Fruit Extract, Retinyl Palmitate, Tocopheryl Acetate, Zea Mays (Corn) Oil, Phenoxyethanol, Butylparaben, Ethylparaben, Propylparaben, Isobutylparaben, Fragrance.
Hazard Rating: 7 (out of 10) and warnings include cancer, immunotoxicity, allergies, developmental problems, reproductive toxicity, organ dysfunction, endocrine disruption and cellular changes.
You think they are safe? NOT AT ALL. What will you do? Don't hit the panic button yet just go ahead with your read.
Homemade Wipes – The Safe Bet:
Honey, you need homemade baby wipes for your bonnie baby. They are much safer and healthier for your little one and make the best baby wipes. Classify them as natural baby wipes or organic baby wipes, the homemade baby wipes are irritation-free. Your child and your wallet – both will happily approve of homemade baby wipes.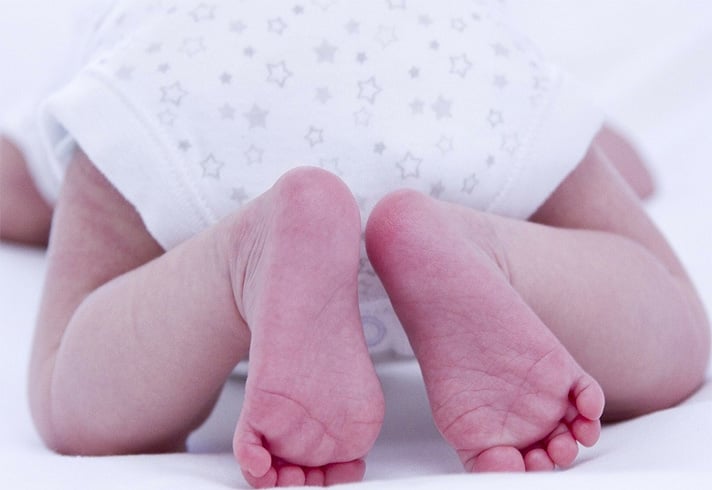 How To Make Baby Wipes At Home:
Here is the recipe. It is healthier and cheaper (will neither shock your baby nor your pocket).
Ingredients:
Heavy duty paper towels – 1 roll
Rubbermaid #6 or #8 container (old wipes containers, old plastic coffee containers, plastic shoe box containers, even empty plastic ice cream buckets are good to go)
Boiled water (or distilled) and cooled but still warm – 1 3/4 cups
Pure Aloe Vera gel– 1 tbsp
Pure Witch Hazel Extract – 1 tbsp
Liquid Castille Soap – 1 Tsp
Grapefruit Seed Extract – 10 drops (optional – 2 capsules of Vitamin E)
Olive oil or almond oil – 1 Tsp
Essential oils of your choice
Knife (sharp one, not serrated)
Process:
Using a sharp knife, cut the roll of paper towels into halves.
If you are using a plastic shoe box or old wipe container, then fold the wipes into the container. If using Rubbermaid #6 container, place the wipes (cut side down) in the container.
In a bowl, mix water, aloe vera, witch hazel, liquid Castille soap, GSE/Vitamin E and oil and stir.
You can also add essential oils to the above solution and stir.
Pour it over the paper towels kept in the container
Keep it aside for 5 to 10 minutes.
Flip the container over. The idea is to ensure that the wipes are well-soaked.
N.B.: If you are using Rubbermaid container, pull the cardboard roll out from the inside. This will pull the innermost wipe out which can then be used.
Now that your homemade baby wipes are ready, use them with absolutely no worry. Your child will not have any more health problems (not with baby wipes that have been made using natural ingredients).
Essential Oils Safe For Use In Homemade Baby Wipes:
Two of the oils are safe for babies (but, diluted). They are lavender and chamomile. The bonus point being both these oils prove to be effective in bringing relief from skin problems related to diaper rash.
Chamomile: Ideal for baby's sensitive skin. It promotes skin regeneration and is anti-inflammatory in nature (which is why it helps relieve skin rashes).
Lavender: Being the most versatile, lavender oil is soothing and gentle for the babies. It also has antiseptic properties.
[sc:mediad]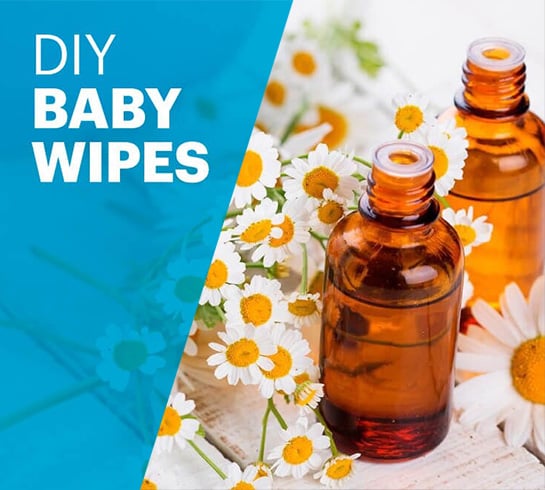 Organic Homemade Baby Wipes
Organic is in – whether in shampoos, cosmetics, to even organic baby wipes. You can make your organic natural baby wipes at home without paying a fortune.
Guess the key ingredient in organic baby wipes? COCONUT OIL. So your sweetie pie not only gets anti-microbial properties, he/she also gets a natural sanitizer which is gentlessttttt on her delicate skin.
Here is how to make these cleansing wipes?
Ingredients:
Soft paper towel roll – 1
Raw organic extra virgin coconut oil – 1 to 2 tbsp
For baby wipes: Organic baby wash – 1 squirt
For facial cleansing wipes: Mild face wash – 1 squirt
Tupperware container – 1 medium sized
Process:
In a Tupperware container, mix water, extra virgin coconut oil and organic baby wash.
Then, cut the paper towel using a sharp knife.
Put the cut paper towel roll into the above solution.
Close the Tupperware lid and keep it aside for 5 to 10 minutes.
Now take off the Tupperware lid and remove the inner brown paper towel roll from the center.
Pull up a bit of the wet paper towels from the center.
You can now use these organic baby wipes on your kiddo, and even your face.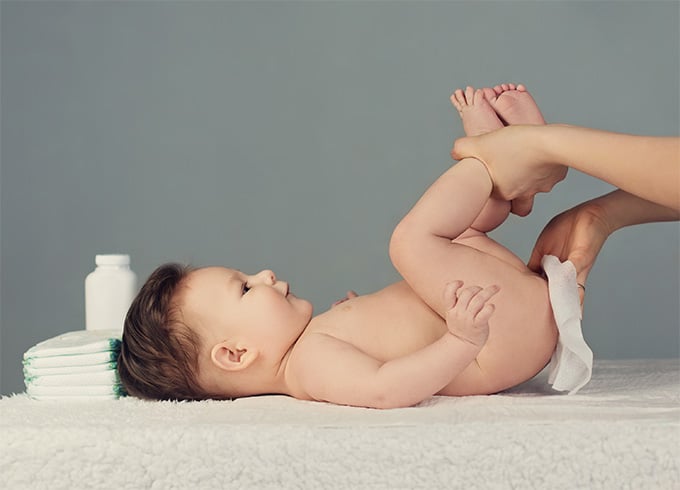 Things To Remember:
Do keep it in mind that homemade baby wipes are not made to last you forever. They tend to mold or mildew after a couple of weeks. So never make the mistake of preparing a bulk of baby wipes in advance.
Before making the next batch of baby wipes, air out the inside of the box containing the wipes.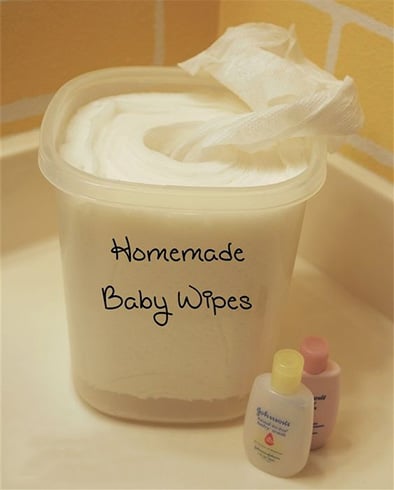 Alternative Uses Of Homemade Baby Wipes:
Want an alternative to hand-sanitizers? The homemade baby wipes are good enough to wipe your hands when you are on the go. In fact, you can use baby wipes as quick wipe-ups – from cleaning small spills off the floor to washing desks at school.
So, are you willing to give homemade baby wipes a shot? Or you already making wipes on your own for your bonnie baby? Write in the comments box and tell us your views on the concept of homemade baby wipes. Hope you will agree they are the best baby wipes – far better than the chemical ones.
Images Source: pinterest