The Bombay Times Fashion Week is one of the most anticipated events of the year. It was a three day occasion which started from 22nd March-24th March, 2019 at the St. Regis, Mumbai. Day 1 opened with designer Shaina NC, INIFD Bandra, Adhya by Shakutala Shetty, Samant Chauhan, and Jewels by Queenie Singh. Day 2 opened with ATDC, ExtraordiNAARI, Swati Mishra, and KIAAN by Sonal Gardoia, ANCESTRY/Anshu Jain, Hopscotch/RAR Studio, TRAWorld FKNS 3 by Narendra Kumar, and Princess Diya Kumari Foundation X Archana Kochhar. Day 3 opened with Sonali Jain Meraki by Rashi N, Dheeraj Sharma, Zarf by Masuuma Namjoshi/ Soshai by Sofi, Kalki, and grand finale by Suneet Varma.
There were several celebrity showstoppers on the ramp including Chitrangda Singh, Sana Khan, Malaika Arora Khan, Shibani Dandekar, Divyanka Tripathi, and Sunny Leone.
Scroll down to catch up on the exciting exclusives that transpired from Day 1 to Day 4 of the Bombay Times Fashion Week, 2019.
BTFW 2019:
Day 1 Highlights:
INIFD Bandra Design Awards at BTFW 2019:
INIFD Bandra made an opening with their show, 'Design Dreams' which showcased the dreams of design students. The institute is the Knowledge Partner of Bombay Times Fashion Week where its students received a chance to display their stunning designs at the event. Seven gorgeous styles were displayed including Red Rain, Style n Drapes, The Mystery, The Orb of the Night, The Ectastic Collection, Mystic Dust, and Ocean Paradise. The showstopper of the show was FBB Colors Femina Miss India United Continents, 2018 Gayatri Bhardwaj.
The style Red Rain was inspired by red colored rain that occurred in South India. It was presented through a display of drama and vibrant shades. Styles n Drapes showcased the essence of a woman through the garment designs representing strength, grace, boldness, and femininity. The Mystery Collection was made for invoking curiosity, fascination, and intricacy with the use of different kinds of fabrics.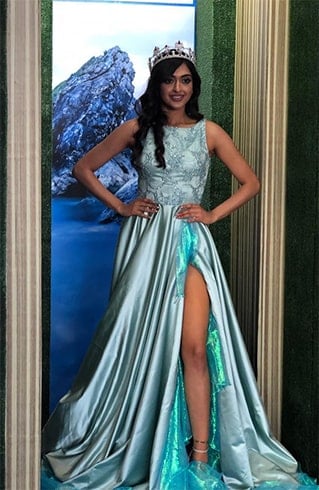 Shaina NC:
The designer opened the first day of the fashion week with her exclusive collection of embroidered lehengas that were cleverly draped with traditional wear. A combined set of net and pastel saris in vibrant colors was displayed.
Shaina also showcased her signature style of sari draping in 54 different styles across the ramp. She always associates her shows with a noble cause, "Glamour without purpose is meaningless. Our message today is that we are safe and secure as Indian citizens because of our armed forces and the contribution of people in army navy, air force. We salute all the personnel for their undying support to keeping India safe." Many leaders and personnel from Indian Armed Forces were there for the show.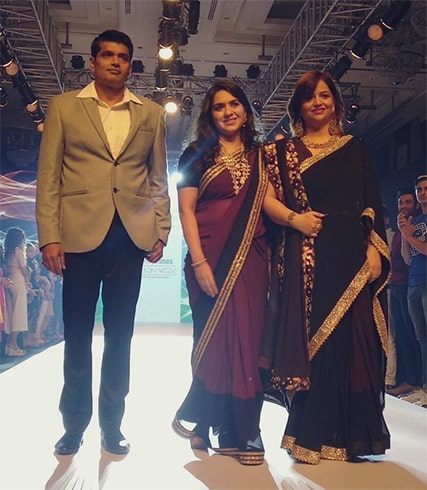 Adhya by Shakuntala Shetty:
The designer is the proud owner of the brand Adhya which is well-known for displaying ensembles from different genres. The showstopper for the show was actress Sana Khan who wore an exquisite rose gold ensemble. Adhya was started five years back primarily with saris from different Indian states including Banaris and Kanjivaram silks. Shakuntala's designs ranges from custom-made ethnic and traditional wear to lehengas, to drape saris, and cocktail gowns.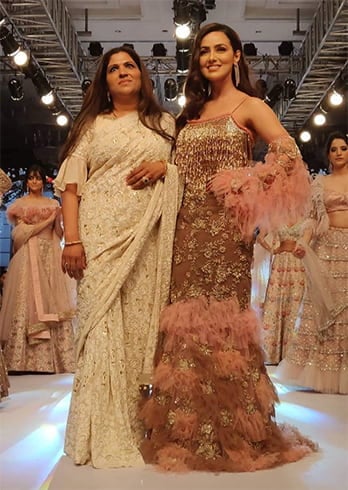 Jewels by Queenie Singh:
Jewellery designer Queenie Singh showcased a stunning range of jewellery collection alongside exquisite ensembles designed by Isha Rajpal, Adaa Malik, and Lascelles Symons. The showstoppers for show were Mohit Raina and Chitrangda Singh. The jewellery displayed by Queenie was timeless and elegant. Talking about the same, she stated, "I look at trends, but really I design by mood. My jewellery can be worn season after season. When I design, I have an independent woman in mind but I also love introducing women to my jewellery and converting them to a new look. The collection showcased at BTFW is full of exquisite and unique jewellery pieces in vibrant tones and colors. Its full of inherent yet classy jewellery designs for the women of today."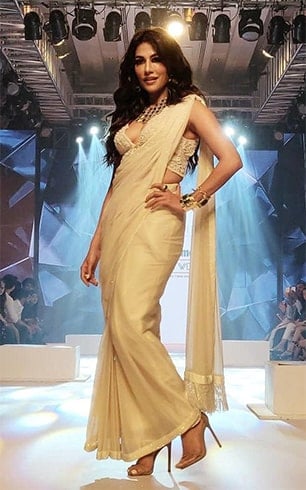 Tiara Dhody:
Tiara Dhody, the daughter of Queenie Singh made her debut on Day 1 Bombay Times Fashion Week. Talking about her collection, she said, "The collection has spiritual pieces like the Om and Cross. I've also created some fun chains with charms, which are easy-to-wear. The collection also has statement pieces like the rose and bullet cufflinks. Personally, I love to design rings and there's a good selection of those, too. My favorite is a set with raw turquoise."
Adaa Malik:
The designer opened with a show, 'Behind the Armor' which was an extension of her 'Metal Armour.' A combination of soft and taut textiles, color diffusions, etc was the main highlight of her collection.
Lascelles Symons:
The designer showcased 'The Smart Biker Collection' which was all about smart clothing with biker style details. The hues used for the show were mainly black, cream, and off-white, including tonal jacquard. Overall the show was a huge success of achieving the style of the modern biker.
Isha Rajapal:
The designer's collection was a mixture of purity and serenity of a woman. The elegant white dresses with exquisite gemstones represented royalty.
Samanth Chauhan:
The designer collection was inspired by a theme of black, ivory, monochrome, and white tones. The silhouettes were bold and arresting. The showstopper for show was actor Vijay Verma who walked the ramp in a black ensemble.
Day 2 Highlights:
Similar to Day 1, the second day of BTFW was eloquent and splendid. The second day showcased the designs of Anshu Jain, Swati Mishra, kidswear brand Hopscotch, Kiaan by Sonal Garodia, RAR Studio, Princess Diya Kumari, and Narendra Kumar.
ATDC:
The first show opened with an ATDC collection which comprised for smart casuals inspired by Bollywood. The showstopper for the show was Sushrii Shreya, United Continents 2015 runner up and actor Ranjeet.
Viviana Mall presents ExtraordiNAARI by Swati Mishra and KIAAN by Sonal Garodia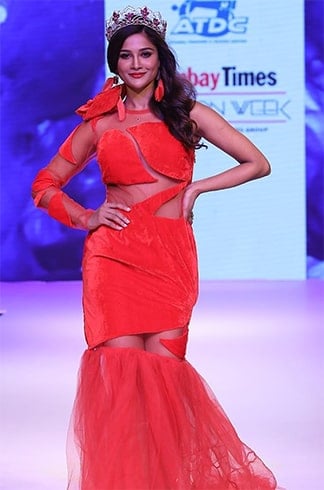 ExtraordiNAARI by Swati Mishra:
The next show was ExtraordiNAARI which consists of women's ethnic collection by Viviana Mall. Swati Mishra's show saw a collection in bold shades of black and red. The designer displayed skirt with flowing sleeves, and form, fitting skirts. The showstopper of the show was actor, Soundrya Sharma.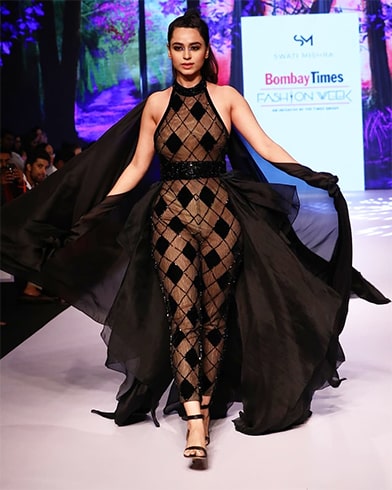 KIAAN by Sonal Garodia:
Sonia Garodia unleashed Kiaan which showcased an exquisite collection of white bridal gown. Actress Shristy Rode and Mandana Karimi was also seen walking the ramp in gorgeous white wedding gowns.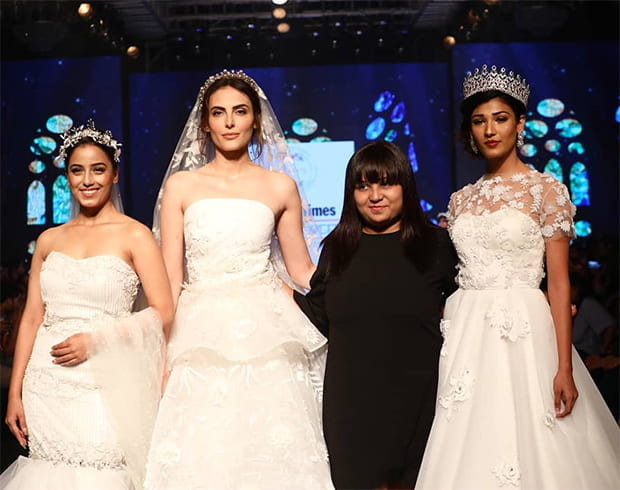 Ancestry by Anshu Jain:
The modern fashion brand Ancestry which showcases gifting products for home and women presented their new collection, 'Sacred Forest.' Designer duo Anshu Jain's collection saw a great combination of blacks, red, whites, and red. The collection saw a range of Indo-western gown and Neo-saris. . The designs that were seen on the ramp mostly comprised of traditional nature mofits by Nathdwara, on full circle skirts to asymmetrical dresses. Bollywood actresses Karishma Kapoor and Dia Mirza walked the ramp wearing creations by Anshu Jain.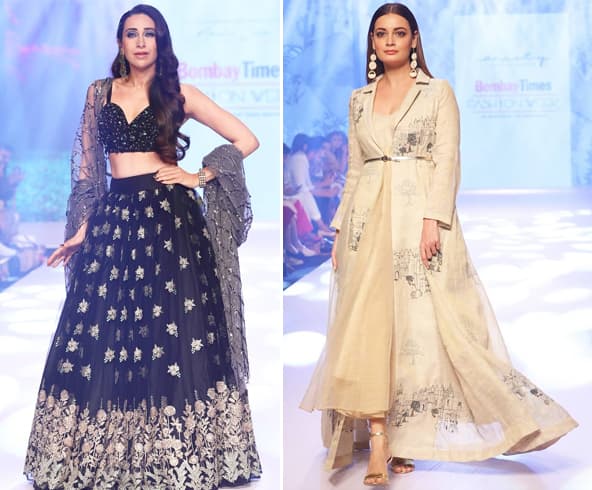 Hopscotch by RAR Studio:
Kidswear brand Hopscotch also showcased their latest designs. The collection saw a mixed array of kids garments suitable for all ages.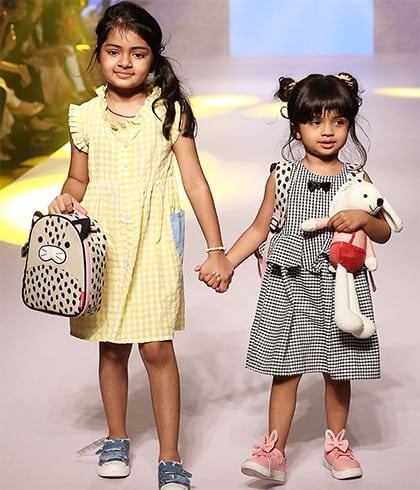 TRA World by Narendra Kumar:
Designer Narendra Kumar displayed eye catching colors and easy-to-wear clothing with stylistic finishing. Seen in the image is actress Rakul Preet Singh in one of the designer's outfits.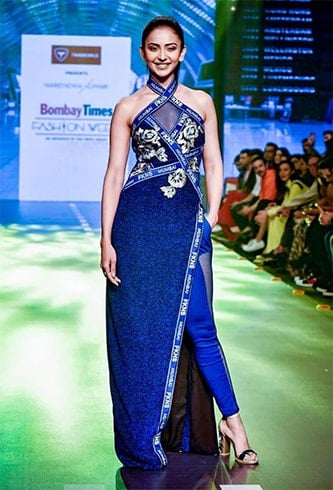 Princess Diya Kumari Foundation X Archana Kochhar:
The designer collection was all about bridal clothing including neo saris, sculptural gowns, and stunning lehengas. Model and actress Diana Penty walked the ramp in one of the designers' lovely ensemble.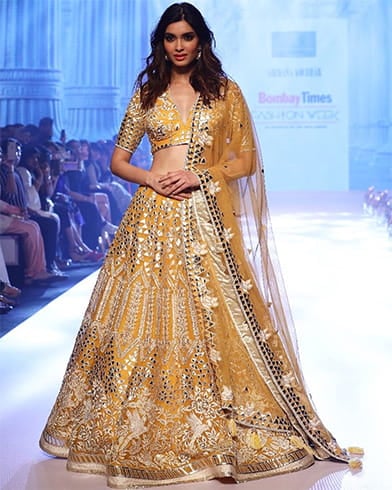 Day 3 Highlights:
Sonal Jain:
The designer showcased her stunning creations on Day 3 of BTFW. The showstoppers of her show were actress Hina Khan and reality TV star Priyank Sharma. Hina wore a peach lehenga choli while Priyank twinned with her in a peach Indo-western sherwani.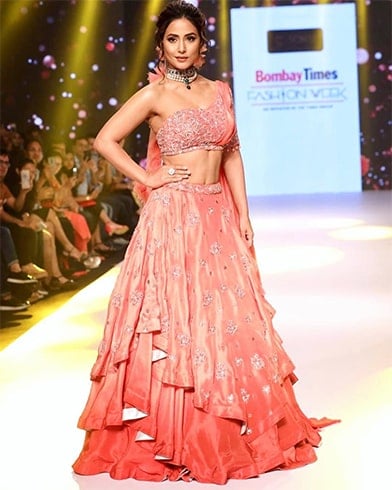 Meraki by Rashi:
Meraki by Rashi saw a combination of modern day woman designs. Adding beauty to the show was actress Kritika Kamra.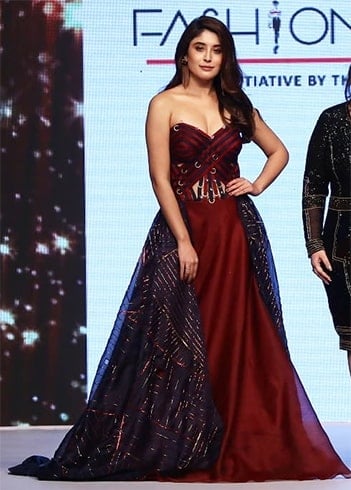 Femina Falunt:
Femina Falunt showcased easy-to-wear Spring-Summer Collection in bright, vibrant hues.
Dheeraj Sharma/ HORRA Presents Victor Robinson:
Dheeraj Sharma unveiled a Spring Summer Collection of bags and watches in collaborations with Victor Robinson, a well-known fashion designer. The gorgeous actress Divyanka Tripathi Dahiya walked the ramp for his amazing collection.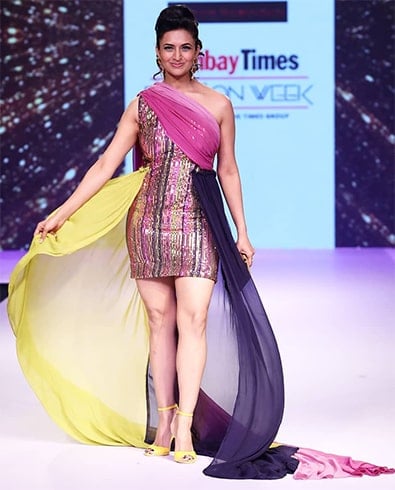 Kalki:
Malaika Arora Khan was the perfect showstopper for Kalki Fashion's Zinnia Collection, unveiled on BTFW. Malaika's custom designed gown reportedly took an extensive period of eight weeks to complete. The ensemble depicted intricate embroidered flowers. The collection featured colors like lime green, blue, fuschia pink, mauve, and fiery red. Talking about the fashion line, here is what Malaika had to say, "For the Indian girl who likes to keep her sense of style and dressing fresh, different, and bold. Its for all the modern brides and all their desi parties!"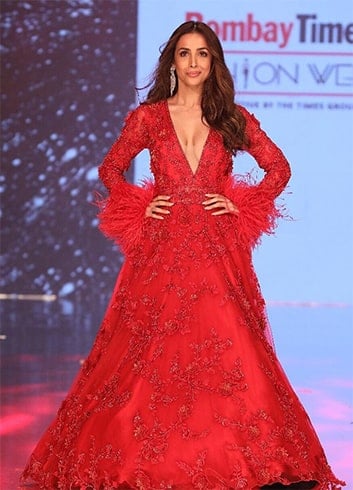 Zarf by Masuuma Namjoshi:
Designer Masuuma Namjoshi unveiled Zarf, her fashion label which featured gorgeous outfits. The collection was hugely inspired by nature. The colors that were used were green, metallic, maroon used with fur and frills. Talking about the collection, she said, "The collection includes elaborated lehengas and gown skirts and tops that women can wear on any occasion. It is an ode to the upcoming festive and wedding season." Karishma Sharma opened the show for the designer while Nushrat Bharucha made the final walk.
Soshai by Sophiya Gupta:
Actor turned designer Sophiya Gupta unveiled her label Soshai on Day 3 of BTFW. Actress Sunny Leone walked the ramp the designer in a silver embellished lehenga with an off-shoulder choli.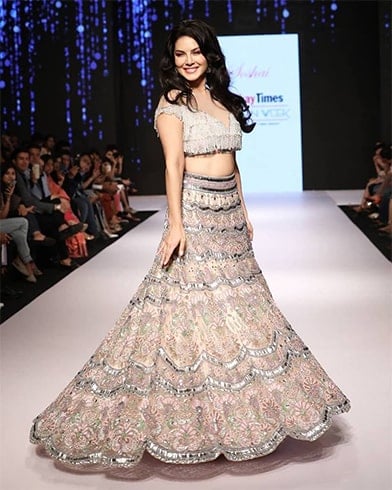 Suneet Varma:
The grand finale closed with Suneet Varma's show. TV star Shibani Dandekar made the final walk in a gold ensemble.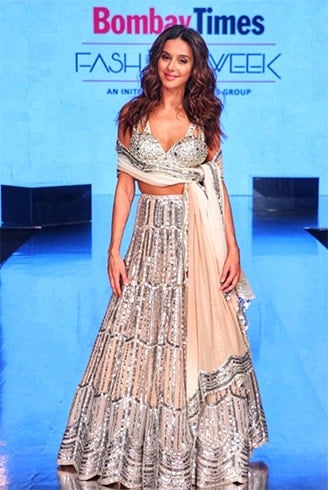 Finally the BTFW 2019 came to a glam end with wonderful depictions of amazing designs. Hope you enjoyed seeing it all!
Images Source: instagram.com/timesfashionweek
March 25th, 2019
Author: Lima Aier
---
Check Out Who Walked The Ramp For Whom At Bombay Times Fashion Week 2018
It was just yesterday that we reeled out of the whimsical Lotus Makeup India Fashion Week SS19 and another fashion week rolled in and out at the same time. Yes, we are talking about the Bombay Times Fashion Week 2018. The three-day fashion bonanza took place from October 12th to October 14th at the St. Regis Mumbai.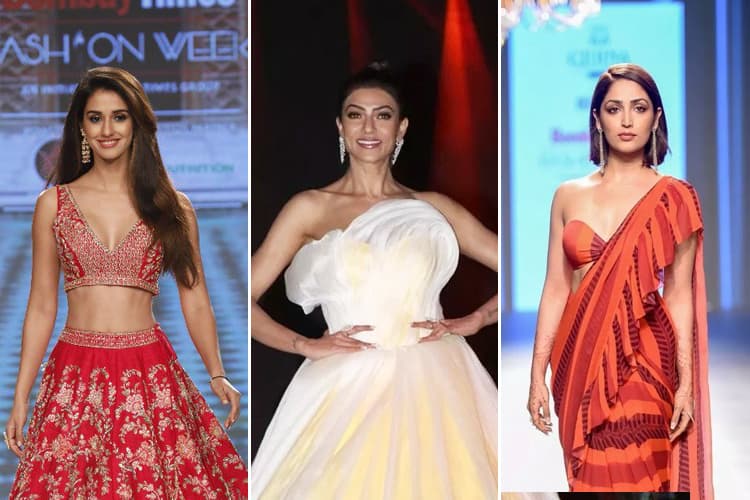 Celebrities at BTFW 2018 Show:
The fashion week set up a solid platform for the exclusive fashion designers and brands to exhibit their latest creations. From Pallavi Jaikishan's opening show to the grand finale by Neeta Lulla, the fashion week was a hit. The showstoppers are the ones which get us excited about any brand or fashion label, don't you agree? Hence, we brought to you the showstopper highlights of the fashion week. Enjoy!
Disha Patani:
Kalki Fashion launched their collection 'Athena', inspired truly by Moroccan sculptures. And to exhibit their collection that revolved around fancy tassels, silver and gold sequins, rose gold embellishments in bridal gown patterns, they chose Disha Patani as their showstopper. The diva looked drop-dead gorgeous in a figure flaunting melon pink lehenga with layered embroideries in vintage colors and gold metal yarns. With soft side parted hair, sparkling jewels and blue eyeliner rounded her stunning style.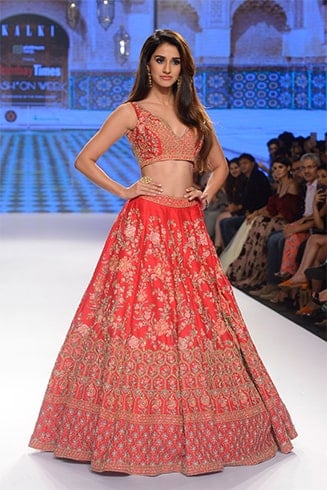 Divya Khosla Kumar:
Divya Khosla Kumar walked the ramp for the upcoming designer Adaa Mallikk, the daughter of Anu Mallik. The diva looked sizzling on the ramp in a metallic armour gown. The sheerness of the outfit and the metallic bodycon dress underneath it went awesome together. The diva added red hot heels and spiced up the style further. With messy wavy hair, winged liner and glossy touch ups, she looked fab!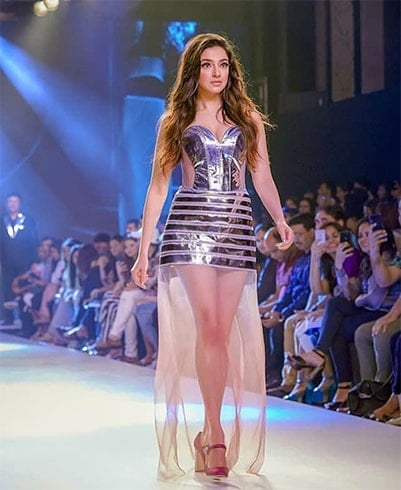 Kalki Koechlin:
Delna Poonawalla chose the quirky, fun-spirited Kalki Koechlin to exhibit her collection 'Rock Chic' at the Bombay Times Fashion Week 2018. The diva walked the ramp in a floral asymmetric ruffles overloaded outfit by the designer looking definitely offbeat, peppy and fun. With her pixie haircut, street style boots and accessories, she nailed the style effortlessly.
The designer walked the ramp along with Kalki making a strong fashion and social statement with her bomber jacket saying 'Consent is everything', painted by her friend and artist Pooja Khilani. Kudos to the designer, the artist and the diva for such a lively show.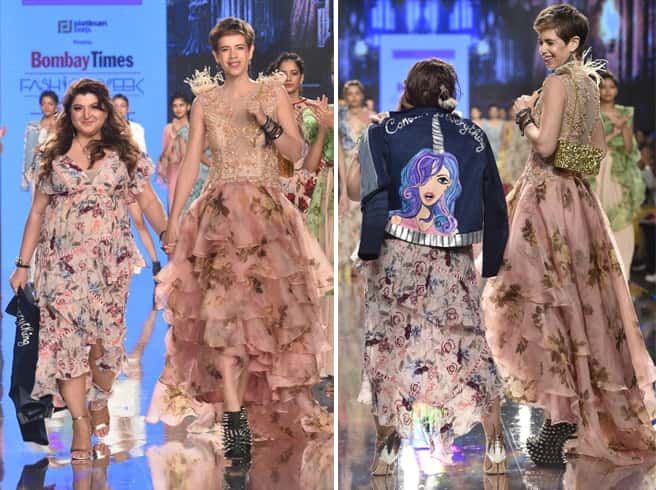 Mugdha Godse:
Horra Luxury presented a youthful collection of Autumn Winter collection by Asif Merchant. The collection was explicit and truly sophisticated in light tones of winter. Mugdha Godse walked the ramp for the designer in a fluffy electric blue gown. The embellished sleeve pattern on one side of the outfit gave it a sparkling vibe. With a butterfly printed envelope clutch, a tight updo and smokey blue eyes, she looked ravishing.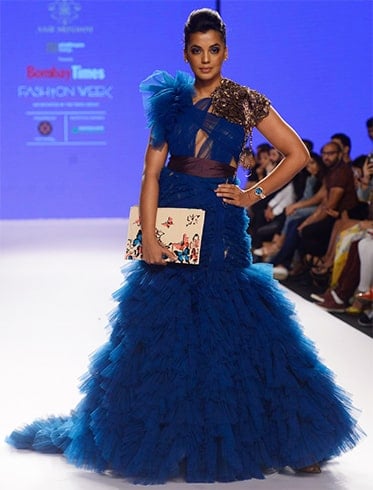 Mouni Roy:
Mouni Roy was the muse for the designer Swapnil Shinde's latest collection titled '377 Reasons to Love'. The diva sent chilling vibes all along the ramp looking spectacular in a creamy white strapless gown. The pleated feature of the bodice and the flowing netted gown were hard to look away from and the diva carried it with great poise and beauty. Sleek mid parted updo and smokey eyes finished out her mesmerizing avatar.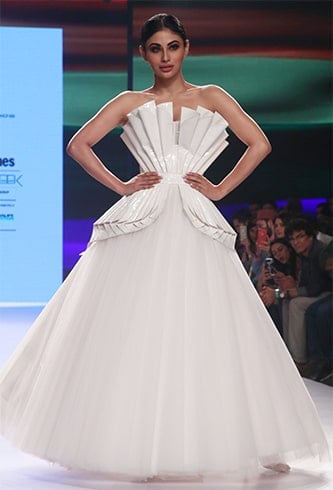 Radhika Madan:
Craftsvilla chose Radhika Madana s their showstopper and the lovely lady nailed the ramp walk. In an electrifying red and green lehenga with perfect flowing hemline and embellishments, she glided along the ramp catching everyone's eye. Red hot lips, smokey eyes and wavy volume filled hair rounded her style.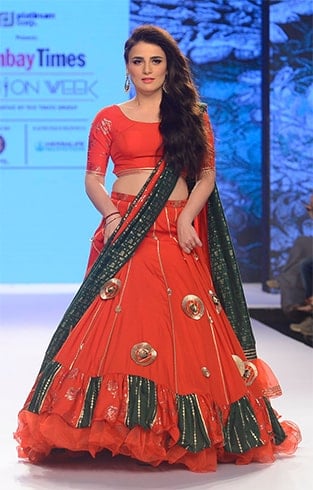 [sc:mediad]
Rhea Chakraborty:
To the melody of old classic Bollywood songs, celebrating the magic of Indian handlooms and embroidery, Rhea Chakraborty walked the ramp for RAR Studio. She looked every bit divine and celestial in a Mughal style outfit with heavy nawab style jewelry. Glossy bronze finish eye makeup, matte finished lips and blush toned makeup looked good on her.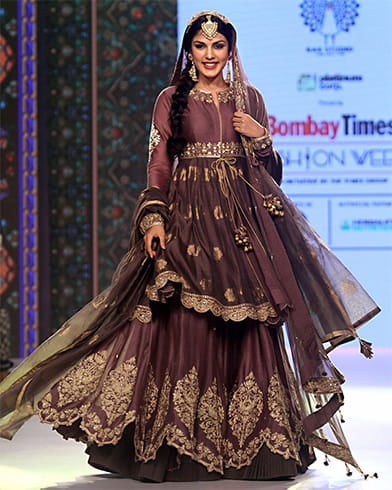 Tanishaa Mukerji:
Tanishaa Mukerji was also captured walking the ramp for RAR Studio in a vibrant yellow outfit along with matchy yellow pumps. Adding a bindi, with mid-parted straight hair and clear makeup, she looked ethereal.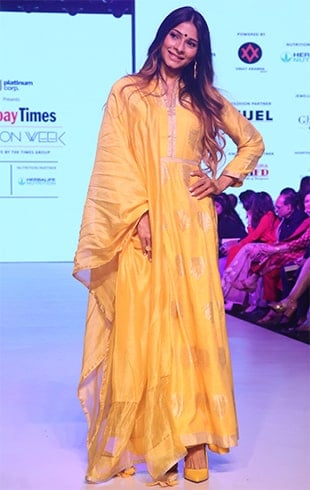 Sushmita Sen:
Neeta Lulla closed the grand Bombay Times Fashion Week 2018 and look who turned out to be the showstopper. Yes! It was the elegant looking majestic Sushmita Sen in a creamy white strapless rich flowing gown. The ruffled bodice layering reminded us strongly of Gaurav Gupta creations, didn't it? The diva carried with sheer grace and delicacy. A sleek ponytail, sparkling jewelry and smokey eyes finished out her hypnotic vision.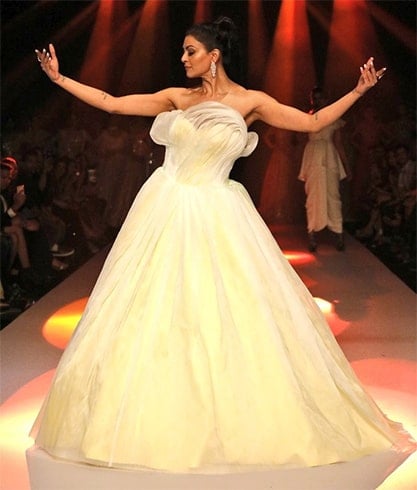 Shriya Saran:
Ashwini reddy took the Bombay Times fashion Week 2018 for a spin with her enigmatic show. Walking the ramp for the designer was Shriya Saran in a classic cream and red color combo cape lehenga. As much as the richness, the intricate detailing and the elegance of the embroidery on the outfit stunned us, the diva's gorgeousness knocked us off our feet. With a heavy neckpiece, gentle curls and flawless makeup, she closed the style.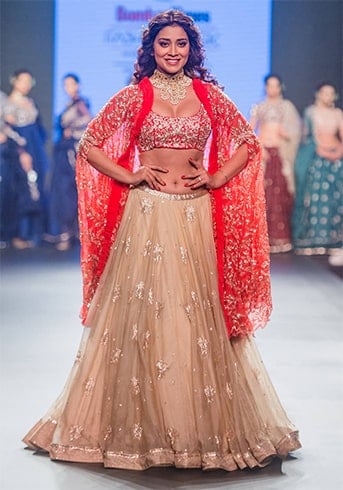 Soha Ali Khan:
The pataudi girl, Soha Ali Khan walked the ramp dressed as a floral bride for the designer Pallavi Goyal. In a cream lehenga with heavy embellished multicolor threaded work, she looked sweet and adorable. With a floral headgear, wavy hair, striking pink lips and bare minimum accessories, she stole the audience's breath with her simplicity and elegance.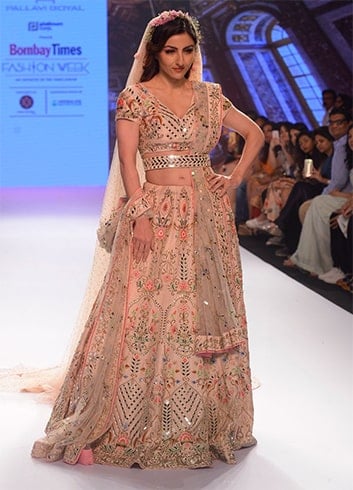 Urvashi Rautela:
Vivacious Urvashi Rautela walked the ramp along with Guru Randhawa for Nivedita Saboo Couture at the Bombay Times Fashion Week 2018. In a two toned heavily embellished one-shouldered gown, she set the ramp on fire. A wispy updo and sparkling earrings, glossy lisp and glowing makeup, set the style in perfect swing.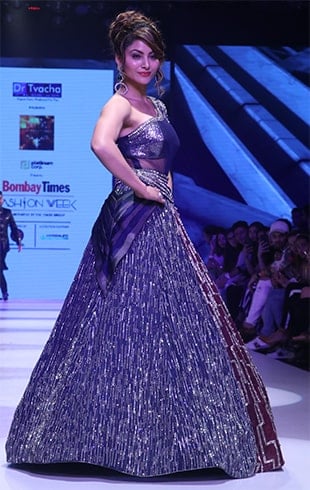 Waluscha De Sousa:
Waluscha De Sousa walked the ramp for Hema Kaul in a one-shouldered black ensemble. The applique near the waistline added a striking feature to her all black gothic style. Dark kohl defined eyes, bronze finish makeup and straight hair closed her style.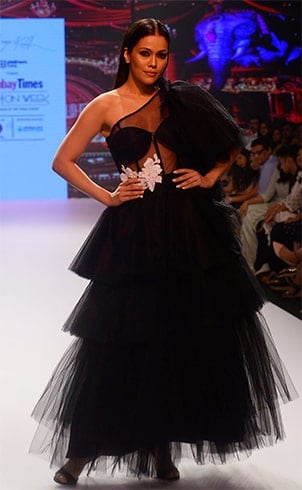 Yami Gautam:
Yami Gautam took to the westernized sari style by Arpita Mehta while she walked the ramp for Gehna jewelers at the Bombay Times Fashion week 2018. The sexy red stripe bandeau blouse and the deck chair stripe tiered ruffle sari were a sight to sore eyes and the diva carried with absolute panache. Side parted soft straight hair, dazzling dangling earrings and glossy lips closed her beauty game with ease.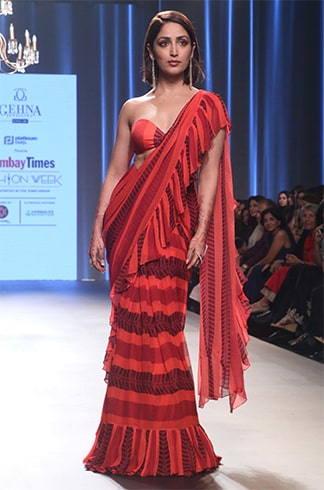 Other showstoppers that caught the eyes of paparazzi were Vartika Singhh (Femina Miss India 2015), Shreya Rao (miss India 2018 2nd Runner up), Alankrita Sahai (Miss India Earth), Nehal Chudasama (Miss Universe India 2018).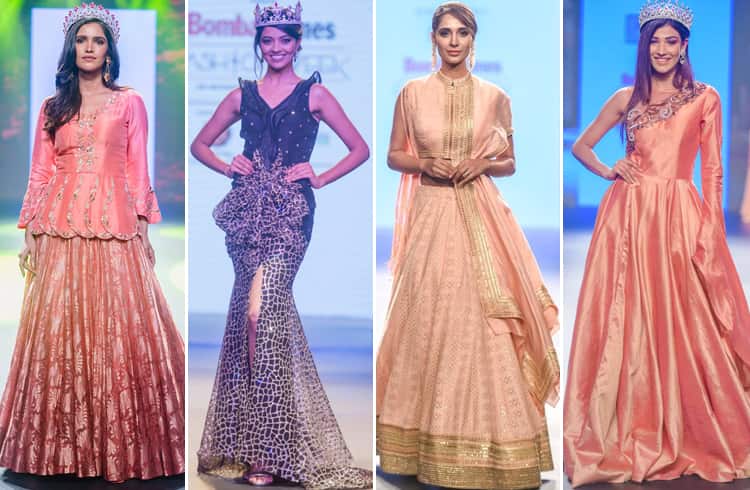 Hope you enjoyed the post!
Images Source: photogallery.indiatimes.com/fashion
October 17th, 2018
Author: Sai Bhargavi Chintaluri