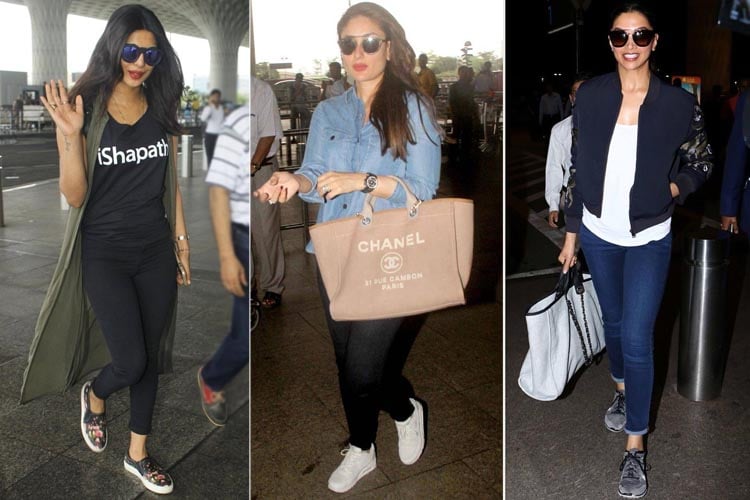 With a hoard of award shows and movie promotions happening across the globe, we were treated to a visual paradise of our favorite celebs traveling in style and comfort. They showed us how something as basic as a white tee and denims, when styled correctly, can make you go from drab to fab in minutes.
So, here we have a round up of some of the best dressed celebs whose airport styles have inspired us to put our best foot forward the next time we travel. Ladies, sit back, relax and take notes to become the next airport style diva!
1. Deepika Padukone
Is there anything that this leggy lass can't rock? Get your vacay mode on like Deepika and head out in this blue and white off-shoulder dress and your favorite pair of sneakers. Comfy much?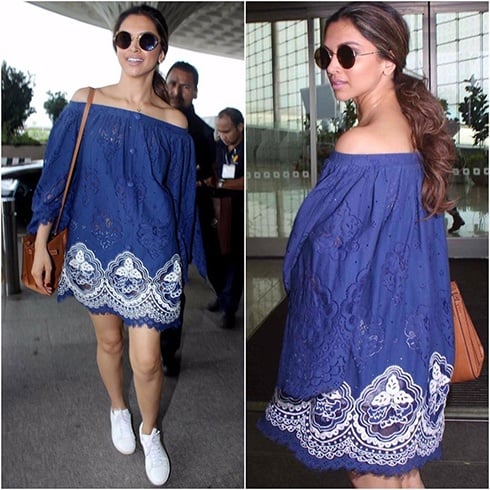 Love to travel in your staple denims? Add some jazz and style to it by wearing a cool jacket over your tee like Deepika.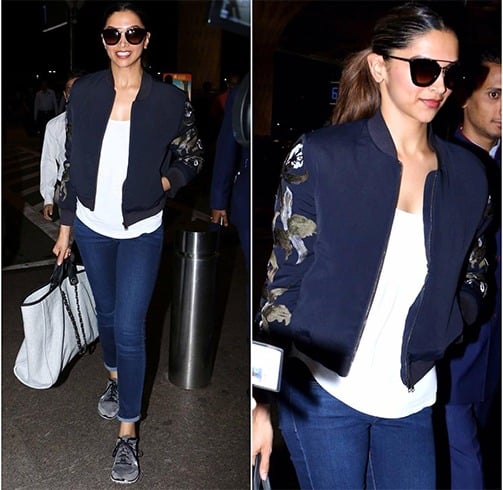 2. Sonam Kapoor
Who better than Sonam Kapoor, the ultimate fashion diva of Bollywood to take some much needed inspiration from? If black is your color, then this is how you rock an all black outfit.
Hogwarts, anyone?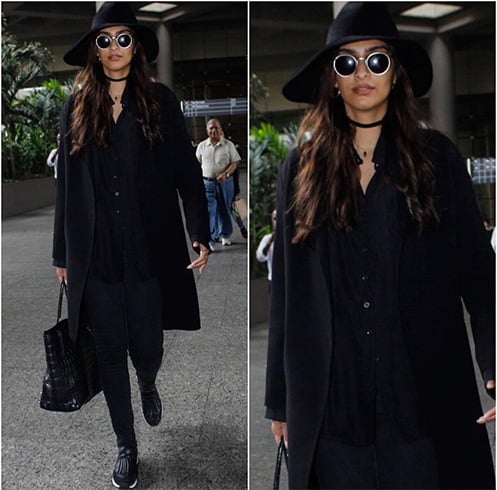 Get your black clothes out and layer them up like a boss with your snazzy pair of glasses!
3. Shraddha Kapoor
Take a cue from Shraddha and travel in style by pairing your favorite denims with a cute graphic t-shirt and a hooded jacket.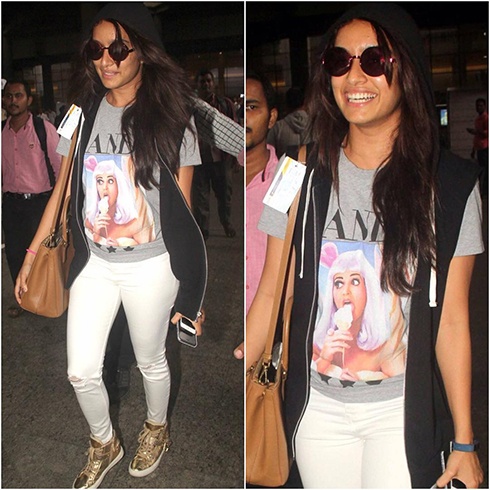 Get those metallic sneakers and jet, set, go!
4. Neha Dhupia
Neha's unique styles are one of the reasons why we love her so much. Known for experimenting with her looks, Neha looks crisp and stylish in a classic white shirt paired with cropped linen pants and matching jacket.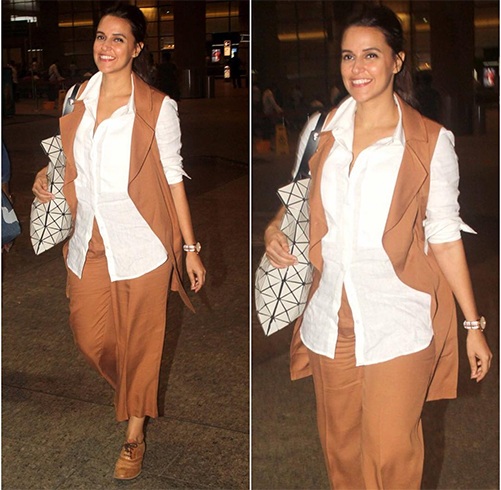 Well, hello Ms. Sunshine! This, right here is how you travel bright and happy. With a kick ass color combination like that, who wouldn't look at you twice (and we mean that in good way peeps)?
[sc:mediad]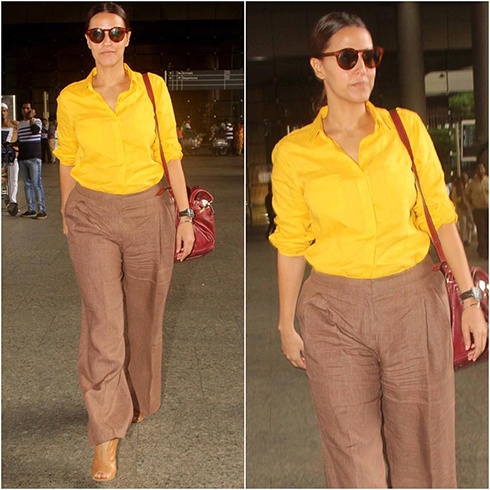 5. Kangana Ranaut
Girls, haven't we told you that style is all about how you carry yourself? We are totally in love with this I-don't-care-attitude flaunted by Kangana.
A tee with a funky quote, distressed jeans and a bomber jacket! Simple, right?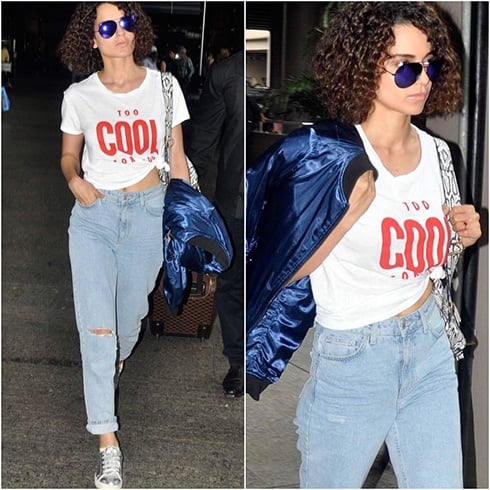 6. Jacqueline Fernandez
While we were going crazy with distressed jeans, along came the hot and sexy Jacqueline who stumped us with her look.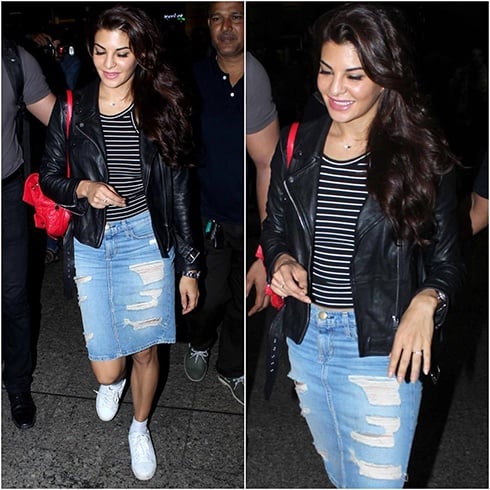 Ripped denim skirt people!!! A simple striped top and a leather jacket are the perfect wardrobe items to pair up with this skirt.
7. Priyanka Chopra
Isn't taking inspiration from the hottest woman, Priyanka Chopra, the best way to ensure that your airport style is top notch?
Three basic clothing items – a pair of jeans, a white tank top and a stylish printed blazer. That's all you need to fly in style.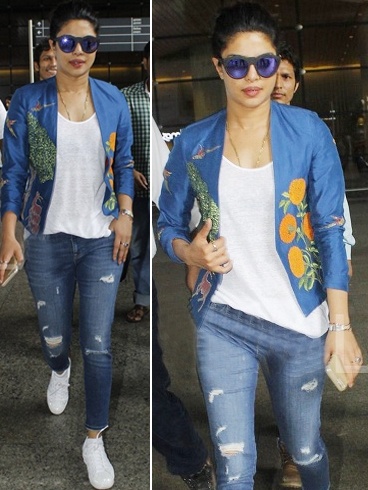 Add an element of fun by wearing some quirky quote t-shirt. A perfect look if casual is what you are aiming for.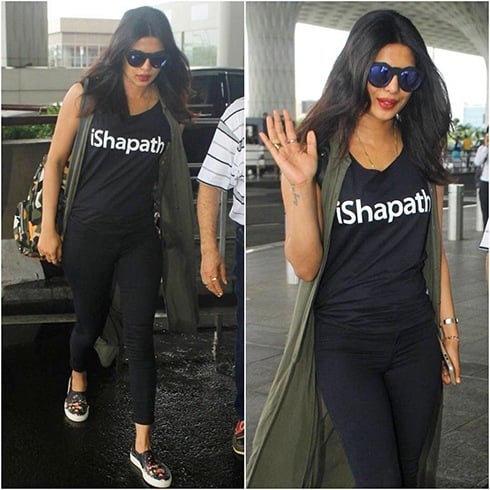 8. Huma Qureshi
Monochrome is one trend which is always in style, no matter how you wear it and where you wear it. We caught Huma Qureshi flaunting this trend and we have already decided to try this out the next time we travel. And, we suggest you do it too!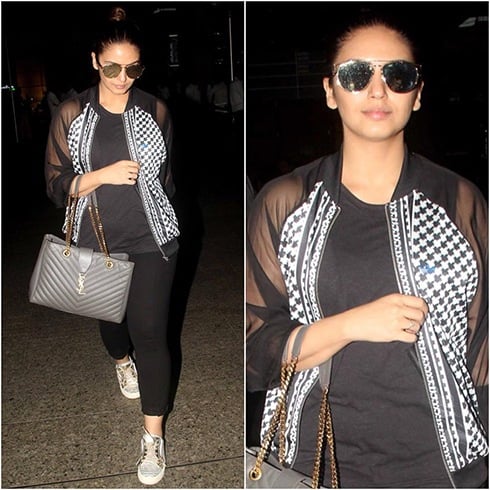 9. Alia Bhatt
Like we said, our celebs know how to rock something as basic as a white top and blue jeans. Don't believe us? Take a look at Alia who looks absolutely cool and stylish as she brings her A-game to the airport.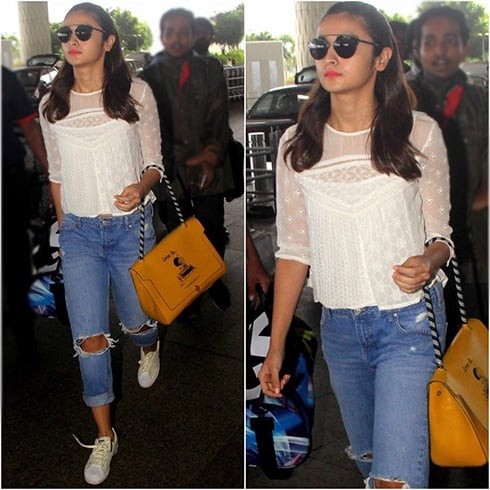 10. Kareena Kapoor Khan
All you mommies-to-be, take some styling tips from the soon-to-be mommy, Kareena Kapoor Khan.
Comfort is what you should be aiming for while traveling and a simple denim shirt with a pair of black jeggings is the ideal outfit for you.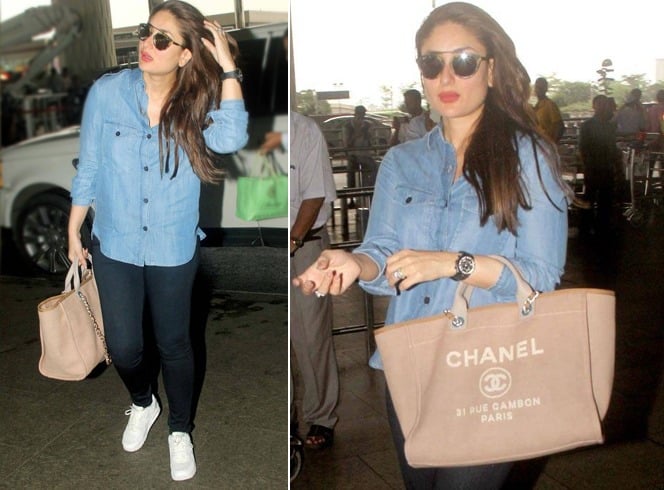 Now that we have briefed you on the best dressed celebs airport styles, it's time for you to put on your styling hats and think of your next airport look.
Do drop in a line and let us know which celebrity's look has inspired you the most!
Images Source: instagram.com