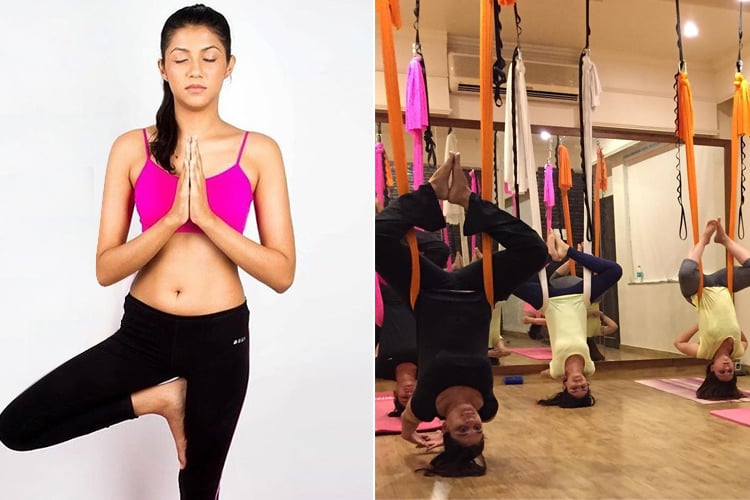 Yoga on hammocks is the latest fitness mantra and In India, Celebrity Yoga Guru Anshuka Parwani is heading the leading Bollywood beauties to achieve moksha the fun way.
If you, like us, have wondered how our B-Town ladies have managed to restore their beauty and sanity, leaving us in a dilemma as far as guessing their age is concerned, then let me break it to you. The answer for most of them lies in Yoga.
Yogis will be the true bhogis in the times to come.
While our fashionistas hit the gyms to observe toning and shaping, most of our leading ladies are true yoga fanatics and believe in practicing yoga to prepare their mind and body for almost everything including their extreme work schedules.
Celebrities surrender themselves to their trainers to achieve a body that not only looks good but feels good too. One trainer who seems to be spinning the whole yoga scenario currently in India is the Mumbai-based celebrity yoga trainer, Anshuka Parwani.
In the pursuit of making her sessions more effective along with a lot of fun, Anshuka Parwani has introduced Aerial Yoga in the city of Mumbai. An expert in Aerial Fitness, Anshuka offers a wholesome regimen to her clients, combining Aerial Yoga, Fitness, and Pilates with her Airfit classes.
Anshuka's Circle of Trust
Anshuka's celebrity clientele boasts of Bollywood fitness freaks like Kareena Kapoor Khan, Jacqueline Fernandez, Parineeti Chopra, Amrita Arora and many others.
With a heavy weight celebrity clientele, this young woman is all set to soar even greater heights.
For more proof, scroll down to figure out her top femme brigade from Bollywood.
6 Bollywood Leading Ladies Who Turned Aerial Yoginis Under Anshuka Parwani
Kareena Kapoor Khan
To new mommy Kareena Kapoor Khan who is a firm believer of Yoga and is known to have achieved her size zero Tashan look by means of power Yoga, Anshuka has been her designated trainer for more than 3 years now and is even known to travel along with Kareena. To shed that baby weight, regain her fitness and get back to her perfect figurine before she makes her way to the sets, Kareena is back in Anshuka's studios.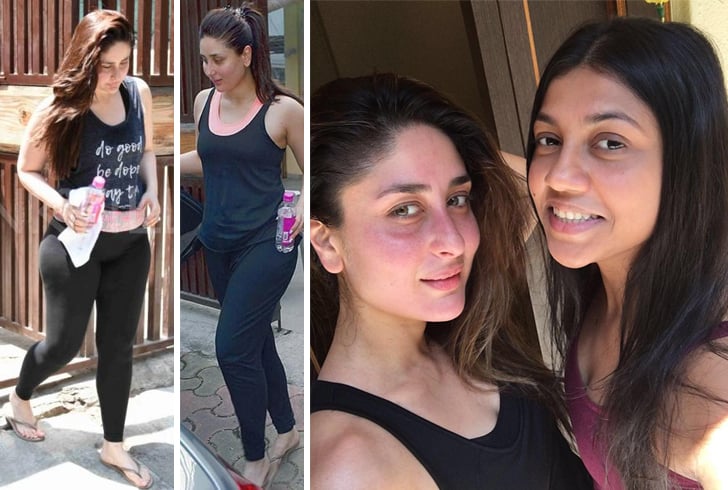 Parineeti Chopra
Last year was undoubtedly the year for the Chopra girl. Parineeti stirred the Indian industry with a fabulous makeover. It seems along with her strenuous workout regimen at the gym, the actress has started to understand the long-term impact of yoga for a healthy mind and body and hence the lady was spotted most recently making her way to the Bandra studio of Anshuka Parwani. Though we missed her usual cheerful smile, the shutterbugs did catch a glimpse of the more determined Parineeti who avoiding the paparazzi, seemed all focused on her day's work out.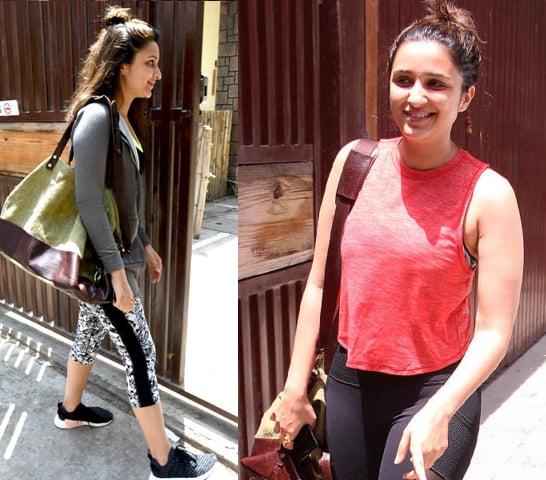 Amrita Arora Ladak
We are all aware that Kareena loves to workout with her bestie, Amrita Arora Ladak. The duo is often spotted sweating it out together be it at the gym or while kickboxing. The shutterbugs recently spotted the duo making their way out of Anshuka Parwani's yoga studio. While we hope the girls will share a picture of them from their Airfit classes soon, we are sure the two maidens must be having a fun time trying Anshuka aerial asanas.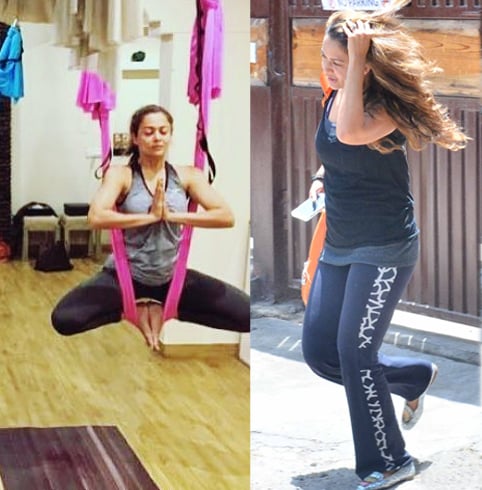 Malaika Arora
The third member of the core girl gang from Bollywood, Malaika Arora was bound to be a part of Anshuka's aerial yoga classes, along with sister Amrita and bestie Kareena. The yoga guru also shared a click while stretching it out with the woman who always seems to go beyond her capacity to achieve fitness goals worthy of praise and inspiration.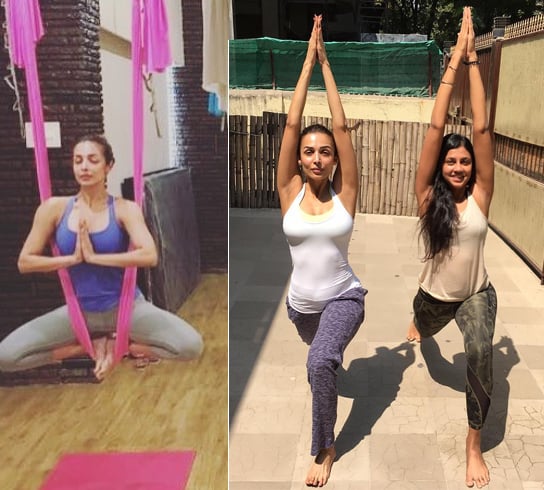 Huma Qureshi
The latest diva to join Anshuka's group of Aerial Yoginis is actress Huma Qureshi, who started her quest with aerial yoga starting this year. Most recently the actress posted her workout pictures on Instagram, while on her 28-day cleansing program at Anshuka's. Having reached half way in her cleansing program, the woman sounded motivated enough to get through until the end, looking like an absolute slayer while being suspended upside down by her yoga guru.
[sc:mediad]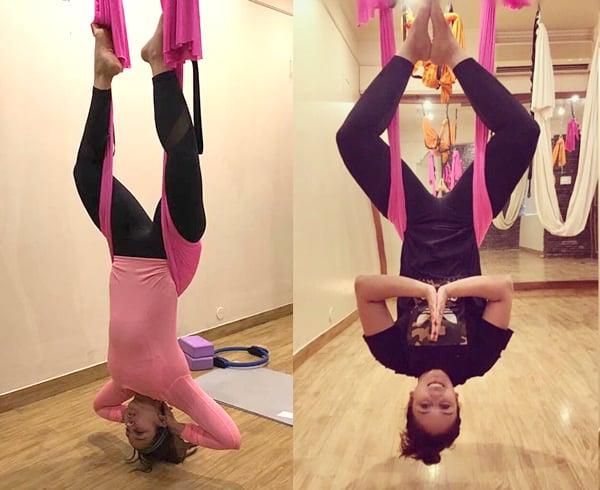 Jacqueline Fernandes
One of the fittest stars in India today, Jacqueline has been a student to Anshuka for a very long time now. Religiously practicing yoga is the force behind Jacqueline's fit and fab body. A dedicated practitioner of Yoga, Jacqueline admits that gym is not her thing. When asked about Jacqueline's killer abs, Anshuka was quoted saying, "The secret behind Jacqueline's flat abs is regular exercise and a clean diet,". "There isn't a formula for a flat belly. The best way to sculpt a sexy midsection is to incorporate more core work into the workouts you already know and love," says Parwani.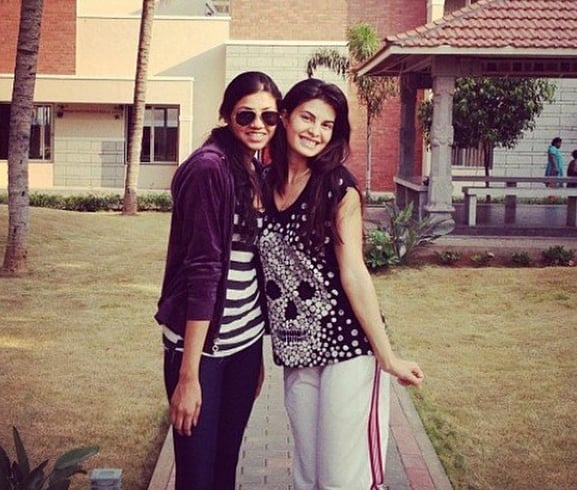 If reading all of it you are all geared up to try this new form of yoga, the Aerial Yoga, then we suggest you start following Anshuka Parwani and get on one of those bright colored hammocks to work your way to a perfect figurine.
Images Source: instagram