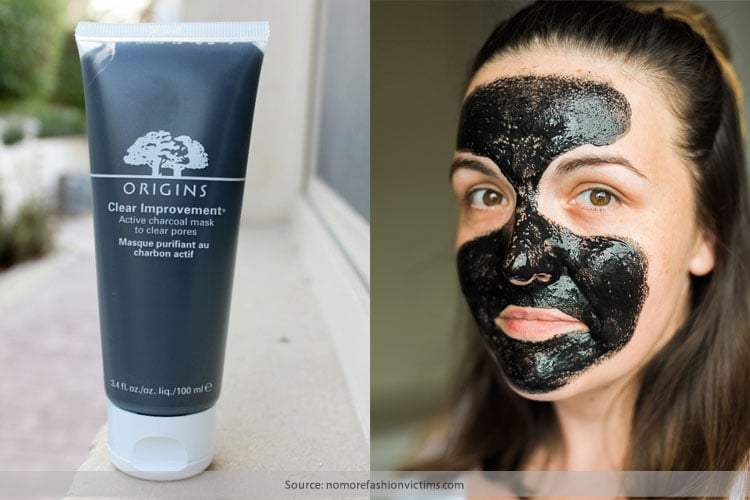 It wasn't until recently that people have started realizing the charcoal face mask benefits. Beauty bloggers have emulated the benefits in many of their vlogs and unless you are living under a rock you might have heard how charcoal can actually be your secret key to a glowing and blemish-free skin!
[sc:mediad]
Charcoal Face Mask is just what it's name says – It's a face mask which is made of charcoal. A point to note here is that charcoal has been used in the hospital industry to absorb toxins from the body. In case of drug or alcohol poisoning, charcoal is ingested to absorb those toxins. This is the same principle that is used in a charcoal face mask. Once you apply the activated charcoal face mask to you skin, the carbon present in the face mask will attract the dust and impurities which can be removed with the satisfying sound of the mask being pulled away from the skin. Just like this:
Many of us might be confused about using a black mass of activated charcoal for skin. The prospect is actually daunting! But you don't have to do it yourself! There are hundreds of different charcoal face masks available in the stores and you can buy one of them and get started.
[Also Read: Activated Charcoal Benefits for Skin]
Activated Charcoal Face Mask
Let's start with some of the best ones available in the market.
Boscia Charcoal Pore Pudding Intensive Mask
With a name so edible, why would you want to put it on your face? Because it's an amazing face mask which combines both white and black charcoal to give you a skin which glows from within! The mask looks just like yin yang too! Put on the face mask and see the clay work its magic to remove all those blackheads and impurities and make your pores look much more manageable.
Fresh Umbrian Clarifying Charcoal Face Mask
Buy this one and you never have to go to the beauty parlors again for your face. This one of a kind face mask is a home spa, a blemish remover, an acne preventer and soft-skin giver – all rolled into one! The mask has Umbrian clay with activated charcoal and lavender and sandalwood oil that gives it a very pleasant and lingering fragrance. Keep in mind that this face mask is extremely heavy and unlike other types of face gels, you will need a very small quantity on your face. This little pot is going to last you several odd months and we believe it is a great investment for some great looking skin.
[Also Read: Bentonite Clay Peel Off Mask]
Clinique Pore Refining Solutions Charcoal Mask
When Clinique makes something, we would readily and greedily lay our hands on it. Their skin care range is extremely good and this one is a great product too. The mineral clay clubbed with activated charcoal can remove even the most stubborn of all debris and impurities from the skin. The excess oils from your skin are readily absorbed leaving you with a clear and spot-free skin.
So, these are our top picks for the best charcoal face masks in the market. For those of you who are a little adventurous, let's learn how to make a charcoal face mask.
DIY Charcoal Face Mask Recipe
Any of these activated charcoal products are expensive, but they do work wonders on your skin. We highly recommend them but if you want something for cheap and want it to be effective too, here is what you can do.
Ingredients:
Activated Charcoal
Rose Water
Aloe Vera Gel
Tea tree oil (optional)
Mix of all of the above ingredients together and make sure to add very little of the tea tree oil and swirl all of them till it forms a good, black mixture.
[Also Read: Egg White Peel Off Face Mask]
Use this paste on your skin and let it remain for at least 15 minutes. Peel it off to see a skin worth million bucks!
So you see, activated charcoal isn't that bad. You can invest in one which is amazing to see its results in just a few face masks!