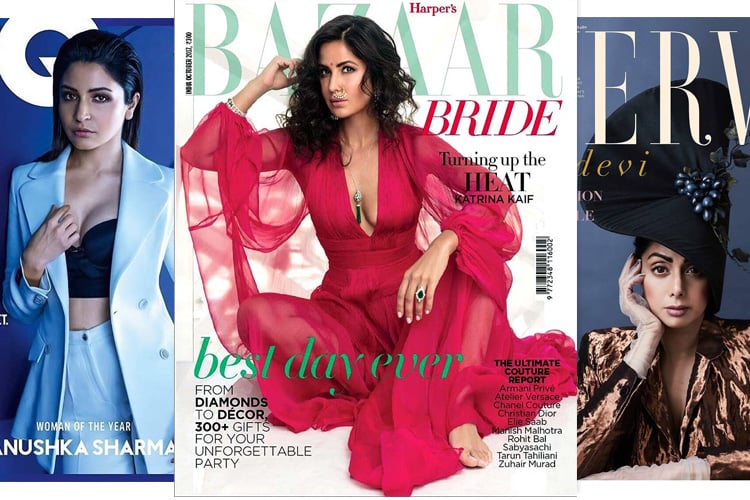 As a ritual, we have unveiled the October 2017 magazine issues for your perusal, on our fashion blog in the start week of the month but as the month began unfolding, we found much more interesting covers and photo-shoots to add to the collection.
So brace yourself, ladies, sit back and enjoy the simmering pool of covers
Vogue, India
Remember the Vogue's celebration of their 125th anniversary with the trendsetting, strong women on the cover looking elegant in black? Yes! That's one magazine no one would miss.
But unlike the cover, Sonam Kapoor and Priyanka Chopra's photo-shoot was colorful and interesting.
Sonam Kapoor
From boho styles, bossy avatars to ethnic styles, the cover-shoot was a fuse of varied fashion choices. Known for her fashionable sprint, Sonam Kapoor proved beyond reasonable doubt that she is the master of the art.
Sonam was captured looking bold, bright and beautiful in a Raw Mango floral lehenga. Adding a printed Swati Vijaivargie jacket and Curio Cottage jewelry, she splashed the boho-chic vibe strongly. With her hair pinned neat and easy and a headgear adding spice to her fashion expedition, she looked stunning.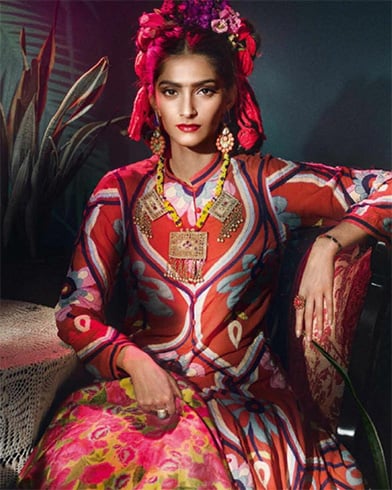 Like an apsara from the heaven, she glimmered in a Manav Gangwani sequined halter neck blouse along with a cream toned Anavila sari wrapped around her slender waistline. Traditional antique looking Birdhichand Ghanshyamdas jewelry rounded her mesmerizing look. Dreamy smokey eyes and glossy lips looked spectacular on her.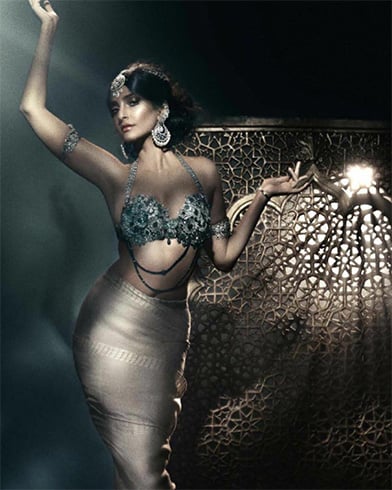 Leaving us breathless in a near bridal look was Sonam for one of the cover shoot image, dressed in a Rar Studio Anarkali and Ritu Kumar sari. Though we could just see her enigmatic beauty, we wished we could look better at how she managed to club two outfits into one look. Sunita Shekhawat jewelry was like an icing on the cake for her magnetic look.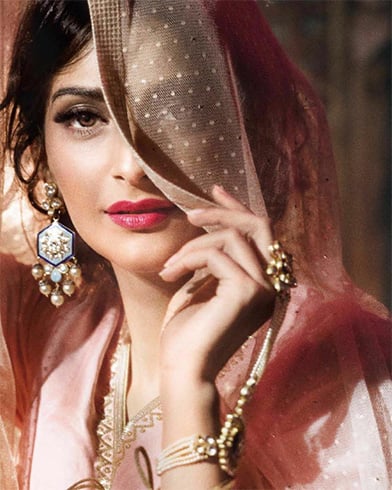 Lastly, she looked impressive and bossy in a Rajesh Pratap Singh jacket, H&M shirt, and pants. With her voluminous wavy hair, the hat and deep dark lips, she was a sight to savor. We are not very impressed with her thin drawn eyebrows though!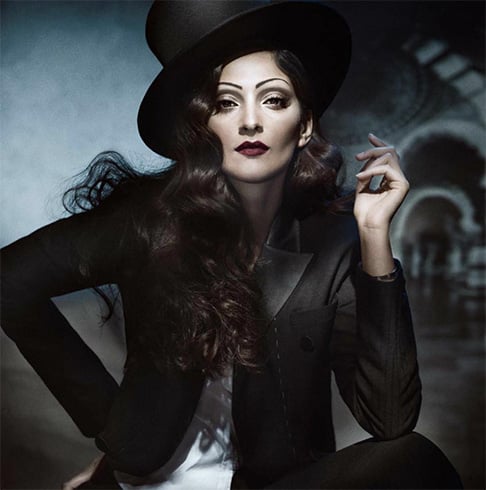 Kudos to Elton J Fernandez, the makeup artist for bringing the hazelnut eyes a spark immeasurable and Yianni Tsapatori, the hairstylist for trying creative ideas with her luscious locks. Rai Kamat, the stylist was the mind, soul, and vision behind the lovely actresses styles.
Priyanka Chopra
From her appearance in Dostana till date, Priyanka Chopra grew many jealousy pangs in us with her sensuous figure. Driving us insane by flaunting her slender and toned body, she featured in the cover shoot for Vogue.
PeeCee looked simply amazing in a Mugler one shouldered shimmering outfit. With the gaze like a lioness, focused and intense and with luscious lips, she was stunning. With wind-blown hair and going zero with accessories, she looked smoking hot.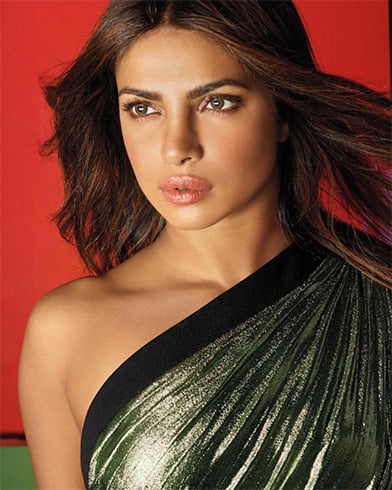 In a solid colored body-hugging Brandon Maxwell dress, Priyanka was too hot to look away from. Nick Barose, the makeup artist surely worked his charm by giving the diva an easy, natural makeup. Bok-Hee, the hairstylist kept PeeCee's hairstyles simple and doable. Styling credits go to Anaita Shroff Adajania.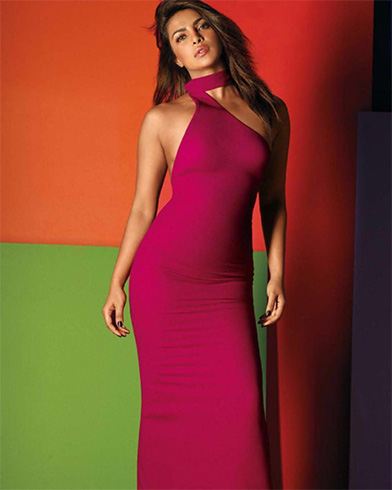 Anushka Sharma
Keeping the black classy cover image theme flowing into the cover shoot was Anushka Sharma. Setting the sensuality and hotness bar sky high, the diva caught all the eyeballs in the town.
Anushka was fiery and fierce in a Givenchy lace blouse and pants. Atsuko Kudo latex mask, messy hair and clear makeup closed her style.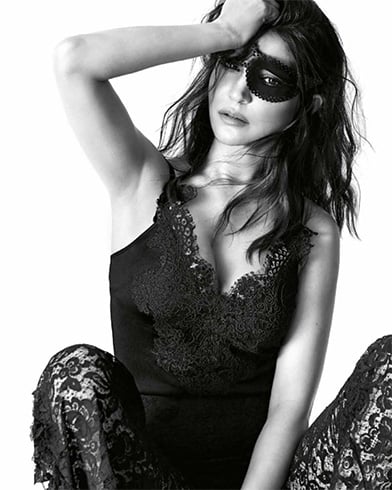 Smart and sexy was Anushka in a La Perla satin slip and Gareth Pugh jacket. Keeping the accessories off the styles, she ensured the focus remains on her simplicity and beauty.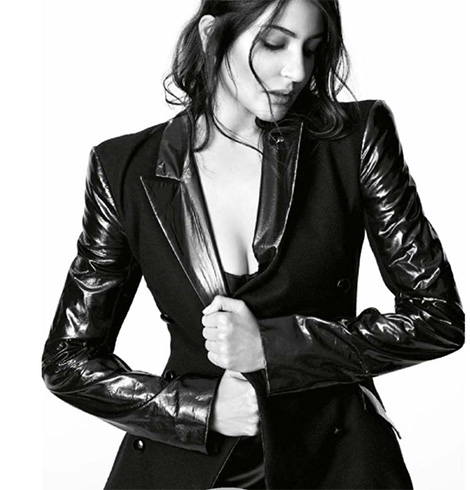 Like the Wonder Woman, Anushka looked gorgeous and glamorous in a DSquared2 blouse and cape, coupled with Marks & Spencer bra, Atsuko Kudo knickers, and Manolo Blahnikhq thigh high boots.
[sc:mediad]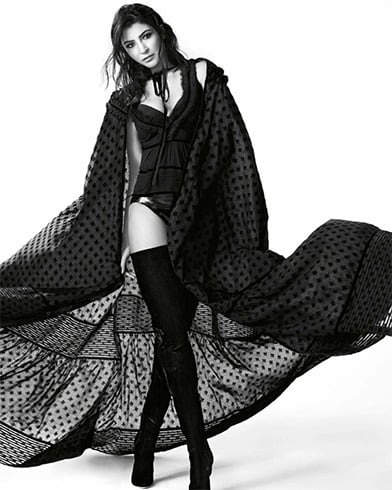 Jerome Cultrera, the French hairstylist, gave Anushka lovely messy hairdos. Andrea Tiller, the makeup artist played great in blending the makeup with the dark, black styles. Styling credits again go to Anaita Shroff Adajania.
P.S. Bhumi on L'Officiel
It was Sonam Kapoor, Sonakshi Sinha, and Parineeti Chopra then and it is P.S. Bhumi now, who lost oodles of weight and inspired us in setting higher gym goals.
P.S.Bhumi was chosen as the cover girl for L'Officiel, this October 2017 and she turned the cover lively and light spirited. In a pastel colored floral Sionnah gown and with Eurumme necklace, holding a delicacy in her hand, she looked gorgeous on the cover. Marianna Mukuchyan, the beauty expert gave the lovely lady, wavy hair and soft natural makeup.
Here are a couple more delightful photos from the photo-shoot for your delight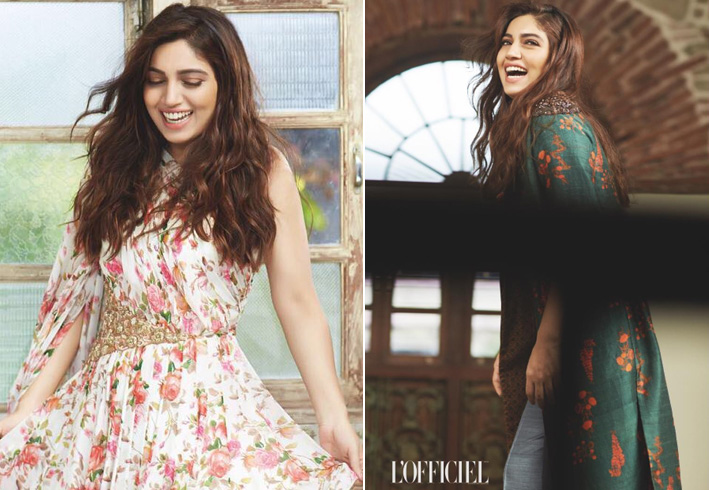 Sunny Leone on FHM
Sunny Leone graced the cover of FHM for October 2017 edition in a floral plunging neckline Sionnah gown. With mid-parted straight hair and dewy makeup, she gathered up her style with beauty and grace.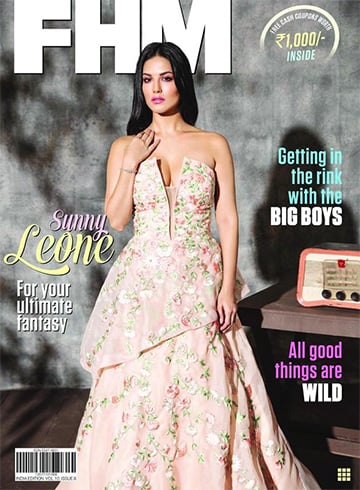 Here are few more of her looks-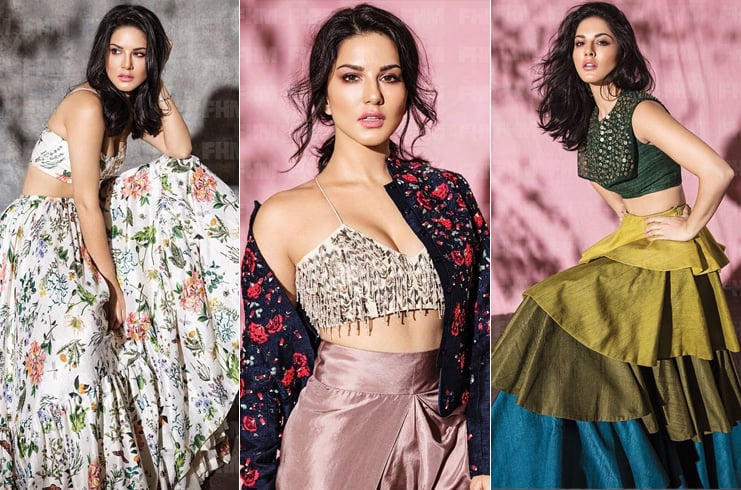 Indira Verma on Harper's Bazaar
The British actress, Indira Verma who holds Indian and Italian roots, was the cover girl for the Harper's Bazaar, India this October 2017 edition. After winning our hearts with her outstanding performance in the Game of Thrones series, she set out to win our hearts again with her stunning avatar on the cover. Dressed in a Bibhu Mohapatra dress and adorning Zoya Jewels jewelry, she was simple yet spectacular.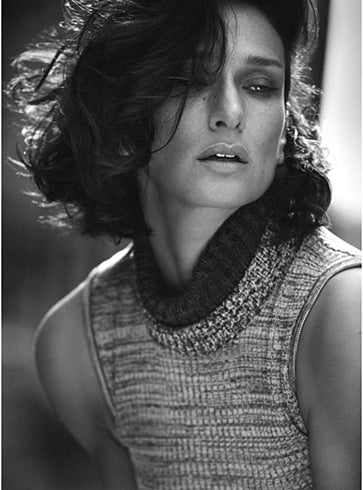 Katrina Kaif on Harper's Bazaar Bride
Rising the temperature with her hot, sizzling on the cover of Harper's Bazaar Bride was Katrina Kaif. In a Rami Al Ali sheer red plunging neckline gown, she looked fabulous. The nose ring, the bindi, and the emerald jewelry hugely complemented her glamorous style. Finally, we get to see the diva with a different hairdo and we love it.
Here is a one minute video of her mind-blowing photo shoot
Anushka Sharma on GQ
On bagging the 'GQ Woman of the Year' title, Anushka Sharma was the ultimate choice of the magazine as the cover girl for their October 2017 edition. Bossy and sassy was the diva on the cover in a Honey Bridette bralet and Ermanno Scervino suit.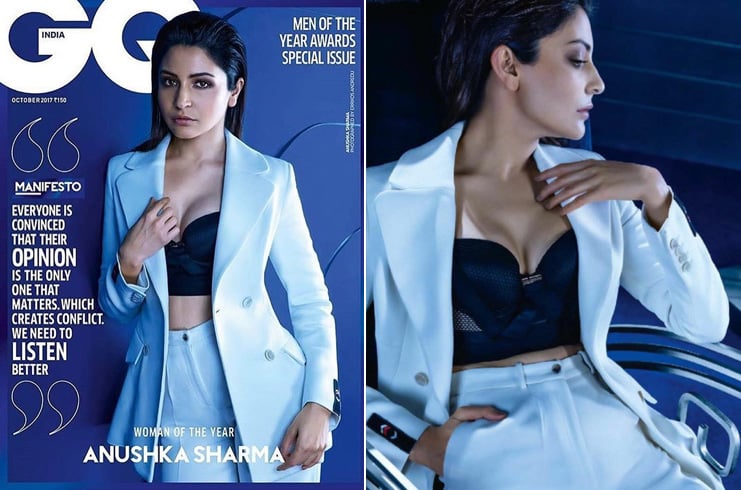 Anushka spilled magic in the air with her stark blue Cushnie Et Ochs dress. The sequined add-on to the dress added spark and style to her look.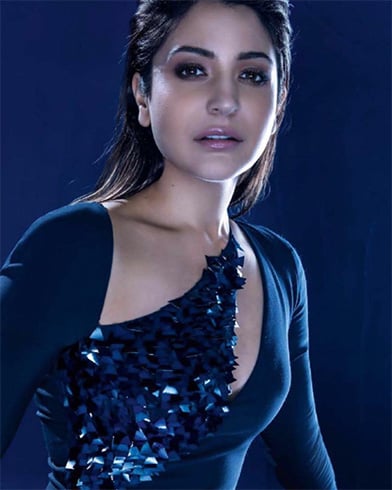 In a Julien MacDonald halter neck shimmering gown, she looked hot. Daniel Bauer, the beauty expert, gave her a sleek hairdo and smoky eyes.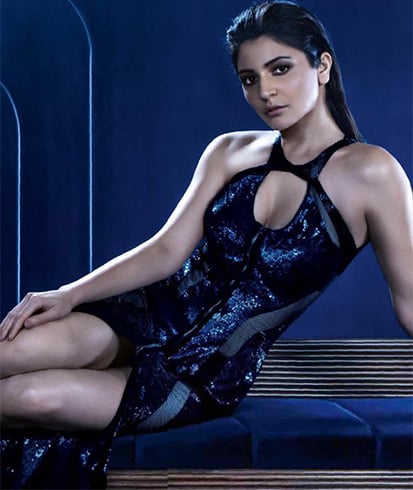 Sridevi on Verve
Though she is the mother of two well-grown beautiful girls, Jhanvi and Khushi, Sridevi didn't sit back on the fashion fraternity. After rolling out a series of elegant styles, Sridevi came back with her Hawa-Hawaii look on the cover of Verve, October 2017.
In a gold Rajesh Pratap Singh jacket, sheer gloves and a quirky hat, she was eye-catchy on the cover. With right highlighting, contouring and nude lips, she was mesmerizing. Styling credits go to Nikhil D.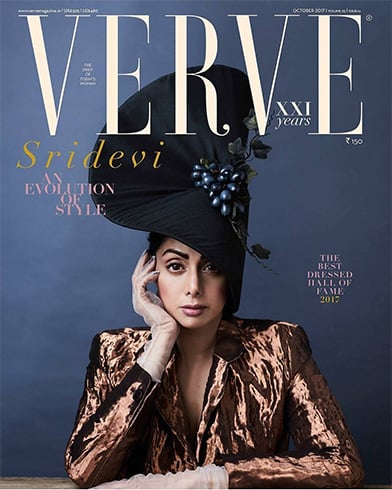 So ladies, pick your favorite magazine from the newsstands and nibble your time away!
Images Source: instagram