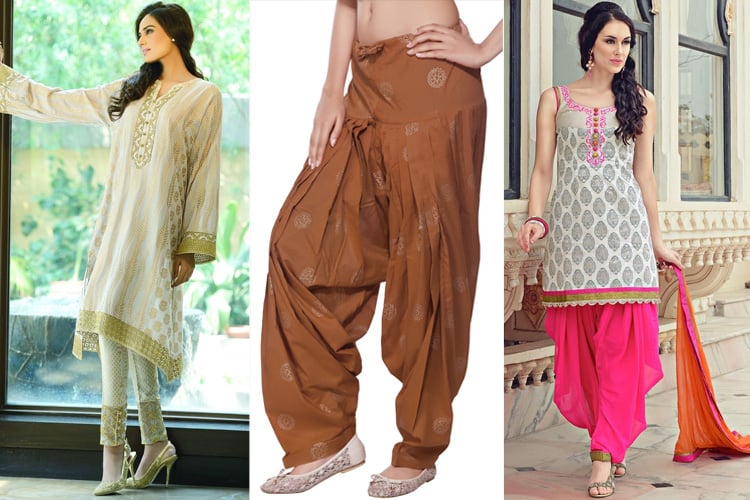 It is affordable, comfy, easy-to-wear, and can be worn around the year for any occasion. Plus it makes a great style statement. That's the beauty of a kurti. But you also have to pair your kurti with the right bottoms. A salwar or churidar is not the only option. There are different types of bottom wear and churidar pant models with names for you to consider and take your pick from. Let's increase our knowledge bank on the bottoms for kurtis, and see how we can look different each time by trying different bottom wears (ethnic to western) for kurtis. I will also take you through different types of pants for ladies. Ready? Keep jotting.
1. Leggings
They are the most common bottom wear paired with kurtis of all sizes and shapes. So comfy they are that they fit you like a second-skin. And leggings aren't of just one type. You can take your pick from printed leggings, leggings with net detailing, sheer leggings, even leather leggings to show your fashion one-upmanship. Black is not the one and only colour of leggings. There is green, blue, orange, pink, red, purple, cream and everything in between. Whether it is office, club parties, evening or night out, there is a legging for each need.
Occasion: For travel, office wear, during pregnancy and post-pregnancy or any other gathering
Fashion Tips:
Make sure that the fabric of the legging is "stretchy" enough (or else, how will it qualify for the comfort zone). Legging fabric such as Lycra, PVC, rayon or spandex blend, is good to go. Anything else might get you "elephant knees" in the middle of the day.
Avoid wearing tight-fitting kurti with leggings. Or else, it will ruin your balance of the clothing proportions.
The legging fabric should not be see-through. NEVER!
Instead of doing same color pairing with legging, try and look for contrast or print
The size of the legging should not be small. Because when you sit, the fabric might rise up a little, and show your legs. But yes, its purely your call (whether you want to reveal a bit or no)
Don't wear a short kurti on leggings. Jeans or Jeggings will be more appropriate to wear.
Wear leggings if your kurti is loose-fitted
Big-bellied women should feel happy because leggings are a good stylist option for them
Different legging lengths give you different looks. E.g. Ankle length leggings give you a professional and chic look for office wear
Pairing technique for you – pair patterned or printed leggings with non-patterned or non- printed top.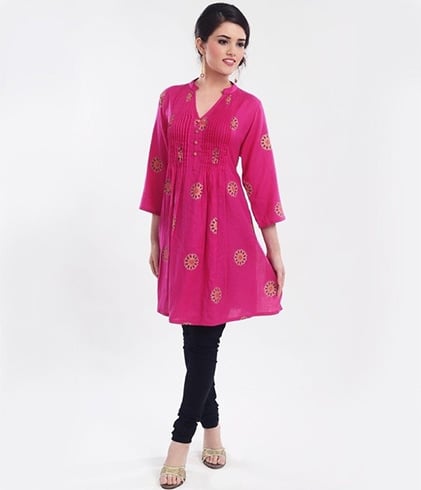 2. Churidar
Any clue why leggings are better off than churidar on most occasions? Because leggings are more flexible to wear, and convenient. But leggings don't have the grace of a churidar. While leggings go well with casual wear, they can be a spoiler when it comes to wearing traditional attire.
Churidar scores the most (for pairing reasons) when you have ethnic attire to wear. And then PLUS-sized ladies just cannot fit into a legging. So, churidar is a better option on many counts.
Fashion Points:
Churidars look nice with long kurtis and anarkalis. So, avoid short kurtis with churidars.
Full sleeves give a professional look when paired with churidar.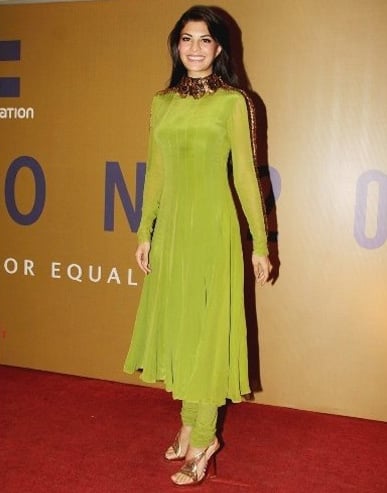 3. Jeggings
Jeans are tough and are un-stretchable (and they come with zip and buttons). Leggings, on the other hand are. Why not have a hybrid between the two? Here comes JEGGINGS.
Jeans in short, jeggings are the most-preferred outfit for college-goers. It bypasses the compulsory zip or button in jeans. All you need to do is pull it on to the waist. That's it. Just pair a neat and crisp cotton kurti (size of the kurti can be short, knee-length or hip-length) or tunic with your beloved jeans (skinny jeans look very sexy) and you are bound to look hotter than ever.
Can't handle denim in summers? You can always fall back on jeggings for the comfort factor they bring.
Note: Jeggings give you a wide range of colour options (bright and college-friendly colors) and pastel shades with denim wash effects.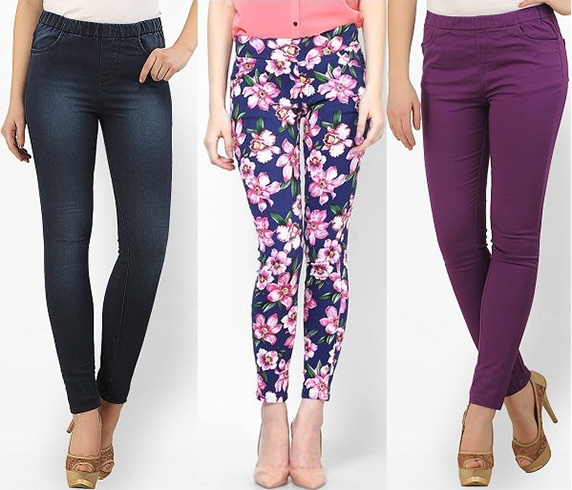 4. Skinny Jeans
Talk of college girls and skinny jeans is high on their shopping list. While T-shirts and tops are a common thing with jeans, kurti is a more adventurous and fashionable option.
Benefits
Pairing-wise, skinny jeans are a bomb. They can be perfect with any of these – a short tunic, knee length kurti or hip-length kurtis .
When in jeans, go for sleeveless or 3/4th sleeved kurti. They look better as compared to a short kurti
Wearing embellished or patterned kurti on patterned jeans will be a colossal mistake. Keep the kurti plain when going for an elaborate bottom.
If you have a fancy for boot-cut jeans, then pair with a short and waist length kurti only.
Long straight kurti and ballet flats look great with skinny jeans.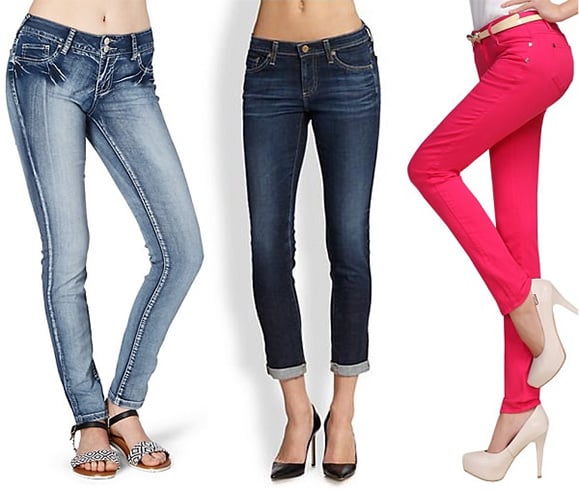 5. Palazzos
HUGE–HUGE TREND they are. The style and cut of the palazzos are un-missable. That's why it is a sure winner for summers. If you want an ethnic look, then pair a long kurti with a palazzo.
Even slit kurtis steal the show when paired with palazzos. If you have a plain and simple kurti, then pick a palazzo with bottom border prints or detailing on the sides.
Fashion Tips:
Go bold with a transparent palazzo or try border prints for a rich classic look
When wearing a short kurti, wrap-around palazzo would be a perfect complement. Long kurti usually covers the palazzo
Match your palazzo with sleeveless long straight printed kurti. It will give you a decent professional look
For party attire, pair crushed palazzo with short printed (or short angarakha) kurti
For causal outing, go in for printed palazzo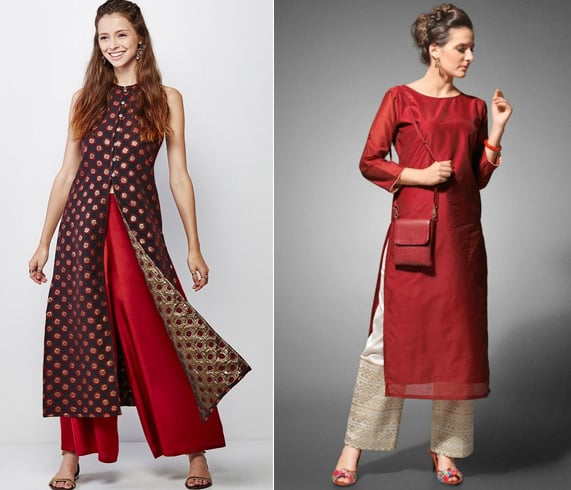 6. Aladdin-style Salwar
Note from History
Does 'Aladdin salwar' ring a bell? It is coined after the famous cartoon character, Aladdin who used to wear special pants that fall long between legs.
Now, guess the new name of Aladdin salwar? "Bangaroo Salwar" also known as harem pants. Even foreign tourists prefer it for the comfort and style.
But why Aladdin salwar when the general trend in bottoms for kurtis includes anything between Patiala salwars to Palazzos?
Firstly, Salwar kameez is the most popular Indian outfit. That is why, when you are wearing a kurti, there are far more TRENDY options in salwar kameez than you thought. This includes Aladdin salwar, Boot Cut Salwar, Split Salwar, Pleated Salwar, Sharara Salwar, Parallel Salwar etc. Isn't all this mind-blowing?
[sc:mediad]
Did you know
There are two Aladdin styles-
Fully loose pant ends with big cuff
More width between legs (like harem pants)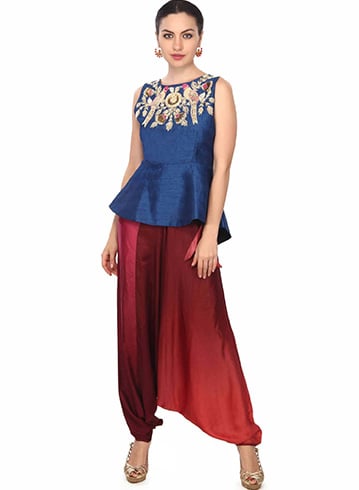 7. Long Skirts
Yeah, not many colleges allow the girls to wear short skirts. Long skirts bridge this gap. Long skirt looks further graceful with a short cotton kurti.
Fashion Tips
The fashion pair of sleeveless kurti and Maxi skirt looks cool
A piece of scarf or stole can help you create an uber-stylish fashion statement with simple cotton kurti.
Now here come different types of pants for ladies. You will love their names as much as the pants in question.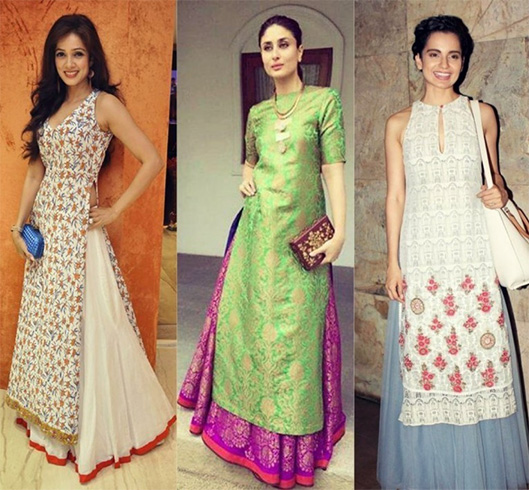 8. Cigarette Pants
Uber cool and on-trend this bottomwear is when paired with kurtis, that they just finish up at the ankle (don't go beyond) and thereby give you a stylish look, instantly. So fashionable, comfy and lightweight they are that you can wear them round the clock. It's right to say that Cigarette pants are for the retro gals.
What kind of kurtis to wear with cigarette pants? They can be straight kurtis, flowy kurtis, kaftans or tail-cut kurtis.
Plus Points
Cigarette pants give you the same fitting of a churidar, but with NO CHUDIS. That makes it all the more nice and flexible, doesn't it?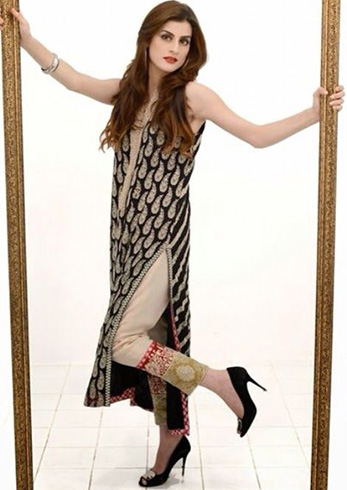 9. Dhoti Pants
These pants with kurti will make you stand out in the crowd for sure. Such is the beauty of Dhoti Salwar. Gets you that perfect Indo-Western look. To avoid looking bulkier, wear dhoti pants with well-fitted kurtis. Not always do dhoti pants have to look simple and plain, you can also go in for embroidered or embellished border style dhoti pants. You can always bring these variations between plain to embellished dhoti pants depending on the occasion and the celebration.
USP: Dhoti Pants have many pleats around the thigh area. The pleats are loose at the upper leg area and narrow or taper down to the ankle.
Fashion Tips:
Those of you with a pear-shaped body should avoid wearing dhoti pants because it adds more volume to the hip area
Throwing cape over cropped dhoti pants will help you look amazing.
Try and avoid lycra or stretchy fabrics. They tend to stick to the body, that's why
Go in for hip-length kurti. This way, the fabulous draping style can be noticed.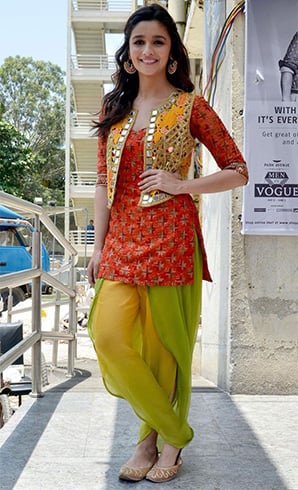 10. Patiala Pants
Guess the Bollywood celebrities who made this different types of bottom wear popular? It started with 'Bebo' Kareena Kapoor Khan in the film Jab We Met, then Anushka Sharma in Band Baaja Baarat, and Kangana Ranaut in Tanu Weds Manu, etc.
The gift of Punjab – that is what Patiala Pants are all about. Yet another stylish bottom wear to pair with a kurti, these pants with kurti come in vibrant prints and shades. They need double the material for stitching but being loose; they have emerged as a summer favourite. Why? Because they don't stick to the skin and give a lot of free space for the skin to breathe easily. Pick them in soft breathable fabrics like cotton or chiffon.
USP: The best way to make out Patiala pants is they come with pleats (not one but many). In case you are not too keen on wearing too many pleats, you can always consider semi-patialas.
Fashion Tips:
Patiala Pants can be adapted to any occasion. Eg. – as college fashion, as party wear and as bridal wear (in the form of heavy embroidered Patiala).
If holding a lot of pleats seems difficult to you, then go for semi-patiala salwar. This has little pleats, that's why.
In the scorchingly hot summers, it is best to go in for cotton Patiala salwar. It will give you the much-needed comfort and relief.
In order to highlight the pleats, always go in for Patiala salwar with knee-length or short kurti.
The ideal sleeve size for a kurti worn with Patiala salwar is 3/4th.
Apple-shaped women should avoid wearing Patiala pants since they add bulk to the body.
The best news for heavy-looking and obese women is that Patiala salwar adds proportion to the body by helping conceal large hips and thighs.
With plain kurti, wear floral (or printed) Patiala.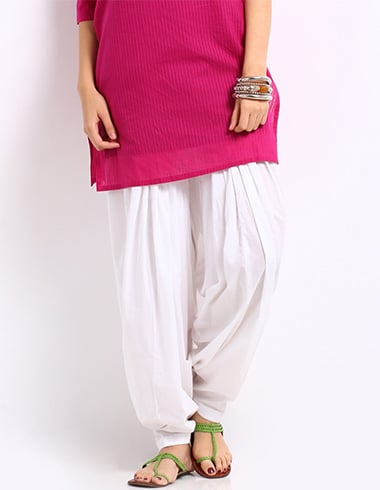 11. Wide-leg Pants
Dedicated these pants are to the tall-legged beauties. If summers look horrendous to you given the idea of wearing skinny jeans, choose wide leg pants to stay cool.
How to complement wide-leg pants
Kitten heels go best for long-legged girls
Give up the idea of pointed-toe shoes when wearing wide-leg pants
While buying wide-leg pants, make sure they are long enough to hide your hi-heels
Talk of best pairing and Pakistani-style are good to go with wide-leg pants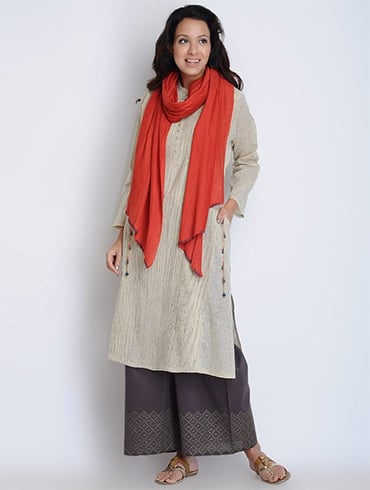 So how did you find this post on different types of bottom wear? Tell us by writing in the comments below.
Images Source: pinterest