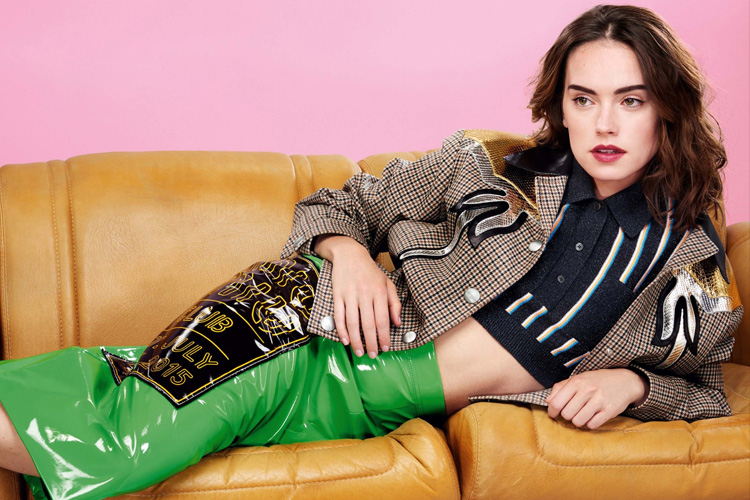 Personal Details
| | |
| --- | --- |
| Name | Daisy Jazz Isobel Ridley |
| Birthday Date | 10 April 1992 [celebrity_age_calc data="1992-04-10″] |
| Birth Place | Westminster, United Kingdom |
| Sun Sign | Aries |
| Eye Color | Light brown |
| Hair Color | Dark Brown |
| Nationality | British |
| Religion | The actress doesn't speak much on this topic. Dunno! |
| Education | Graduation from Tring Park School for the Performing Arts in Hertfordshire |
| Occupation | Actress (who works for TV shows and films) |
| Marital Status | Single |
Family Details:
| | |
| --- | --- |
| Father | Chris Ridley (photographer) |
| Mother | Louise Fawkner-Corbett (works at a bank in internal communications) |
| Siblings | Kika-Rose Ridley (Sister), Poppy Sophia Ridley (Sister) |
| Spouse | Charlie Hamblett |
| Children | N/A |
Body Status
| | |
| --- | --- |
| Build | Athletic-n-Slim |
| Height | 5 ft 7 inch |
| Weight | 55 kg |
| Waist Size | 23 inches |
| Hip Size | 33 inches |
| Shoe Size | 9.5 (US) |
| Dress Size | 4 (US) |
| Body Measurement | 32-23-33 inches |

Daisy Ridley Without Makeup
Take a look: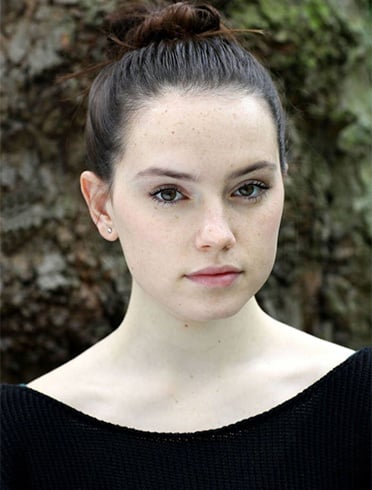 [sc:mediad]
Favorite Things and Hobbies
| | |
| --- | --- |
| Color | N/A |
| Food | N/A |
| Place | Abu Dhabi (the filming location of Star Wars) |
| Sport | N/A |
| Brand | N/A |
| Actor | Johnie Depp |
| Actress | Felicity Jones and Carey Mulligan |
| Film | Matilda (1966) |
Daisy Ridley Weight Loss
Workout Plan:
To play Rey in Star Wars, the actress had to put in a lot of effort in her workouts. She had to spend 5 hours/day and 5 days/week at the gym training to get the bod desired.
She wrote on Instagram –
"Initially I had to pack on some muscle to look like a desert scavenger, but have continued working out because it makes me feel really good. The female form is beautiful in all shapes and sizes, whether that's athletic, straight up straight down or curvy; you just have to do what makes you feel good, try not compare yourself to other people and LOVE YOURSELF!!! As it stands I'm of the athletic variety so I'm gonna keep pumping those weights."
In a nutshell – Daisy Ridley does cardio, weight lifting, body weight movements, fun training and much more, when it comes to fitness.
Did you know – Daisy has done "sword fighting" training?
The Brit babe that she is, nothing can beat her fitness dedication:
Triceps Pressdowns (pulley)
Diet Plan:
Daisy's training for Star Wars did not stop short in weights and fitness. She told Elle magazine about her diet which included "lots of fish, legumes, and spirulina shakes".
What forms the pillars of Daisy Ridley's eating plan?
Eating frequently, 5 times a day, and smaller portions.
Eating light at night. Daisy has larger meals in the morning.
Eating lean. And this means lean protein, fruits, vegetables and healthy fat. Avocados and nuts are included.
Hydrate: Anything between 2 and 3 liters of water each day for Daisy. She drinks a glass of water (full, not half) before each meal so that her hunger pangs get reduced in the process.
Daisy's typical day eating was this (when she was training for her role in Star Wars) –
7:30am: Scrambled eggs with a baked potato
10:30am: Chopped chicken salad
1:00 pm: Grilled fish taco with citrus slaw
4:00pm: Toasted pecan and beet salad
7:00pm: Vegetable egg white omelette
Things like these make Daisy Ridley look stunning in every frame, Rey girl warrior or not.