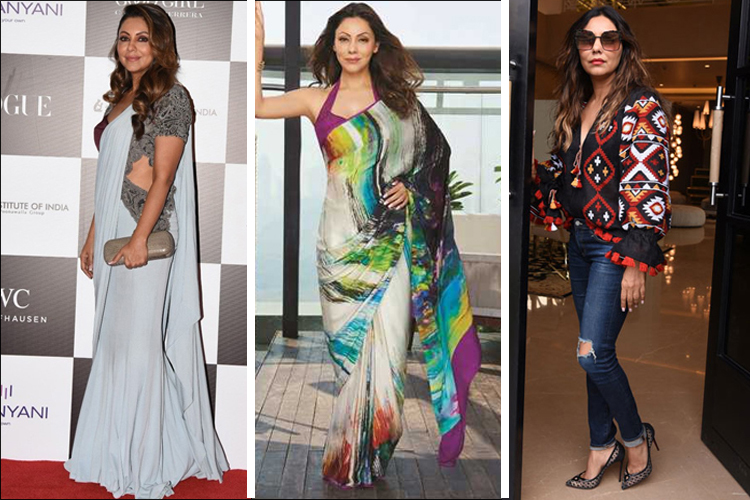 The first lady of Bollywood, Gauri Khan, shines in her own sparkle and is definitely not to be mistaken for just another "lady who lunches around".
If there is anyone much like her in the present times, then it did be only Victoria Beckham.
With cool design aesthetics and an unparalleled personal style, this boss lady embarked on a new journey this year. The woman most recently opened gates to a plush interior store in Mumbai which aims to cater to the more contemporary visions of her A-list clientele.
A coveted producer, a guest designer and now a sought-after Interior designer, Gauri indeed has much more to her apart from just being the better half of Bollywood's King Khan. This star wife certainly refuses to observe fame under the shadows of her husband's stardom and continues to rule the circuit on her own terms.
Poise, upscale and extremely talented, Khan is known for her rather distinctive taste. Be it fashion or decor, Gauri's personal style revolves around everything opulent and timeless.
A lover of luxury, Queen Khan's closet boasts of only high-end and bespoke fashion brands like Versace, Gucci, Roberto Cavalli and the likes.
If you go down the memory lane you are sure to realize that Gauri's style has evolved much over time. Once known for her heavy bronze makeup and overly dramatic dress-ups, Gauri today prefers more understated yet polished and sleek looks. When not facing shutterbugs, she prefers to keep it cool in oversized tees, vests or spaghetti's paired with distressed denim and shorts. As far as her preferred color palette is concerned, it's all the way black and white.
While she basks in the success of her new venture, we want to give you a throwback to few of Gauri's most recent top fashion moments.
Gauri Khan's Top Fashion Moments 2017
Sizzling at the most recent Vogue Woman Of The Year award night, Gauri reminded us of her exceptional taste. Mrs. Khan stirred the fashion circuit draped in a pre-draped saree gown from the label Monisha Jaisingh. The plush grey saree gown reverberated class and elegance while the ornate blouse played the showstopper element. The maroon contrast play along the neckline deserves a special mention.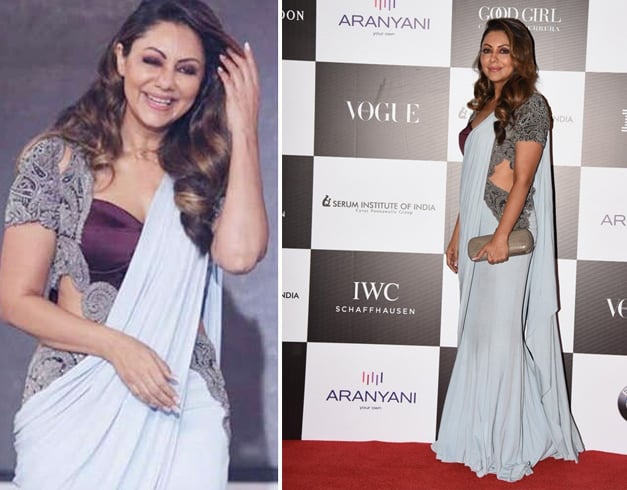 Spotted just outside her store just days before its opening, Gauri wowed us with her bohemian dress up. The woman who had the company of her bestie and director, Farah Khan, delighted us with her Vita Kin top. The strong play of bold contrasting colors was every bit chic.While we would have reserved a top like that for an exotic vacation, Gauri made it city-appropriate pairing it with a pair of blue distressed denim. The fashionista sealed the look with a pair of black stilettos and oversized glasses.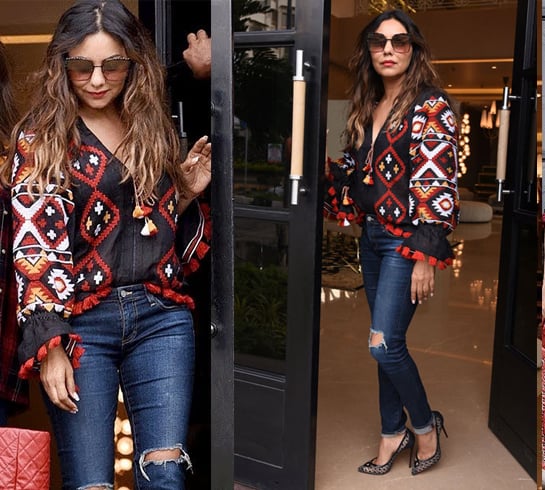 Gauri Khan on-boarded Satya Paul as a guest designer for their Spring Summer 16 collection. Working a more lively, after hours summer range, Khan's collection " Cocktails and Dreams" boasted of bright and bold prints on lightweight chiffons, satins and georgettes.was well received. One of her looks donning a saree from her collection left us spellbound. Gauri definitely inspired us to hit our post-work hangouts donning a saree the sexy way.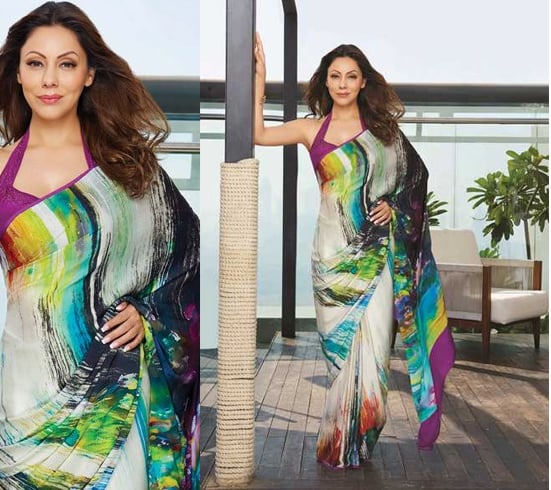 This year saw Mrs. Khan lending her interior designing skills to create a perfect dining ambiance at a newly opened restaurant. Gauri's first ever restaurant design venture Arth had a bevy of B-town celebrities attending the launch party. To welcome her elite guest list, the host dressed up divaliscious in a black lace fitted midi dress. To add some oomph to her evening, the woman opted for some Louboutin shine. Keeping her makeup rather modest, Gauri Khan put together quite a look.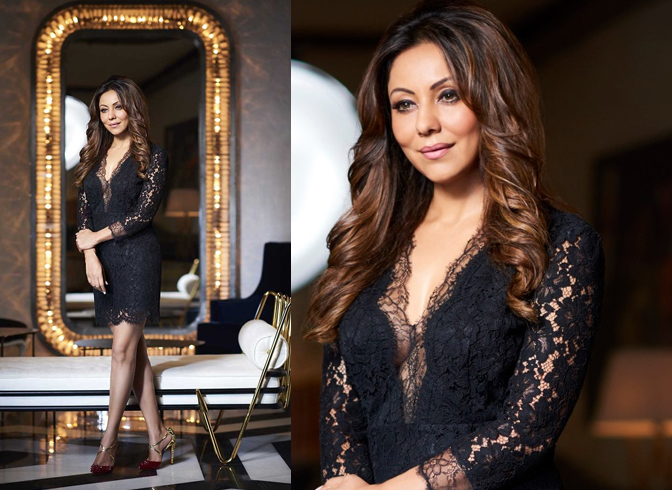 Gauri and SRK were spotted in L.A while on an extended vacation post the IIFA weekend. For her brunch scenes with Sridevi and Boney Kapoor, Gauri dressed down casual in a white v-neck vest and denim. Sticking to wearing one statement element, Gauri chose to add some sparkle to her basic look with a pair of glitter sneakers from Gucci and Louis Vuitton Da Vinci tote.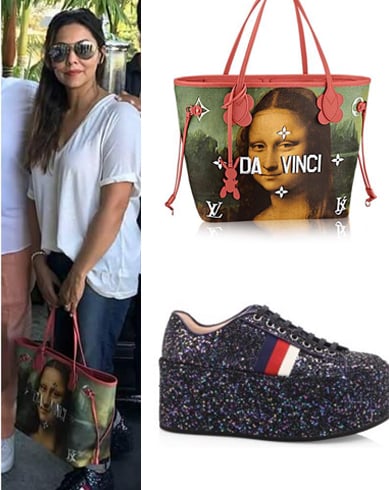 For a photoshoot at their Palm Jumeirah house in Dubai, Gauri gave a rather power-packed performance. Wearing a black high neck blouse with a pair of her favorite distressed blue denim, queen bee made for strong camera presence.
[sc:mediad]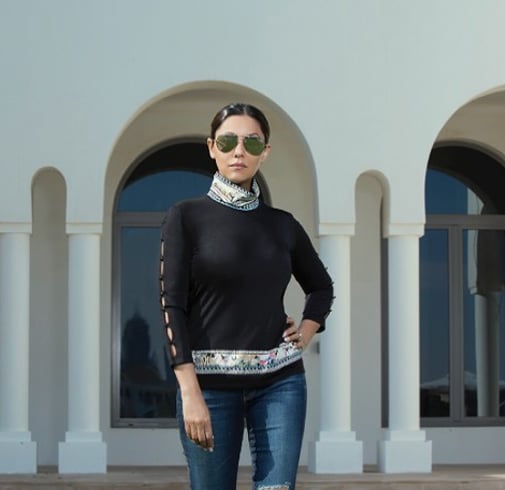 For her feature in the HT TImes Brunch magazine, Gauri clothed herself in the classic white top blue denim combination. To give this classic look a fashionista lift, Gauri adorned a white blouse with metallic golden patches on both the shoulders. Some drama there, courtesy designer Seema Khan. The lady sealed this stunner with a pair of peep toes. Her queenly attitude is not to be missed.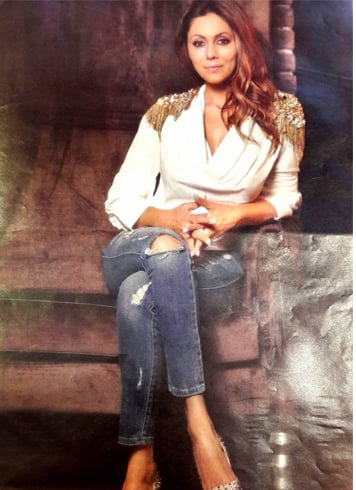 Her photoshoot for the Ace group had her looking sharp and determined. The photoshoot attempted to announce the collaboration between Gauri and Ace Group, wherein Gauri will be onboarding to design luxury apartments for the firm.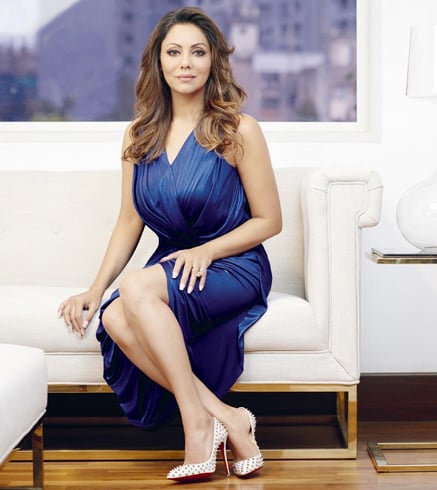 Hosting her friends at her new store, Gauri looked good working an all-white athleisure appearance. That touch of gold on her joggers adding all the glamour to the diva. The woman finished her day look with a pair of white sneakers and a bright red pout.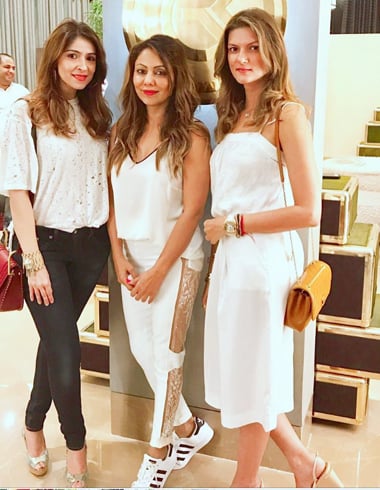 For Karan Johar's book launch, Gauri manned up in a fitted black suit from designer Seema Khan. We are loving Gauri in a suit up. More superpowers to this woman. Her " I mean Business" look is simply slayer. We wish she suits up more often.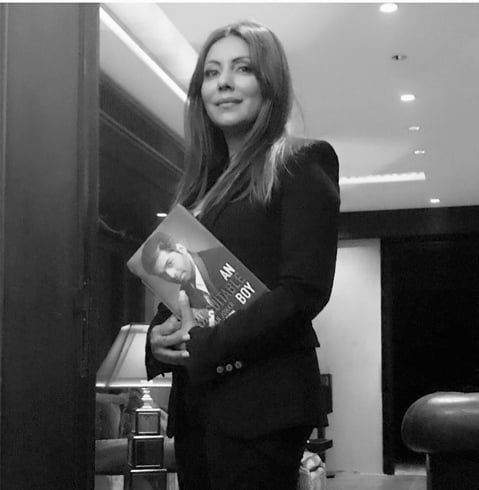 Breezing through the humid months was Gauri Khan in a printed dress from Zimmermann. Looking chic and absolutely comfortable, Gauri made for a pretty looking host to Bollywood's popular girl gang, the Kapoor sisters, and the Khan sisters. The queen bee completed her appearance with her metallic tinted shades and a pair of studded white Louboutin.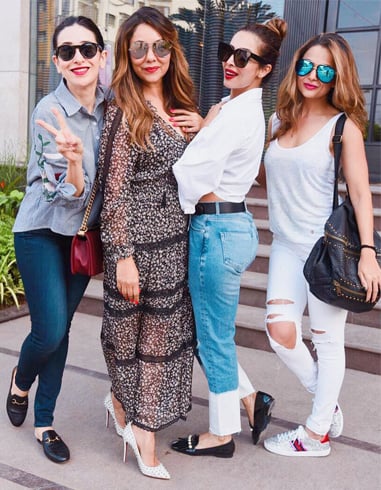 These were some of the most recent looks of the queen bee that caught our attention. If you too love your denim and tees, then Gauri Khan is your main.
Images Source: Instagram