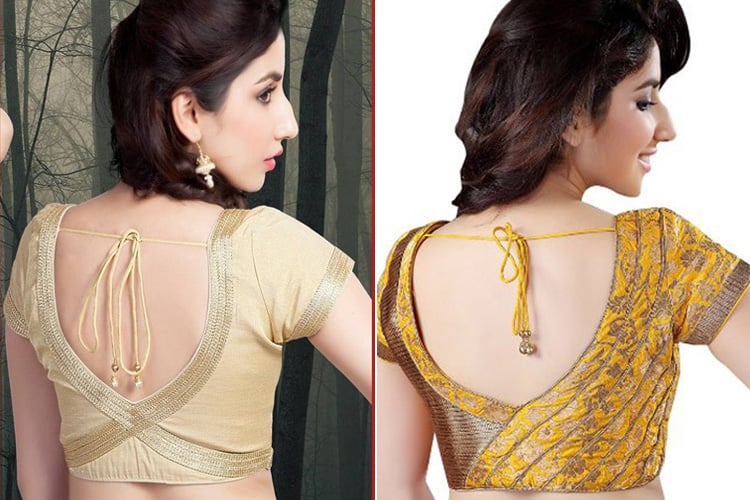 There is no doubt that the sexiest and sensual of all garments that can drape the contours of an Indian woman would be the glorified nine yards of cloths- the saree. With that being said, the right choli or the blouse needs to be worn, which will bring in the oomph factor, sensuality and more to the wearer's personality. Now keeping that in mind, and since the festive season has begun, there would be many occasions where you would be wearing your sarees too, so here are a couple of blouse back neck designs with patch work to choose from, which we will show you, along with tips on how to choose the right blouse back neck designs with patch work as well. Get ready to make a blast and a fashion statement this time around!
Here are the rules when choosing blouse back neck designs with patch work
1. If you are looking for something unique and sexy, low backs which are extraordinary and yet with a style quite different from the rest, follow your heart. Your personality should match up with what you want to wear, or else the blouse back neck designs with patch work you choose would be of no use. Here are a couple of sensual numbers to try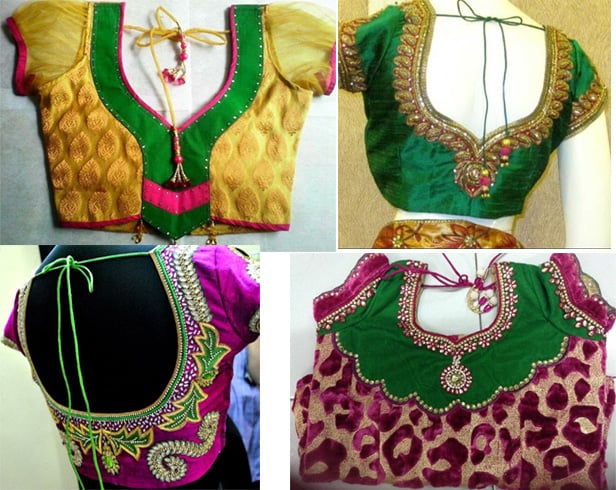 2. Think of contrasts in colors, somewhere with solid tops for a gorgeous affair to come through. Look for patchwork in kundan and highlighted borders, deep back necks too. You could also think of triangular backs with deep backs or square backs too, all with contrast shades and tones to make the oomphatic affair fall right through.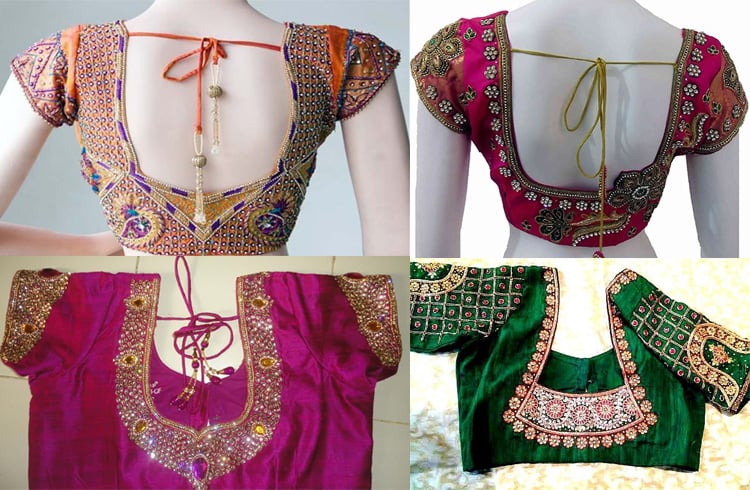 3. Another way to choose blouse neck designs with patch work for a very formal party or a gathering to go to, and to wear with your saree would be the whole air hostess blouse look. Plenty of patchwork behind makes it run away from being anything but boring, and it has side sleeves with enough length to play with as well. And if that does not catch your fancy, here are a couple of U back neck examples to choose from.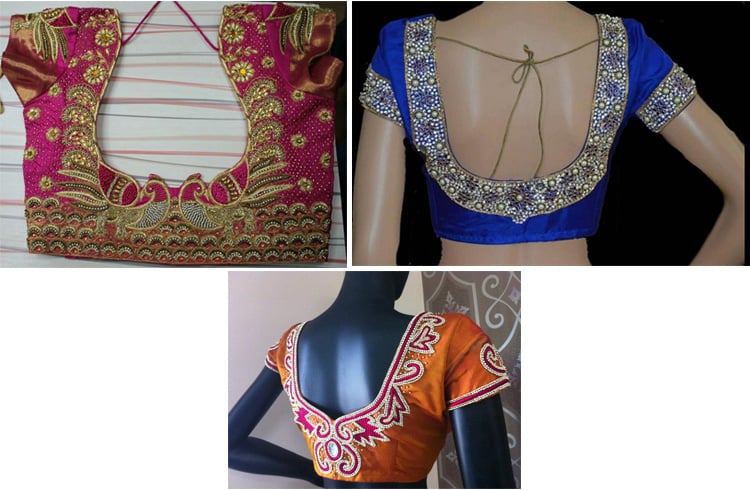 4. Contrasting designs with the patch work blouse designs are in vogue big time these days. Hence what you could do is to pair up one of the below-shown numbers with a gorgeous saree of your choice, and the eyes would be on you. It is all about attitude and confidence that brings back the SEXY BACK.
[sc:mediad]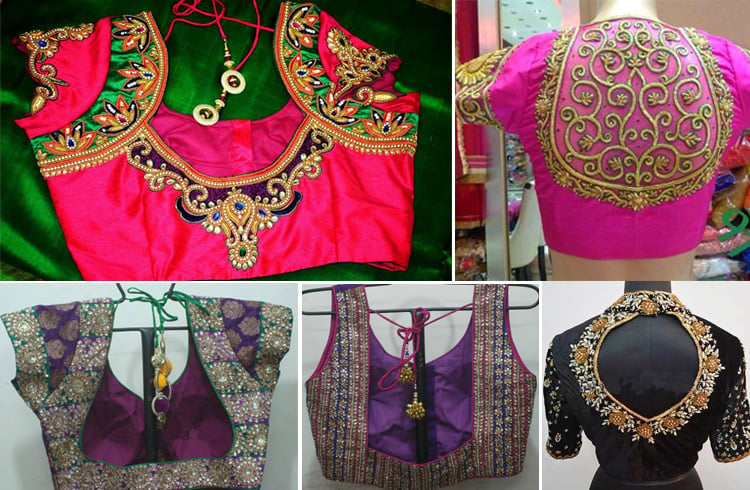 5. Most women would love to even flaunt blouse back necks that have a mix of cutwork and patchwork on them and to accentuate the look further, they would want solid colors for the show to come through. The strap should be interesting though, with chic motifs and ethnic touches, or else the latkans would do with the laces for the look to come about as clean and complete.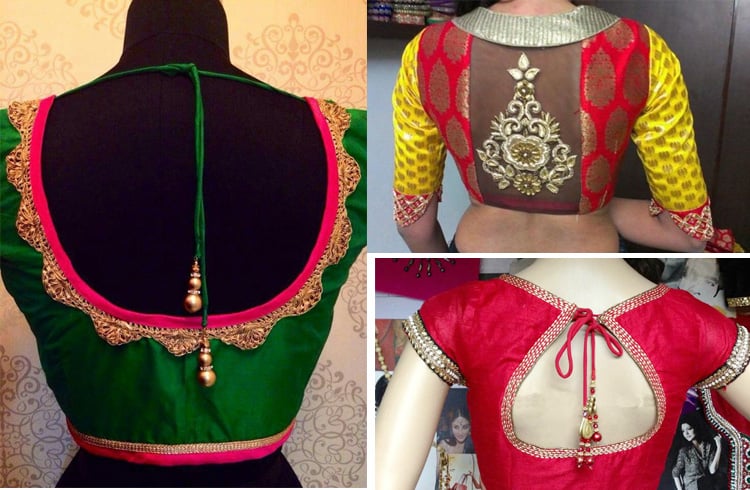 6.Bright colors are in for the season of festivities and are best patch work blouse designs for silk sarees to wear with and flaunt during the day time pujas and aartis. While the rituals are on, you can be the fashionista around in zari and patchwork, cutwork and laces, or a combo of either of them to make all heads swoon. Here are a couple of examples.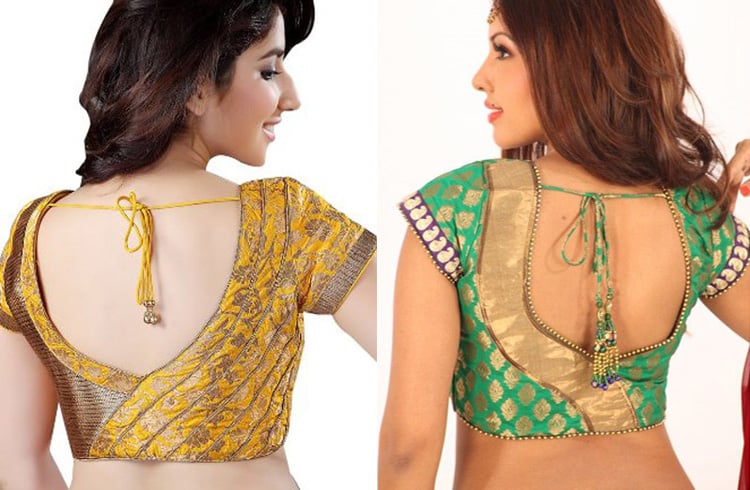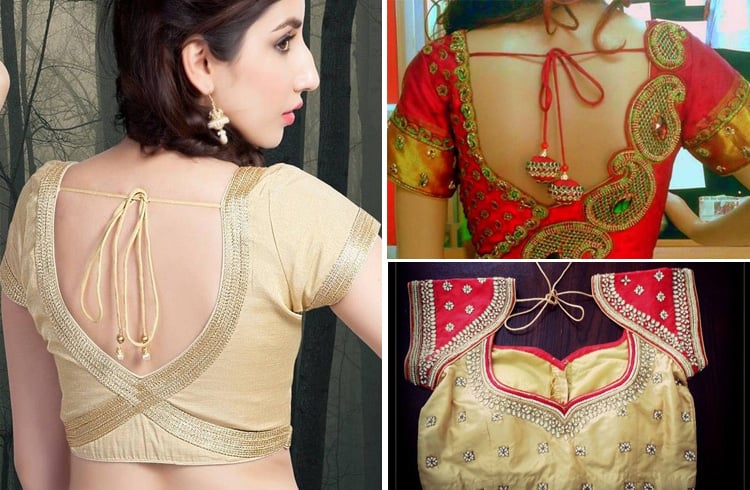 7. Who would not love the touch of florals even when the autumn festivities are on? Net blouses with deep backs and colorful patchwork or prints can make it the ideal party wear top for the sarees to combine with. Think about it.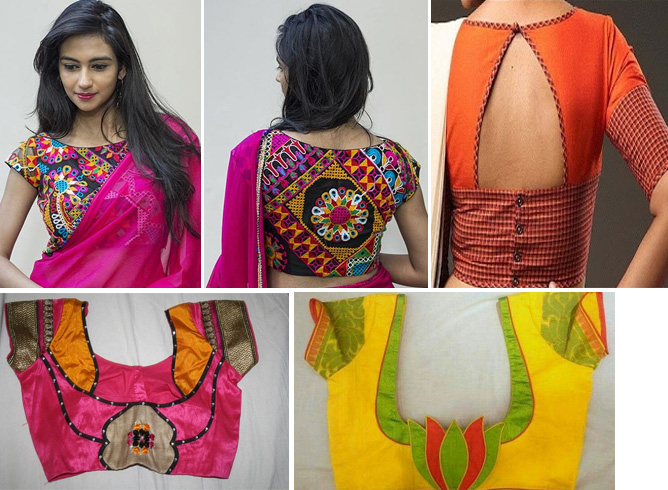 We hope these seven rules and choices give you enough dough on what one can find around for patch work blouse designs for silk sarees, cotton sarees and sarees of other materials to pair up with. Have fun this festive season and bring back the SEXY BACK!