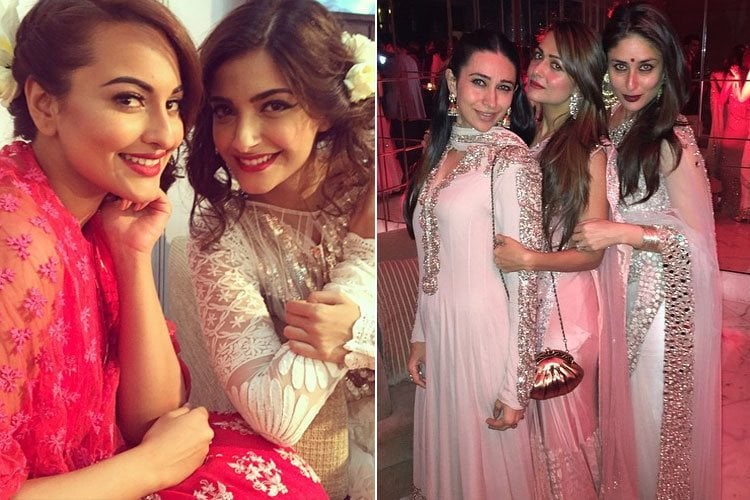 We are all aware of superstitions and myths. Don't cross the road when you see a black cat? Don't cut your nails at night fall? Two girls can't be best friends? Yeah, this one right here? We don't believe it at all. Calling total BS on it!
You wanna know why? Because!!!
Take a look at the picture below and get an idea for yourself. As the say, a picture is worth thousand words!
Priyanka Chopra and Kangana Ranaut
They were both nominated for the Best Actress National Award and only one of them won the awards. We all remember how elegantly Kangana received the national award for 'Queen' and how subtly she thanked everyone. This award should have been reason enough for bad blood between them. But did it happen? Nope!
Just look at their pictures. Totally adorable!!
Girl Gang
This is one of my favourite girl gang – the Kapoor and Arora sisters. Like peas in a pod. Always together!
They just know how to have fun!
[sc:mediad]
Sonam Kapoor and Kareena Kapoor
Kareena Kapoor has never limited her friendship. She may not like Deepika. But she totally loves Sonam! Here's a proof of that #nofilter needed for the kapoor girls! #bebo #indiatv
Sonam Kapoor and Sonakshi Sinha
How can anyone not like Sonam Kapoor? Being the fashionista that she is, you would have assumed that Sonam would have to say something about Sonakshi's weight?
Nope! They are great friends!
Deepika Padukone and Alia Bhatt
Last but not the least – we have our favourite picture of the year. The very picture that inspired us to write this blog. No words needed!!