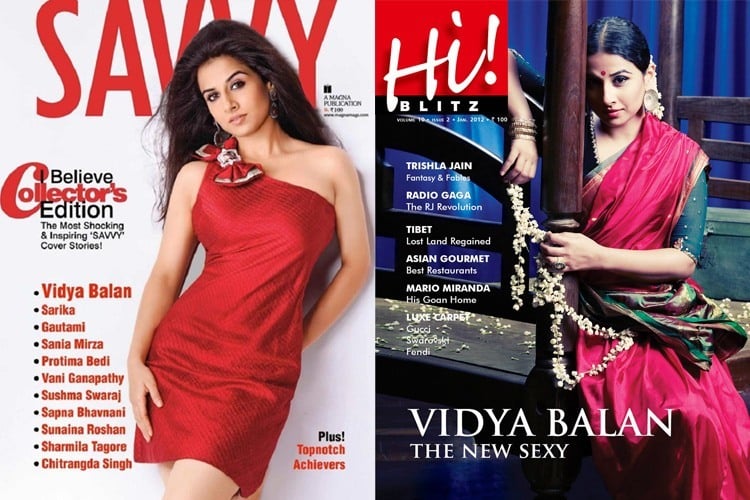 In Bollywood industry, is she a stunner or just fantastic in films? When the subject is Vidya Balan, you will have to tick both the options.
Femme fatale Vidya Balan has come a long way from the film Parineeta to The Dirty Picture. Her performances are like sipping vintage wine and her presence in magazine covers electrifying. Here are Vidya Balan magazine cover looks for your sartorial tastes.
[Also Read: Aishwarya Rai Magazine Cover Looks]
Vidya Balan on magazine cover page
Hi! Blitz, May 2015
When you see Vidya Balan on the magazine cover page of Hi! Blitz May 2015 issue, does she look a raw Indian beauty who can delight every home with her traditional Indianness or a diva who can make many hearts flutter? I would say, both.
CineBlitz, December 2014
You have all the right to ask Vidya Balan  what it takes to be a blushing bride. After all, that is the story title of CineBlitz December 2014 issue.
AsiaSpa India, March-April 2014
Vidya Balan magazine photoshoot for AsiaSpa 10th anniversary issue made her look lovely on the cover, all thanks to the styling done by Jayati Bose.
Hi! Blitz, October 2013
This Vidya Balan magazine cover Photoshoot is a classic example of Bride revisited! Doesn't Vidya on the cover of Hi! Blitz for the October 2013 issue look an earthy beauty?
Filmfare, January 2013
Just after her wedding to UTV head Siddharth Roy Kapur followed by a short honeymoon break, two magazines Vogue India and Filmfare had Vidya Balan on the magazine cover page.
On the Filmfare cover, Vidya looked fully resplendent on a black and white cover. She was dressed in Indian finery which was a throwback to the Bollywood of 1950s. Doesn't Vidya Balan magazine photoshoot remind you a bit of how Meena Kumari looked in her heydays?
Vogue India, January 2013
Love Your Curves. That's a fantastic message coming by Vidya Balan on the magazine cover page of Vogue India in Jan 2013. She was photographed by Prasad Naik for the cover shoot and when you see the rest of the pictures, you mind could get dirty!
[sc:mediad]
Harper's Bazaar India, March 2012
In this Third Anniversary Issue of Harper's Bazaar India, Vidya Balan is like never before. Isn't she burning orange with passion?
[Also Read: Show-Stealer Anushka Sharma Magazine Cover Looks]
Savvy, December 2011
"Siddharth Roy Kapoor was divorced when we got together!" That's quite a candid confession coming on Vidya Balan Magazine Cover Photos from the lady herself.
Filmfare India, January 2011
She is so right when she says "Single women are sexier". Don't you think Vidya Balan magazine photoshoot for Filmfare Jan 2011 issue is bang on. That's what she absolutely looked in her film The Dirty Picture.
FHM, November 2010
It seems a Sari and Vidya Balan are heavily wedded to each other. Which is why you will see more of Vidya Balan magazine cover dressed in traditional outfit sari.
In this 3rd anniversary issue of FHM India, you can't take your eyes off backless Vidya dressed in a Sabyasachi saree. Such amount of oomph and sensuality is something only Vidya could show. Agree?
When she says "I think the sari is by far the sexiest garment. It covers the right amount, it exposes the right amount it's such a tease and I like teasing." Boy o boy, she said it all.
Verve, February 2010
Yeah, we have seen how Ms Balan was a sexy seductress in The Dirty Picture. So when we see Vidya Balan magazine cover saying just that, all we can say is point taken. Dressed in a classy coat with a white flared top, she is pure entertainment.
[Also Read: Fresh-Faced Shraddha Kapoor Magazine Cover Looks]
It is kind of difficult to separate Vidya from the audience for a lifetime whenever the subject of the discussion is this particular movie. What say?
So tell us which Vidya Balan magazine photoshoot hit your heart where it should.