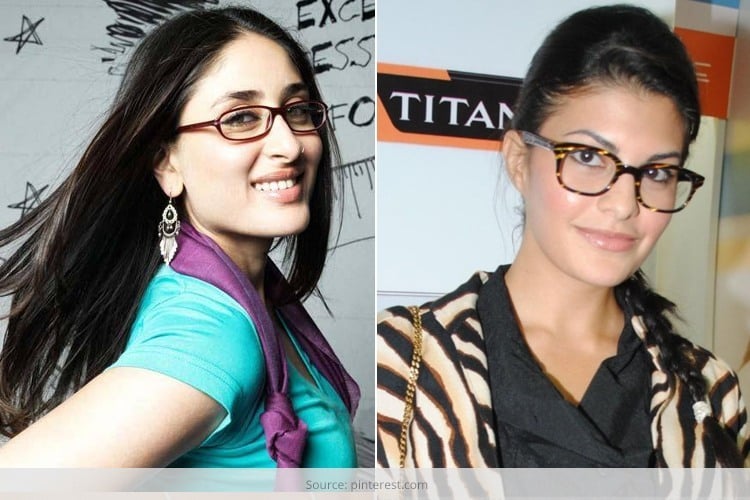 Bollywood can be a lot of things to a lot of people. For style crazy people on earth like us, it is an universe filled with fashion inspiration. Our actresses are our dieies and we follow what they preach and perform. These days they are showing us how to rock the good old reading glasses and we cant stop admiring them. Here are 10 Bollywood Godesses who rocked the geek look like it's the new chique.
Deepika Padukone
The woman can touch stone and turn it to gold. So it was predictable that the glasses were bound to appeal to the masses when she rocked them not only in movies but in real life too. Look at these snaps from Yeh Jawani Hai Deewani and a paparazzi pic of the actress while at the airport.
[Also Read: 7 Reasons Deepika Padukone Is Every Man's Dream Girl]
Sonam Kapoor
Not a big fan of her acting, but couldn't escape drooling over her fashion sense. Like Deepika, Sonam too, embraced her love for spectacles in real as well as reel life. Let us all invest a minute contemplating how sexy the cat eye shaped specs are. Sonam, you are my queen.
Anushka Sharma
Woa, look who we have here. In a collared shirt, all buttoned up and a pair of suspenders securing the trouser, hair confined in an up do, Anushka is a woman at work in this shot. But the most interesting piece in her attire are the clear glasses with printed rim. They make the look all fun and no bore.
Jacqueline Fernandez
Talk of nerdy glasses and we have one better than the other in the closets of our actresses. But wait a minute! Are those tortoise shell frames Jacqueline is showing off? Damn I was aware of tortoise shell sunglasses, but this racy chick has got them for reading glasses too. Guess now we know who is ahead of the game.
Amrita Rao
Guys, does Amrita Rao ring any bell? Admit it fellas, we all secretly wanted her to date, get engaged to and marry Shahid Kapoor. It's sad we don't see much of her in movies these days, but the other day we spotted her at PVR. And the girl was rocking some serious reading glasses. Ahhh.. we are in love again!
Zarine Khan
So as we don't have Katrina in this list, we thought you could use Zarine Khan (see, what I did there!) and she is helluva gorgeous too… don't you think? Just take a little shot at the pic here. The babe is all stylish with her eyes shining through the nerdy spectacles. I am sure you will fall in love.
Chitrangada Singh
This hotty is another vital reason behind the increase in global warming but we can't even complaint for the heat she generates, that is how sloshed we are. With perfect bangs and a flashing smile, she looks absolute gorg in a pair thick rimmed reading glasses even with no make-up on.
Kareena Kapoor
Yayyyy… look we even have Bebo on our list. She alone can be all the reason we need to rock a pair of nerd glasses. Didn't she look absolutely adorable as a studious medical student in 3 Idiots. People could have watched it for Aamir Khan and Chetan Bhagat's storyline, I watched it because I wanted to see how smart Kareena looked in specs and it was totally a worth watch.
[sc:mediad]
Priety Zinta
Throwback time people! Take a look at this poster shot from Kal Ho Na Ho. Priety Zinta was playing a nerdy MBA student and the rectangular specs were in line with the character. She looked innocently beautiful throughout the movie and let the glasses get their due credit.
Alia Bhatt
And fast forwarding to present day situation, we have the very vivacious Alia Bhatt. Do you see the attitude? This is how the student of the year is demonstrating to the big wide world how exactly you team your spectacles with bold red lips.
I am marveled at the ease and confidence with which these girls rock their second set of eyes while I now so many around me who are embossed of the. Now I really don't need glasses, but I am seriously debating if I should get myself a pair of fake specs. I mean, why not, it's in vogue, isn't it?