Rice has been a popular food option over the years and has often come under the radar of health discussion. It is believed that 40,000 rice varieties are beneficial for our health. One such variety is the the red rice or the cargo rice.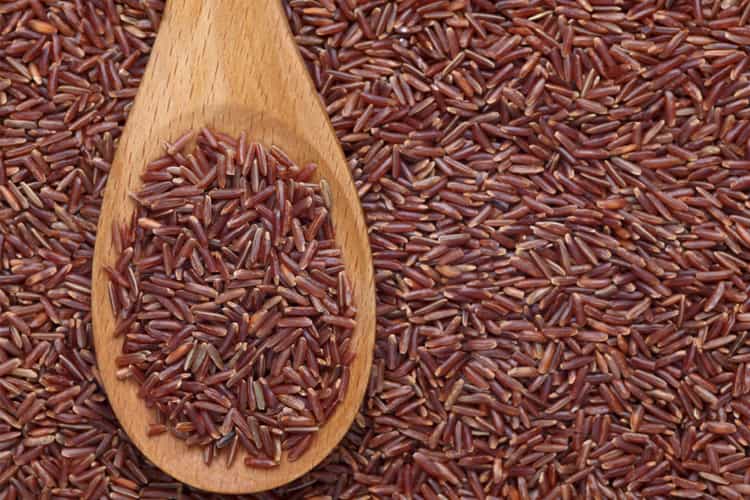 Red rice is said to be a healthier option than white rice and brown rice, too. It has immense health benefits which we have discussed in length below.
Before that, let us learn more about red rice and its nutritional content.
What Is Red Rice?
Before we jump into the health benefits of red rice, let us first try to learn what red rice is. The whole grain comes in a russet or rich red color. The rich color is due to the presence of an antioxidant known as anthocyanin. This compound is said to be beneficial for several health problems and also to lose weight.
Nutritional Content of Red Rice:
Red rice has great nutritional value that makes it a healthy dietary choice. Below is a nutrition data to analyze the health virtues of the whole grain.
Red Rice And Macronutrients:
Similar to others varieties of rice, it takes about one-third of uncooked red rice to prepare one cup of serving. The quantity of rice is about 200 calories when cooked in water and contains about 48 grams of carbohydrate content. It also has three grams of dietary fiber and four grams of protein.
Micronutrients in Red Rice:
One cup of cooked red rice contains about 80% of manganese that helps our body to retain proteins and fats. It is also a rich source of magnesium, molybdenum, and phosphorus. Red rice is also said to contain smaller amounts of zinc and potassium.
Presence of Anthocyanins:
The color of red rice is derived from anthocyanins, a phenolic compound that gives out its distinctive red color. This molecule is quite active and contains effective antioxidants.
Serving Size:  100 g
Calories:  405 Kcal
Calories from Fat:  44.10 Kcal
| Proximity | Amount | % DV |
| --- | --- | --- |
| Energy | 405 Kcal (1695 KJ) | ND |
| Protein | 7 g | 14.00% |
| Total Fat (Lipid) | 4.9 g | 14.00% |
| Carbohydrate | 86.7 g | 13.55% |
| Total dietary Fiber | 2.7 g | 7.11% |
| Water | 1.6 g | ND |
| Ash | 3.4 g | ND |
| Minerals | Amount | % DV |
| Iron, Fe | 5.5 mg | 68.75% |
| Zinc, Zn | 3.3 mg | 30.00% |
| Potassium, K | 256 mg | 5.45% |
| Sodium, Na | 6 mg | 0.40% |
Red rice Vs Brown Rice:
It is a known fact the red and brown rice is a healthier food choice in comparison to white rice. But which of these two options are better? Red rice or brown rice? Both of the food options are beneficial for health. Read on to discover more about red rice vs brown rice and which grain provides what types of health benefits.
| Red Rice | Brown Rice |
| --- | --- |
| 1. Red rice has a unique color because of the presence of anthocyanin | 1. Brown rice is unpolished and has several outer layers including germ, husk, and bran. These layers give brown rice its texture and color. |
| 2. Red rice has a rich amount of antioxidants. | 2. Brown rice is packed with fiber and nutrients. |
| 3. Red rice grain does not come in varying lengths like white and brown rice. | 3. Similar to white rice, the length of brown rice grains is short, medium, and long. |
| 4. Uncooked 100 grams of red rice has 360 calories. | 4. Brown rice has 3.1 grams of fiber per 100 grams. |
While both red rice and white rice are healthy, the healthier option between the two is red rice. Now let us learn why red rice is a healthier food choice.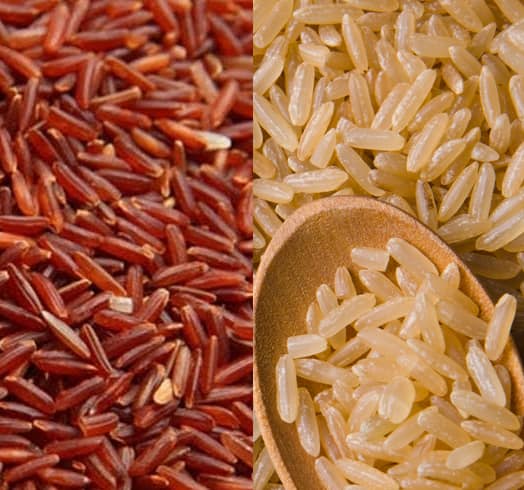 Why Red Rice Is A Healthy Food Choice?
Red rice is a healthy alternative to brown rice. The whole grain comes with a nutty flavor and blends well with veggies and meats. Similar to brown rice, the russet colored rice is rich with fiber and iron. It is also a great alternative to your diet.
1. Whole Grain Benefits:
As mentioned above, red rice is a whole grain food which means it retains the grain seed, bran, germ, and endosperm. People who include rice red in their diet are less prone to health risks like Type 2 diabetes and heart problems. Also, red rice contain is a good choice for those people controlling weight.
2. Rich Source of Fiber:
Red rice is a good choice to meet your daily fiber requirements. According to Colorado State University, the suggested fiber intake is 14 grams per 1000 calories, taken daily. One quarter serving cup of red rice contain 2 grams of fiber which meets about 8% of daily fiber intake. The presence of fiber in red rice makes it easily digestible and in turn prevents constipation and improves bowel function. Additionally, the presence of fiber can help in preventing heart disease, lower blood cholesterol levels, inflammation and blood pressure.
3. Source of Iron:
Red rice can allow you to meet your daily iron requirements. According to the National Institutes for Health, the recommended dietary supplement of iron for adult makes is 8 milligrams while for a woman it is 18 milligrams. One ¼ cup of red rice can meet 2% of daily iron content.
We need iron in our body for carrying oxygen all through your body. Without getting enough iron in our diet, our body may receive enough oxygen causing you into feeling tired and lower risk of infection. According to the Office of Dietary Supplements, iron deficiency anemia is one of the causes of nutritional deficiency. You may include iron-rich foods like red rice in ensuring your meet your everyday requirements.
4. Fat-free Option:
Red rice is known to be fat free and provide our body with immense energy. It helps in the absorption of vitamins, high fat intake, and several types of cancers. But, not all fat is made equal. The use of trans-fat and saturated fat should be prevented. According to Cleveland Clinic, you should lower the risk of fat intake to less than 35% of calories. Overall, red rice is a fat-free option and helps one to fight against weight loss.
5. Good for Oxygen Consumption:
With several health benefits, red rice is also known for oxygen absorption. They are packed with iron which helps in improving blood circulation through proper supply of oxygen for proper body functioning.
6. Rich in Vitamins and Minerals:
Red rice is a rich source of vitamins and minerals. It only contains 20% of the daily requirements of phosphorus, magnesium, and molybdenum. Daily intake of red rice can also help in the improvement of nutritional value and greatly reduce stress levels.
[sc:mediad]
7. Health Dose of Antioxidants:
Similar to brown rice, red rice are said to be 10 times more than the antioxidants to help eliminate unwanted sources and toxins to prevent diabetes, cancer, and heart problems.
8. Improve Skin:
Red rice is packed with Vitamin B6 and iron to help boost red blood cell production, known for promoting healthy skin. It also contains antioxidants for promotion skin free radicals and protects skin against premature aging and also lowers the chances of getting infections.
9. Prevents Asthma:
Red rice is a rich magnesium source which helps in controlling normal breathing. Consuming red rice on a daily basis can also help in preventing asthma problems.
10. Anthocyanins:
The reason why red rice is essential is due to the presence of anthocyanin, a type of flavonoid. The natural red colorant also acts as an antioxidant that fights against free radicals. The presence of anthocyanin can also help to prevent spreading of cancer cells and lower the formation of tumor. In comparison to brown rice, red rice has 10% more antioxidants.
11. Treat Diabetes:
Red rice is great for preventing diabetes as it contains low glycemic index. Diabetic patients need not prevent the intake of rice but as long as they consume red rice moderately, they'll be fine.
12. Healthy During Pregnancy:
A variety of red rice is red rice yeast which was popularly used in China. But pregnant and breastfeeding mothers are advised not to take red yeast rice as it is said to be unsafe. It leads to few side effects like bloating, muscle ache, heartburn, headache, dizziness, muscle ache, and weakness.
But not all red rice is the same for expectant mothers. Pregnant women are advised to take organic red rice as it does not cause any side effects. Thus, women should include red rice in their diet during pregnancy.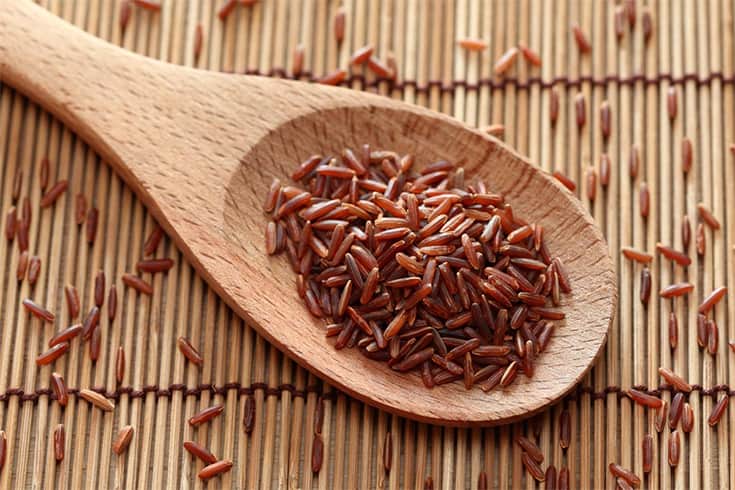 Questions:
Q.1. How is red rice healthy?
A. Red rice is a healthy food choice. It is rich in fiber, vitamin E, iron, protein, phytonutrients, phytochemicals, and other essential nutrients. They are also beneficial for stomach, kidney, and liver.
Q.2. Why red rice is good for you?
A. Yes, it is. The consumption of red rice depends on the size of the portion and how often it's being consumed. The red rice variety has immense nutritional benefits. They are rich in fiber content, antioxidants, phytochemicals, phytonutrients, protein, Vitamin E, zinc, iron, and other essential nutrients. A good lifestyle is about finding a balance between nutritious food and healthy food.
Q.3. Which is better-red rice or brown rice?
A. Both red rice and brown rice are healthy options. They are quite similar but red rice contains higher fiber and anthocyanins.
Side effects Of Red Rice:
There are few side effects of taking red rice including dizziness, gastrointestinal issues, nausea, heartburn, stomach ache, and bloating. In other cases, allergies, muscle cramps, and liver problems can also develop. To prevent these side effects, you must stick to taking red rice in moderation and buy good quality red rice from reputed retailers.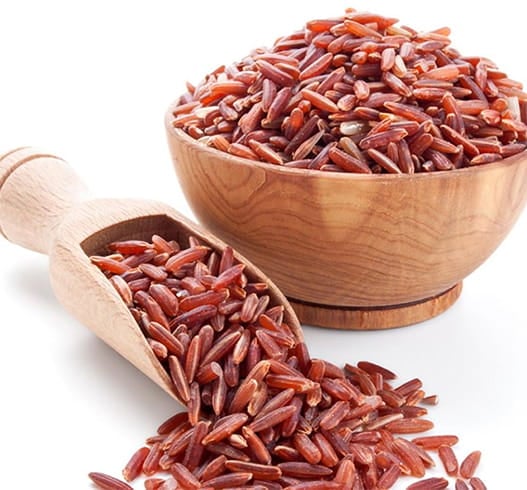 Now that we've covered about red rice health benefits and discussed how great this superfood can be for everyone. We'd love to know your opinion? Would you mind adding red rice to your diet? Or is it part of your daily diet?
Talk to us in the comment box below. Or you can share this article to your loved ones to also let them know the incredible wonders of red rice.