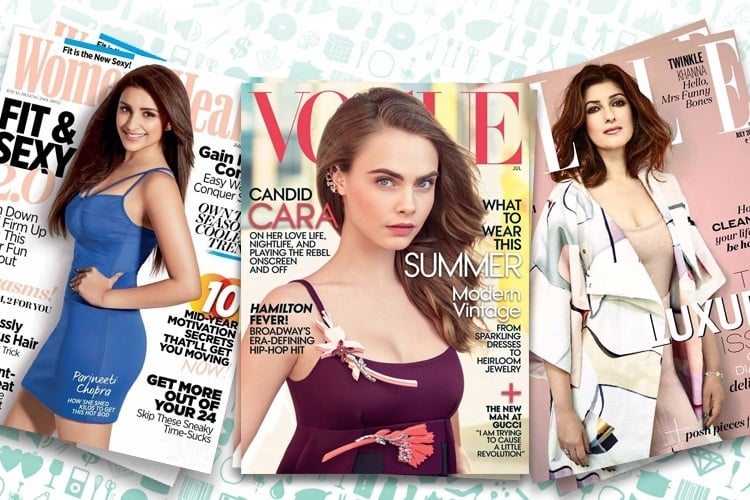 It's the first of July and we are back!! As the new month rolls in, we get pretty excited about all the new magazines that we can read and all the new magazine covers that we can drool over. Every time, celebrities from all over the world manage to surprise us with their killer and sombre looks.
Last time, Caitlyn Jenner won the best magazine cover awards and even to date, she is slaying her 'new' look. What's not to like about a transformed and empowered woman?
Well, today, we aren't here to talk about Caitlyn, we are here to discuss gorgeous magazine covers and how celebrities take our breath away with just one picture.
Without any further ado, let's start with our favourite and hottest of them all!
Maxim
Neha Dhupia stunned us all by appearing on the magazine cover of Maxim. The black and white picture has captured Neha in all her sexy glory and we can't help but yelp at her gorgeousness. The sexy black dress, the wicked smile and the dramatic wing liner. We are loving it!
Women's Health
Our Bollywood celebrities are certainly on a roll!! They just love to look sexy and Parineeti Chopra is following everyone's footsteps. On the cover of Women's Health, Ms Chopra looked sinfully delicious!! The blue dress really got the twinkle in her eyes
Elle
Leaving everyone behind is MrsFunnyBones. Yeah, Twinkle Khanna has taken everything up by a notch by appearing elegant AND sexy. How does she do it? We are yet to discover. But we are totally in love with her Kenzo dress
Harper Bazaar
Appearing on Harper Bazaar is none other than the petite beauty – Alexa Chung. The serene background has us lusting for a holiday! Do you guys need a holiday from work/school/college? Wethinks we do!
[sc:mediad]
Vogue
With eyebrows THAT long, bushy and well defined, Cara can surely rule the world. On the cover of Vogue, Cara looks devious and sexy. She was there to talk about her rebellious streak and much more.
Vogue – Australia
On the cover of Vogue Australia was our melody Queen – Lorde. Just look at her!! We don't have words to describe her sincere beauty
Elle –UK
We had the pleasure of seeing supermodel Anja Rubik on the cover of Elle UK and we are definitely not complaining!!
Elle
Amber Head also appeared on the cover of Elle (different country, of course) and spoke about how complex her thought process is