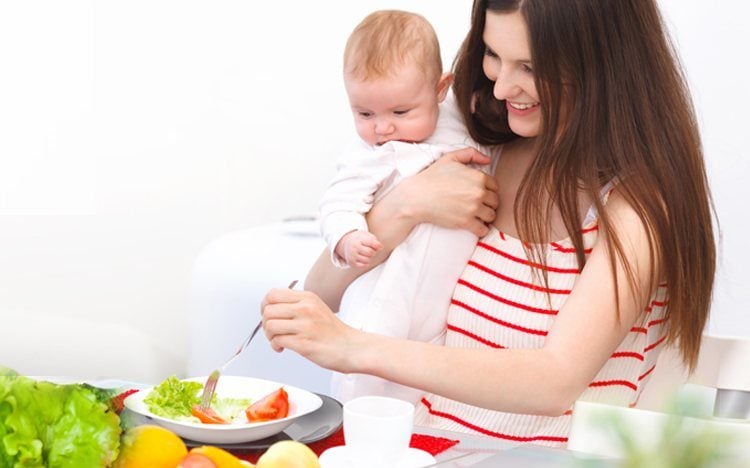 It's alright when you were in the college munching on your favourite snacks (momos, pizzas and all of that fast food) or skipping meals during exam time. It's all right if mom couldn't cook anything for you in her hurry to catch the bus. But if you are a nursing mom, then no situations or excuses would work. Because there is a little sweetheart, just a few days old, in your arms, wanting your milk.
Having delivered a bundle of joy in this world is a great feeling. Just like shopping for diapers, cosmetics and frocks for the new born is important, so also is looking into your breastfeeding diet.
So this blog my dearies is dedicated to breastfeeding diet plan, food for breastfeeding, what to eat when breastfeeding, best foods for breastfeeding, etc. Read it and tell me if I skipped anything…I hope nothing.
Breastfeeding Period
Before we start with the breastfeeding diet, it is important to know about the breastfeeding period which can be divided into 3 stages:
Stage 1 – First 40 days
Stage 2 – After 40 days to 6 months
Stage 3 – Extended breastfeeding (ideally till 2 years)
What To Eat When Breastfeeding
When you are nursing your little one, you got to eat well. And this means eating nutritious food and varied diet.
Talking about best foods for breastfeeding, here is what you should daily consume to ensure you are getting sufficient nutrients which would further help the baby get a healthy taste early on:
Protein: 3 servings
Calcium: 5 servings (roughly 1500 mg and this is vital as breastfeeding heavily draws from the calcium reserves in your body)
Iron-rich foods: 1 serving (or more) would do
Vitamin C: 2 servings
Green Leafy and Yellow Fruits/Vegetables: 3-4 servings
Other Fruits and Vegetables: 1 serving
Whole grains and carbohydrates: 3 servings
High-fat foods: Small amounts (since you don't need them in high quantity as you did during pregnancy)
Omega-3s: 2-3 servings a week (because this would play an important role in promoting the growth of the little one's brain. Low-mercury fish like wild salmon and sardines is advisable)
Prenatal vitamin: To be taken daily (ranging from Folic acid, Calcium, Iodine, vitamin B6, and others as prescribed by the doctor)
[Also Read: Egg Fast Diet]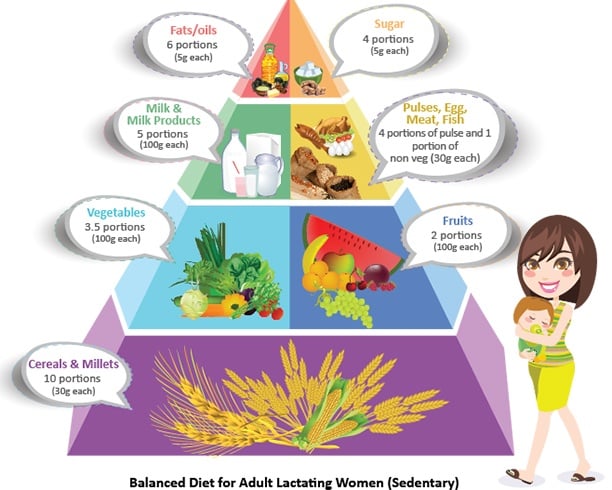 What To Drink When Breastfeeding
It goes without saying that water is the best foods for breastfeeding. Drink 8 cups of water daily, especially in the first few weeks after birth as it will help your body to recover more.
In fact, according to the thumb rule, you should drink a cup of water at every nursing session. Bear in mind that your milk supply won't be affected unless you are dehydrated majorly, but the urine in such a situation will become darker and less frequent.
Moreover, lesser water intake can bring up a whole lot of health issues like fatigue, constipation and urinary tract infections (UTIs).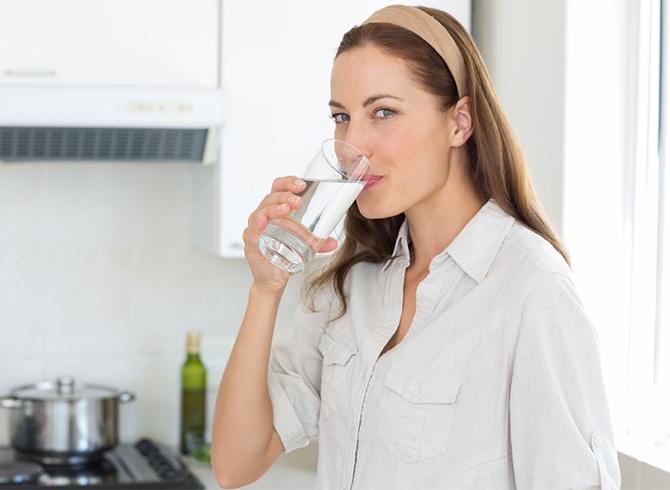 Foods To Watch Out For While Breastfeeding
There are a few food items which you should take with care while you are at the nursing stage.
Herbs
Consult your doctor before resorting to any herbal remedy. Also think twice before drinking herbal tea. Stick to taking reliable brands that are considered safe during lactation period (raspberry, chamomile, rosehip, peppermint, etc). Make sure you have read the labels carefully so that other herbs have not been added to the brew.
Sugar Substitutes
Well, the only one to avoid is saccharine, otherwise there are a plenty of safe choices like Stevia, Equal, Whey-Low, Splenda which are considered safe during lactation period.
[sc:mediad]
Non-Organic Foods
Choosing organic food (fruits/veggies) makes more sense when you are breastfeeding. Even if they come with a steeper price tag, they are safer in your interest and that of your baby. It is worth it since it would minimize the chemicals your baby can possibly get exposed to.
Few More Dietary Tips For Breastfeeding Moms
This is for non-vegetarians who wish to include fish curry or meat curry in their meal. Avoid using chilly or spices in it. In fact, you should avoid eating meat and go for the soup used in curry. To get a better extract of the meat, you can boil the meat for a longer time. Include egg whites in breakfast.
Keep yourself hydrated the whole day. Drink as much water as you can. Before you start feeding the baby, meaning breastfeeding, drink a glass of water.
Use jaggery instead of sugar (wherever possible). That's because jaggery is a source of iron.
Use the above guide to make the best choice when planning your diet during breastfeeding.
I hope the information shared on breastfeeding diet, food for breastfeeding, what to eat when breastfeeding, etc., helped and clarified doubts, if any. Do write in and let us know if you have some more breastfeeding diet tips for our readers.