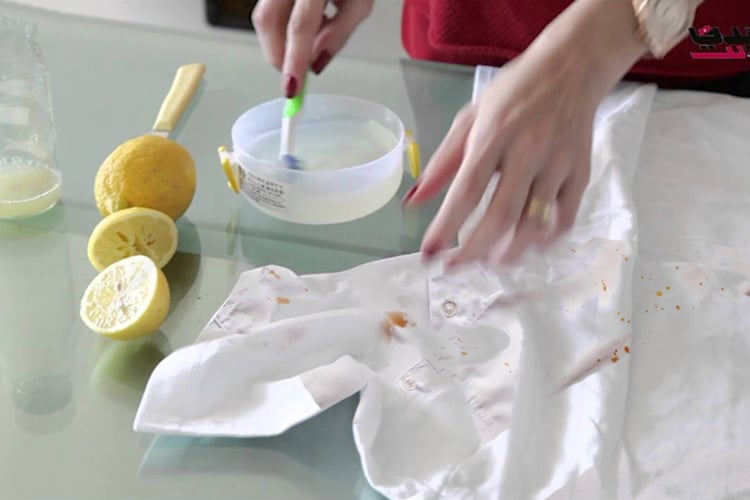 It is a rusty affair. Yes, rust stains can get on to your nerves. With soiled clothes either on us or lying in that hidden corner, there is hardly a moment of peace in us. So you are battling with that reddish-brown mark on your white dress? IN comes rust stain remover to remove rust stains from clothes. Does this sound like a total bliss? On this 'every cloud has a silver lining' motto I get you ideas on how to remove rust from clothes.
What Causes Rust Stains
Let's track down the source of the problem. Rust stains can happen in the following situations – when we are sitting on rusty chairs or when our clothes brush against corroded metal on items like locks, walls, even cars.
Rust Stains can also happen during laundry through:
Rusty water heaters, pipes or water storage containers,
A water source which is loaded with iron bacteria that can become the root cause of ugly discoloration and stains on many things in the house such as kitchen, bathroom and laundry fixtures and equipment, and dishes and "laundered" items.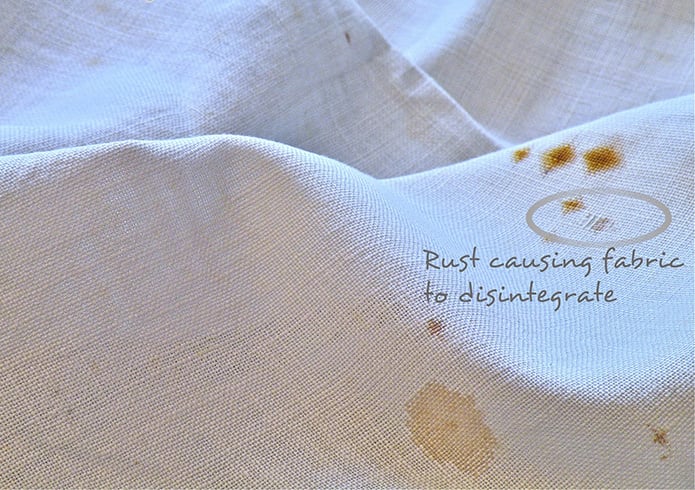 Shocking, right?
Not to worry.
Here's how to remove rust stains from clothes and best rust remover ideas.
Read on:
Tip 1 – Avoid Rubbing The Stain
It is a precaution which will help you, not ditch you. Rubbing the rust stain in your fabric can get it deeper into the fabric, so avoid touching it too much. Sometimes we have to under-play while doing things, don't we? The same formula applies to remove rust stains from clothes.
Tip 2 – Treating The Stain
Note down these potential treatments which can help remove rust from clothes.
Lemon Juice: To encash on this remedy, cover the stained area with drops of lemon juice. You can also add salt to draw out the rusty stains and muck. In order to do it, make a paste by mixing equal proportions of lemon juice and salt and apply it on the rust stains.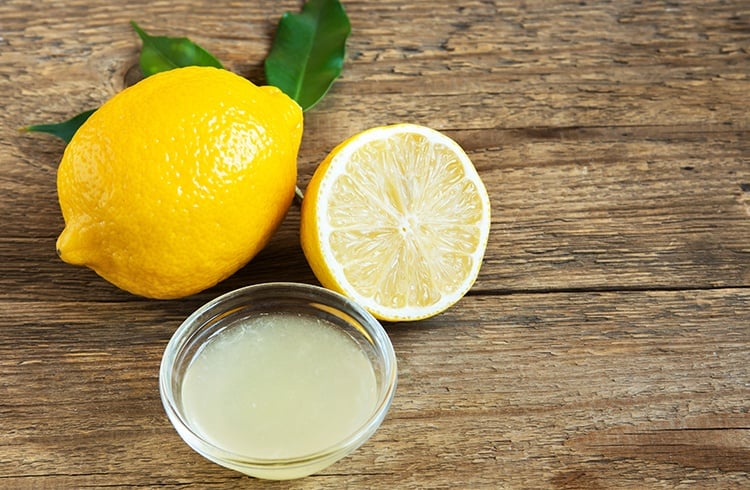 White Vinegar: Just like the lemon juice treatment, you can apply White Vinegar too as a rust stain remover.
Sunlight: This is another natural rust-fighting resource in hand which can be used alongside any of the two treatments mentioned above. Once you have applied lemon juice or white vinegar, put the garment in the sun for drying. The rust stain will fade away gradually.
[sc:mediad]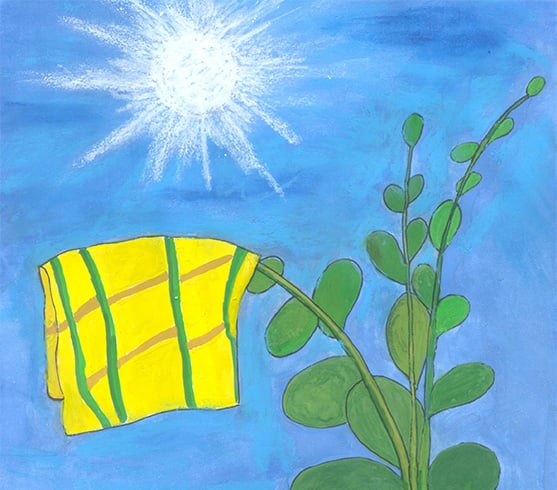 Persil liquid: Wash your rust clothes with Persil liquid detergent as normal. Persil has stain-busting cleaning power. Keep in mind the instructions given in the garment care label. If possible, put your garment with rust stains on the clothes rope and dry it out in the sun. This will help get rid of any left-over reddish rust marks.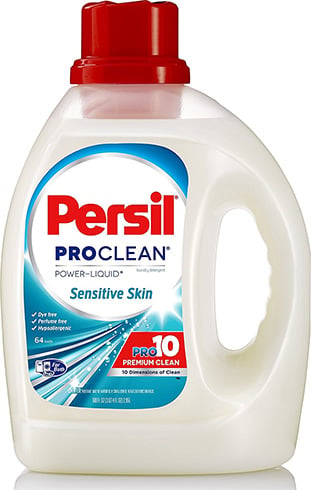 Repeat the steps (if necessary): Rust stains are not light, but stubborn. If stains still persist, then repeat the first three steps to get results.
Hey, did you know there are "commercial rust removers" found in hardware stores? If you have extensive or stubborn stains like hell, go in for the commercial brands. The important ingredient in these removers is either "oxalic acid" or "hydrofluoric acid".
Some Stain Remover Notes
Worthy of putting on post-its, these handy tips on how to remove rust from clothes will surely help you!
The faster you are in terms of dealing with a stain; more optimistic are your chances to remove it with success.
Cold water is good for removing stains, unless it's a fat stain. In that case, you will find it hard to remove the stubborn rust stain.
Whatever cleaning solution you use to remove rust from clothes, test it out on a fairly unimportant part of the garment – such as the inside of the sleeves to find out if no fabric damage has happened.
Here is a good washing sense-cum-technique. Always rinse out one cleaning solution before you try the other one. There are certain chemicals which are not supposed to be mixed with another. If that happens, then ruining of garment can happen.
Before trying out any commercial or ordinary rust stain remover, make it a point to check out the "care" label and instructions on your clothing item. There shouldn't be any conflict you see. Garment is a garment and rust stain remover is a rust stain remover. So taking precautionary care always helps. Also, some clothing items may be far too delicate to DIY stain removal (in which case, it is better to take them straight to the drycleaner).
Do not make the mistake of rubbing the fabric too harshly. This can cause breakage and fading of fabrics.
There is a "White Towel Blotting" method which can be tried out for best rust remover. In this, you need to fold a clean white towel. When you have treated the stain with water, dab it with the towel. The idea is to check how much stain has been transferred to the white towel.
Treating a stain on a washable fabric is always easier.
In case the rust stain is on a dry-cleaned garment, go to a professional cleaner. Home dry-cleaning will not be of major help in such a case.
In case you don't have a clue to remove rust stains from clothes accurately, then take the help of a professional.
Remember, all you need is a little bit of patience to make those reddish-brown stains on your clothes a history. Hope you liked this post on how to remove rust stains from clothes. Write in and tell us. And if you have more ideas and solutions on best rust remover, then feel free to share it with us!
Images Source: pinterest