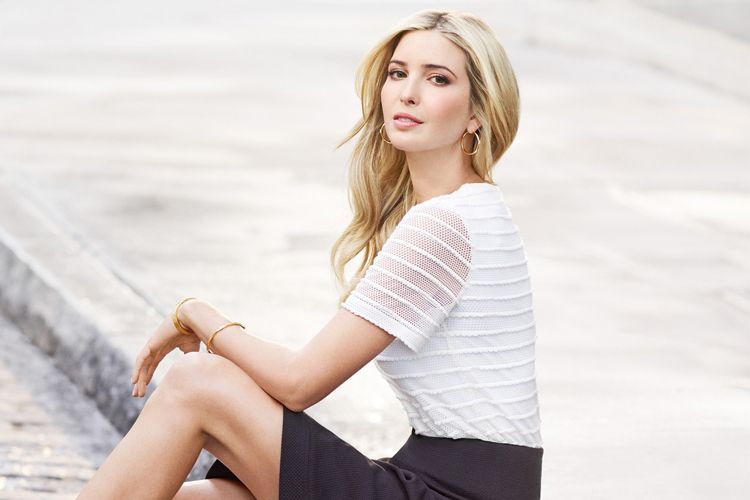 'Fairy tale' is what describes her profile best. Ivanka Trump is an American businesswoman, but more importantly, a White House advisor to President Donald Trump. Ivanka is the eldest daughter of the president Donald John Trump and his first wife, former model Ivana Trump. She is the executive vice president (EVP) of her father's company – The Trump Organisation. She is also serving as a boardroom advisor for her father's TV show The Apprentice.

Want to know about her laurels? Ivanka Trump has been described as the "shining star of the Trump family ensemble". She has unmatched levels of authority in the family business. So much so that she has launched her own brand, Ivanka Trump, selling shoes, clothing, jewelry and handbags. She was ranked at No. 83 on the MAXIM Magazine Hot 100 of 2007 list.

Ivanka Trump Height | Ivanka Trump Age | Ivanka Trump Boyfriend | Ivanka Trump Family | Ivanka Trump Career
Here's the complete story of Ivanka Trump.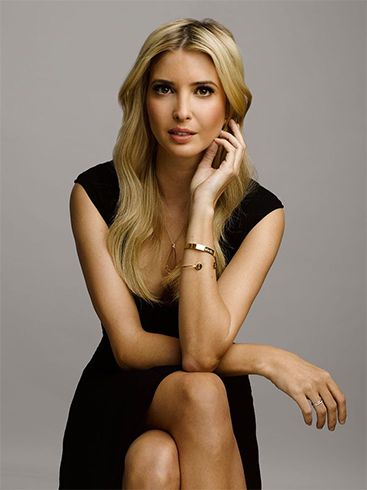 Ivanka Trump Personal Details
| | |
| --- | --- |
| Name | Ivanka Marie Trump |
| Birthday Date | October 30, 1981 [celebrity_age_calc data="1981-10-30″] |
| Birth Place | New York City (U.S.) |
| Sun Sign | Scorpio |
| Eye Color | Blue |
| Hair Color | Dark Brown/ Blond (and flawless) |
| Nationality | American |
| Religion | Non-Jew by birth, Converted to Judaism |
| Education | Chapin School, Manhattan (which had Jackie Kennedy Onassis as her former alumni); Choate Rosemary Hall in Wallingford, Connecticut (where JFK himself studied), then Georgetown University, Wharton Business School (at the University of Pennsylvania) |
| Occupation | (Former) Fashion Model, Author, Real Estate Developer, Businesswoman |
| Marital Status: | Married and mother of 3 kids |
Ivanka Trump is fluent in two languages – English and French. She also has an elementary knowledge of her mother's native language – Czech.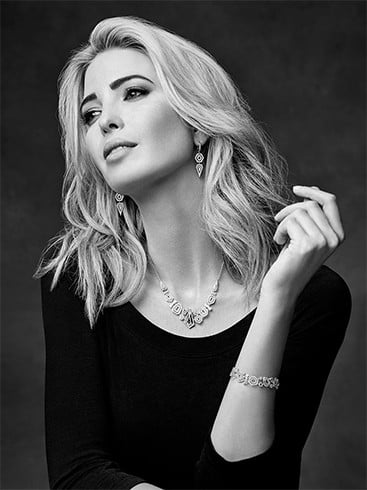 Family Details
| | |
| --- | --- |
| Father | Donald John Trump |
| Mother | Ivana Trump (nee Zelnickova) |
| Siblings | Two elder brothers – Donald Jr and Eric, half-sister Tiffany and half-brother, Baron |
| Spouse | Jared Kushner (Harvard graduate and entrepreneur, real estate developer and owner of the New York Observer) |
| Children | Three kids – Arabella Rose Kushner, Theodore James Kushner, Joseph Frederick Kushner |
Ivanka Marie Trump has had an 'exclusive' upbringing. Born with a silver spoon in her mouth!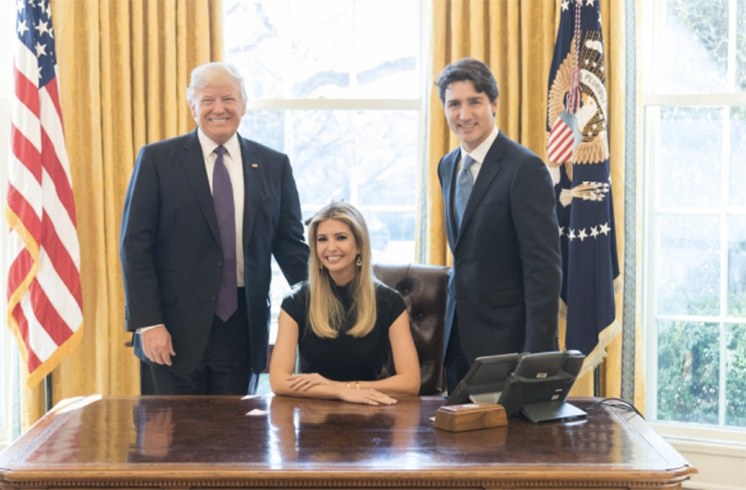 Past Relationships
Get ready to read a story of "mixing business with pleasure".
In the year of 2007, Ivanka had met her future-husband Jared for a business lunch. The purpose was to discuss a business opportunity between the real estate organisations that they belonged to.
Few minutes, and it was all over.
No, it had not ended but their relationship started at a different level: HEART-TO-HEART.
Both Ivanka and Jared fell for each other and soon started dating. It was not a one-night stand. Ivanka described her first date as "the best deal we ever made!" There were few roadblocks they had to get out of their path. What were they? Jared's parents were Orthodox Jews, whereas Ivanka's were non-Jewish. Ivanka Trump decided to go for a religion-change. She converted to Judaism and the lovebirds wed each other in 2009.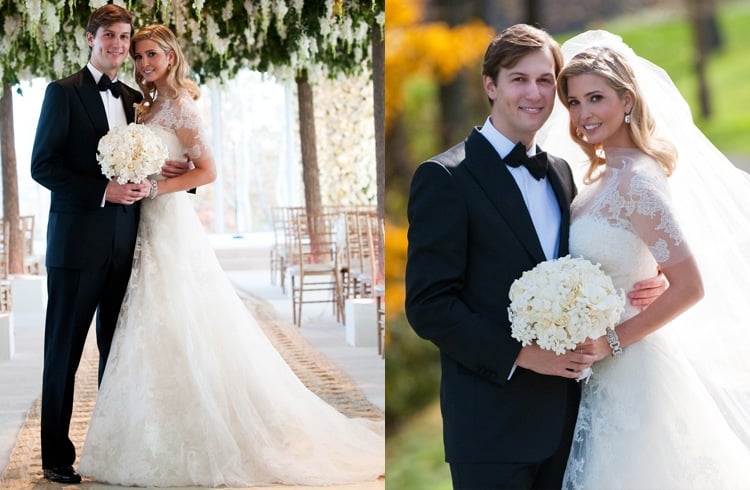 The happy couple has 3 doting kids today. Plus, successful businesses to run (when they reach home, they sit next to one another and work side-by-side on their laptops). Yet, they manage to make time for one another. True companionship!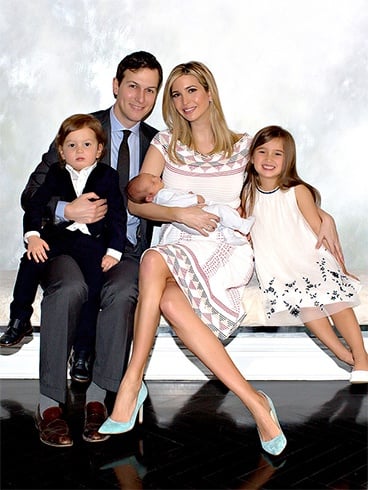 Any BFs of Ivanka?
Yeah, two – Greg Hirsch (Ivanka's college friend who she dated between 2001-2005) and James "Bingo" Gubelmann (He is a socialite with whom Ivanka was around between 2005-2007).
Body Status
| | |
| --- | --- |
| Build | Slim |
| Height | 5 ft 11 inches |
| Weight | 64 kg |
| Waist Size | 26 inches |
| Hip Size | 36 inches |
| Shoe Size | 9.5 (US) |
| Dress Size | 6 (US) |
| Body Measurements | 36-26-36 inches |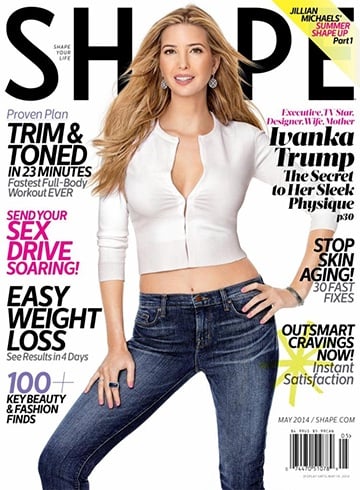 Favorite Things and Hobbies
| | |
| --- | --- |
| Color | Blue |
| Food | Mozzarella sticks! |
| Place | Waikiki (Ivanka's favourite vacay destination), New York, Istanbul, Los Angeles, Prague, and London |
| Sport | Not known |
| Brand | Charlotte handbag, Natura Bisse Skin Care, Burt's Bees Lip Balm, Tom Ford Red Lipstick, Nude Chanel Eye Shadow, NARS Blush, Aveeno Daily Moisturising Lotion, T. Anthony Luggage, IKEA Malm Bed, Lindsey Adelman Lighting, Crate & Barrel Carafe, Milo Club Chair by Lawson-Fenning, August Morgan Cocktail Napkins |
| Actor | Christian Bale |
| Actress | Not known |
| Film | Not known |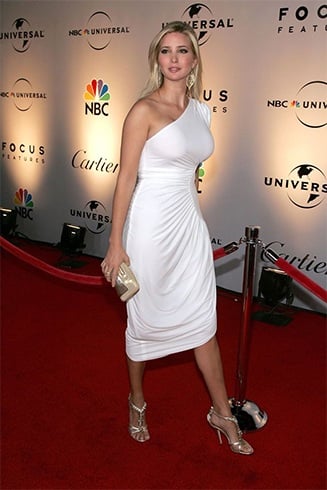 You may be surprised to know that Ivanka cooks for her family every weekend.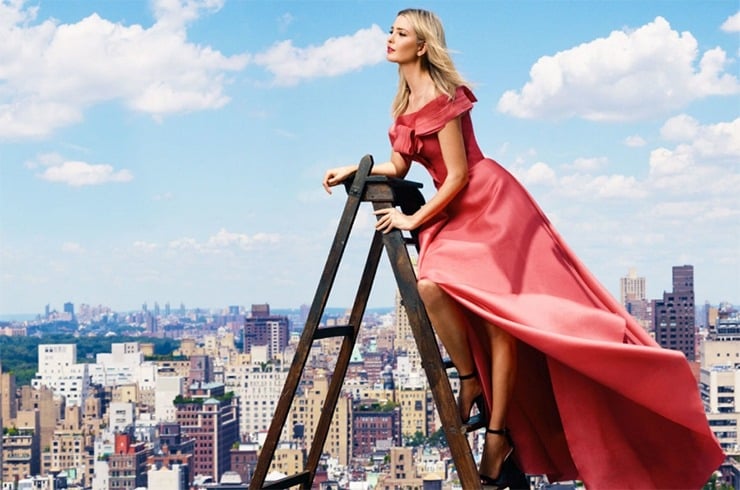 Professional Career
Brand Endorsements: Ivanka Trump has her own shoes, accessories and clothes line. In 2007, she launched her jewelry line – the Ivanka Trump Collection in New York City.
Career Achievements: Ivanka takes the cake for her work on The Apprentice (2004), Born Rich (2003) and the 15th Annual Miss Teen USA Pageant (1997).
Remuneration: Between $US1 million and $US5 million
Net Worth: $300 million
In July 2017, Ivanka chose not to take an annual salary under the Trump administration.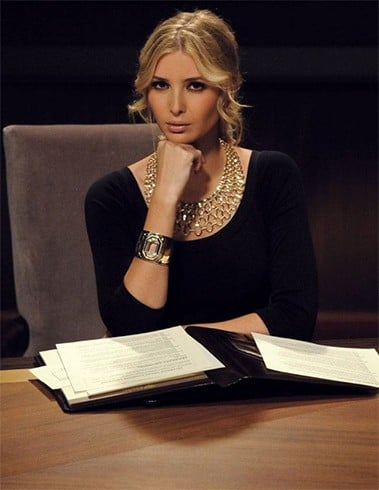 Ivanka Trump Weight Loss
It is not easy to lose weight after pregnancy. Let's find out how she did.
Workout Plan:
Cardio: Cycling is not just one part of Ivanka's cardiovascular exercise, but is the foundation of her workout routine.
Yoga: Ivanka has a personal trainer, Rhonda Malkin, who introduced her to a "fusion workout". What's that? A combo of yoga, pilates, dance, and meditation which exercises the body and mind.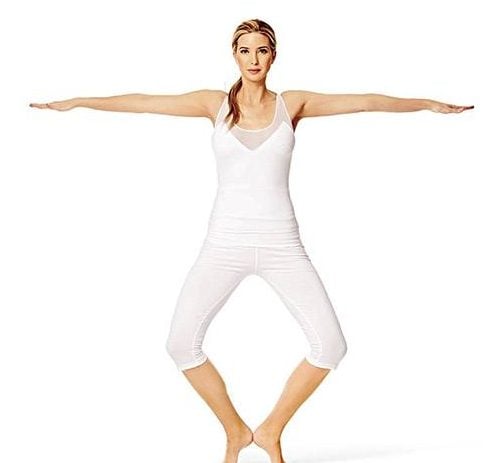 Diet Plan:
Who is Maria Marlowe? Health coach of Ivanka Trump who taught her how to make smarter diet choices. Here are some top tips of Marlowe.
Set specific goals (in terms of weight loss) and plan ahead
Eat more vegetables (make them 50 per cent for every meal)
Drink more of water (try out detox water which has lemons and oranges added to your water)
Reduce sugar intake
Stock nutritious foods in your refrigerator
Identify a healthy snack. Eat fresh fruits like bananas and oranges, pistachios (nuts which has one of the lowest calorie), or veggies and hummus
Move and workout!
Complex Carbs: Ivanka Marie admits that before having kids, she ate like a teenager – hamburgers, pizzas, pasta. Now she avoids all processed foods and takes low-carb diet comprising of oats and whole grains.
Lean Protein: Ivanka's focused lean protein diet includes eggs, chicken, salmon, and Greek yogurt (low-fat), which she tops with chia seeds, berries, and nuts.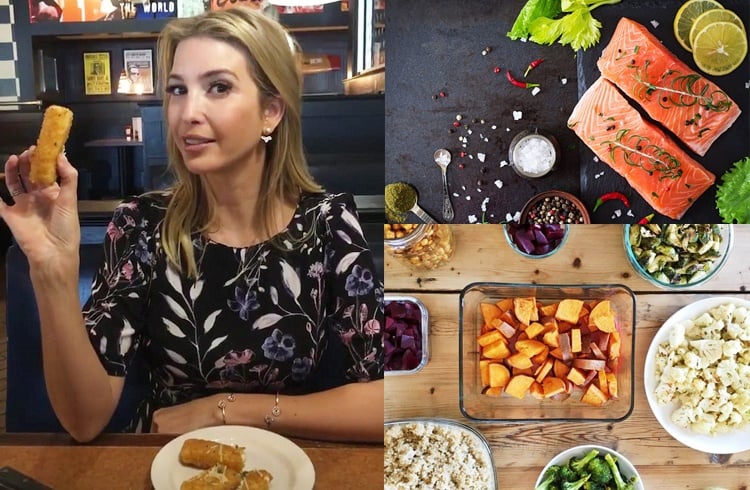 Social Profiles
Interesting Facts
Quick ones….
Ivanka Marie Trump is the author of two books – "The Trump Card" (in 2009). Her second book "Women Who Work: Rewriting the Rules for Success", hit the shelves in the early of 2017. Book Focus? Her career advice and best practices.
Ivanka got criticised for having posted an Instagram picture of herself wearing a £4,000 silver dress the same day a firestorm of protest erupted over her father's executive order.
Did you know, Ms. Trump at the age of 15 was asked to host the Miss Teen USA Pageant? And, who was the executive producer of it? Her father, Donald Trump.
How did Ivanka describe her "boarding-school life"? Like a "prison". The lady then was J (meaning jealous) of her friends in New York who were out having fun.
At the age of 15, Ivanka appeared on the cover of Seventeen magazine. After that, she modelled in the ad campaigns of Tommy Hilfiger and Sassoon Jeans. Ivanka Marie Trump got featured on the covers of Forbes, Golf Magazine, Avenue, Elle, and Harper's Bazaar, too.
After her exposure and experience in modelling and studies, what was the next thing Ivanka did? She joined the family business. Can you beat this? Ivanka Trump became the Vice President of Real Estate Development and Acquisition at the Trump Organization in 2006.
Though few of her personal projects (aside of her family business) include clothing, handbags, shoes, kids' shoes, glasses and jewelry, her 'dream' project is owning a hotel in London.
Way back in 2007, President Donald Trump casually told the hosts of the View "If Ivanka weren't my daughter, perhaps I'd be dating her." Ivanka made it clear that he was just poking fun at himself for dating younger women.
Guess what happened in the summer of 2016? An audio sample was leaked which showed father and President Trump bragging that, because he was famous, he could grab women "by the pussy" and get away with it. Ivanka still stood by her father. Unfortunately, she started losing some of her loyal followers. Many women began to boycott Ivanka's businesses.
Ivanka Trump and Chelsea Clinton (d/o Bill and Hillary Clinton) had always been close (since they met). Even their husbands knew each other and all was hunky-dory between these power couples. Politics is thicker than friendship, they say. The election campaigning done by their respective parents caused both the gals not-to-be-seen with each other. Here's hoping the two power daughters will be able to reconcile one day and get back to being friends (undisturbed by political weather).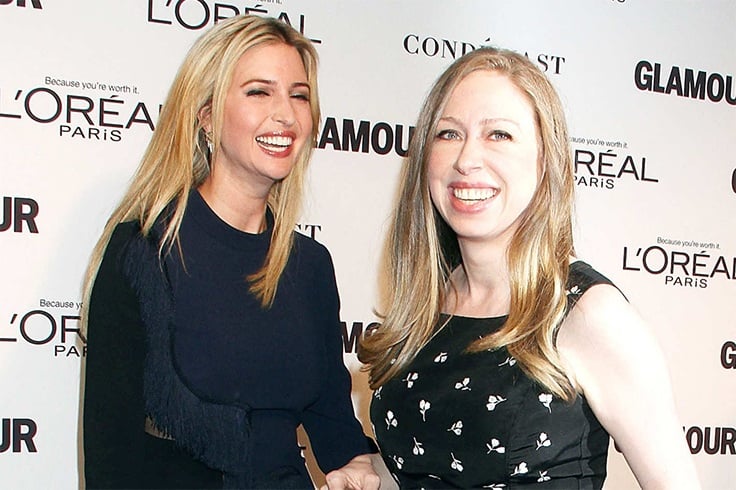 In 2003, Ivanka took part in the documentary Born Rich. And what did she do? Showed off her childhood bedroom, with posters of Poison and Motley Crue.
What was her main role in her official capacity? Ivanka's tasks included expanding Trump Hotel brand internationally, supervising the interior design of the hotels, and overseeing their international real estate brokerage.
Whoa! I only wish I could get an opportunity to meet the First Daughter Ivanka Trump. And dine with her, her family and her father Donald Trump! Until then, hope to see your comments, likes and views below.