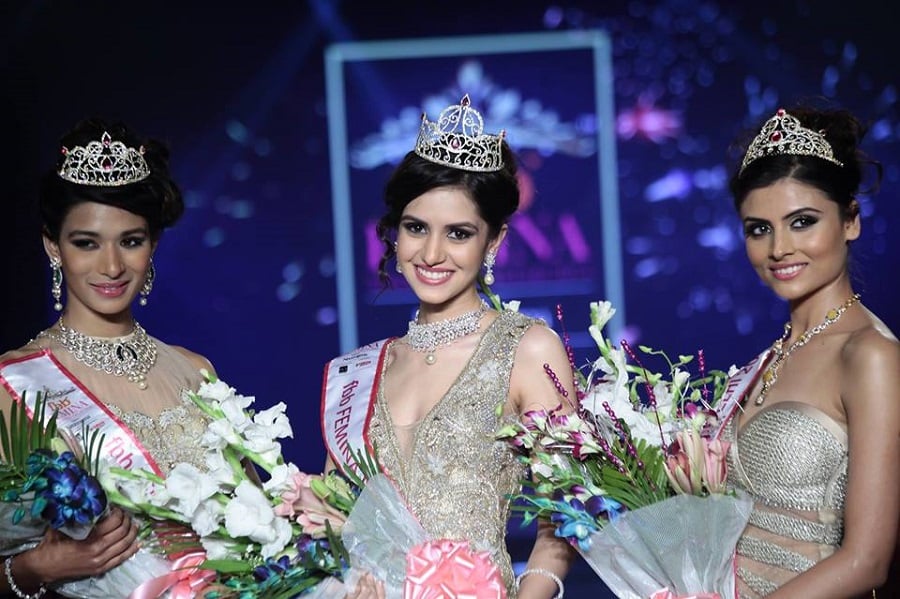 Jaipur girl Koyal Rana won the coveted 51st Miss India 2014 crown on Saturday night in a glittering star studded event, beating 24 other contestants from across the country. The 51st Miss India contest was organized at the Yash Raj Studio in Mumbai on Saturday night.
Last year's winner Navneet Kaur Dhillion and Miss World 2013 Megan Young crowned Rana the new Femina Miss India 2014. Sobhita Dhulipala, on the other hand crowned the first runner-up Jhataleka Malhotra and Zoya Afroz did the honours for second runner-up Gail Nicole Da Silva.
This 51st Femina Miss India winner will be representing India at the Miss World international beauty pageant this year. The 1st runner-up is Jhataleka Malhotra from Mumbai and the 2nd runner-up is Gail Da'Silva from Goa.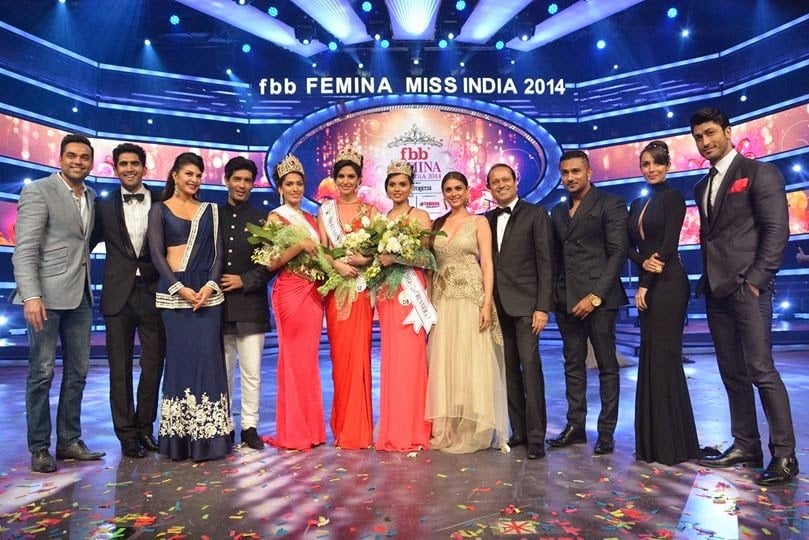 The event also offered some spectacular performances by celebrities like Sonakshi Sinha, Shahid Kapoor, Yo Yo Honey and Mika Singh. The elite panel of jury included actors Malika Arora Khan, Abhay Deol, Jacqueline Fernandez, ace designer Manish Malhotra, singer Honey Singh, Miss World 2013 Megan Yang, actor Vidyut Jamwal, actor Aditi Rao Hydari and world champion boxer Vijender Singh. Riteish Deshmukh was the host for the evening and he kept the audience in splits with his comic gags.
The five beauties that made it to the finals of the 51st Femina Miss India 2014 were Koyal Rana, Lopamudra Raut, Nikhila Nandgopal, Jhataleka Malhotra and Nicole Da'Silva.
To ensure national representation, Femina Miss India 2014 team had traversed through the length and breadth of the country to scout deserving talent. The selection process was divided into three stages – City Auditions, Regional Auditions and City Pageants.
The city auditions took place across 14 cities, with Regional auditions in 3 cities. There were two city Pageants, one being in Delhi and the other in Kolkata that culminated into the Final round of auditions in Mumbai.
The finalists sashayed the ramp in gorgeous evening gowns designed by Gaurav Gupta and with swimwear by Malini Ramani.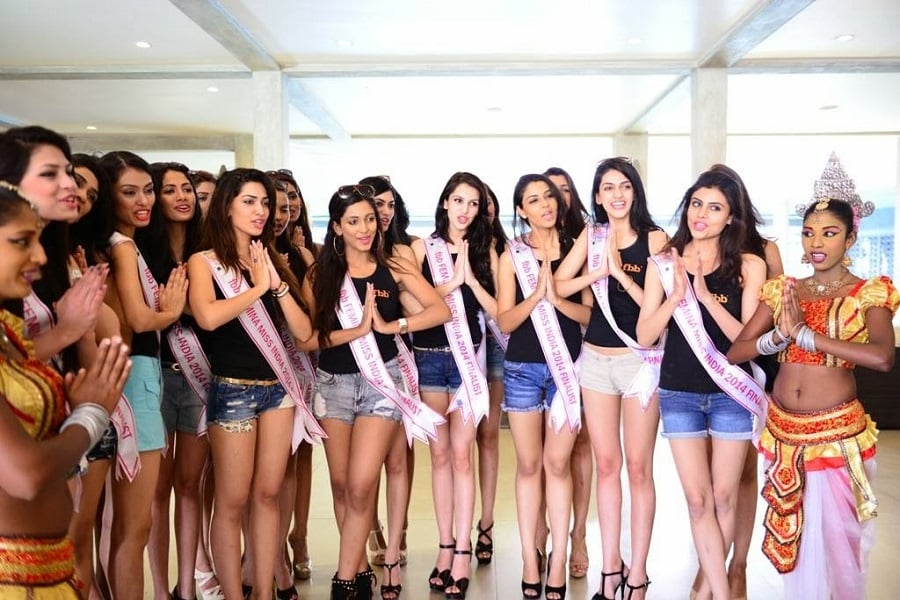 Earlier, the 25 lucky girls were chosen as the finalists during the final round at at Palladium Hotel, in Mumbai, the official hospitality and venue partner.
The 51st pageant was bit more hi-tech than the past events with the official launch of Miss India app, which was unveiled by Pooja Chopra (Miss India World 2009). The app has been created by The Circus Works and offers exclusive Miss India content along-with instant access to all the prestigious international pageants in the form of news, pictures, videos and a lot more.
It can be easily downloaded from the Android play store and even from iTunes store as it's free.
The 21-year-old Aditi Vats from Jaipur was crowned the fbb wild card winner by Sandip Tarkas (president, Customer Strategy, Future Group). Jantee Hazarika, on the other hand won the Miss North East Diva 2014 and got a direct spot too.
Aditi's entry to the finale was pan-India opportunity created by fbb. All they had to do was either shop for `500 or above at the fbb stores or register online on www.facebook.com/fbbonline .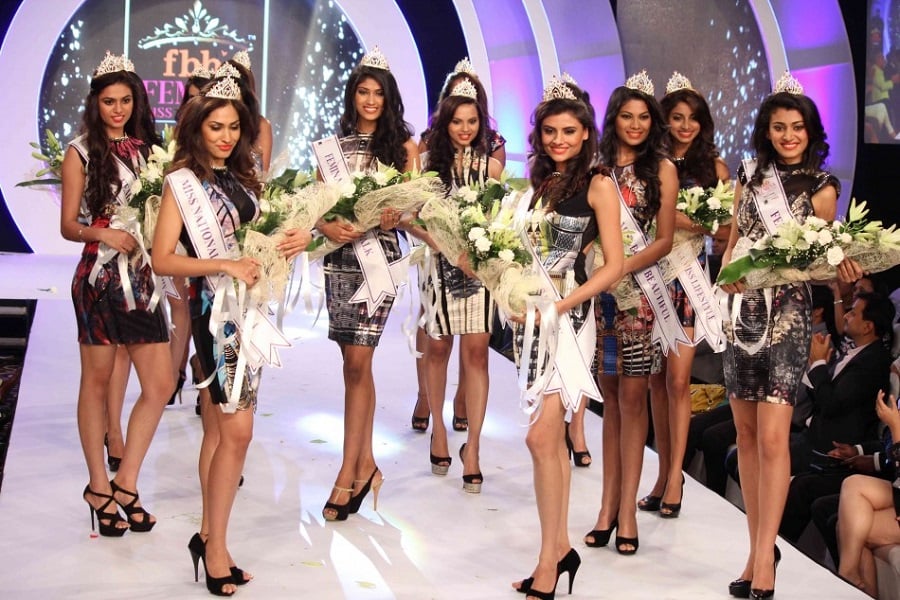 In another unique opportunity that was extended only this year to fast-track a contestant, 19-year-old Arissa Khan (Mumbai) from National College was chosen the Campus Princess 2014, after participating in KC College's Blitzkrieg festival. Campus Princess is an independent event organized by the Times Group to engage with its young audiences across the country and went to 16 colleges this year.
[sc:mediad]
Apart from winning the crown, the winner also gets the following prizes:
Rs. 5 lakh (half million rupees) cash prize
Yamaha scooty to ride her own
Monarch Universal will also provide luxurious apartment which will have all modern facilities. It will be owned by Femina Miss India 2014 winner for the duration of her reign as a gift.
Winner will have full access to the state-of-the-art fitness studio
She will also get professional portfolio by leading fashion photographer
Dr. Suhas Lele will be appointed as dental care doctor
Winner's skin and hair needs will be fulfilled by Neutrogena dermatologists
World trip for charity programs, representing sponsors
Open ticket to Bollywood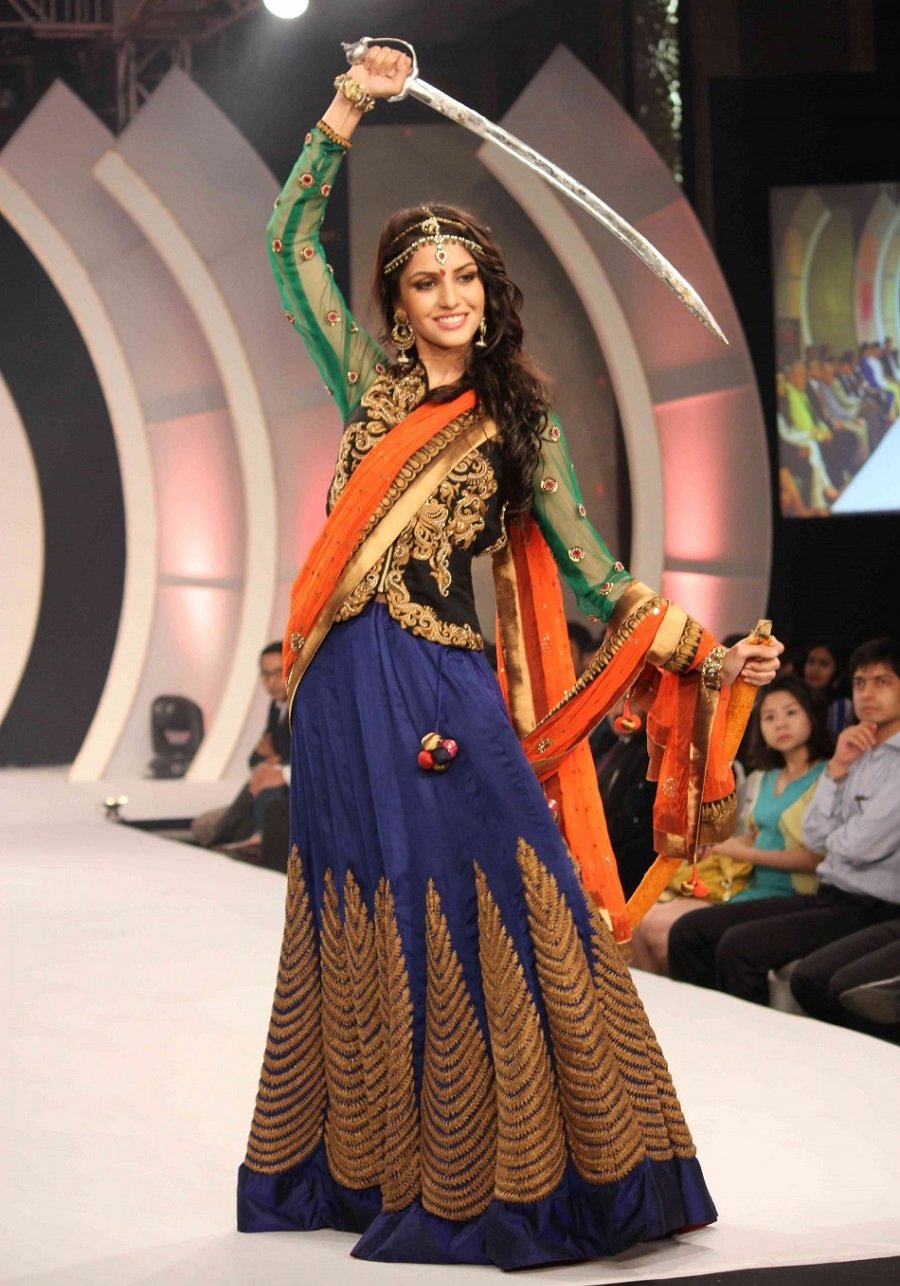 An excerpt from Koyal Rana's exclusive interview
When Koyal was asked how does she feel after winning the title, the reason behind taking part in the contest and her favorite Miss India till date; this is what she had replied –
"Euphoria. I feel blessed to have been bestowed with the honor of representing the women of Delhi, India. This only fuels my fire to work harder and exhibit the qualities inherent to the Indian woman. My inspiration to be Miss India is firmly grounded in my desire to invoke change. I see it as the ideal platform for my voice to reach large masses of people. It will aid me in spreading awareness about my cause, and, inevitably, initiate social change. My favourite Miss India is Sushmita Sen. There is nothing more captivating than a gorgeous woman with a wise head above her shoulders. A classic beauty with brains. She is the best of both worlds."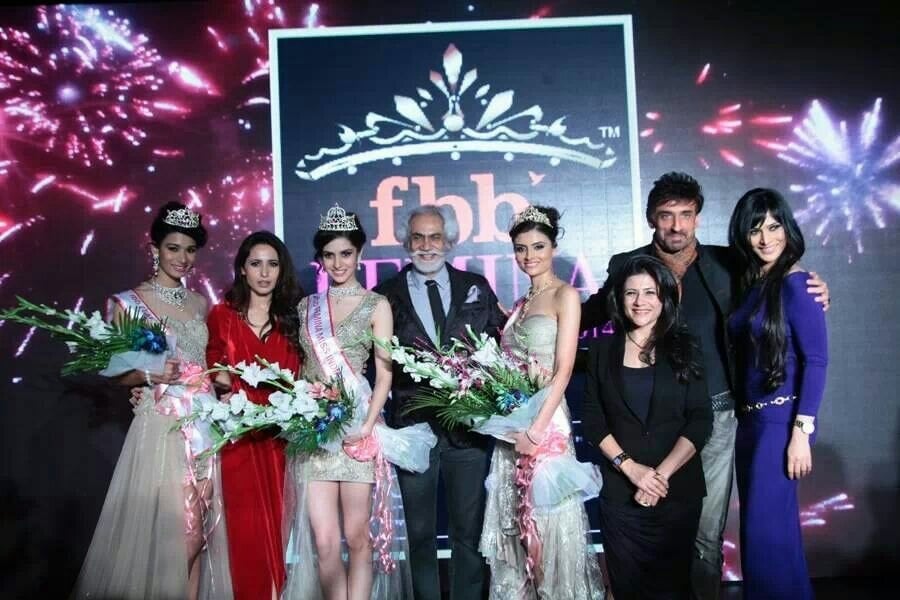 Here is the complete winner list of Femina Miss India 2014:
Femina Miss India World 2014: Koyal Rana
fbb Femina Miss India 2014 1st Runner Up: Jhataleka Malhotra
fbb Femina Miss India 2014 2nd Runner Up: Gail Da'Silva
fbb Femina Miss Fashion Icon: Jantee Hazarika
Femina Miss Photogenic: Jantee Hazarika
Femina Miss Iron Maiden: Deepti Sati
iNIFD Femina Miss Talented: Deepti Sati
Yamaha Ray Femina Miss Adventurous: Yoshiki Sindhar
Richfeel Femina Miss Beautiful Hair: Nikhila Nandgopal
Cinnamon Femina Miss Active: Nikhila Nandgopal
Monarch Universal Femina Miss Lifestyle: Sahithya Jagannathan
Femina Miss Body Beautiful: Lopamudra Raut
Times Miss Sudoku: Malati Chahar
Femina Miss Waterbaby: Mansi Grewal
Femina Miss Beautiful Smile: Irshikaa Mehrortra
Miss Multimedia: Irshikaa Mehrortra
Femina Miss Rampwalk: Varsha Gopal
Palladium Hotel Femina Miss Congeniality: Aarpita Kaur
PCJ Femina Timeless Beauty: Gail Dasilva
Neutrogena Femina Miss Healthy Skin: Koyal Rana
Beauty With A Purpose: Koyal Rana
fbb Femina Miss Vivacious: T.J. Bhanu
Femina National Costume: Jhataleka Malhotra
Hope you enjoyed this post!
Ciao!!