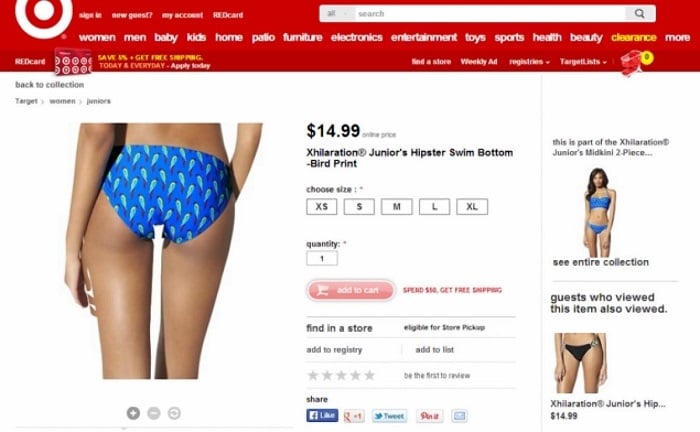 Have you heard about the 'thigh gap' photoshop fail ad by Target? It appears the e-commerce store went too far with their photoshop skills for a bathing suit with freakishly long arms and a square-shaped thigh gap.
Even though Target apologized for the 'unfortunate error' and removed the offending image from their website, it seems Ellen Degeneres still holds some grudge on the web store. Recently Ellen had brought up the topic on her show by inviting the model, albeit in a hilarious light way.
The photoshop failure angered shoppers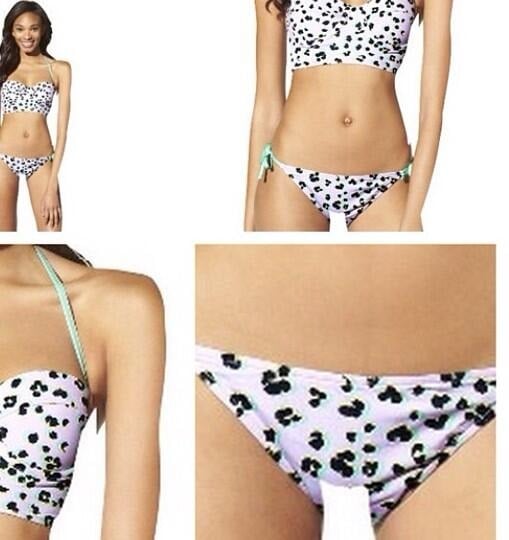 The moment the website posted those bikini-clad heavily photoshopped images (which were although manhandled); the customers backlashed, criticizing for using unrealistic images of teenage models.
Seriously, if you're going to edit any image on Photoshop to post it on your website then kindly finish the job.
Models appeared with chunks of their thighs, buttocks and arms missing, which angered shoppers. Soon the website was bombarded with strong criticism of editing the images of already-thin models with skeletal limbs and sharp thigh gaps.
"Hey @Target how about you check your Photoshop before putting online … clearly this is wrong," one livid customer wrote on Twitter.
Apart from the ridiculous thigh gap what appears to be in square shape, the model's arms were also heavily elongated reaching impossibly till the knees.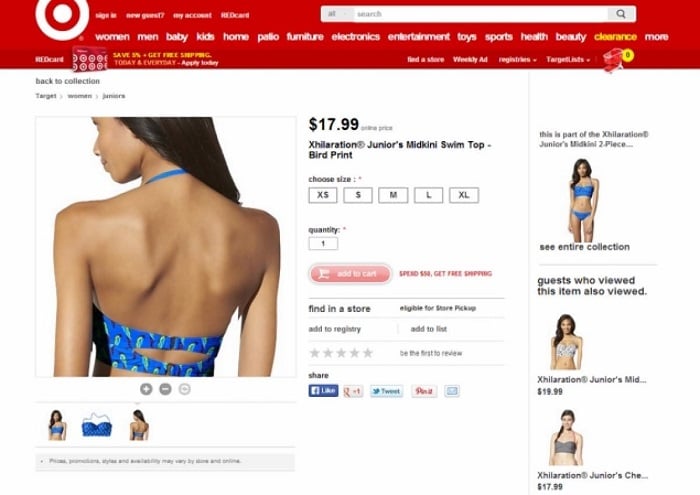 Even though the website apologized and removed the images, the poorly photo shopped images have gone viral on social media.
While customers criticize the sloppy edits, it has also given a wide exposure to the web store across the globe thereby giving it an impromptu publicity.
Another customer had tweeted, "Your Photoshop skills are awful and desperation for a thigh gap is disgusting."
Well, this is not for the first time Target's website has come under the lens. Last year in April, the brand was mocked for calling the color of a plus-sized dress as "manatee gray." The original color was actually heather grey" in regular sizes.
And this year in January, the brand had used a photo of a pregnant woman to advertise a plus-sized dress, which also riled critics.
Misleading teenagers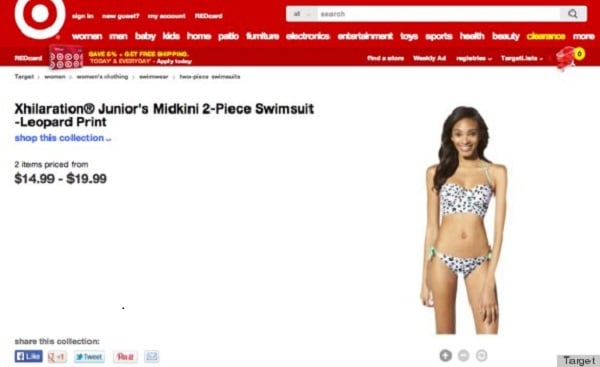 When Patricia Wachtel, CEO and President of Girls Incorporated of Greater Indianapolis was asked to comment on such photoshopped-gone wrong ads she said, "That is proof positive that they're showing things that don't exist in nature. And it's not a good comparison for girls to have to make."
Well, Tagret is not the only website to have used such edited extremely thin models, many other high end brands including Victoria's Secret, Juicy Couture, Ann Taylor and J.Crew to name a few have also been criticized for using such unrealistic images.
Display of skeletal-like models has upset organizations, which are fighting against anemia.
Last year, Saint Mary's College had released a study – The Status of Girls in Indiana 2013. This study stated that most of the teenage girls are taking diet pills, powders or liquids, laxatives and vomit only to keep their weight down.
In such a case, when web stores selling teenage apparels, lingerie and bathing suits use such cheap mode of promotion, the girls are furthermore provoked by these unrealistic images to gain such skeletal bodies which they think are in trends.
Ellen spoofs Target ad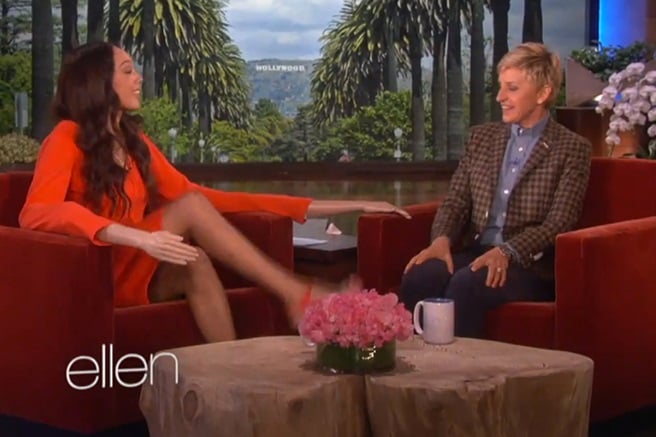 The popular talk show hosted by Ellen Degeneres has also highlighted this social issue by rather showcasing in a sarcastic way.
Ellen had recently invited the model Tanya Marie Keller to discuss about the photo shop job that gone wrong. Surprisingly, Keller entered wearing elongated prosthetic arms and pretended as if they were real the whole time, making Ellen dumbstruck while the entire audience burst into laugh.
You must watch the video
The best part is when the model hugs Ellen rubbing her back and also when she picks up the coffee mug and takes a sip using her fake arms. The episode was indeed a brilliant way of driving the serious, Photoshopping-abuse issue home all the more strongly.
In the past, several other top notch brands and fashion magazines were seen doing this blunder. Let's have a look of the some of the ridiculous edited images!
Photoshop gone wrong..
J. Crew's Thigh-cut Pants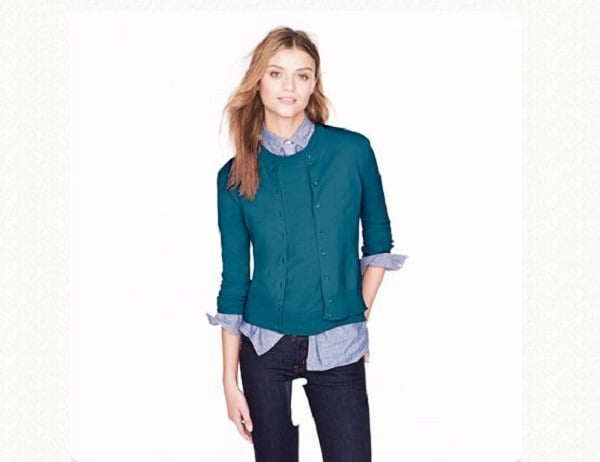 In this J. Crew ad, the design team went a little crazy with the photo shop and left some very interesting thigh cut-outs.
Free People's Boob Menace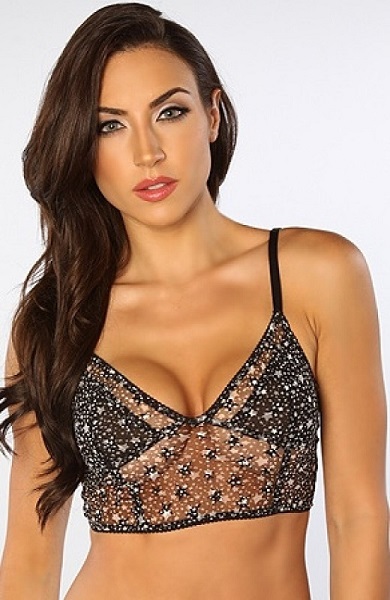 This just shows how ad agencies mess up with original images in a bid to display the so-called 'perfect body'. This model had perfectly fine-sized breasts but unfortunately Free People decided to give some special effects. They enhanced the model's right breast, but promptly forgot to give the other one the extra lift.
Ann Taylor's thumb job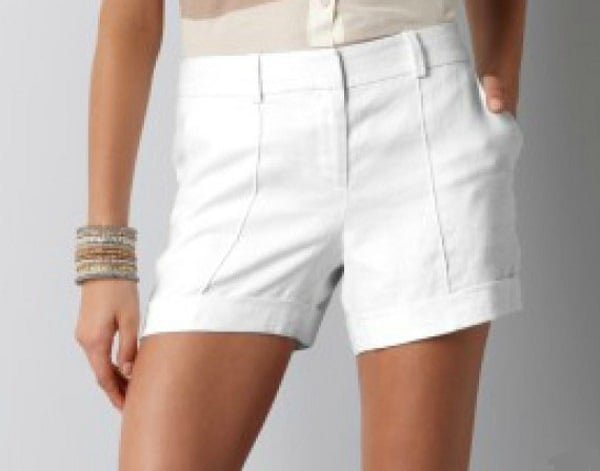 In this jarring Ann Taylor LOFT photo of Linen Twill Shorts, the model appears to have a thumb emerge directly out of her arm, above the wrist.
The curious case of missing toes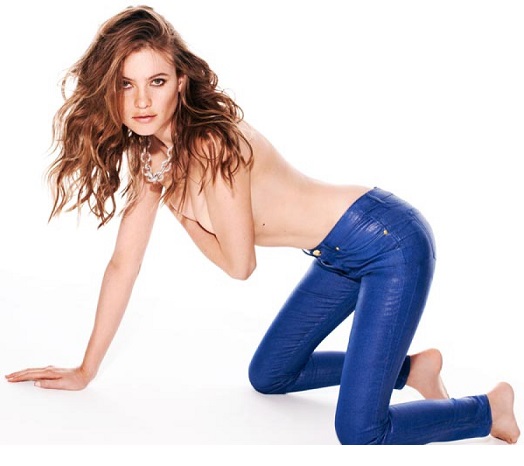 When we first saw these bad photo shopped photos of Namibian model Behati Prinsloo for Juicy Couture's fall 2012 jean line, we expected to find flaws in Prinsloo's arms, torso or even hips. The model actually looked pretty natural, until we realized that her left foot in this photo is wonky and she's missing several toes.
The bent torso of Victoria Secret's Angel
In the ad, Victoria's Secret model Lais Ribeiro stands with her torso bent at an angle. It looks like VS spliced two halves of two separate photos together to create one model, bisected by her arms. There's no way any human can have that whittled a ribcage, right?
Well, that's all from our side for now!
Stay tuned to get more such updates!!