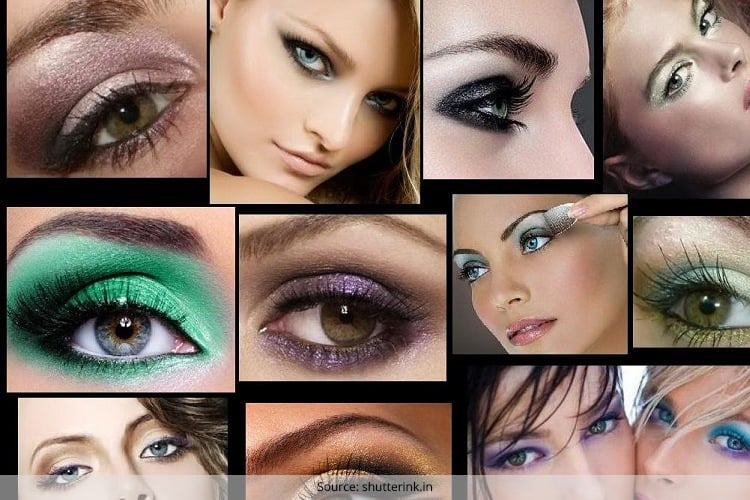 Makeup is not an easy game to play with. Only those who are aware of the rules can emerge as the winners. Makeup comes in an array of shades, designed to match different skin tones. The thumb rule of beauty regime is to pick a shade that matches your undertone.
Don't blindly flow with the trend
I have seen most of the beauty enthusiasts overlook this essential factor and end up cursing their natural complexion and going into depression for not being able to glow like Adriana Lima. Ever wondered how the supermodels in different skin tones look so attractive.
For instance, Naomi Campbell even though dark by complexion manages to flaunt a radiant skin just as Gisele Bundchen does. The reason being they are quite pro in choosing the appropriate makeup shades that flatter their natural skin tone.
While there is a constant ad-libbing in the world of fashion & beauty; you should always stay updated with the latest trends and products that keep hitting the market. However, that doesn't mean you'll blindly flow with the trend.
For instance, there is a new lipstick shade plus a blush available in the market that's calling your name. You rush to the store and even the sales girl motivates you a lot. Being encouraged you buy them only to be disappointed later when you find out how awful they look on your face.
This post will help you save money and time from spending on items that are hardly helpful for your beauty regime.
Just remember there is only a certain range of makeup shades available in the market that flatters your undertone. From now on-wards whenever you buy a new item; first match it with your skin. While certain colors should be a shade lighter than your tone, other makeup items are required to be a shade darker than your skin. You've to pick accordingly.
How to identify your undertone
The first thing you need to do is to identify your skintone first. There are generally three groups to categorize you, which include:
Fair: Porcelain and Alabaster
Medium: Almond and Olive
Dark: Mocha and Chocolate
You should be able to determine whether your skin tone is warm or cool. For this, you can look at the veins of your wrist. If the veins appear purple or bluish then you have cool undertone. And if they appear greenish then you've warm undertone.
Makeup shades that complement your undertone
1. Blush for different skin tones
Light pink for fair skinned beauties – Women with fair complexion and cool undertone look undeniably attractive when they wear light pink blush. So you fall under this zone then you can try Nars Gaeity or Clinique Blushing Blush Powder in Bashful Blush to give an edge to your look.
And if you have warm undertone then you can go for yellow-based blushes like light peach or apricot shade.  The gorgeous Lancôme Nectar Lace.
Did you know Lupita Nyong'o is the new face of Lancôme? Women with similar complexion can follow Lupita's footsteps to become a fashionista.
Rosy pink for medium skin – If you've medium complexion and cool undertone then rosy pink such as Dior Rosy Glow will best suit your look.
And if you've warm undertone then you can choose from golden apricot, brown and corals. Mac Melba is the best option to go for.
Tangerine for dark skinned beauties – Believe it or not, tangerine works wonders on dark skin tone with cooler undertone. The award-winning Nars Taj Mahal is the best blush to flatter your beauty.
And if you have warmer undertone then try vivid pink such as Stila Convertible Colour in Fuchsia.
2. Eye shadow for different skin tones
[sc:mediad]
Pink & icy pastels for fair skinned stunners – If you have fair complexion with cooler undertone then soft shades of pink & icy pastels will dramatically enhance the beauty of your eyes. Bobbi BrownSparkle Eyeshadow in Ballet Pink is a beautiful choice for you!
And if your undertone is warm then light pinks, muted greens and beautiful ivory colours will look good on you. Estee Lauder Pure Colour Eyshadow in Ivory Slipper is a great option to go for.
Grey & Lavender for medium skin – If you have medium complexion with cooler undertone then shades like grey and lavender can look great on you. Mac Eyeshadow Quad in Lady Grey is the absolute perfect choice for you!
If you have warm undertone then shades of copper and deep blue can flatter your look. Try going for something like Smash box Ambient Eyeshadow Quad in Golden Copper or Deep Navy Blue.
Dark green for dark skinned stunners – If you have dark skin with cooler undertone then dark green is the ideal choice. As I had already mentioned in my previous post that Spring 2014 is all about bold colors so you can go for some vibrant shades of green like emerald and teal. You can have a look at the products like the striking Mac Pro Longwear Eyeshadow in Fresh Flare to get an idea.
If your undertone is warm then toffees, caramels and bronze colours will jazz up your personality.  Stila Eyeshadow in Toffee will look great on your eyes.
3. Lipstick for different skin tones
Cool pink for fair skinned fashionista – If you have fair skin tone followed by cooler undertone then you should go for cooler pinks, something like Barry M Lip Paint in adorable Dolly Pink. Light mauves are also a good choice.
And if you have warmer undertone then nude lipsticks can instantly dram attention to your face. However, avoid brown as it's not the right color for your complexion. Instead, you can go for a peachy nude like Nyx Butter Lipstick in Bit Of Honey. Mac lipsticks for medium skin tones are also available for you to explore from.
Tip: Avoid very dark reds like burgundy and steer away from aubergine unless you're purposely going for the Goth look. These shades can contrast too sharply with your fair skin.
Berry pinks, magentas and pomegranate for medium skin – Women with medium skin tone with cooler undertone should go for these above shades to add glamor to their looks.  Laura Mercier Stick Gloss in Pomegranate can be a bold and smart choice.
And those with warmer undertone, they can play with shades of bronze and copper such as Maybelline Moisture Whip Lipstick in Cinnamon.
Dark shades for dark skinned beauties – No matter whether you have warm or cool undertone, you can go for dark shades in lipstick. Dark purples, chocolates, deep reds and bright oranges will give you a dramatic twist to your look. We suggest Bare Essentials Natural Mineral Lipcolour in Spiced Raison for your fabulous pouts.
Hopefully this post has put you on the right track to smartly flatter your natural skin tone! Hope this post on makeup shades for your skin tone has helped you. Share your feedback with us.