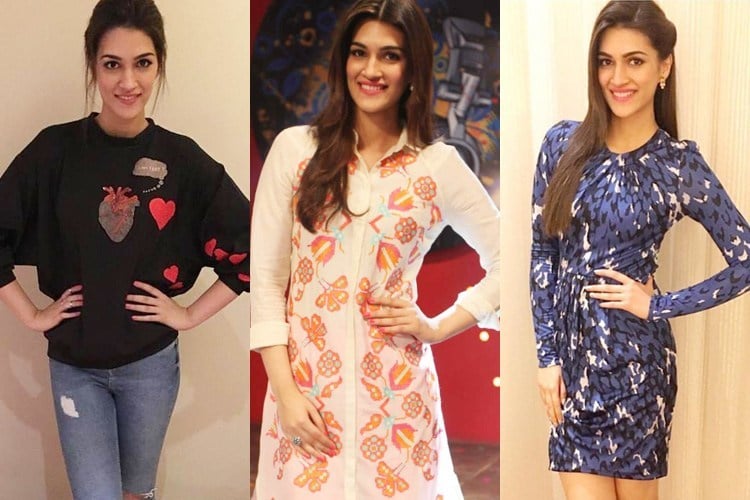 Kriti Sanon Instagram is filled with videos, photos and lots of fashion moments. Going through her Instagram roll we had the "omg! I need that top" or "omg! I need that outfit" moments! To put it in simpler words, any college going girl would kill for Kriti Sanon dresses.
Kriti Sanon has the perfect figure, the killer legs, a towering height, beautiful hair and sharp facial features. There isn't much that she would require in terms of styling to look good. She could go the effortless stylish way and look dazzling!
Over the past few days, while promoting her upcoming movie Dilwale, Kriti Sanon gave us a lot of looks. Few were to die for and the others were worth killing for! Let's go through them and then y'all can decide if they are yay or nay!
Let's Look At Kriti Sanon Fashion Game
Blue's Clue!
For a round of movie promotions, Kriti Sanon wore a printed Issa London dress. Sapphire Stone earrings and black Pheddies finished her look. What we love so much about this look is how its very minimalistic!
Kriti Sanon's Palazzo Magic!
Tall girls often times shy away from wearing outfits that would make them look taller. But Kriti Sanon isn't having any of that! Dressed in a gorgeous kurta and palazzo from Payal Pratap, Ms. Sanon styled herself with metallic sandals. Open hair with middle parting and a beautiful smile finished her look.
Wethinks it's the curvy end of her kurta that's taking the focus from her height. What do you guys think?
Baby, It's Cold Outside!
For a very brief moment, we felt winters. But then again, they disappeared in thin air! But Kriti Sanon made the most of it while she wore these gorgeous jumpers and sweater dress! The black jumper with hearts on it was designed by Shahin Mannan while her Elfie Selfie jumper was from H&M. As of her sweater dress, it was from Drama Queen.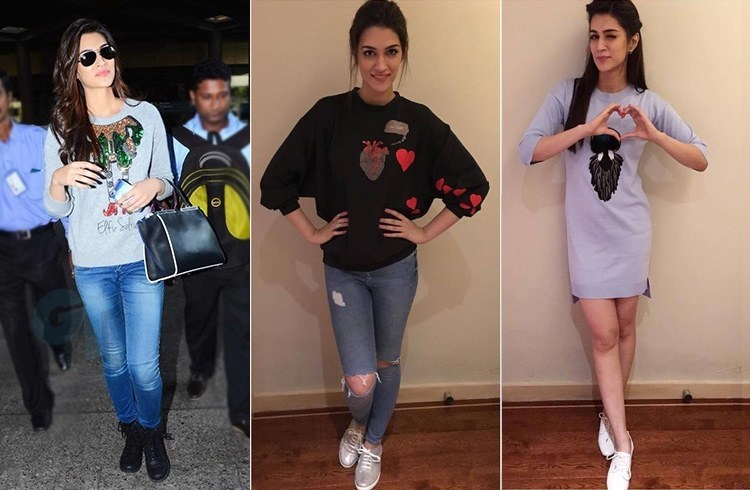 Now, honestly tell us – don't you want ALL Kriti Sanon dresses? We could definitely kill for the Selfie Elfie jumper!!