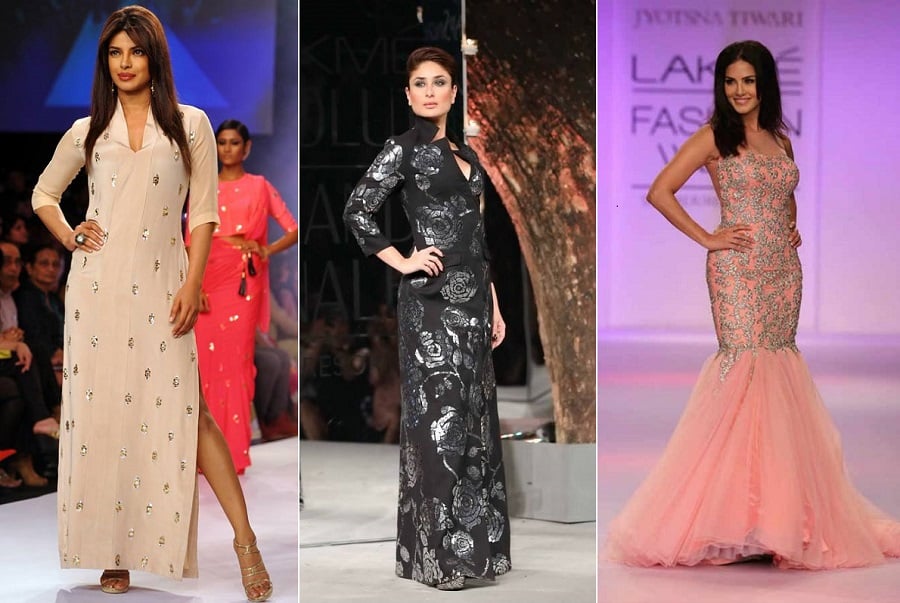 India's ace designer Rajesh Pratap Singh brought down the curtains of the year's first biggest show – Lakme Fashion Week Summer/Resort 2014 by choosing none other than the Begum, Kareena Kapoor as his muse for his show.
Rajesh Pratap Singh, who has a career span of almost 2 decades now presented an exquisite line inspired by the brand`s soon-to-be launched new range from the popular Lakme Absolute collection.
Pratap had this to say,
"Lakme Fashion Week is acknowledged to be the pre-eminent fashion event of India. I have watched the growth and evolution of this platform over the years. Every season creates impressive new trends in the world of both fashion and beauty and I am delighted to now associate with a brand like Lakme. It has been consistent in introducing cutting-edge innovations and this is elegantly on display on the runway. This dual creativity approach is something I can respond to whole-heartedly and I hope to present an extraordinarily stylish collection at the anticipated grand finale."
Head of Innovation at Lakme, Purnima Lamba, who is quite excited about this collaboration, had this to say,
"It's a great honor to have an internationally acclaimed creative genius like Rajesh Pratap Singh present Lakme`s Grand Finale collection at the upcoming LFW SR 2014. His designs and concepts have never failed to enthrall the fashion world."
Bebo was showstopper of Rajesh Pratap Singh's show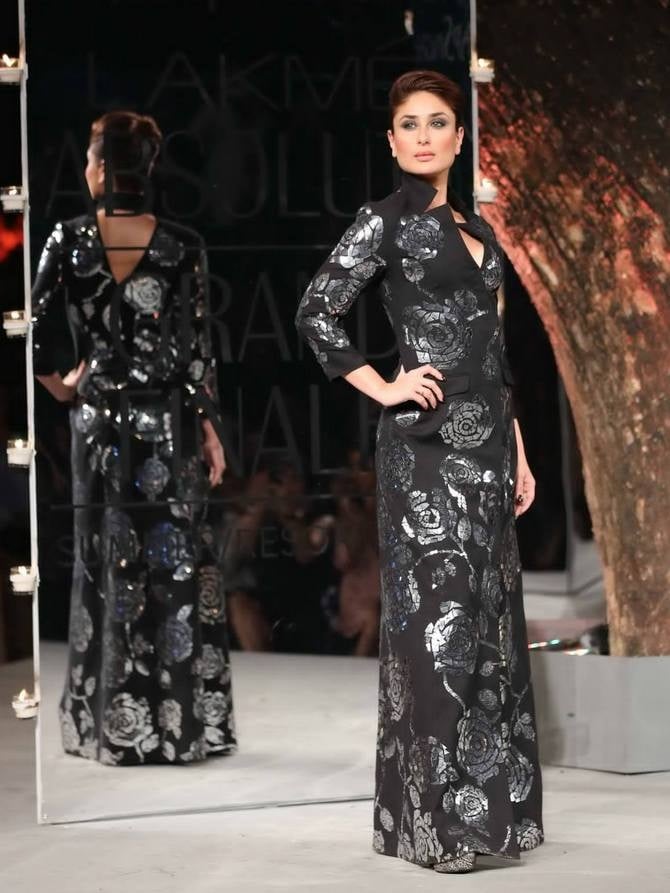 Kareena Kapoor looked gorgeous in a black number accentuated with huge rose motifs in bling, as she dominated the runway on the last day of LFW 2014. Kareena, who is Lakme's brand ambassador, was missing at the last season when Sabyasachi had made a dramatic closing for the show. This year, however Bebo managed to be a part of India's biggest fashion show as she set the ramp on fire walking between huge mirrors strategically place on the runway.
I was really glad to see how the show stopper's ensemble was complemented the runway theme, plus her perfect hairdo and makeup effortlessly got incorporated into her outfit. Her gunmetal smoky cat eye makeup flanked by peachy pouts and cheeks are surely going to trend for the upcoming summer.
Priyanka Copra walks the ramp for Neeta Lulla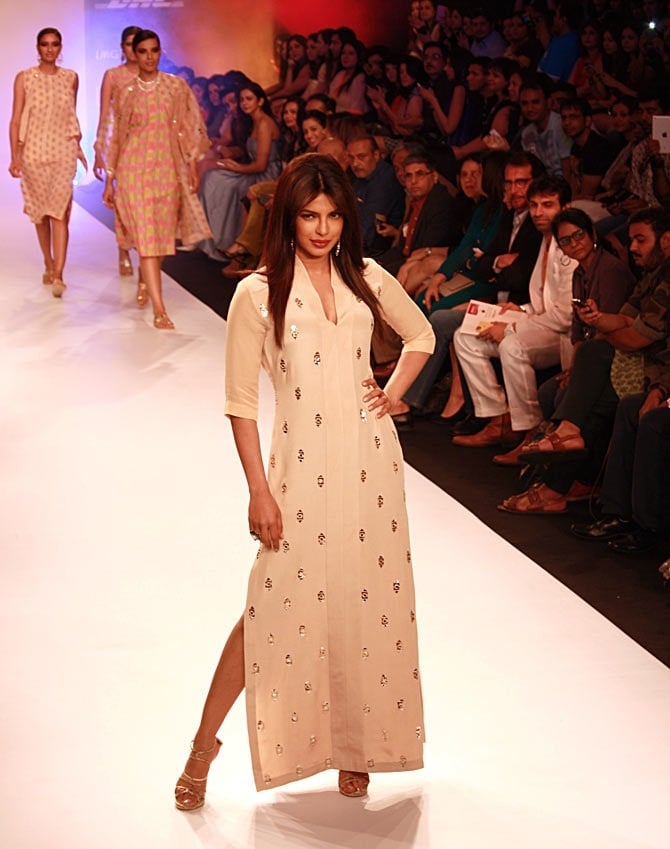 While Kareena sizzled the finale for Rajesh Pratap Singh, Priyanka Chopra graced Neeta Lulla's show on March 16, 2014.
Lulla, who displayed her Indo-western collections at the LFW 2014, had this to say on her muse,
[sc:mediad]
"Priyanka is wearing a kaftan which is very stylish and colorful. It was wonderful to have Priyanka as my muse. She carried it off really well. My collections had bright monochromatic colors with their tints inspired from the rain forest."
Aztec motifs with Indian badla work were the inspiration behind Neeta's summer collections Her fashion line was a mix of several colours including cream, pink, purple, green among others with very simple silhouettes for summer.
The ace designer played well with satin and silk fabrics fusing Indian and western elements into her creations. Priyanka sizzled the ramp in an off-white kaftan dress with knee high cuts from both the sides with random splashes of golden motifs on her bodice.
Priyanka on Neeta,
"Walking on the ramp scares me. I get very nervous and I am the happiest when it gets over. This outfit is very comfortable. Neeta is one of the iconic designers and it was wonderful to walk for her."
Sunny Leone walks for Jyotsna Tiwari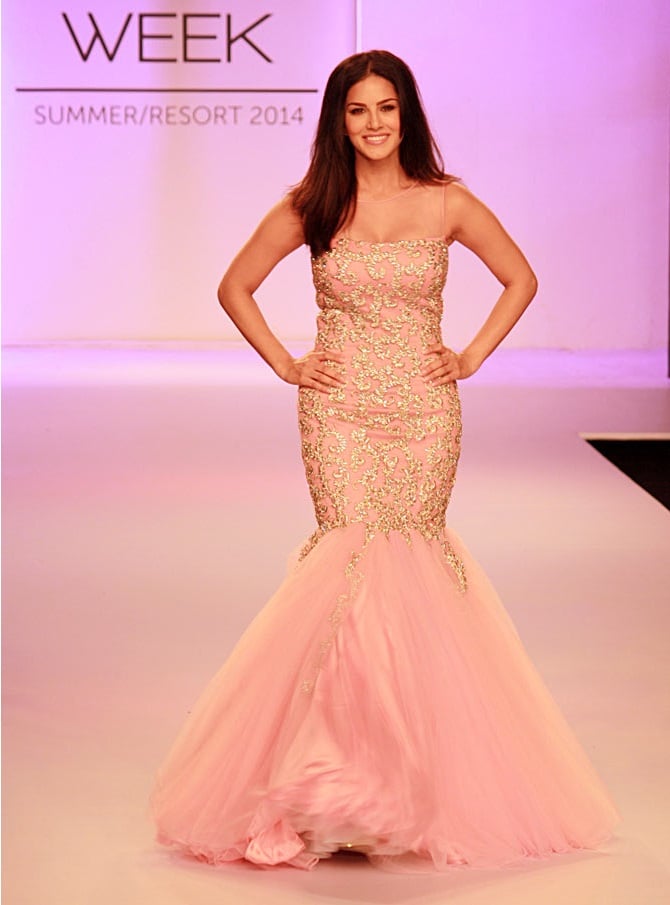 On the other hand, the LFW Summer Resort 20014 also had some masala to relish upon on the last day as pornstar-turned Bollywood actress Sunny Leone scorched the ramp for designer Jyotsna Tiwari. surprisingly, the former penthouse girl was all covered up in a peach embellished gown.
As per Sunny,
"I was nervous walking the ramp, but the gown is very comfortable. This is a gown that everybody would love to wear. It's a beautiful gown and I am thankful to Jyotsana for this."
With minimal makeup and flawless stature, Sunny did full justice to her designer's number.
Jyostna's summer collections are mainly intended for young brides especially for beach wedding which is now very much in fashion in west and in Goa in India.
Hope you enjoyed this post!