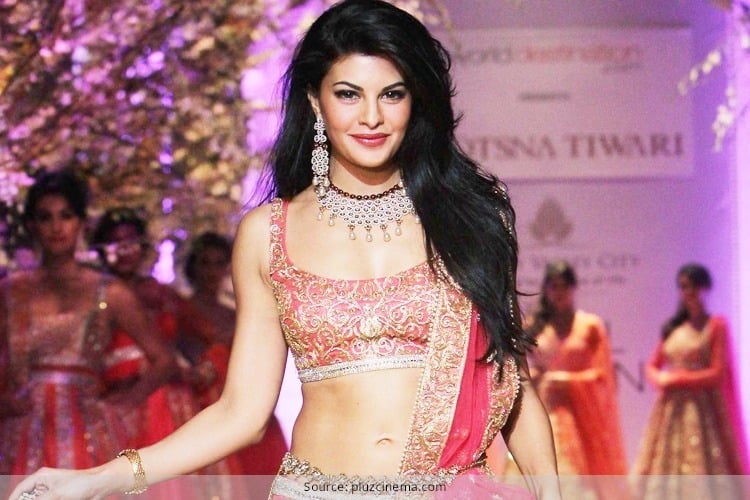 Jacqueline Fernandez is not new to the world of fashion and glamour. Even before she waltzed into Bollywood she had her roots firm in a world full of glitz and glamour. She was a model before she became an actress, so style, fashion and beauty came naturally to her.
She may have an entourage of people helping her look the way she does. But that doesn't mean she can't dress herself and nail every individual look.
However, all things said and done, let's take a look at her sense of fashion since her day 1 in Bollywood. Let's go back and see how much she's evolved as a Bollywood persona.
So without any further ado, let us begin!
Look #1
Back in 2008, Jacqueline was a fan of all things shiny. She looked rather cute in a baggy leather dress. To glam up her dress, she tied a big belt around her waist and teamed up her outfit with boots. If you notice, her eyebrows (even in 2008) were done to perfection! Open hair and a billion dollar smile completed her look. You like?
Look#2
Moving to 2009, she gave us a look that we remembered for ages! Like literally. Being in Bollywood, one would expect Jacques to turn into a total glam doll! But this sans-skin show saree look of hers won our hearts. It was right at this moment, when we decided that we will love her. No matter what! A plain onion beige saree, teamed with a stone work blouse comprised her look. To further the simplicity, she tied her hair in a neat bun and left her fringe open. A silver clutch and a wrist watch completed her look.
Look#3
in 2010, Jacqueline Fernandez gave us a total glam doll look in a sequin dress and topped it with red lips! Just one word – Uh la la!!
Once again, if you notice her style, she's kept it all simple. Golden matching heels, a wrist watch and dark nails. Understated makeup with pop of colour (the red lips) finished her look. She looked nice!
[sc:mediad]
Look#4
Now, whoever said Jeans cannot be dressy, definitely did not see this look of our favourite Jackie. Not only did she make Jeans look dressy, she also stepped up her game and made it look classy and formal-esque.
Plain navy blue jeans was teamed up with peacock print corset. To up the style quotient Jacqueline added a crop blazer from Dolce & Gabbana. Open toe peep toes and a wrist watch finished her look.
P.S – We are lusting over her luscious hair!
Look#5
In the year 2012, Jacqueline Fernandez's fashion statements meant serious business. She gave many looks, but two of them stuck a chord with us. We just couldn't decide which was better and hence, we will feature them both.
Angel in white
At the premiere of Houseful 2, Jacqueline opted for a gorgeous white outfit. While we can't describe the outfit, we think she looks very pretty. Back then, some people had said it's the national dress of Sri Lanka with a modern twist. Whatever it was, we think Jacqueline styled it very well. From the fitting, to her hair and makeup. On. Point!
Devil in black
Well, she doesn't look like the devil and we didn't want to tag her as satan's mistress. The thing is, we loved her in this black fitted gown by Amit GT. Her pink toned makeup and hairstyle obviously got her some brownie points!
Look#6
While Jacqueline gave us so many classy, dressed up looks, she also gave us few casual looks. Agreed that they were far and few. But we loved them nonetheless.
Here's a classic example of how casual Jackie can get
Don't you love it?
A tank top and a printed skirt from Anand Kabra comprised of Jacqueline Fernandez's look. Now this skirt, was teamed with a bright orange Chloe bag and a pair of flats.
Do you guys love her hair and makeup just as much as we do?
Look#7
This look that we are about to show you guys isn't something glamorous. But it definitely is gorgeous! In a rather simple AM:PM by Ankur and Priyanka Modi anarkali, Ms. Fernandez looked breath-taking. Her anarkali didn't have a lot of kali's but flared very well on her. The fit was perfect and so were her hair and makeup. How many points for this look, ladies?
Look#8
We would like to close the blog with one final look of hers wherein she totally and absolutely nailed the style! Wearing a black gown from Michael Kors was the best thing ever!
What we loved further is how simple and plain she kept the entire look. Non-fussy is the word! Just perfect makeup and sleek straight hair finished off her look!
Do you guys love all her looks?
Here's wishing Ms. Jacqueline Fernandez a very happy birthday!