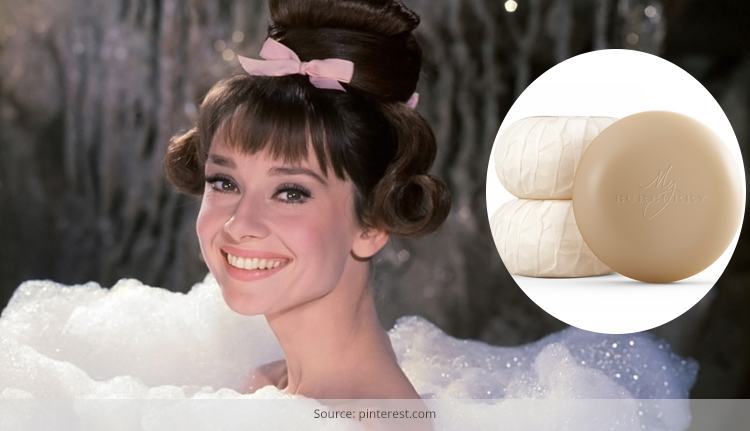 How would you prefer a bathing soap to be? Basic as in sasta tikau or luxury spa style? Foamy and bubbled or scented and perfumed? Bathroom soap or beauty soap? Indian soap brand or International? There is also a 'beauty soap of the film stars'.
So many versions of a bathing soap can be enough to put you in a quick fix. Nahaana hi to hai so why be so picky and choosy about a soap after all! Oh yes, size is another factor in the selection of a soap.
Each time you are going for a bath, it's the passport to enjoying some private moments with yourself. As you can see, the soap category has blossomed to amazingly new heights in the same way as a shampoo has (remember there was a time when a 'soap' was used to wash hair. It is still done)!
Soap has come a long way from mere cleansing of the skin. Today, there are umpteen bars that massage, exfoliate, moisturise and make you feel a Goddess!
Beauty soap seems to be the first luxury item introduced to the ladies of yesteryears. Let us find out the best beauty soaps for bathing and even gifting.
Burt's Bees Baby Bee Buttermilk Soap
This French milled baby soap feeds your skin with the softness and silkiness of buttermilk. Pediatrician-tested, it has 100% natural fragrance and is paraben-free. Best for people who have sensitive skin.
L'Occitane Shea Butter Extra Gentle Soap
Luxury in a wrapper is the best way to describe this deeply hydrating soap. Expect a decent lather and heavenly scent and texture.
The Body Shop Pink Grapefruit Soap
Feel awakened and refreshed by this citrus scented vegetable-based soap that's happy smelling with its zingy grapefruit scent and hints of blossom and musk.
Chanel Coco Bath Soap
This amber-beige soap gives rich, creamy lather. Cleanses gently and leaves your skin soft, smooth and delicately fragranced.
Dove White Beauty Bar
No other bar hydrates skin better than Dove. This classic soap cleanses gently and effectively. The creamy lather and mild scent moisturise your skin well.
[Also Read: How to Remove Dead Skin Cells From Face and Body Naturally]
Aveda Rosemary Mint Bath Bar
The minty formula in this bar leaves your skin feeling clean. It has certified organic rosemary and peppermint that cleanses your body with its peppy lather.
DHC Pure Soap
Removes excess of sebum and calms and moisturises your complexion. The olive oil and aloe in this beauty soap hydrate and soften overactive skin.
Pangea Organics Bar Soap
This organic bar soap has plant botanicals and essential oils that give you a beautiful aromatic experience, relaxing and uplifting your skin. The soap packaging is awesome.
[sc:mediad]
Tom's of Maine Natural Beauty Bar Daily Moisture
The moisturizing olive oil and natural vitamin E in this ultra-rich bar soap leaves your skin feeling clean. The scent is fresh and mild and there are no artificial or synthetic ingredients in it.
Mario Badescu Skin Care A.H.A. Botanical Body Soap
A must-have for those of you down with acne or sensitive skin! This hard-milled soap has papaya and grapefruit extracts that breakdown dead skin cells leaving your skin feeling soft, smooth and beautiful. It is Vitamin E-enriched too.
Beecology All Natural Bar Soap
Handmade in USA, this beauty soap is made with beeswax and shea butter and olive, palm and coconut oils. Dry skin fighter, it helps heal eczema. No perfumes, no dyes, just natural cleansing.
Badger Organic Body Soap
This best moisturising and non-irritating skin soap has a dreamy lather. There are no detergents, foaming agents, harsh ingredients in it which makes it a good clean soap.
[Also Read: Reasons to Use Organic Shampoos]
Caswell-Massey Goat's Milk & Honey Soap
Honey fragrance and rich creamy foam greet you in this soap that has mineral salts and proteins. It's a great conditioning soap for body and face.
Citrone De Vigne Soap
This non-drying, triple-milled soap has sparkling scent of Citron de Vigne. As add-ons there is crisp pink grapefruit, lemongrass, bergamot, earthy neroli, and sandalwood all wrapped in pretty paper.
Dr. Bronner's Peppermint Liquid Soap
The fresh and tingling peppermint burst cools skin and clears sinuses. Packed in 100% recycled bottle, this soap is effective for cleaning face, body, hair, even food dishes, laundry, mopping and pets with no synthetic preservatives or detergents.
Now tell us which of the beautiful soaps shown above you will try and why. Happy Soaping yourself to luxury!