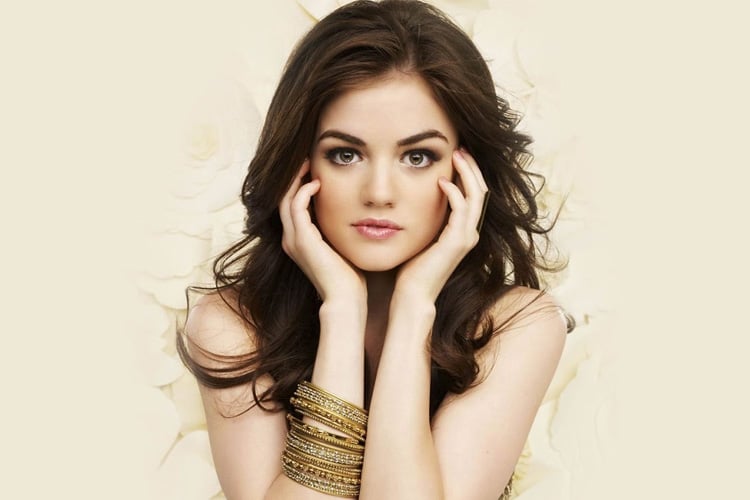 Personal Details
| | |
| --- | --- |
| Name | Born as Karen Lucille Halle |
| Birthday Date | June 14, 1989 [celebrity_age_calc data="1989-06-14″] |
| Birth Place | Memphis, Tennessee, United States |
| Sun Sign | Taurus |
| Eye Color | Green |
| Hair Color | Dark Brown |
| Nationality | American |
| Religion | Christianity |
| Education | When in Memphis, Lucy attended Cordova Optional School. Later on, when she shifted to Los Angeles, she did her home-schooling. |
| Occupation | Singer and Actress |
| Marital Status | Single |
Family Details:
| | |
| --- | --- |
| Father | Preston Hale |
| Mother | Julia Hale (she was a nurse) |
| Siblings | Wes Hale (step brother), Kirby (step sister) and Maggie Hale (Older Sister) |
| Spouse | None |
| Children | None |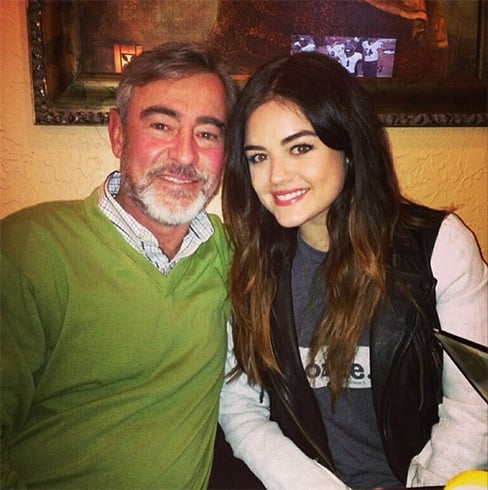 Body Status
| | |
| --- | --- |
| Build | Slim |
| Height | 5 ft 2 inches |
| Weight | 54 kg |
| Waist Size | 24 inches |
| Hip Size | 33 inches |
| Shoe Size | 6 (US) or 36.5 (EU) |
| Dress Size | 6 (US) or 36 (EU) |
| Body Measurement | 34-24-33 inches |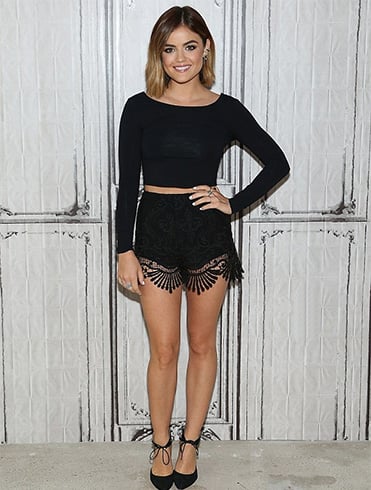 Favorite Things and Hobbies
| | |
| --- | --- |
| Color | Pink |
| Food | Swedish Fish (candy) In terms of Coffee, it is Starbucks grande, iced, soy latte with two Splendas |
| Place | Vancouver |
| Sport | Football |
| Brand | Viktor & Rolf Flowerbomb (perfume), Mark's Mango Nectar Whipped Up Body Butter, Avène Cleansing Foam, SkinCeuticals SPF 50, Forever 21 (store), Wet Seal (store), and Abercrombie (store) |
| Actor | Not known |
| Actress | Not known |
| Film | Billy Madison (1995) |
Professional Career
First Debut: Lucy's first theatrical film was a romance drama The Sisterhood of the Traveling Pants 2 whereas her first TV show was American Juniors (which was a reality TV show on singing competition). "You Sound Good to Me" released in Jan 2014 was Lucy's first debut single whereas her debut album "Road Between" was released on June 3, 2014.
Brand Endorsements: Mark Cosmetics, Bongo (2012)
Remuneration: $42,000 per episode of "PLL" (Pretty Little Liars)
Net Worth: $3 Million
Lucy Hale Weight Loss
Workout Plan:
It is Tandy Gutierrez (personal trainer of Lucy Hale) who helps the actress out in her Pilates workouts. Since her schedule is not fixed, Lucy likes to do exercises like running, etc. with her trainer.
This is what Lucy has to say –
[sc:mediad]
"It's hard to fit in workouts when we're filming, but I try and exercise a few times a week. I'm really into Core Power's hot yoga—not Bikram, but the step below that—and originally I just wanted a good workout, but it's actually been really good for me. It helps me slow down and it forces me to relax. It was miserable and hard at first, but now I'm addicted to it. And of course, I live in Los Angeles so I try and be outside. I might go for a hike or a run. I need my Beats by Dre headphones for that. When I'm in LA, I also see a trainer two or three times a week."
Any clue on the favorite yoga poses of Lucy Hale? They are the boat pose, bridge pose, four-limbed staffed pose, and chaturanga pose. All these poses target specific areas such as the abs and core, butt, arms and legs and they help create muscle definition.
Diet Plan:
Lucy has the will power to stay away from junk foods and processed foods, except once in a while when she satisfies her sweet tooth cravings and coffee. She also makes it a point to avoid dairy. It makes her feel congested apparently.
In the late 2017, Lucy Hal has given up on alcohol so as to stay fit. She has also lost quite a weight. Hopefully, this will help her get back into fitness with full charge.
Facts About Celebrity
To start with, Karen Lucille Hale's nicknames include Lucy, Lucy Ho, Goose, Luc, Boots, and Lucy Kate.
Know the source of Lucy's name? It has been taken from one of her great-grandmothers.
Lucy has a huge celeb crush on Adam Brody.
Roller coasters are her love and Ferris wheel her hatred.
The voice artist is a huge fan of Twilight.
In August 2012, Lucy suffered an eating disorder.
Now that you have got some scoop on Lucy Hale, let us know how you found her.
Images Source: pinterest