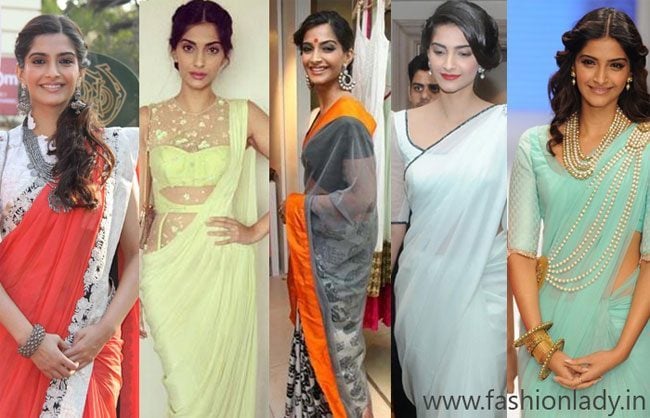 Eli Saab, Anamika Khanna, Payal Singhal and many more ace fashion designers have created beautiful outfits and designer sarees for the most beautiful fashion icon of today – Sonam Kapoor! It is interesting to see how she most elegantly balances her accessories keeping them simple with a heavy saree or blouse. At most events, she chooses to carry a bedazzled clutch to match her outfit.
In this edition, I have compiled Sonam Kapoor's best saree moments of all time. Have a look!
1. Sonam Kapoor In Anamika Khanna
Giving a different twist to the saree, with a choker necklace designer by her mother, Sunita Kapoor, Sonam definitely stole the attention.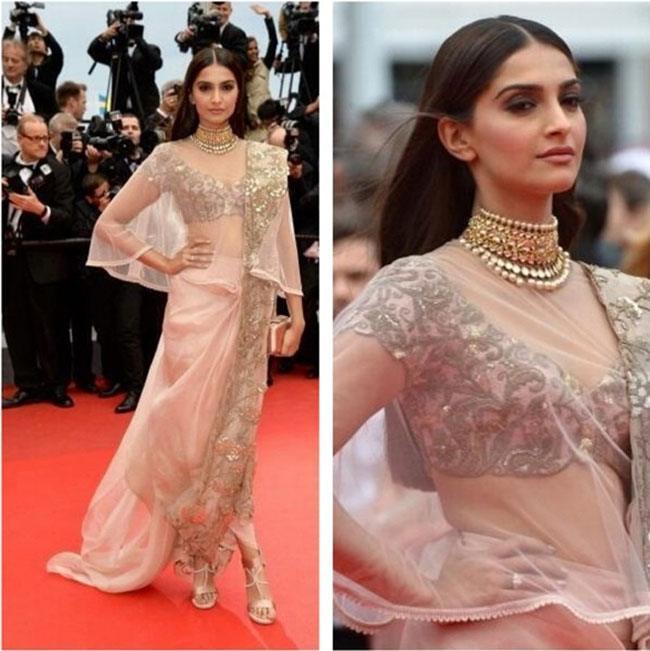 2. Sonam Kapoor In Anamika Khanna Creation At Cannes
Combining traditional and Indian fashion, Sonam Kapoor wore an Anamika Khanna saree at the Cannes Film Festival winning many accolades for her stunning lace saree and a stylish embellished blouse. The only accessory she chose to wear with this wonderful ensemble was a kundan nose ring.
She definitely knows how to make a style statement. Post her Cannes fashion tour success, the lady has continued to woo her fans in the Desi version in numerous occasions.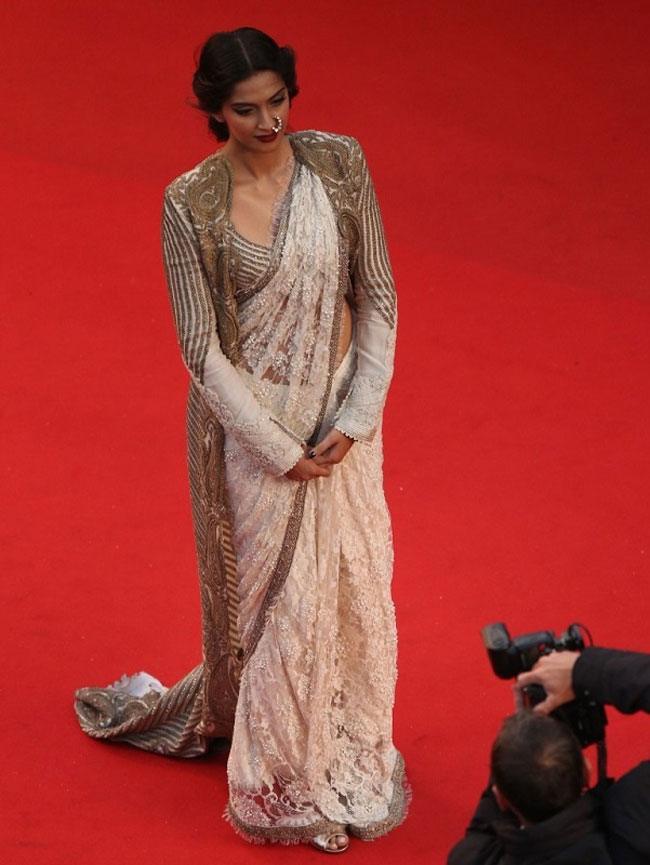 3. Sonam Kapoor In Payal Singhal
On the talk show "Front Row With Anupama Chopra, Sonam wore a stunning saree by Payal Singhal from her LFW Winter Festive Collection. The saree was worn with a single shoulder blouse with heavy floral embroidery pattern. Her silver earings from 'House of Chic'and stunning ring adds glamour to the simple elegant saree that she wore on the show.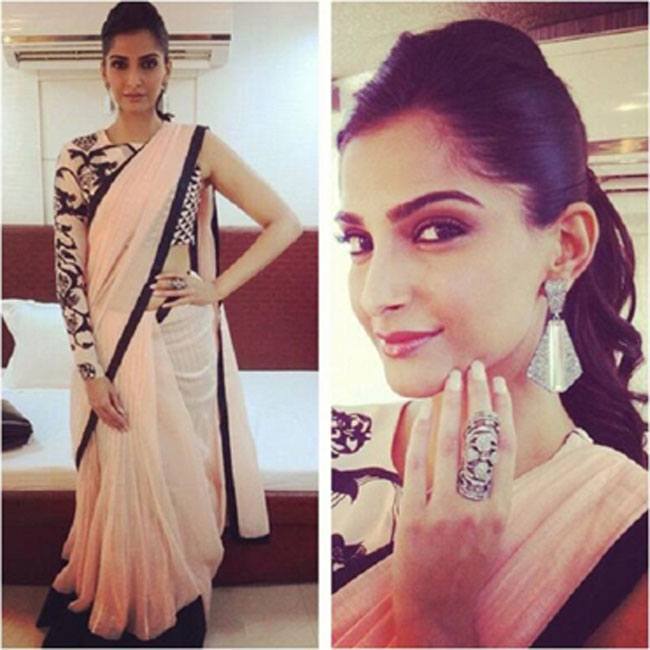 4. Sonam Kapoor In Suneet Verma Saree At India Jems Jewelry Fairy
Recently the "Bhaag Milka Bhaag" actress was present in Delhi for India Jems Jewelry Fairy and she was every bit the stunner as she walked the ramp in a saree. Her sartorial taste in picking up a designer number naturally separates her from all other leading Bollywood ladies.
The off shoulder blouse made her look even more stunning. Even though she was on the runway to flaunt the exquisite neckpiece, her style statement was alluring enough to catch the onlooker's attention. She had swayed everyone with her moves as she sashayed on the ramp.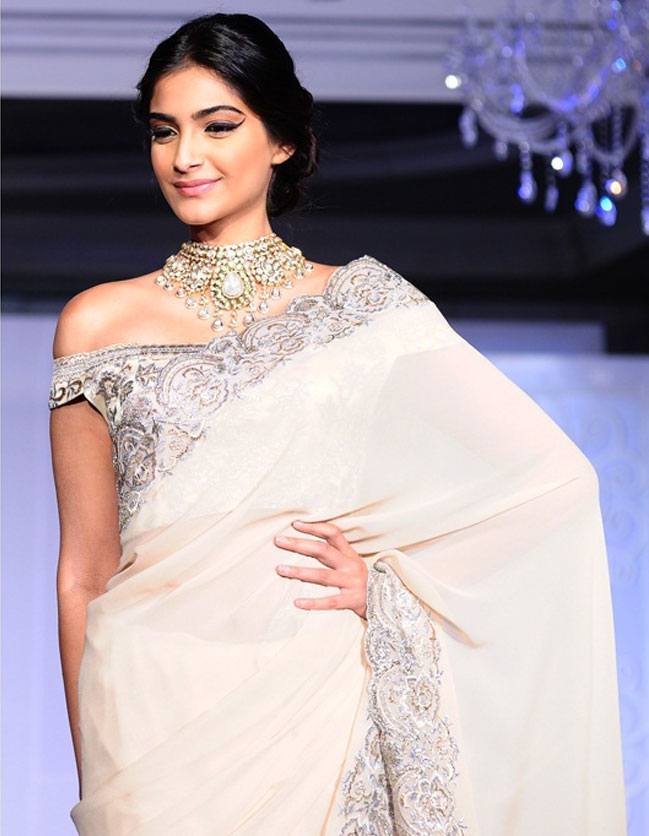 Can you keep a secret?
Sonam focuses more on her blouse than on saree, as she knows the secret to look ravishing in Indian attire.
5. Sonam Kapoor at Paris Fashion Week
An Eli Saab shrug worn over a simple saree at the Paris Fashion Week. The entire ensemble gives a vintage look. A similar shrug was worn by Aishwarya Rai, when she attended the Prix de Diane Longines in France.
[sc:mediad]
Sonam Kapoor had taken the front row seat to enjoy what she loves the most: fashion. She had paired her look with jewelry by mom Sunita Kapoor and the bright lips and makeup really uplift the whole look! Keeping it simple with minimal accessories and an infectious smile, this lady stuck to her mantra!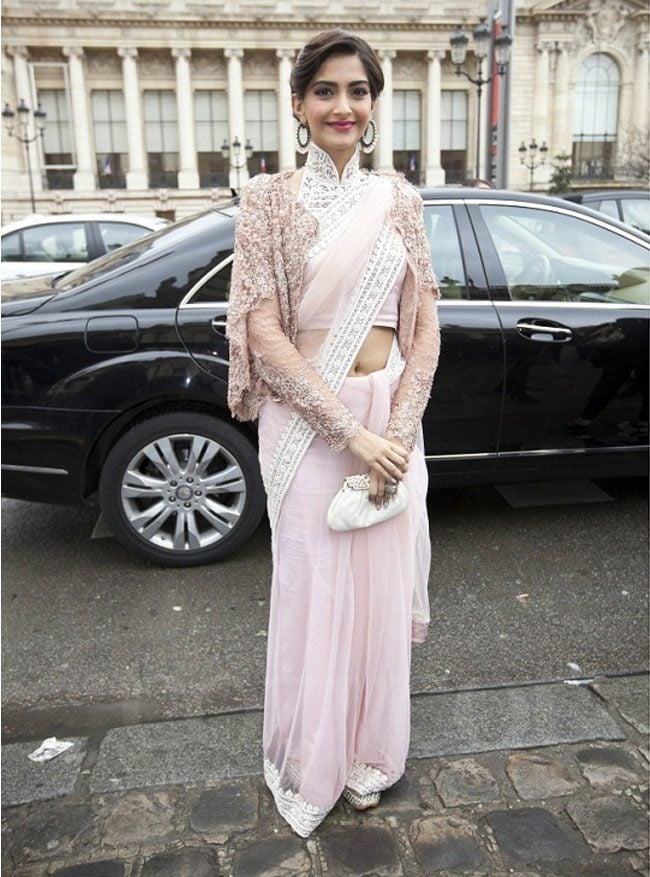 6. Sonam Kapoor in Anamika Khanna at L'Oréal Paris Femina Women Awards 2012
Favorite with Anamika Khanna, Sonam has worn her sarees from the Cannes to the Bollywood red carpet events. Blame it on Anamika's astounding designs or Sonam's high-end fashion taste, but when both of these greats come together, they certainly create magic.
When it comes to sarees, it seems the "Delhi 6" girl has a pattern. She prefers offbeat cuts, quirky prints and fancy blouses paired with chunky ethnic necklaces/earrings and her hair in an updo. I just love the way she brings out a touch of fun to all of her traditional looks.
7. Sonam Kapoor at Femina Women of Worth Awards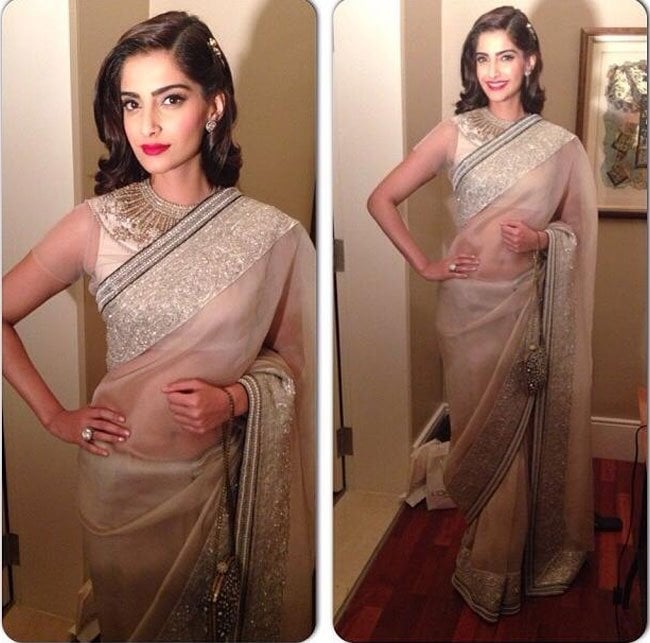 8. Sonam Kapoor in Anamika Khanna At Salvatore Ferragamo Event
Sonam Kapoor appeared in a unique Anamika Khanna creation for unveiling the flagship store Salvatore Ferragamo. Believe me this is actually a saree – a dhoti saree, what the fashion domain has christened. As usual she stole the show with her style statement.
P.S. Sonam is the third Bollywood celebrity to be honored with a pair of custom-made shoes by the Florentine label – Salvatore Ferragamo. Earlier this year, when the fashionista had a chance to visit the Ferragamo headquarters at Palazzo Spini Feroni.
She was lucky to have her feet measured for wooden lasts which is a tradition in the Ferragamo shoe-making process. Finally, she got her grey-silver pair of platform peep-toes with glittering rhinestones sprinkled along the edges and of course, the trademark Ferragamo bow.
9. Sonam Kapoor In Masaba Saree
For a charity event in association with Fight Hunger Foundation, we spotted Sonam Kapoor in a Masaba saree. Elevating her monochrome style files to new highs, Sonam Kapoor in the black and white saree, reiterated her fashionista image to fans and critics alike. Working an all over print is not everyone's cup of tea, and only a daring trendsetter like Sonam can wear it with so much confidence. The sleek hair updo and winged liner completed this one to perfection.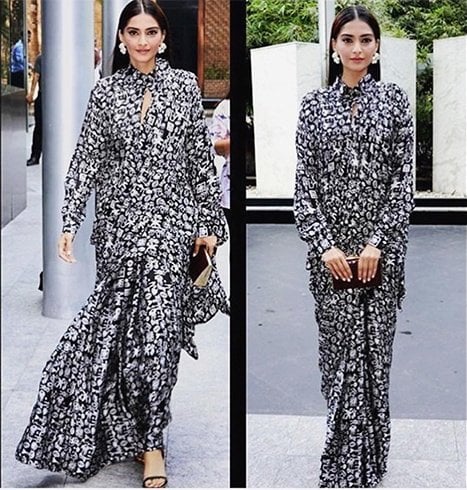 10. Sonam Kapoor At Kalyan Store Launch In Abu Jani And Sandeep Khosla Saree
At the launch, of the Kalyan Jewellers store in Chennai, Sonam in pink saree gave us some serious goals to dress up the traditional way. The embroidery running through the border, depicting a wedding procession, added all the ethnic charm to Sonam Kapoor's saree styles.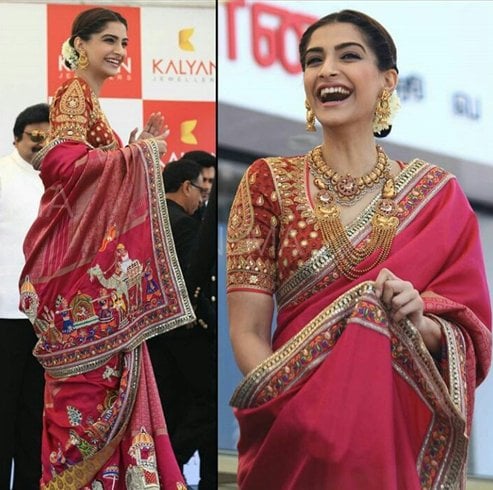 11. Sonam Kapoor In Masaba Gupta Saree
For a promotional event, Sonam in a black and white Masaba saree cut a classy and sophisticated picture. The rose print got all our attention. Sonam complimented her six yard with a gorgeous bun and a bright red pou.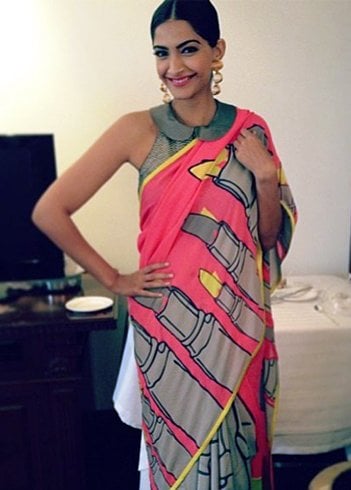 12. Sonam Kapoor In White Saree From Narendra Kumar
For the India Bridal Fashion Week Wedding Store launch, Sonam Kapoor wore a white saree adorned with a beautiful red border from the first ever bridal collection by Narendra Kumar. The full sleeve red silk blouse surely made it to best of Sonam Kapoor's blouse designs lookbook.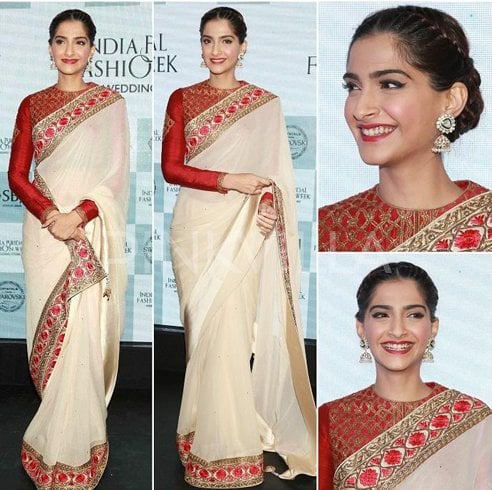 13. Sonam Kapoor In White And Pink Saree From Abu Jani And Sandeep Khosla
As part of the promotional run up for Neerja, Sonam attended the National Bravery awards night for kids, wearing her six yards in a double dupatta drape, giving us all new inspiration to wear a saree. The pink and white Abu Jani and Sandeep Khosla saree made for a gorgeous addition to Sonam Kapoor's saree collection.
14. Sonam Kapoor In Rahul Mishra Saree
While promoting Prem Ratan Dhan Paayo on the Comedy Nights With Kapil show, Sonam Kapoor gave us a yet another re-defining drape wearing the saree with a long angrakha layering from Rahul Mishra. We can bet, if you google for Sonam Kapoor saree images, this one is sure to pop up.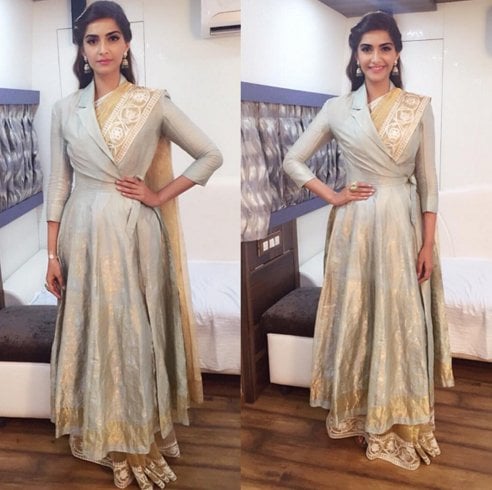 15. Sonam Kapoor Saree At Cannes
The Cannes Film Festival red carpet is dear to this fashionista and she ensures to grab all that spotlight with her statement looks. One Sonam Kapoor saree at Cannes, that had the whole industry buzzing, was her futuristic metallic version of the six yards from Rimzim Dadu. The blue metallic dupatta drape settled perfectly on this fashion icon's shoulders.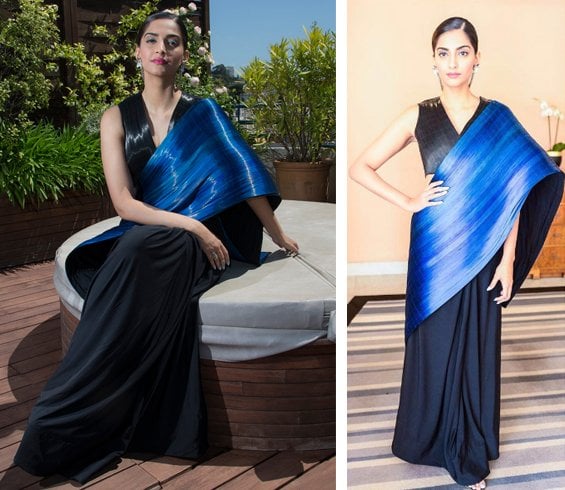 16. Sonam Kapoor In Blue Saree
Sonam Kapoor constantly experiments with her drapes to instantly giver her saree styles a fashionista facelift. With that double dupatta drape in a pastel blue Abu Jani and Sandeep Khosla, Sonam gave a slayer performance. We have to admit, we are totally crushing on this Sonam Kapoor backless saree blouse embellished with beautiful mirror work.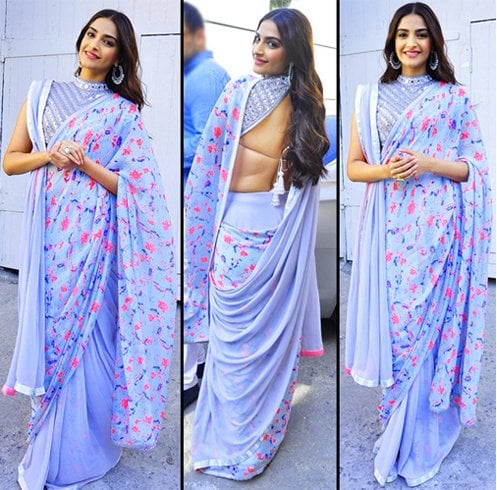 17. Sonam Kapoor In Anamika Khanna
At the GJPEC Artisan awards evening, Sonam Kapoor draped herself in a classy grey green saree from her favorite, Anamika Khanna. The deviation in the drape added some drama to this otherwise solid colored saree.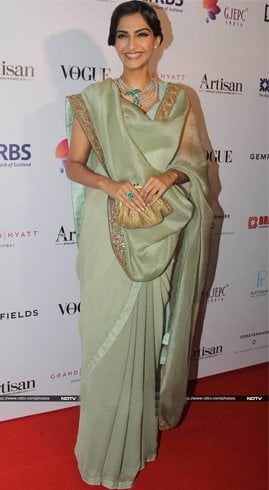 18. Sonam Kapoor In Pink and Black Manish Arora Saree
When two futuristic fashion trendsetters come together, the result is one coveted look. Sonam Kapoor saree styles hit a high chord when she wore a bright multi border pink and black saree from the color master, Manish Arora himself.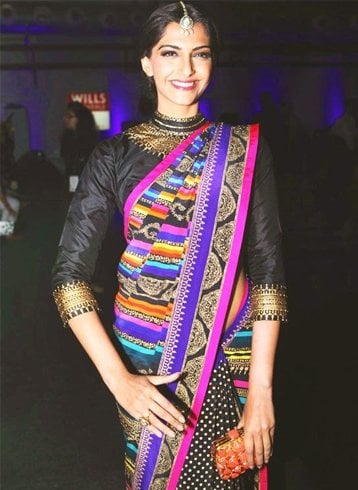 19. Sonam Kapoor In Anamika Khanna Printed Saree
At the L'oreal sponsored Femina World Woman event, Sonam Kapoor sported a printed saree with a belt clinching her waist from Anamika Khanna. The collared blouse was again a breakthrough one in Sonam Kapoor blouse design lookbook.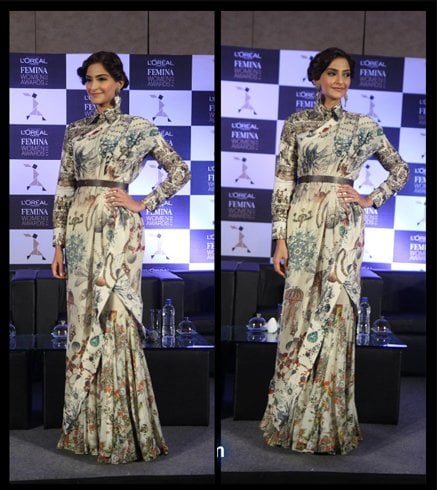 20. Sonam Kapoor Dhoti Saree
We were all hearts for Sonam Kapoor in a pink and black dhoti draped saree from Anamika Khanna, at the PCJ couture week.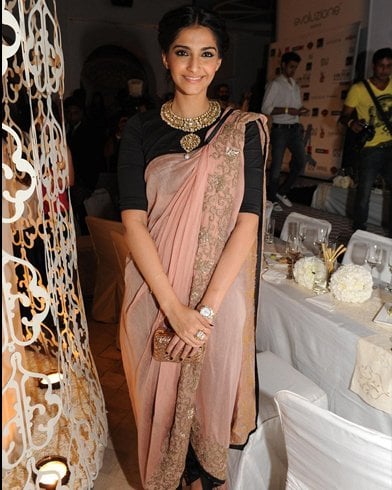 21. Sonam Kapoor In Dhoti Saree By Tarun Tahiliani
For the launch of a Ghazal album, a splendid show was put up by Sonam Kapoor in a white saree, lined with a black border and draped dhoti style from ace couturier Tarun Tahiliani.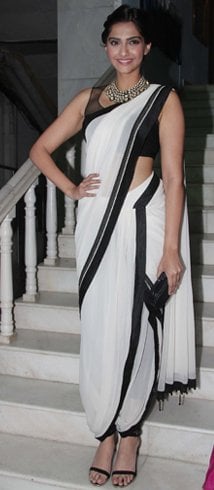 22. Sonam Kapoor In Anavila Misra
At the inaugural event of the Kashish Film Festival, Sonam worked a tricky handwoven khadi saree from Anavila Misra. Pairing it with boots she defied all saree cliches.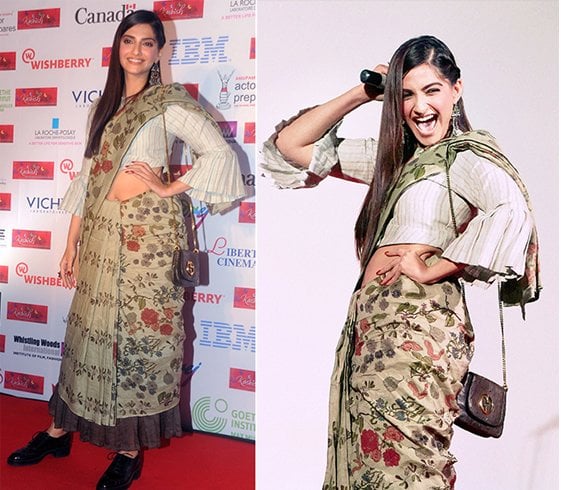 23. Sonam Kapoor In Orange Saree
At her Indian best was Sonam Kapoor in orange sarees. Rocking the color twice, both times wearing Tarun Tahiliani, Sonam added two more exceptional drapes to her saree collection.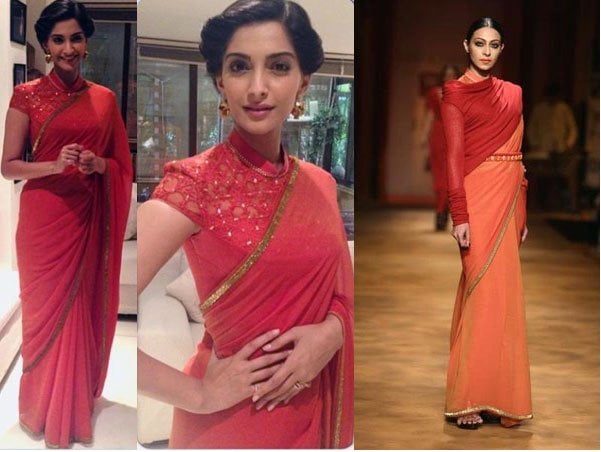 24. Sonam Kapoor In Anamika Khanna
Sonam Kapoor made her way to the front row of the Couture Week, to support her favorite designer, Anamika Khanna, wearing a yet another contemporary and chic version of the traditional saree. This Sonam kapoor saree garnered much appreciation from fashion followers.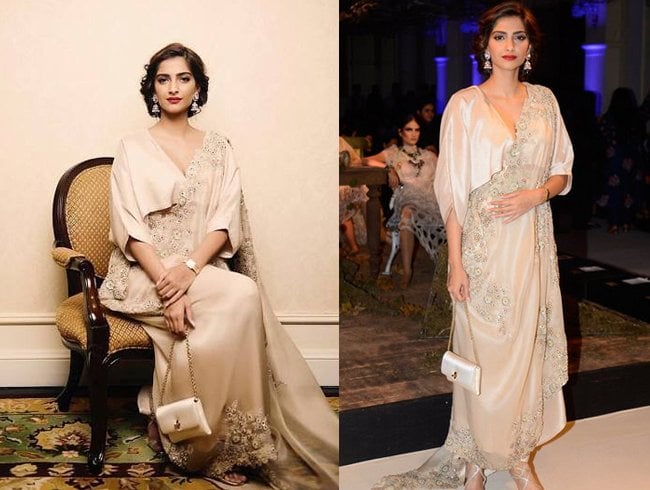 25. Sonam Kapoor In Kerala Saree
Sonam Kapoor in a kerala saree for the last sequence of her movie Aisha. The punjabi girl looked cute draped in Kerala's authentic, white and gold saree for the song Gal Mitthi Mitthi Bol.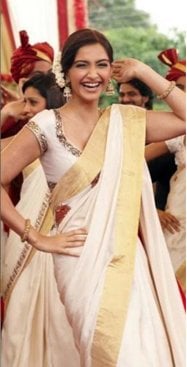 26. Sonam Kapoor In Yellow Saree
Looking as fresh as a daisy, was Sonam Kapoor in a yellow saree by Abu Jani and Sandeep Khosla. Exuding a much positive and happy vibe, this fashionista rocked the backless embroidered blouse with much panache.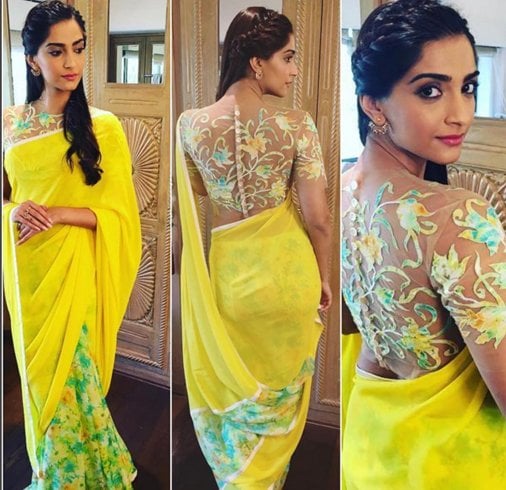 27. Sonam Kapoor In Khadi Saree
Sonam gave us a Republic Day special, wearing an Abu Jani and Sandeep Khosla khadi saree for her appearance at braveheart Neerja Bhanot's school. Sonam Kapoor's blouse flaunting a beautiful multicolor embroidery, caught all our attention.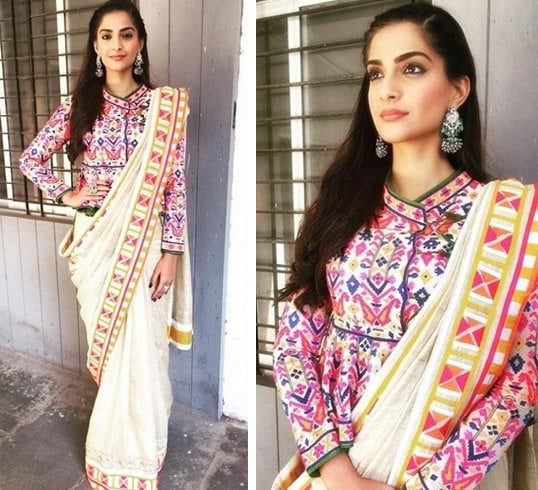 28. Sonam Kapoor In Shehla Khan
Looking like a dream, Sonam Kapoor in a saree by Shehla Khan, impressed all her fashion critics wearing the delicate chantilly lace saree to Ambika Pillai's store launch event in Delhi. We are all hearts for Sonam's blouse design that ensured the woman carried the off-shoulder trend to her saree styles too.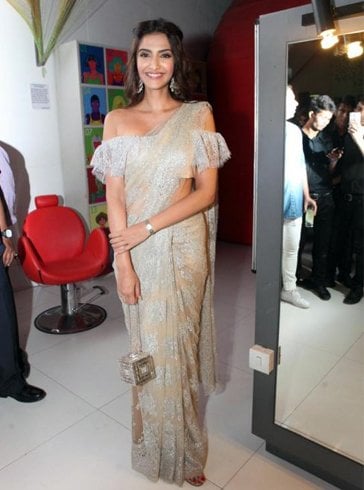 29. Sonam Kapoor In A White Saree
The woman surely loves her sarees in neutral tones. Rocking her staple look again was Sonam Kapoor in white saree from the house of Payal Pratap. The pop of aqua color added to her all white ensemble with an Amrapali necklace took to her appearance to all new highs.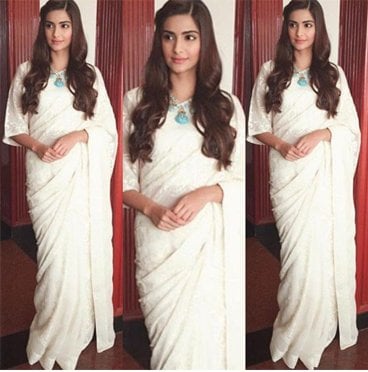 30. Sonam Kapoor In Pink Pattu Saree
Donning a complete look from south while promoting Raanjhanaa, Sonam Kapoor in orange saree gave us some serious inspiration to go completely desi.

What do you have to say about her fashion? Do you like the way she keeps her blouses interesting and her sarees simple? Or would you like to see it the other way round? Share your views with us in comments.
Buy Sonam Kapoor Sarees Here
What do you have to say about her fashion? Do you like the way she keeps her blouses interesting and her sarees simple? Or would you like to see it the other way round? Share your views with us in comments.
Images Source: instagram