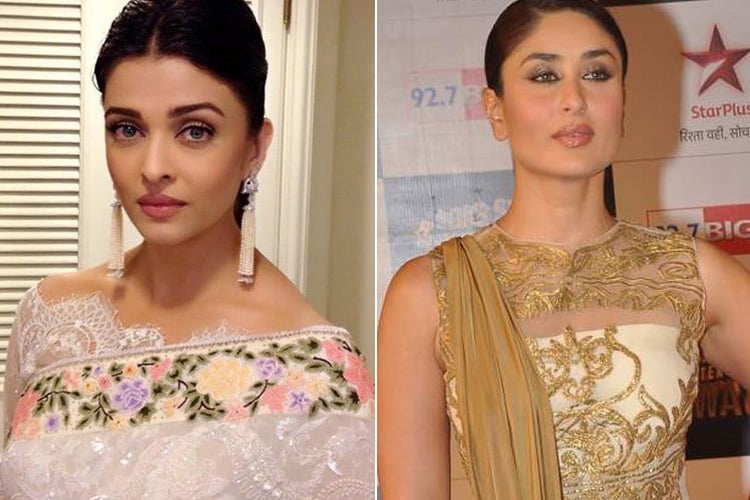 Saree remains a timeless style in Indian fashion. There is no other wardrobe staple that can beat the elegance and charm of a saree. The beautiful drapes manage to steal attention during all major family functions and festivals. You can drape a saree with ease after practice. This garment is unstructured, yet sensuous. With the right selection of saris, you can look perfectly dressed for any occasion.
As we are aware, saris are relevant even to women of today because of the availability of contemporary designs. Today, most designers love amalgamating traditional elements with modern weaves, for bringing out a contemporary fusion. Structured and well-embellished designer blouses for instance, add glamour to all sarees.
Fashion designers like Manish Malhotra, Masaba Gupta, Nikhil Thampi, Tarun Tahiliani have revived saris along with its blouse designs at the recently held Indian Fashion Week shows. From fusion saree to saree gowns; the demand for designer wear is high amongst fashion conscious lot of the tinsel town.
If you are passionate about recreating traditional sari borders that befit the style sense of contemporary sari, then make an inspiring effort to try plain saree with designer blouse. This can be a decent start.
Here are few examples:
1. Embroidery Off-shoulder Blouse
This is a classic Tarun Tahiliani designed blouse showcase for the Couture and Bridal 2015-16 Collection. This heavily embroidered off-shoulder blouse has a unique boat neckline with intricate woven precious stones. It features a jeweled flap around the shoulders. The blouse has a satin base covered in beautiful embroideries and embellishments.
Style Advice– You can pair a similar embroidery designed blouse with both plain and embroidered silk and satin saris.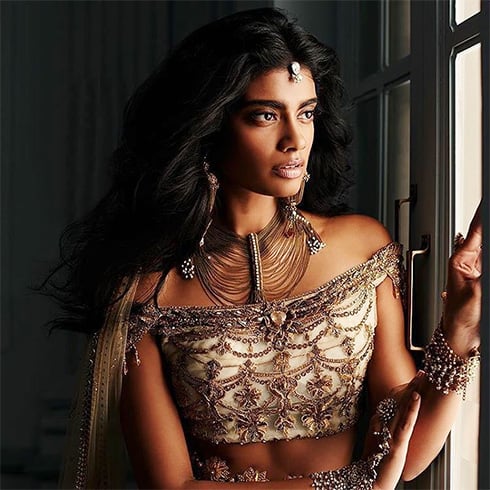 2. Lace Embellished Halter Strap Style Blouse
This blouse is another Tarun Tahiliani's collection which features embellishments with faux jewels and lacy embroidery. It has a halter neckline with intricate details of embroidered straps.
Style Advice– You can wear this blouse with plain chiffon saris.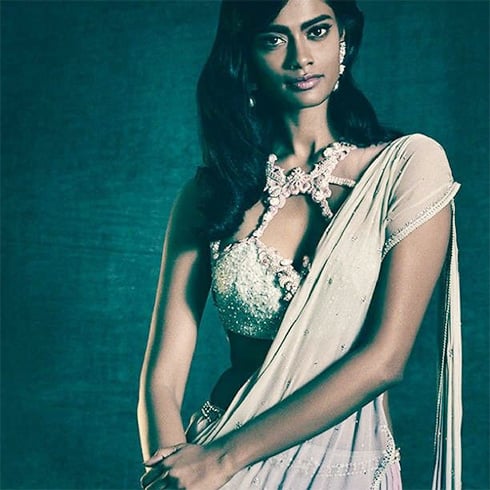 3. Satin Blouse with Loose Sleeves
Sonam Kapoor's Indian style statement is always on point. Admittedly, the actress has also expressed her fondness for Indian wear. This particular Parisian look is an Anamika Khanna's creation with a delicate blouse in silk-satin and a deep V-neckline.
Style Advice– Wear a similar satin blouse with your plain silk or satin saris.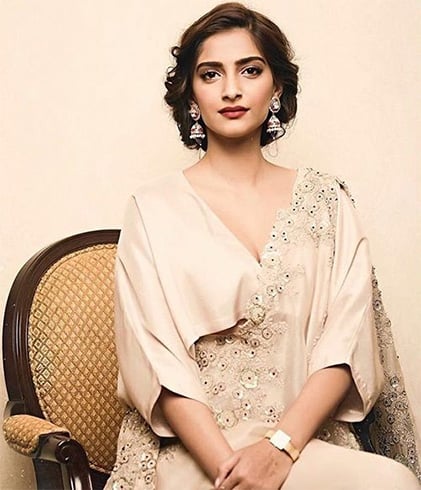 4. Vintage High-Neck Blouse
Once again, Sonam Kapoor created magic with her Raw Mango sari. The actress channeled the classic Maharani Gayatri Devi high-neck blouse sari adorned with gold jewelry. She finished the look with vintage inspired makeup and braided updo.
Style Advice– This can be a good look to try for any formal occasion especially if you love classic plain saree with designer blouse. Take her cue and keep your makeup clean and matte.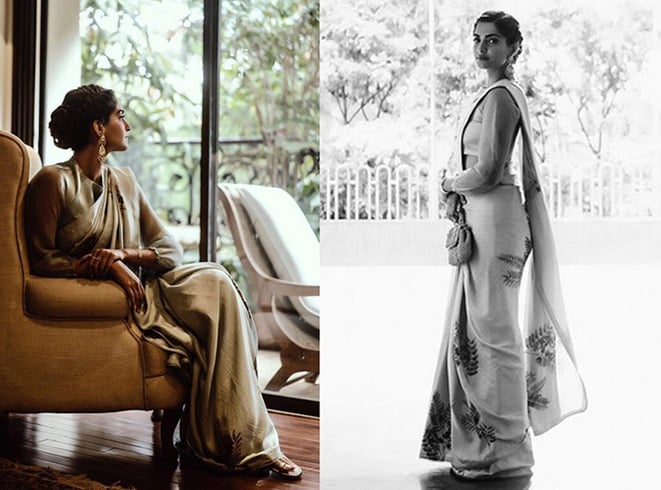 5. Sweetheart Neckline Blouse
This sweetheart neckline silk-satin blouse is one of Gaurav Gupta's collections. The blouse has an intricate half-collared neckline with small potli buttons.
Style Advice– You can pair a similar designed blouse with a silk-satin plain saree.
6. Halter Neck Blouse
This is one of Satya Paul's classic saree- a beautiful blouse with intricate straps tied at the nape.
Style Advice– You can wear a similar blouse with a printed chiffon saree.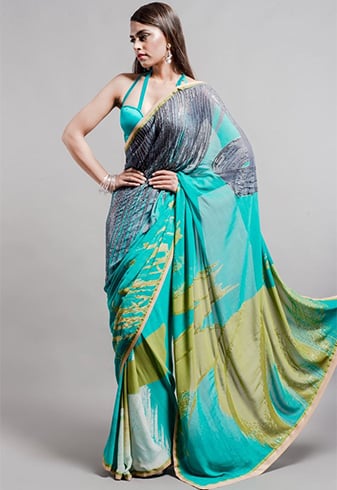 7. Peter Pan-Effect Designer Blouse
Peter pan collared blouse can be your thing if you love distinctive designs. You can try a khadi-silk terracotta blouse with Peter-pan collar and three-fourth sleeves. Here Sonam Kapoor wears a Masaba Gupta's creation with Peter pan collar style blouse.
Style Advice– Wear similar blouse with a khadi-silk saree.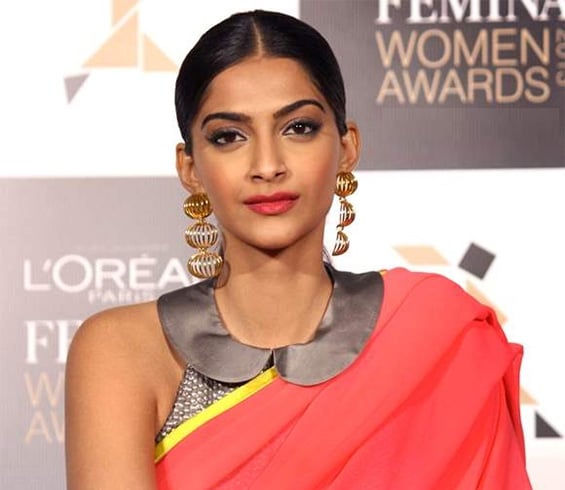 8. Striped Shirt Style Blouse
This striped shirt style sari is one of Myoho's and it truly represents their brand which stands for wear-ability and understated elegance.
Style Advice– you can create a refined and relaxed sensibility with a similar shirt inspired blouse. Pair it with one of your favorite silk sarees for bringing out an eternally feminine look.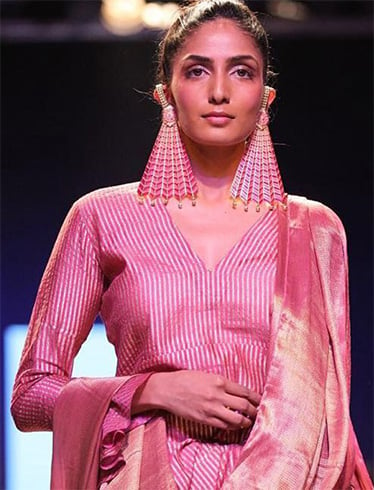 9. Tulle Full Sleeves Blouse
This tulle blouse is one of Tarun Tahiliani's Regal Elegance Collection. This plain silk saree with designer blouse features an embellished bust and sleeve ends made from sheer fabric.
Style Advice– this will look splendid with a plain saree and embellished border.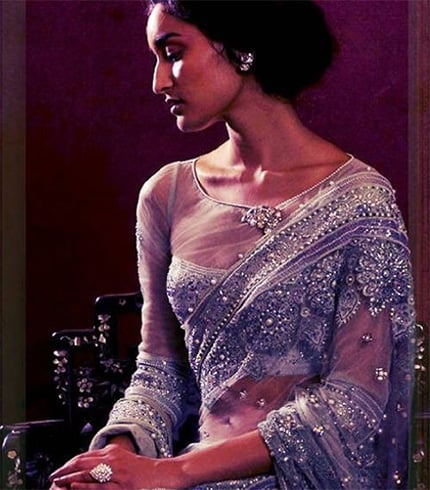 10. Corset style Blouse
This is a typical Victorian age inspired corset styled blouse. It is traced with intricate embroidery details and is woven in different panels. Corset style blouse can come with sleeves or in strapless form.
Style Advice– if you have a well-toned frame, then you can wear any fabric plain saree with designer blouse. Such designed blouses will be exceptionally suitable for apple shaped and pear shaped women.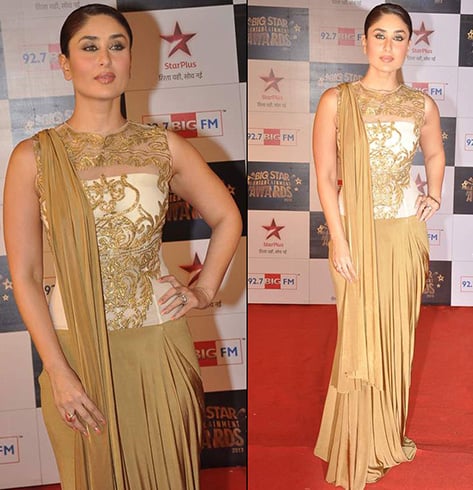 11. Princess cut blouse
Princess cut blouse comes with a broad neckline exposing your collar bones. The variation comes in the form of the fitting blouse with the paneled front. Seen in the picture is Sonakshi Sinha in a Jyotsna Tiwari's Bridal Ensemble with a princess cut blouse matching with red lace lehenga at the Amby Valley Bridal Fashion Week.
Style Advice-wear the princess cut blouse with chiffon or georgette plain saris. These types of blouse designs are suitable for the average busted women. Heavy chested and flat chested women should avoid such designs.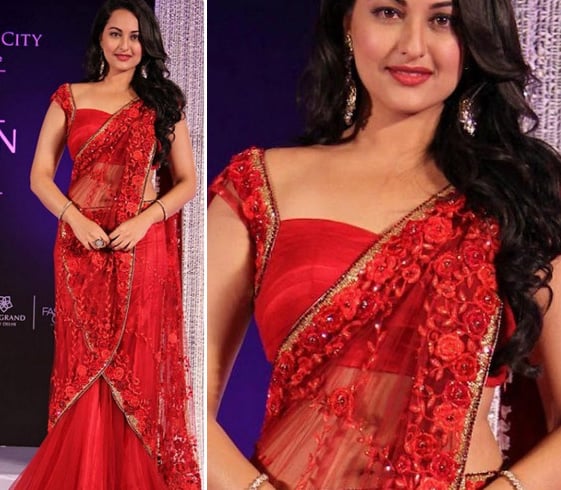 12. Boat Shaped Neckline Blouse
Boat shaped neckline blouses can look great with plain chiffon, satin, georgettes, and linen saris. Aishwarya Rai Bachchan is seen in a Tarun Tahiliani's chiffon-silk saree with full-sleeved lacy blouse at the Women of worth Awards, 2016.
Style Advice– wear a boat shaped neckline if you have broad shoulders. But women with slim and narrow shoulders should avoid wearing similar designs.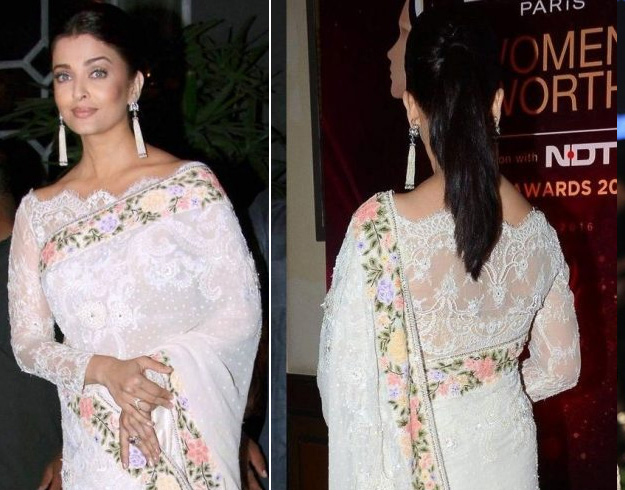 13. Key-hole Neck Sheer Blouse
If you love intricate designs, then key-hole neck blouse is for you. You can wear such designed blouses with sheer plain silk saris for added charm. Seen in the image is a Satya Paul's Bridal creation at Lakme Fashion Week.
Style Advice-you can wear key-hole neckline blouse with matching neckpieces. Also try looking for a well-embellished blouse to make a statement.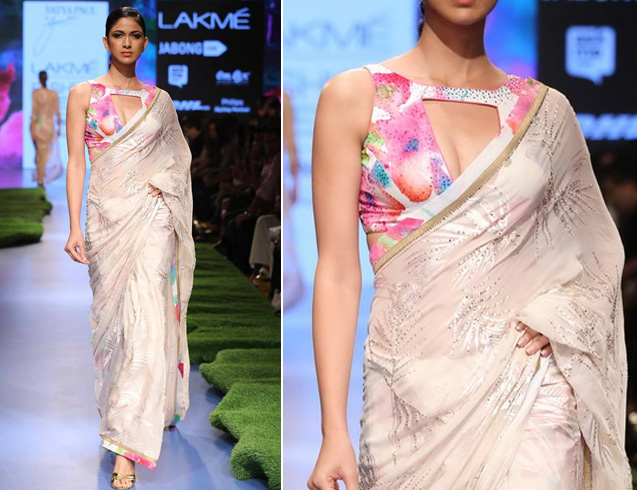 14. Sweetheart and Illusion Bateau Neckline
This sari is one of Gaurav Gupta's collections, yet again. It's simple round necked style features an intricate embroidery around the shoulders and a satin-pleated bust. If you love classic pieces, then this style is for you!
[sc:mediad]
Style Advice– pair sweetheart and bateau neckline blouses with a plain silk-chiffon saree. This type of designs looks great on hourglass body frames and women with fuller chest. It is better avoided if you are not comfortable with deep plunging necklines.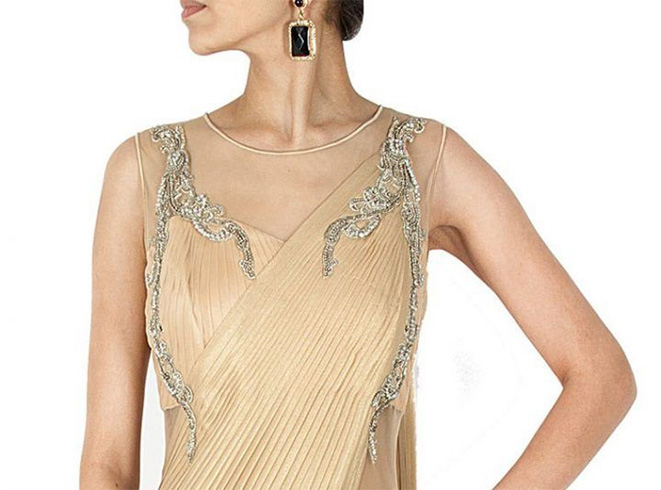 15. Mirror Work Embellished Blouse
This mirror work embellished blouse can be perfect for those women who love backless designs. Seen in the image is Shilpa Shetty in an exquisite pale pink mukaish saree combined with a mirror work blouse. This blouse is designed from multi-colored mirror-work fabric.
Style Advice– Pair this blouse with a sexy black plain chiffon saree.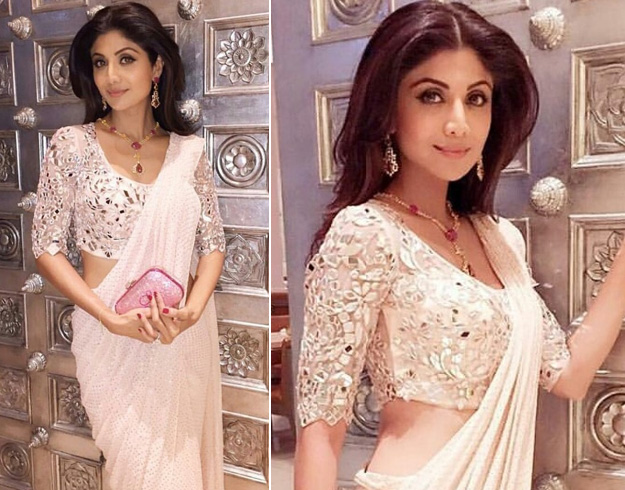 16. Peplum Blouse
Peplum blouses can enhance your waistline. Try to look out for fabric frill designs around your waistline for added interest.
Style Advice– this style is suitable for hourglass and triangle body shapes. You can look out for stiff fabrics like raw silk and linen to go with this style.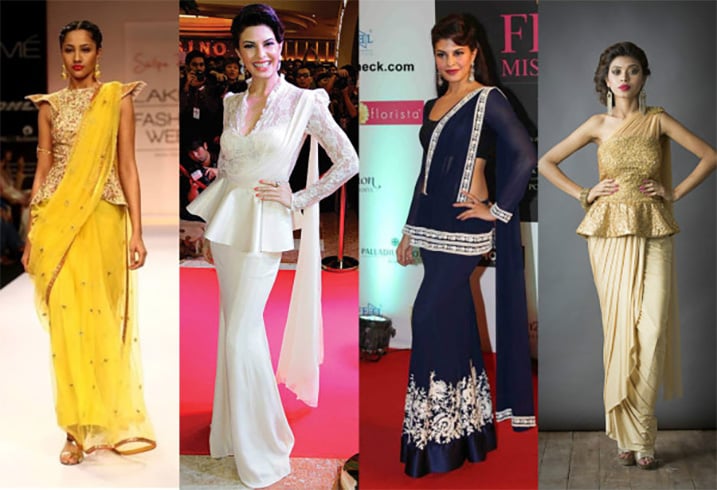 17. Mandarin Neckline Blouse
Blouses with mandarin necklines can look great with chiffon, georgette, satin plain saris. You can customize backless blouses with mandarin neckline.
Style Advice– this neckline can be suitable for those with slim necks. These types of blouses are suitable for all types of body shapes. You can try various styles of blouse hooks, zippers, and buttons.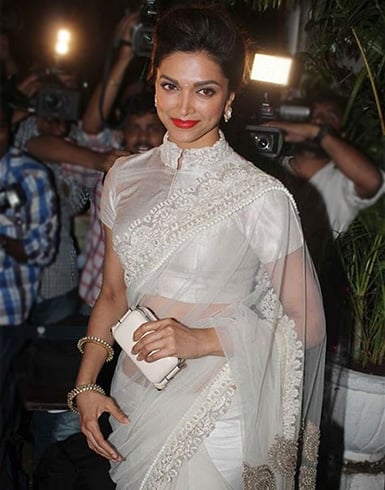 18. Graphic Blouse
If artsy designs are your style, saris with graphic prints are all you need. You can opt for contrasting prints along the border and pallu. Pair it with minimal jewelry. Most designers are introducing graphic printed blouses-in vague and funny prints. This type of blouse works well with plan saris. Seen in the image is ace designer Masaba Gupta in her own creation.
Style Advice– be mindful of the occasion while wearing graphic designed blouses.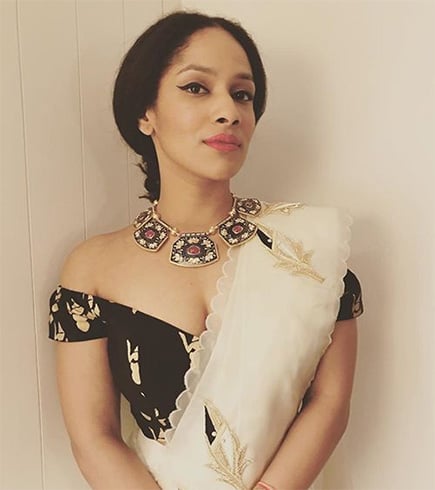 19. Angrakha Styled Blouse
Angrakha style blouse allows you to have extreme coverage. This type of blouses looks great with heavy embroidery on the front. You can take cue from Sonam Kapoor in the image wearing a long angrakha blouse over her plain silk sari.
Style Advice– looks great on average busted women.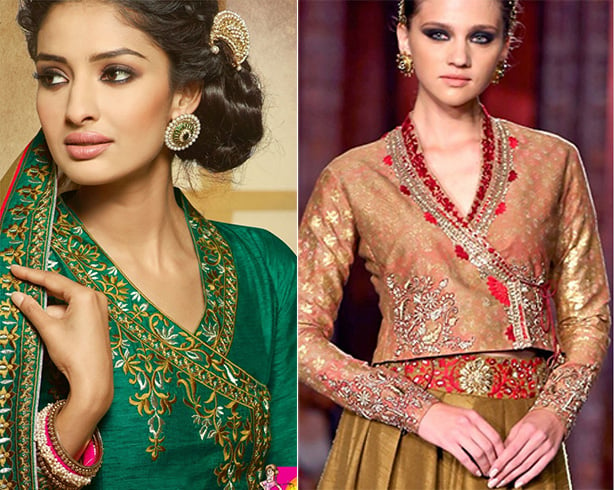 20. Jacket style Blouse
Jacket style blouse are great with plain dhoti saris or sari with pants. You can add accessories like a belt or kamarbandh for an interesting interplay of design and style.
Style Advice– looks great on petite shaped and hourglass shaped body frames. You can look out for flowy fabrics like satin and georgette saris.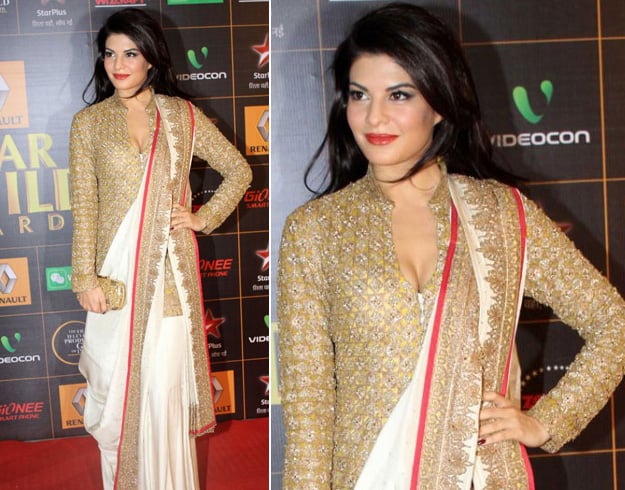 21. Floral Print Blouse
Floral prints are reflective in not only western wear but have also found their way into Indian wear. Seen in the image is actress Deepika Padukone in a floral print sari.
Style Advice– you can emulate this style with a floral cut crop top also.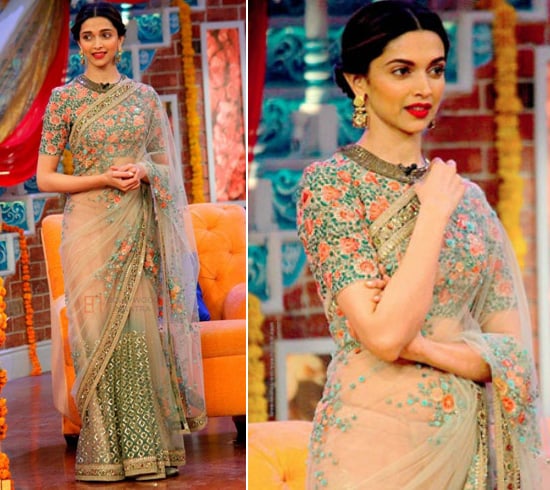 22. High Neck Blouse
High neck blouses are easy to match with any outfit and suits all body shapes. Women with a slender neck will look better with this type of blouse design. In this image, Deepika Padukone is donning a plain saree with border and designer blouse created by Sabyasachi.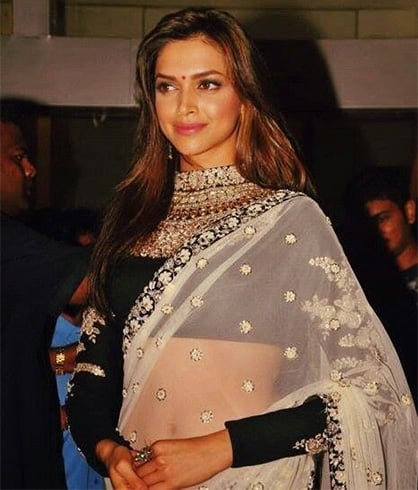 23. Metallic Blouse
Actress Sridevi brought all attention with her stunning sequined saree at Manish Malhotra's birthday party. Wearing a matching sequined metallic blouse, the actress looked every bit the quintessential style diva.
Style Advice– Keep the rest of your makeup and accessories at minimal.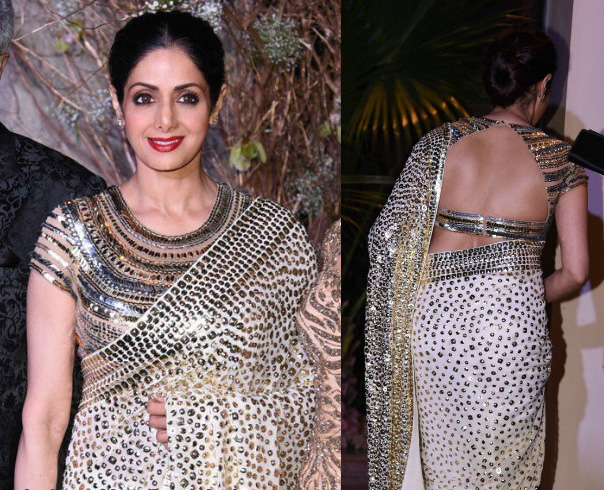 24. T-shirt Blouse
You can dress up saris with shirts instead of making use of blouses to keep up with the trend. Actress Shilpa Reddy makes an interesting take with her t-shirt printed blouse.
Style Advice– You can create your own take on the trend by pairing it with blingy bangles and earrings.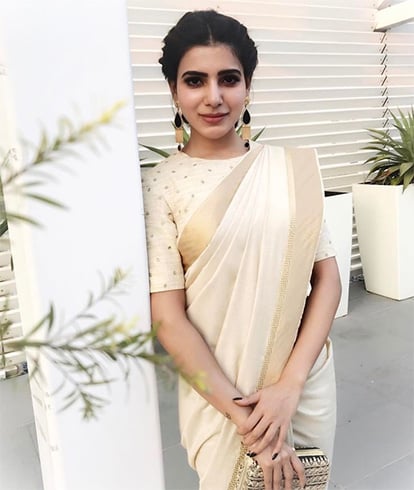 25. Fringed Styled Blouse
You can choose to wear a fringed styled blouse piece for nice party. You can take cue from Sonam Kapoor's Indian ruffled drape. This gorgeous blouse with fringed accents is an Abu Jani and Sandeep Khosla's creation.
Style Advice– Wear similar style with your chiffon or georgette plain saris.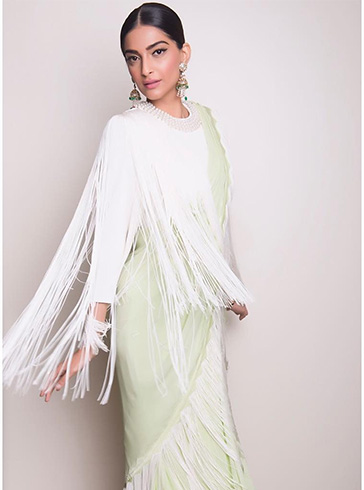 26. Boat Neck Blouse
This lacy neckline blouse is a Manish Malhotra's creation. It is an amalgamation of crepe and silk-satin fabrics with free flowing sleeves.
Style Advice– You should opt for a plain silk-satin or crepe saree with this type of blouse.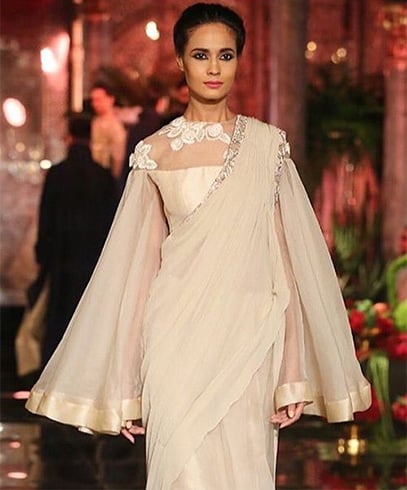 27. Embellished Halter Blouse
You can go for a heavily embellished blouse with a unique cut that covers your navel while also showing off your curves.
Style Advice-You can opt for a silk satin saree in matching colors.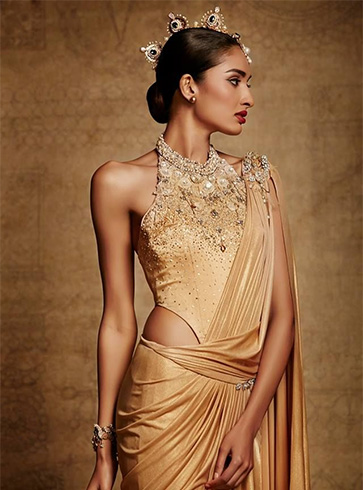 28. Cartoon Print Blouse
Now this blouse print takes us back to those innocent times of school days. Designer Satya Paul has revived back those times with their ethnic wear label. These cartoon print saris are worn by several women today. Our Indian actresses have also flaunted the quirky style in several ways.
Style Advice- Consider the occasion and the place you are visiting while trying out this blouse design.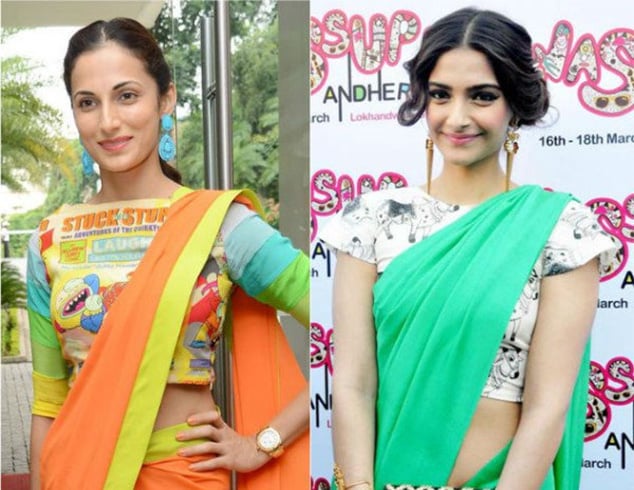 29. Full Sleeved Plain Blouse
Kalki Koechlin stood out in a Nikhil Thampi Sari at the Screen Awards. She matched her part silk, part sheer, net pleated sari with an updo and black pumps.
Style Advice– You can add on a little sparkle to her look with heavy accessories.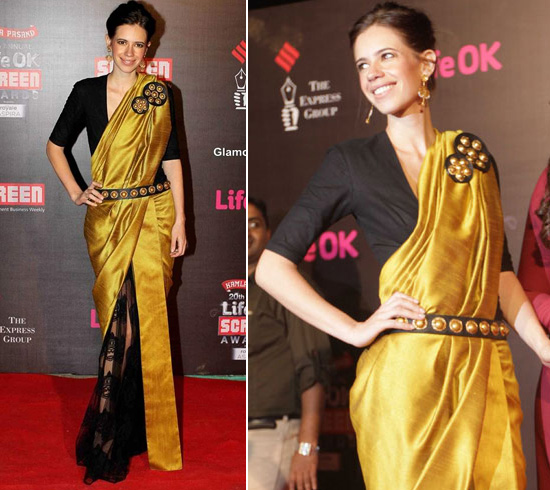 30. Cold Shoulder Blouse
Jacqueline Fernandez was seen in a plain sunny yellow saree paired with a white sheer net embroidered cold shoulder blouse designed by Manish Malhotra.
Style Advice: Wear a similar designed blouse with your silk saris.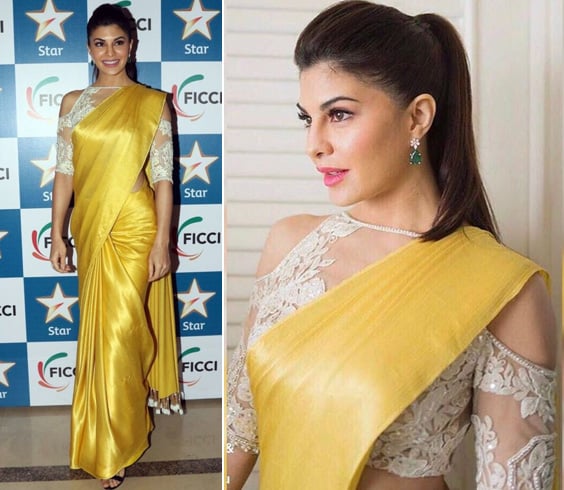 These are our top 30 picks. Wear these stylish designed blouses with aplomb.
Do let us know your favorite designs from this designer blouse ideas catalog!
Images Source: pinterest