From a flabby fashion designing student to a gorgeous diva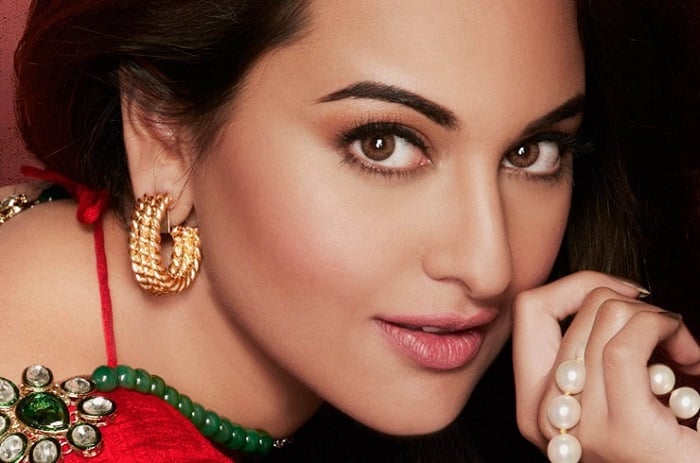 At a time, when Sonakshi weighed 90 kgs in her early 20's, the doe-eyed beauty never would have imagined of becoming Bollywood's leading lady one day. So, what inspired her to go for such a makeover? A jolt from her mentor led her to shed 30 kgs in just 2 years. That's incredible!
Here's the detailed story. Read on!
Unlike her contemporaries like Anuskha Sharma, Deepika Padukone and Priyanka Chopra, Sonakshi was never blessed with 'good genes' except for her height, which she has inherited from her parents. Moreover, the girl wasn't a fitness freak, just as Adele who always defended her weight saying she is in the industry for singing and that is what matters. Here is an excerpt,
"I've never wanted to look like models on the cover of magazines. I represent the majority of women and I'm very proud of that. I'd lose weight if I was an actress and had to play a role where you're supposed to be 40 pounds lighter, but weight has nothing to do with my career. Even when I was signing [a contract], most of the industry knew if anyone ever dared say [lose weight] to me, they wouldn't be working with me."
Being the only daughter, the actress is the most pampered than her twin brothers. Her weakness for food and sedentary lifestyle was ignored by her family except her mother Poonam Sinha, who alike every mother of a young girl was worried of her daughter's ignorance towards herself.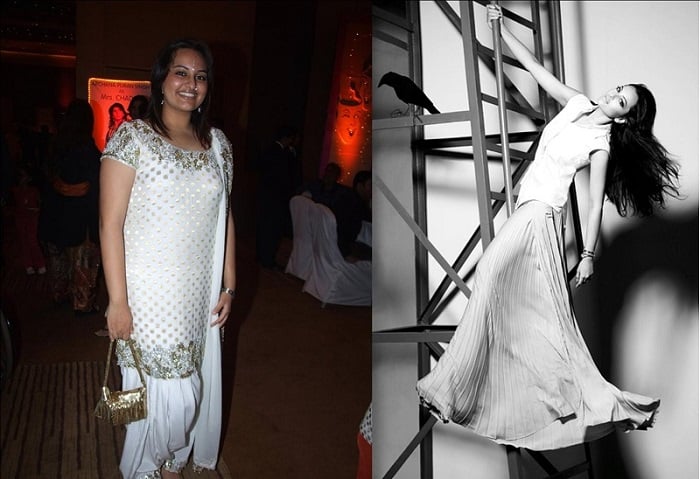 A jolt from her mentor
As I had mentioned earlier, it was her mentor none other than Salman Khan who one day scolded her for being so ignorant towards her own body and its fitness. He even expressed surprise as how even after being a fashion designer student, Sonakshi was never worried about her figure.
Before entering into Bollywood, the 27 year old actress was an ardent student of fashion designing and it was only her love for runway that got her noticed by Salman Khan. Salman Khan, who had already noticed the hidden acting skills in Shotgun Jr. personally took her into her supervision and trained her in losing weight. Incredibly, Sonakshi shed almost 30 kgs before Dabbang.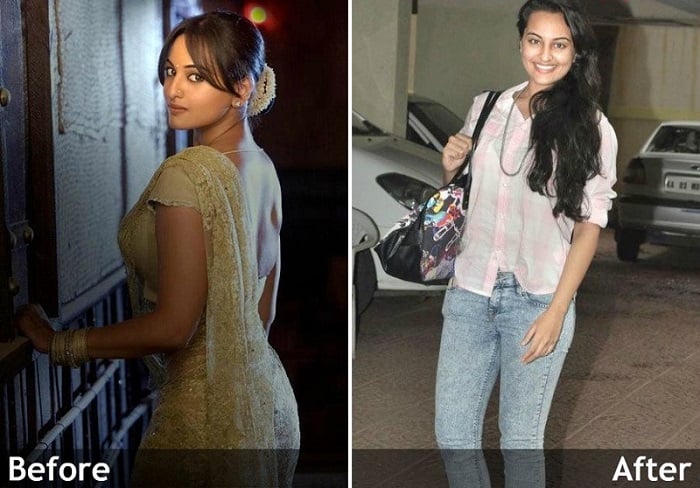 From inside sources, it's learned that Salman had put forth a condition before her that if she lost the target weight of 20 kgs in 1 year, he would offer her a lead opposite him. The fitness freak himself, took Sonakshi under his wings much to the happiness and consent of her parents Shatrughan Sinha and Poonam Sinha. Within a year Sonakshi was offered the lead opposite Salman in Dabbang and this is how India got their new star.
The doe-eyed beauty made a storming entry into Bollywood sweeping all her critics and contemporaries of their feet. Shahid's influence on Sonakshi Post her association with Shahid Kapoor following 'R…Rajkumar' , Sonakshi roped in Shahid's personal trainer for her fitness and since then she has catapulted into a gorgeous diva losing about every bit of that flab she was left with and this is clearly visible from her recent Instagram pics.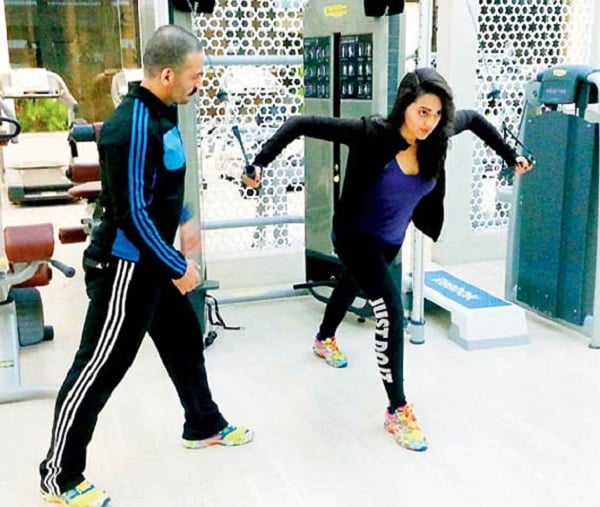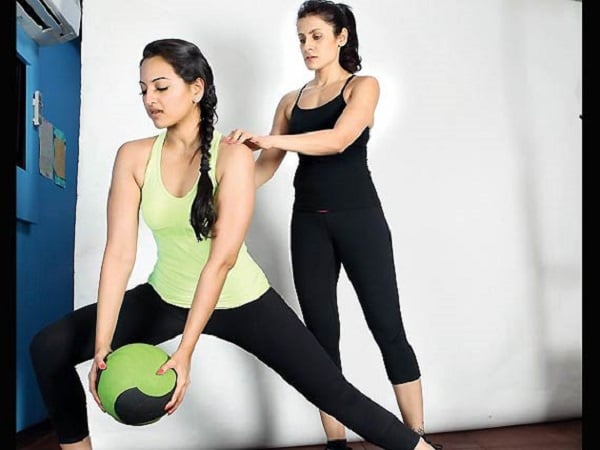 Sonakshi has been working out since November with her new trainer and the results are in front of us now. With her new image makeover with much toned body, Sonakshi has taken in a keen interest in the 'selfie trend'.  She is probably the only actress with maximum number of selfies these days, as she is busy showing off her strenuous workout sessions, outfit trains, and not to mention her red carpet appearances.
[sc:mediad]
Sonakshi's rigorous work-out at gym is showing off, as she is now flaunting a fabulous figure in stunning designer ensembles from Filmfare photo shoots to her promotion of upcoming movie, Holiday. The actress, who was often criticized by the media and fashion police for her weight, has tightlipped everyone and is absolutely loving the new change in her all thanks to her workout regime. The actress is now a frequent at various Bollywood events and promotional tours and looks all trim and slim.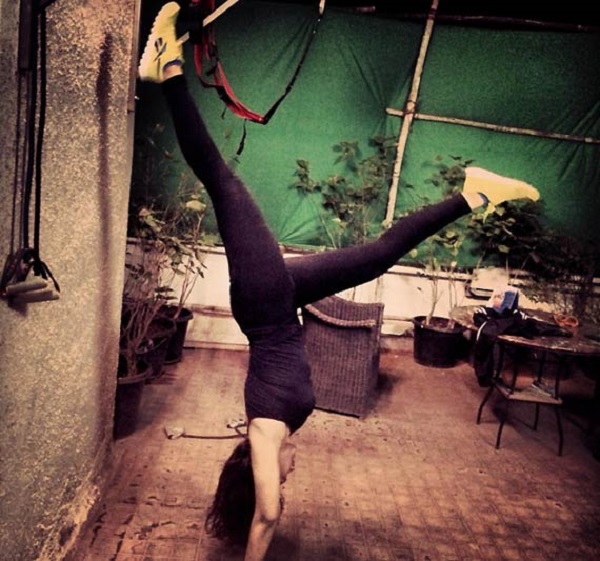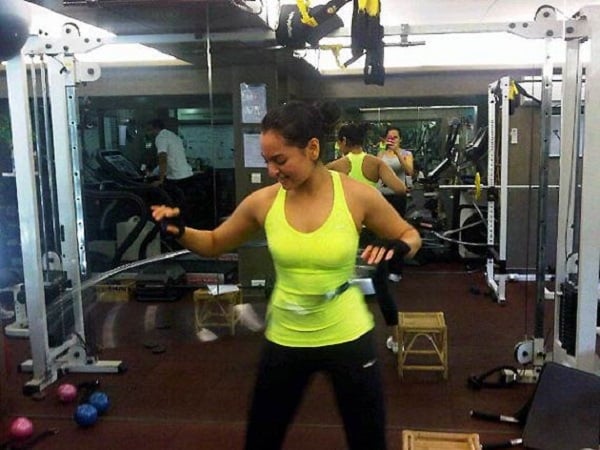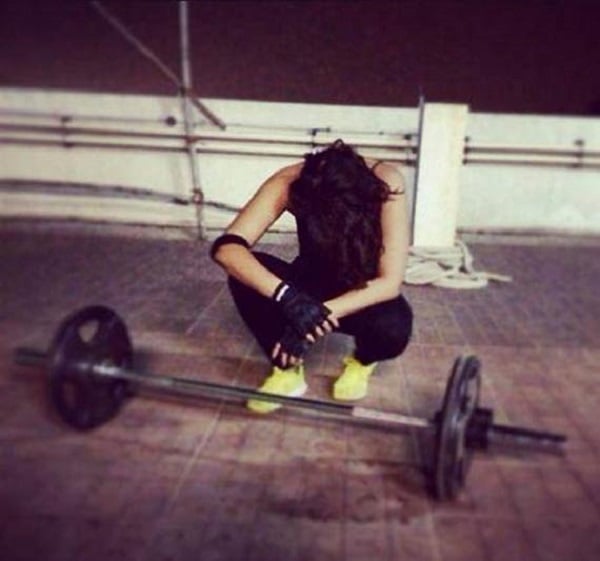 For instance, while unveiling the latest edition of Women's Health magazine, the Holiday actress showed off her slender figure on its cover, just as she looks sensual on Filmfare cover page for June 2014 issue.
At the unveiling event in Mumbai she said, "It was not easy at all for somebody like me. I am the kind of person who hates the gym. I am allergic to the gym. I want to run away from it. But I think once I put my mind to something, I go out and achieve it and I guess I did that."
The 27 year old is now happy to have gotten the desired results with the help of her new trainer and is in love with her all new svelte shape. "I decided I want to do it (shed weight) and I took a step to achieve that…tried to achieve my goal rather than being pressurized from people and telling, 'O look at her, she is so fat, she is this…she is that." She further added, "If it hadn't come from within, I didn't want to do it."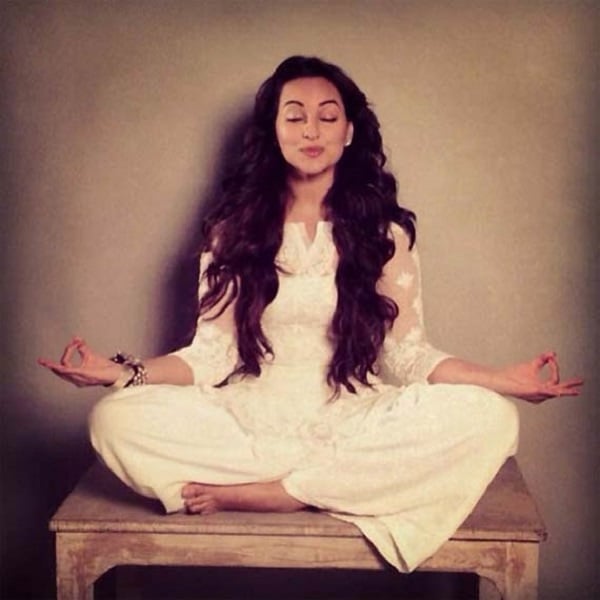 This is not the first time that Sonakshi has forayed into losing weight, as before her debut opposite Salman Khan in Dabangg, she was asked to shed those extra piles of fat around her body by none other than Salman Khan himself. Besides Salman, Shahid should be given credit for her svelte avatar.
Shahid, who himself is a health freak, is known to someone behind Kareena's fitness as well. Earlier, Sonakshi wasn't fond of workout in gym and had confessed that she hated going to gym and would run out from it at any given point of time. But thanks to her motivation, as she has taken this plunge to become fit and is spending a lot of time at gym.
As per her trainer, Sonakshi is an ardent learner and whatever task she is given, she goes up to finish it off successfully. She has been keenly training, workout out and paying special attention towards her diet.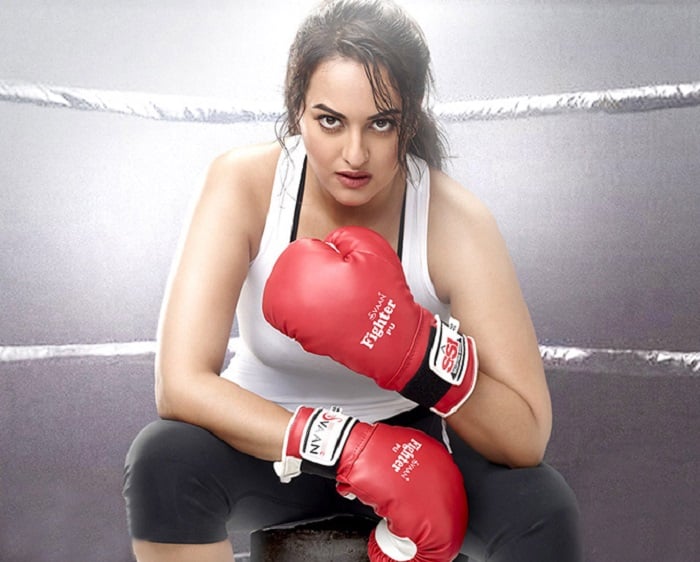 She regularly posts up her pics while working out in the gym through her social networking accounts.
Hope you enjoyed reading this and for all the girls who're dealing with weight issues, get some inspiration from Sonakshi!!