Almost every writer admires and respects a good orator. Probably this is one of the major reasons; I have so much admiration for our newly appointed HRD Minister Smriti Irani. Besides her public speaking adroitness, her dynamic personality of being self made is what makes me have high regard for this lady.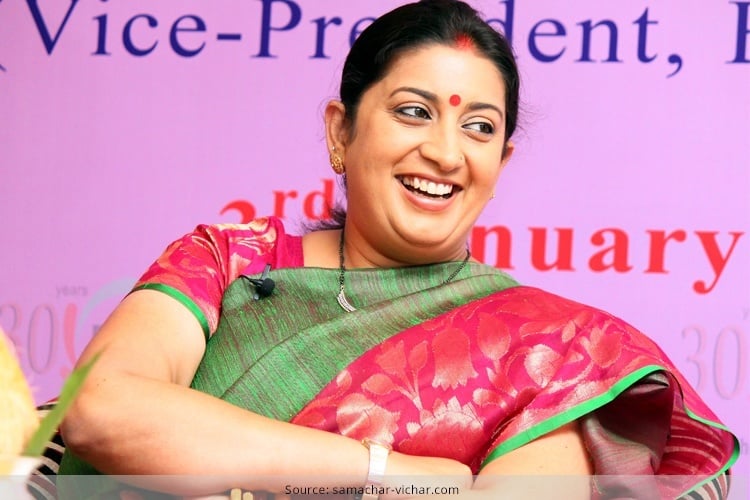 Let me confess, I have never been a fan of the Saas Bahu serials, which had hugely dominated the Indian Television for over a decade in 2000's. May be I inherited this nature from my mom, who always stayed away from typical TV serials and was instead hooked up with on-going cricket matches or chose to get lost in the latest edition of her favorite author.
However, I used to get a glimpse of the India's most popular soap Kyunki.. whenever I used to visit my relatives or neighbors. And this is how I watched Smriti Irani aka Tulsi in fragments on TV. Few days back during a hot debate over Smriti Irani's education, Chetan Bhagat on Times Now had defended her saying that she is a self-made woman, who has excelled in everything she is involved so far.
So true!! Smriti's career so far has never been a bed of roses; instead her life is full of struggles and endeavors. From working in McDonalds and promoting beauty products to being the wannabe Miss India to contesting against none other than Rahul Gandhi; Smriti's phenomenal rise is truly an inspiring story which every Indian woman should learn from.
Smriti's Phenomenal Rise:
A star in her own right, Smriti's both celebrity as well as political life has been a saga of meteoric rise to fame and immense success in terms of popularity. She had already won India's heart after she was cast in Kynuki Saas Bhi Kabhi Bahu Thi as Tulsi and became the ideal Indian bahu.
However, it was only after she quit her acting career and joined politics; she justified her reel image of a strong and dignified woman who's never afraid of raising voice against injustice in true facet.
Born to a Punjabi-Bengali background in Delhi, Smriti Malhotra Irani is the eldest among three daughters. Smriti's mother is of Bengali origin and she is distantly related to the popular Bengali actress Tripti Mishra.
She passed her 12th from Holy Child Auxilium School and got enrolled into B.Com, but she discontinued her education so as to pursue her modeling career.
Did you know?
Astrologer's future prediction: During her earlier days, an astrologer dismissed Smriti Irani of having any good future and doing something fruitful in life. She confidently told him to check on her ten years down the line.
Award record: In mid-2000, Irani bagged the lead role of Tulsi Virani in Ekta Kapoor's production Kyunki Saas Bhi Kabhi Bahu Thi on Star Plus. She holds the record of winning five consecutive Indian Television Academy Awards for Best Actress (Popular), four Indian Telly Awards, eight Star Parivaar Awards.
Her Struggling Career:
Being born in a middle class family, where her father ran a courier business, Smriti never got a short cut to fulfill her dreams. At the age of 18, she left for Mumbai to pursue her modeling career.
The woman, who played the quintessential daughter-in-law for Ekta Kapoor's Balaji telefilms, had seen all stages of life. Her entry into the mega production of TV soap wasn't an easy deal.
[sc:mediad]
In 1998, she entered the Miss India contest and to everyone's amazement, she even made it to the finals. She had borrowed 2 lakhs from her father and her contest outfit designed by none other than Manish Malhotra. Even though she was selected in the final round of 5, she lost the title that year to Lymaraina D'Souza.
In a bid to pay back her loan, she took up the Jet Airways hostess interview along-with her sister. Her sister got the job, but she was rejected.
In order to bear her own expenses, she took a counter job at McDonalds in Bandra, serving burgers, sweeping floors and cleaning the tables. I have a friend from Mumbai, who used to work in the same outlet and he tells me how Smriti was a hard working girl, who easily used to get upset and emotional. The only thing that kept this girl going was her strong determination. She kept visiting various agencies doing auditions and leaving behind her pictures at every TV production company.
She finally got some hope as she was chosen for the commercial for Whisper and replaced Neelam Kothari to host an episode of 'Ooh La La La'. This was the time when lady luck smiled on her and she was noticed by Sobha Kapoor, who asked to meet Ekta Kapoor at Balaji Telefilms. She auditioned for the role of Tulsi and got selected and they say the rest is history.
In one of her interviews she was quoted as saying that she started earning after the 10th standard – the Delhi girl used to earn Rs. 200 for promoting a beauty product. But determined to chart her own destiny Smriti was finally living her dreams.
Smriti Irani Political Career:
Her immense popularity as an ideal Indian bahu opened doors to politics, as she joined BJP in 2003 and today she has more than a decade of political experience.
She became vice-president of the Maharashtra Youth Wing in 2004. In the 2004 general elections for the 14th Lok Sabha, she contested unsuccessfully against Kapil Sibal from the Chandni Chowk constituency in Delhi. She was nominated as executive member of the central committee of the BJP.
Realizing her political adequacy, her party took a bold step by making her contest against none other Rahul Gandhi.
[Also Read: Smita Sabharwal IAS ]
Here's an excerpt from Wiki,
In early 2010, Irani was appointed as the National Secretary of BJP and on 24 June, she was appointed as All India President of the BJP's women's wing, BJP Mahila Morcha. In August 2011, she was sworn in as a Member of Parliament from Gujarat to the Rajya Sabha. Irani contested the 2014 general elections against Rahul Gandhi in Amethi, Uttar Pradesh. She lost the election by a margin of 1.07 lakh votes. However, she gave a tough fight to Rahul Gandhi who managed to win by only third of his margin compared to all previous elections. Margin of Rahul Gandhi is substantially reduced from 3.70 lakhs votes in 2009 to 1.07 lakh votes in 2014. On 26 May 2014, Prime Minister Narendra Modi made her the Minister of Human Resource Development in his cabinet. At 38, she is the youngest member of the cabinet.
Smriti Irani Personal Life:
In 2001, Smriti married Zubin sharma, a Zoroastrian, after she had become pregnant with their first child, Zohr. In September 2003, the couple had their second child, a daughter named Zoish. Smriti is also stepmother to Shanelle who is Zubin Irani's daughter from his previous marriage with coordinator and former beauty contestant Mona Irani. Mona Irani was Smrithi's close friend, until her affair with Mona's then husband, resulting in pregnancy in 2001. Smriti runs an organization, "People for Change" which provides drinking water to the poor in India's remote areas.
Watch Smriti's best speech in Parliament –
Hope you liked this post! Fashionlady salutes such independent protagonist!!