Since this is the time for grads to bid farewell to their colleges to start a new bright career ahead or pursue higher studies, the first thing the girls madly look for is an attractive saree so as to be under the spotlight during the farewell event. Even freshers are in the same dilemma for their freshers party ahead!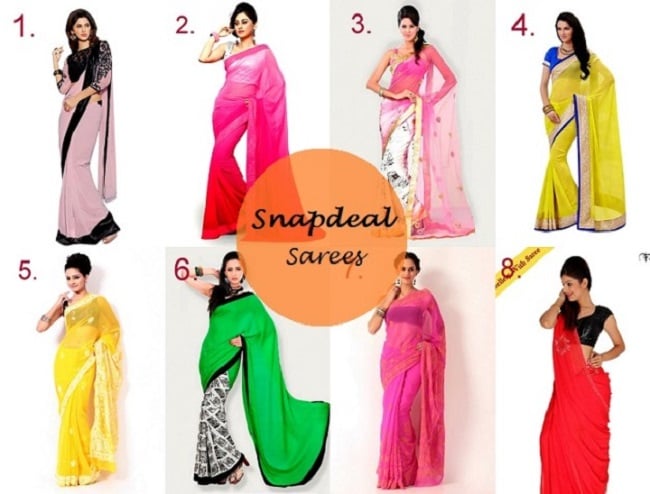 Source: pinterest.com
I remember during my college farewell, how I had managed to grab my cousin's blouse and mom's saree for the farewell. Luckily, the saree and the blouse turned out to be a perfect fit on me. Well, everyone is not just that lucky. Moms' sarees are always fabulous to go for, but sometimes an unfit blouse or the much traditional piece becomes inappropriate for the occasion.
[Also Read: Farewell Party Sarees]
Snapdeal sarees are simply perfect for such occasions. They come in your range of budget and your favourite colours. And if you have a saree these, then there's nothing like it. There can be times when you might not want to wear your mother's sarees since it's too traditional or outdated. It's totally understandable. In this ear of designer wear sarees and trendy sarees, one does want to own one for themselves. For many, this is an opprtunity to buy their own first saree.
While some sarees are too bright for the occasion, others are either heavily embellished or too mundane to make it work for the event. This is why FashionLady has managed to grab a few hand-picked fabulous Snapdeal sarees, the specially designed farewell saress for you. Do have a look!
1. Lookslady Stunning Georgette Saree
Price – Rs. 1,999
This ultra classic Georgette saree in pale pink flanked by black border is one of the ideal options to go for this event. The major highlight of this ethnic ensemble is the blouse design, which takes this saree to an entire new level. The elaborate embroidery of on the 3/4th sleeves, chest and back make this saree ultra classic even though the bodice of the saree is plain. This is certainly one of the best farewell sarees offered by Snapdeal and the price just makes it affordable for any student attending the party.
2. De Marca Pink Faux Georgette Border Work Appealing Saree
Price: Rs. 2,762
Doesn't this saree look like the replica of Kareena's pink saree designed by Manish Malhotra?
[sc:mediad]
Even though this saree is comparatively toned down, it still looks similarly glamorous. If you love Bollywoo d replica sarees then this is the best affordable choice.
3. Adaa's Yellow Printed Art Silk Saree
Price: Rs. 1865
This is another designer replica saree offered by Snapdeal. I just got reminded of the cow-printed Masaba Gupta saree worn by Sonam Kapoor last year. The Adaas saree even offer similar style in dual shades with zari brocade and matching yellow blouse.
4. Bollywood style blue net saree with cream pallu and heavy embroidery work border
Price: Rs. 1208
Since Bollywood sarees are quite a rage these days, this saree will surely bring you under the limelight the moment you arrive at the event. The rich royal color of the saree is flanked by cream pallu with zari and black brocade. The elaborate motifs in contrasting gold on the blue bodice make this saree even look more attractive. And not to mention the pallu's latkan even makes it more appealing.
Priced at only Rs. 1208, it makes one of the best farewell sarees.
5. Adaa's black printed art silk saree
Price: Rs. 1865
This is another inspiration from Masaba Gupta's 2013 collection. The camera print is another popular design apart from the cow and the telephone booth, which had made Masaba Gupta a household name in the country.
You can now walk in this designer wear inspiration and envy your friends of your fashion choice.
This camera printed silk saree comes in dual black and white shade, flanked by contrasting yellow brocade. Believe me you'll just love this piece and have a luxe feeling.
Hope you got some cues for your farewell party! 
Happy shopping!!