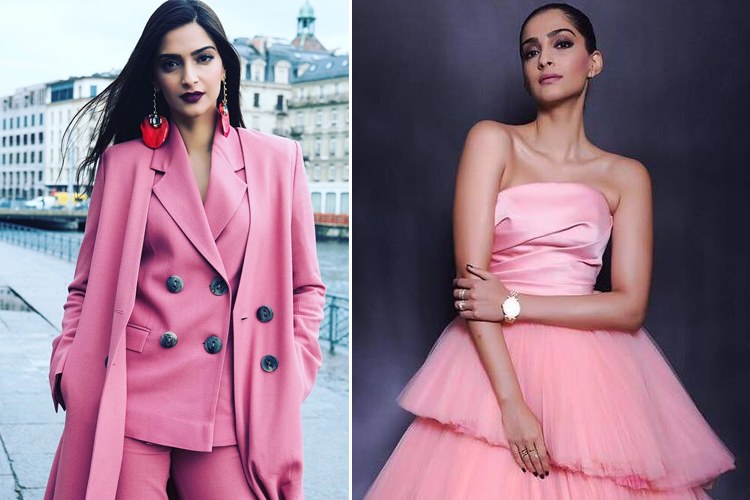 Two looks coming in from the IWC Watches event has certainly restored our faith in our very own fashion harbinger, Sonam Kapoor.
Sonam's fashion reputation needs no definition and with sister and stylist Rhea Kapoor by her side, her power is upgraded to 2X times.
In Geneva for IWC Watches, India, Sonam exhibited a worthy pink prowl.
The Indian ambassador of the brand, Sonam Kapoor, was in attendance to witness the launch of their special jubilee collection, marking a successful run of 150 years for the coveted brand.
In two's, Sonam made both her sightings equally fascinating dressed up in shades of pink.
Look 1 had the diva all suited up in a more english pastel tone of warm pink from luxe label Bouguessa.
The double breast monotone suit up, was fittingly layered with a long trench coat in the same shade.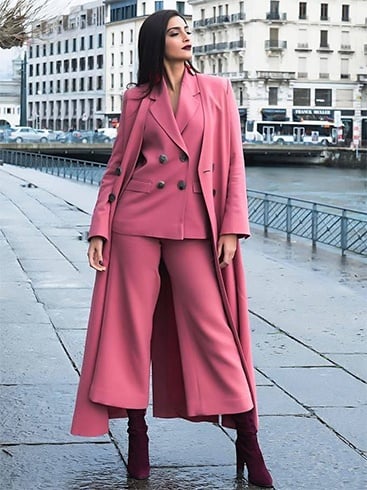 Exuding much exotic vibes on a rainy afternoon in Geneva was Sonam Kapoor in her pretty suit up. To up her style game, stylist Rhea Kapoor paired the outfit with minimal but bold statement pieces.
In due prominence was the pair of bold red earrings from Marni, that added all the rightness to Sonam's face.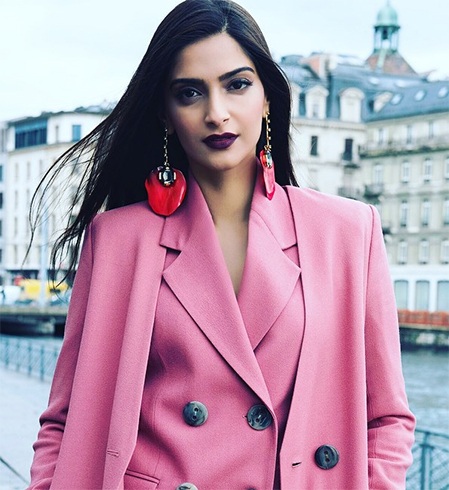 Her dark plum pout was perfectly complemented with her pair of deep plum ankle length boots.
An IWC watch sporting the same plum strap sealed this divaliscious look.
Hair and Makeup artist Namrata Soni rendered her special touch to complete the appearance to the T. While she rendered beautiful blow dried tresses which fell naturally on her broad frame, Namrata stuck to a more natural face to finish Sonam's event look.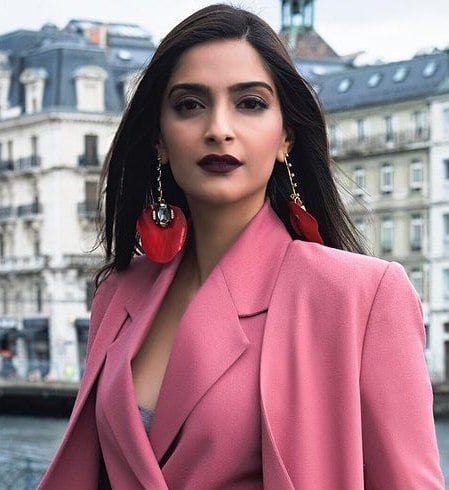 We admit we loved this one from India's fashion forerunner.
Look 2 had Sonam Kapoor get into her usual red carpet style. The woman made it to the event wearing much prettiness in soft pink.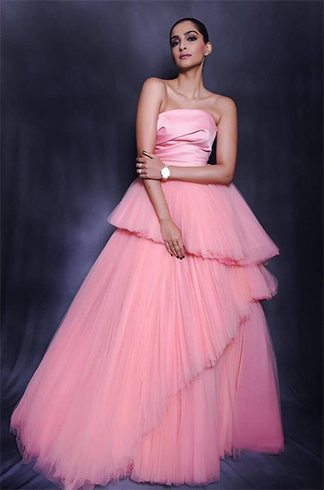 Stylist Rhea Kapoor picked up a off-shoulder gown from Viktor and Rolf for her sister and fashionista Sonam. Boasting layers of pleats, the gown added more charm to Sonam's slender figurine.
The off shoulder satin corset held onto her upper half like her second skin.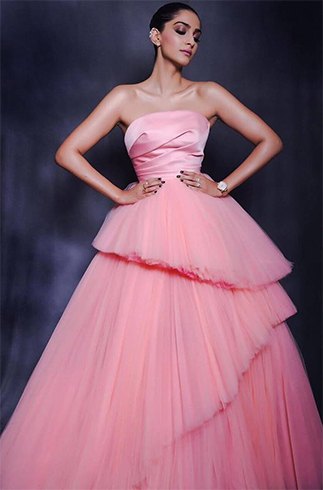 Rhea kept the accessory game absolutely minimal to draw all the attention to the one and only accessory in the appearance, a matte finish golden watch from IWC.
Apart from the watch a few rings and black nail paint adorned Sonam's hands. To add some additional drama, Rhea had Sonam wear a pretty ear cuff from Repossi.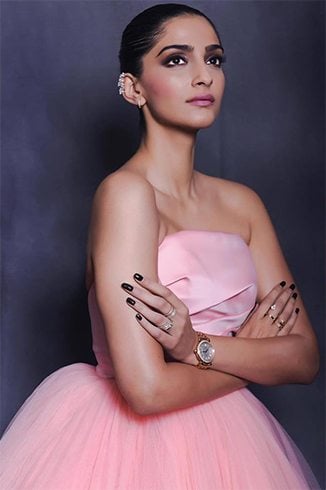 With her brow game going strong, hair and make up artist Namrata Soni, had her face shine with a complementing pink blush and a subtle pink pout. For her tresses, Namrata chose to seal them in a neat bun
With both these pretty sightings, Sonam has yet again proved her mettle as the flagbearer of fashion in India.
Images Source: instagram.com/rheakapoor/