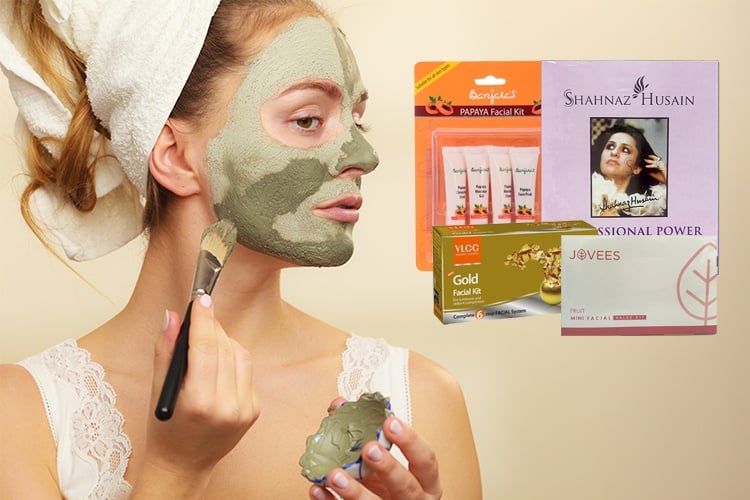 Getting a facial at a salon can be fancy and leave you with a glowing face, but it also leaves a hole in your pocket. Even if you are not really that bothered about the pockets and the holes like us peasant, every once in awhile we all go through those "I don't wanna go out of the house today" moments. Maybe you have chores to take care of, a baby to attend, or simply because of winters and it's too cold outside to step out of the comfort of your home. Nevertheless, we all want that glow on our faces, all year long. Don't we? So why not get salon like glow at home? How? By doing the same facials at home all by ourselves. This would save us a bunch of time and money.
There are many reliable cosmetics brands that have launched their facial kits in the market for home use. Whether you have dry skin, oily skin, combination skin, or oily skin, there is one for every skin type.
Here are 10 best facial kits in India for all skin types.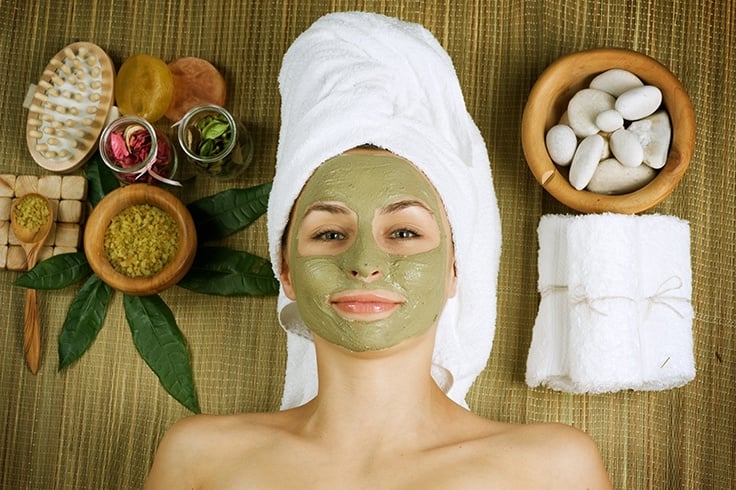 Top 10 Facial Kits In India
The counters are brimming with facial kits, but here are our top 10 choices.
1. VLCC Gold Facial Kit:
Women love this kit and swear by this amazing product presented by VLCC. VLCC has a range of facial kits but we rate this one the most and it is also among the best selling products of the brand. The kit contains a cleanser, a toner, a scrub, and face mask and a moisturizing gel to complete the whole beauty regimen. Though it can be used by anyone anytime, we recommend it especially for the bride-to-be for that special golden radiance.
Pros:
The product helps in hydrating and moisturizing the skin generously.
It helps reduce dark spots and fights pigmentation.
It removes dead skin cells and encourages regeneration.
Cons:
Price: INR 250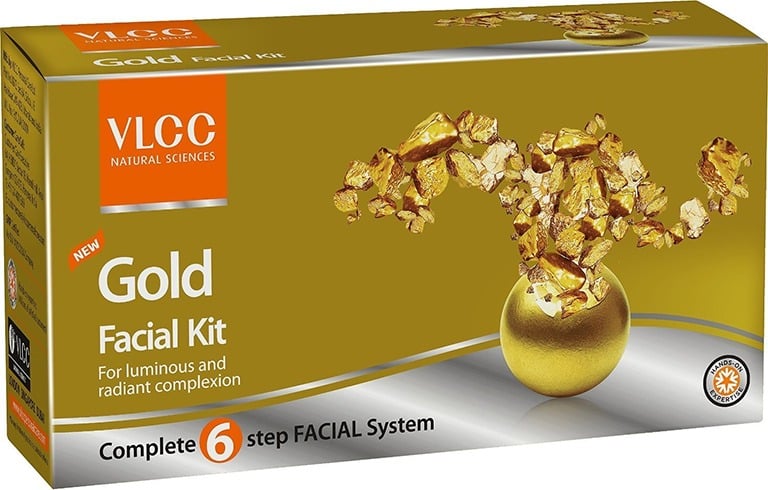 2. Lotus Natural Glow Facial Kit:
Though we have a tendency to pick the imported brands over the homegrown ones, Lotus is one among the few Indian brands that have earned the trust of beauty enthusiasts in the country. Lotus uses not only natural ingredients but is a cruelty-free product also. After seeing the overwhelming response their face masks that have benefitted every skin type and received major popularity generated, the brand turned towards manufacturing facial kits that would provide deep cleansing solutions to improve the skin texture.
Pros:
Easily available and pocket-friendly
You will find an instant glow and an added sheen on the face
It provides for deep cleaning of skin
Improves skin tone
The instructions on the pack are well described and makes usage easier
The sachets can be used for 3-4 application
Long-lasting effect
Cons:
After the first use, storing the sachets for next use is a challenge.
Price: INR 200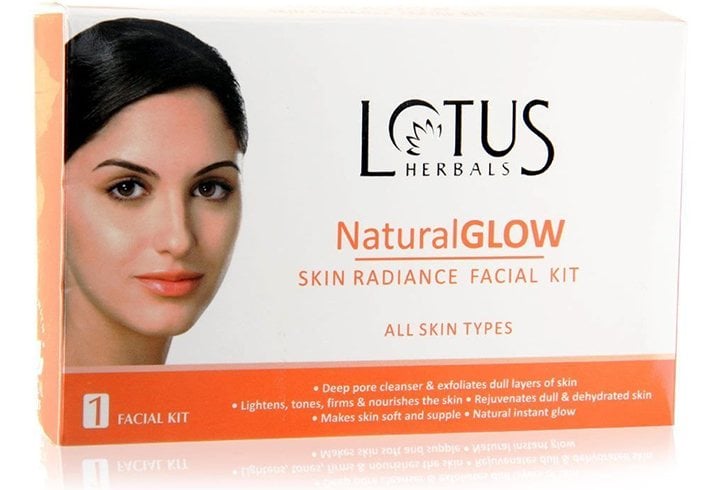 3. Jovees Fairness And Glow Facial Kit:
The fairness facial kit from Jovees includes 5 elaborate steps. The pack hence contains one tube each of a cleanser, facial scrub, face massage cream, clay pack and fairness cream. The products are made from natural ingredients like almond, wheat germ, apricot, saffron, vitamin-E, and bearberry, all of these combine together to benefit your skin in multiple ways. The quantity in each tube is 50 gm that makes for 2 easy uses and gives value for money.
Pros:
Would last for 2 to 3 applications because of the generous quantity.
Affordable and easily available in local markets or online portals.
Gives an instant glow to the face that stays for the next 3-4 days
Reduces dark spots and pigmentation when used regularly
No chemical ingredients, all natural products
Reaches deep into the pours for a thorough cleansing
Causes no irritation
Effective oil-control formula
Provides rich moisturizing and hydration
Cons:
Perfect for oily skin, might not suit dry skin types.
Price: INR 190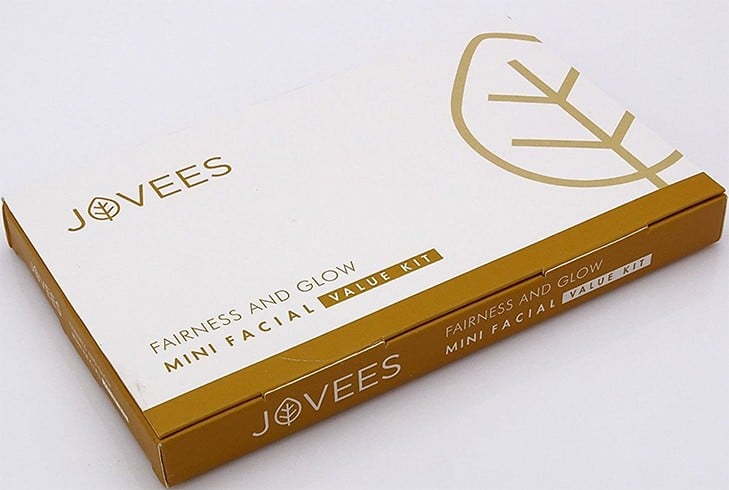 4. Banjara's Papaya Facial Kit:
Banjara has emerged as a popular name in the domain of skin care products recently owing to the rich ingredients used in the kit. Now papaya is an integral part of Indian beauty rituals because it cleanses the skin, brightens the complexion and leaves it with a natural glow. This 4 step papaya facial kit from Banjaras have a cleansing scrub, massage gel, massage cream and then a papaya face pack that gathers all the goodness of the yummy fruit for nourishing your skin.
Pros:
It's immensely hydrating and makes your skin super supple with its dose of the natural moisturizers.
You will see an instant glow that will increase with time.
The aroma is delicious.
It makes for a perfect facial kit for all skin types.
Causes no acne, pimple, rashes or any allergies owning to its organic ingredients.
Removes tan and improves complexion
Cons:
Scrub doesn't exfoliate well.
Quantity could be more.
Price: INR 200
5. Nature's Gold Facial Kit:
This is another option for a gold facial kit, as we said above, it's perfect for a bride-to-be. Also, those who are getting ready for any special occasion can use this 2 to 3 days before the event. Best to be tried before parties, wedding, and receptions of near and dear ones, festivities like Holi, Diwali, Christmas or New Year. There are 4 easy steps to be followed, scrubbing, massaging, applying a gel and then a pack. Key ingredients contain gold dust, peppermint oil, groundnut oil, orange oil, lemon oil, and cedarwood oil.
Pros:
The quantity allows you to use it multiple times.
You get an instant glow right after using it.
An ideal facial kit for an oily and sensitive skin.
The effects are long-lasting.
The tube packaging makes it easier for storage.
Cons:
We don't quite believe in the claim that the product has gold dust, because… hey seriously?
The price seems to be a little on the higher end if you are a price-conscious consumer.
Price: INR 800
6. VLCC Diamond Facial Kit:
VLCC, as discussed above, has been around for a while, and had proved itself as a promising brand to deliver the best products for women's skincare needs. All of us have tried some product or another of VLCC by now and if you are thrilled by the results you must give this diamond facial kit a try and see if it gives you the instant skin radiance many other women swear by. It claims to make you party-ready in no time.
Pros:
You will see an instant glow that would stay on at least for a week
Enough quantity for up to 3 uses
Visible improvement in skin texture
Controls premature aging of skin
Detoxifies and rejuvenates the skin
Evens out complexion
Increases elasticity, makes skin smooth and supple
Cons:
This might not suit oily skin
Again, we don't buy that there are diamond particles in the product. Like, come on now!
Price: INR 350 (Now you know why we doubt the presence of "diamond" particles)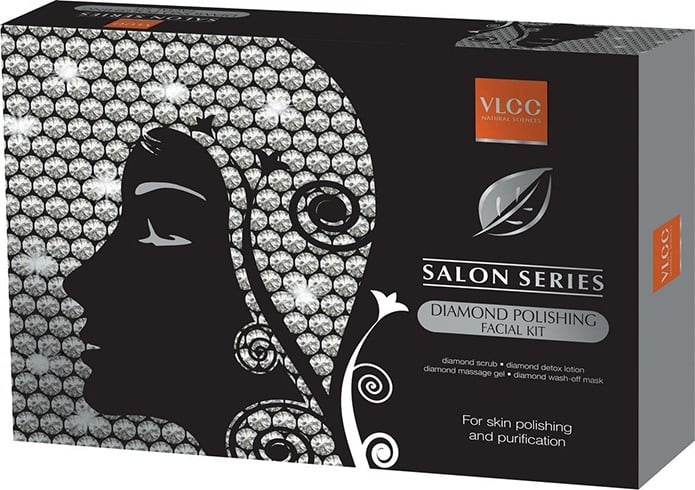 7. Kaya Facial Kit:
Kaya has been in the beauty game forever now and has been trusted by many in India owing to the natural ingredients they use. Just like gold facials, diamond facials have become popular especially for bridal grooming sessions. After VLCC we recommend Kaya's diamond facial kit, though it is a little steep. The facial kit works wonderfully by first removing dead skin cells and regenerating the new ones. It also attacks blackheads and leaves your skin clear and pure. The kit comprises of a diamond cleanser, a diamond cream, a diamond marrow, a diamond mask and gives you a total value for money.
Pros:
Removes blackheads and ensures a deep cleansing
Contains diamond ash, natural herbs, and almond. It's a rare combination that works towards rejuvenating your skin.
Removes tan
Storage is easy
Cons:
Some may find it too expensive to be a part of their regular beauty routine.
Price: INR 1200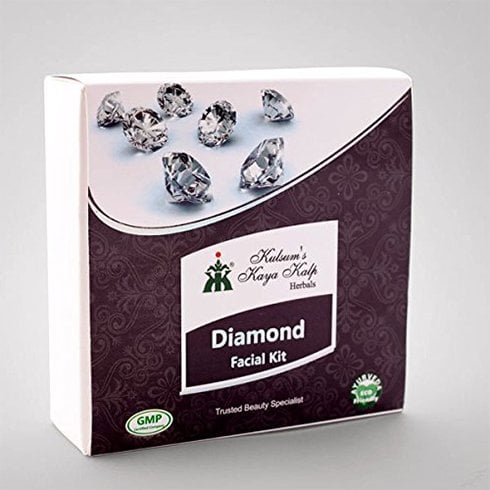 8. Shahnaz Husain Facial Kit:
Shahnaz Husain is hailed by everyone as the ultimate guru of beauty and skin care products, her fame is no more limited to India. Her products have stayed the test of time and gathered more popularity with every next generation. And this facial kit is one more great addition to her line and those who are looking for a skin whitening facial kit cannot afford to not try this one. Shahnaz Husain's Facial Kit deeply cleanses and generously nourishes the skin before lightening it. The kit comes with a tube of seven different products and the directions for using them are detailed on the packaging.
Pros:
Works on every skin type and one of the best facial kit for dry skin and oily skin.
Gives value for money.
Helps remove sun tan.
Delivers results as promised
Skin gets a glow that lasts for days
Cons:
It is enough for a single use only
Price: INR 350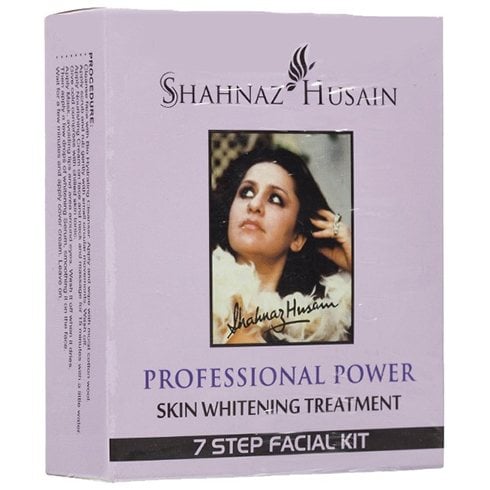 9. Oriflame Facial Kit With Tropical fruits:
With the goodness of guava, papaya, and pineapple, this one from Oriflame is one fruit facial that you will surely fall in love with. The fruit ingredients nourish tired skin and lighten complexion. The pack includes a cleanser, scrub, massage cream, and a mask with directions for use clearly mentioned. After getting through the facial session, take a nap as they advise, and you will wake up to a new gorgeous you.
Pros:
Natural products
Nourishes tired skin
Works on all skin types
Pocket-friendly price.
Hydrates and moisturizes dull skin
Cons:
May not be found easily at every store.
Results will come after a day
Price: INR 699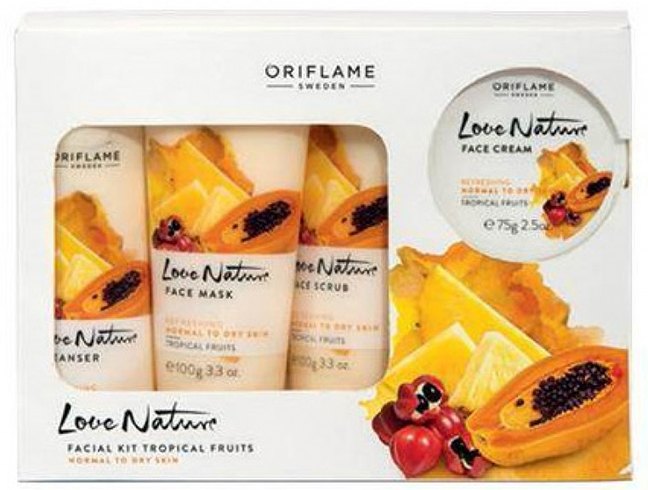 10. Astaberry Wine Facial Kit:
A small glass of wine at bedtime, as the beauty experts say, can do wonders for one's skin. This is what Astaberry tried to capitalize on wisely and came out with this amazing product. The Astaberry Wine Facial Kit makes sure your freckles and dark spots are reduced and increases the firmness and elasticity of your skin. It also controls the signs of aging and eliminates wrinkles if any. We consider it as one of the best products for women above 30.
Pros:
The product carries the goodness of wine, something rarely found in Indian facial kits.
Enriches your skin making it firmer and younger with every use
Works on freckles, blemishes, and dark spots on your face
As the product lasts for about 2-3 applications you get complete value for money.
Cons:
Price: INR 540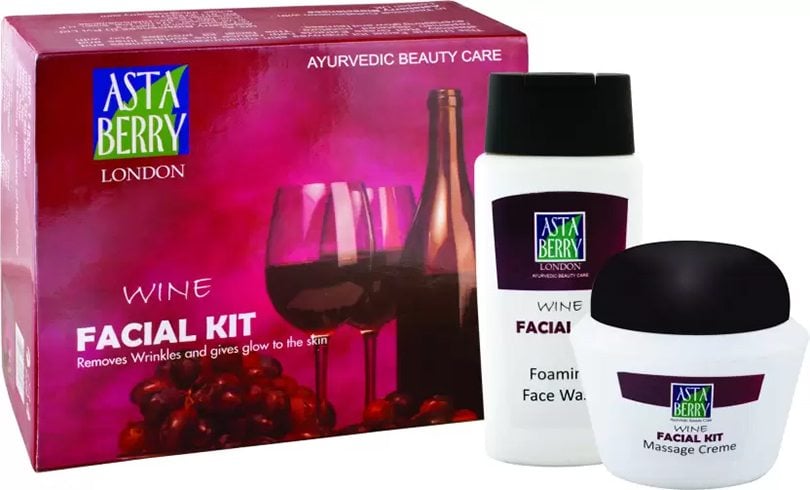 Facial Kit Usage Guide
How To Use Facial Kits At Home?
Before you buy a facial kit, try to understand your skin type and get one that suits you well. If confused, you may take assistance from the beauty advisor at the store.
Read the instructions on the packaging to make sure you understand the process well.
If it's your first time trying a brand, it's always better to do a patch test on your neck or back of your ears.
Reach out to your dermatologist if you see a problem or itching, or talk to a skincare professional so that he can diagnose and treat the problem.
These facial kits are great add-ons to your daily facial regime. Using facial kits doesn't imply you give up your daily skincare regimen. The results of using facial kits will be visible in a greater way if used every fortnightly.
If you see a brand working for you, stick to it for at least 6 months at a stretch.
Regardless of what facial kit you pick, a permanent glow will take at least five to six regular uses. If you are a first-timer in this beauty ritual, we suggest for the first three months to take one facial every 14 days. You will witness a natural glow on your face with a change in your skin tone. After 3 months, you may go for just one facial a month. For beginners again, we suggest start with papaya or fruit facial, and keep the gold and diamond facials for special occasions. The best age to start facials is from 23 to 25. But facials do not substitute a daily beauty routine. In fact, they will only give you a desirable result if you continue with the cleaning, toning, and moisturizing routine every day and exfoliate every 4 days. Now, tell us your favorite facial kit from the list in the comments section below.