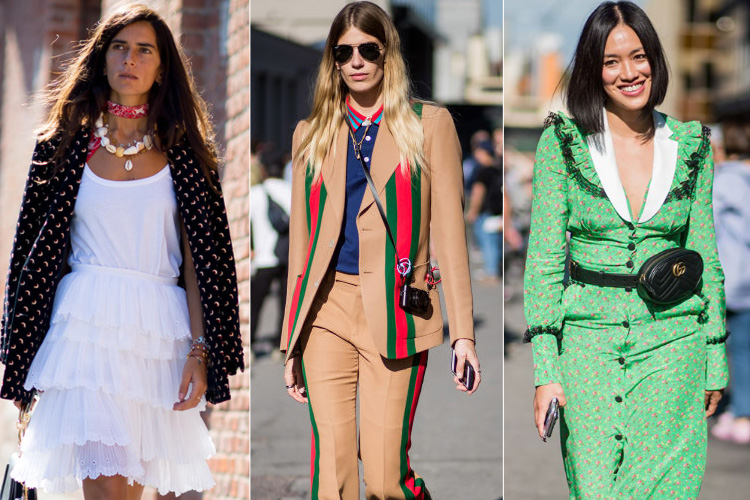 The caravan moved from London to Milan and the streets of the Italian city bloomed with colors, not minding the fall. It's been quite a task to keep up with the fast paced world of fashion, but we tried. Here's a glimpse of everything that grabbed our eyeballs during the week long celebration of fashion.
Starting with the street style, here's a lesson in late summer suiting.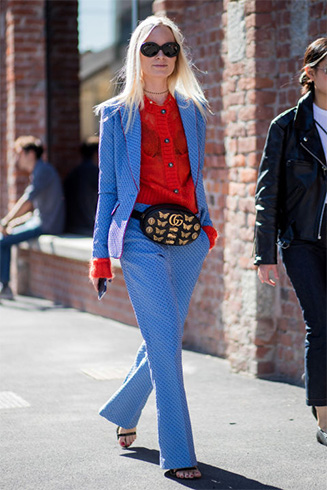 The world went by the mantra – 'Less is More', but now Gucci has turned things to a 180 degree. 'More is More' for this season.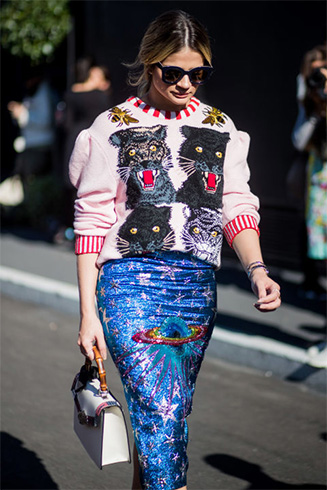 We also caught Taylor Mill enjoying a good stroll in a cropped denim jacket.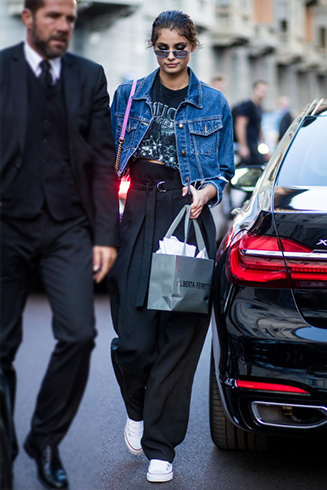 Brace yourself for the autumn, folks – switch denims for velvet trousers.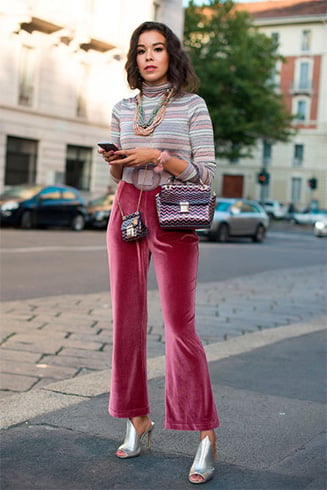 Logo sweater was spotted as the reigning trend. Our models added a ladylike flavor to it. Just love the coordinated skirt with the Tommy Hilfiger shirt.
And here's another one for the logos. Its Gucci this time with its 'More is More' mantra at full display.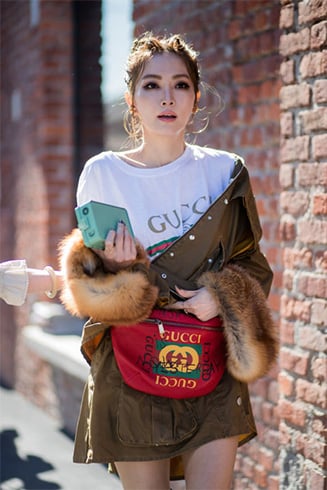 Denim shorts have enjoyed a moment there, now pave the way for some hot pants in leather.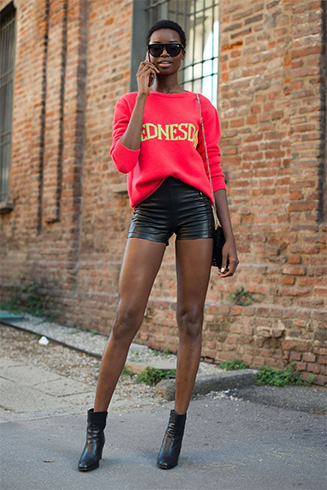 The Christmas feels are a lot here – but aren't we just loving that sweater and knee high red boot combo? Like who needs trousers anyway?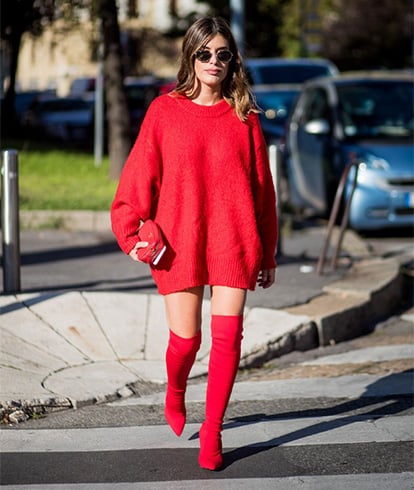 If you thought you cannot wear the same print all over, think all over again!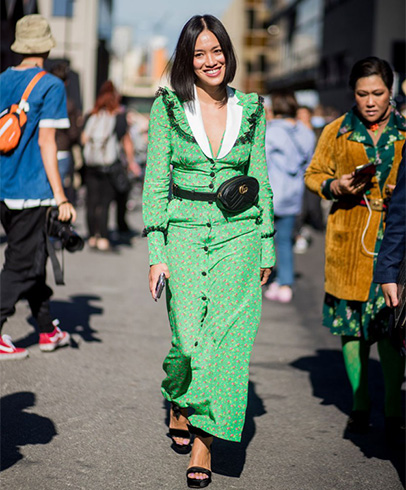 Yaaassss!!! We need our ruffles, and we need plenty of them.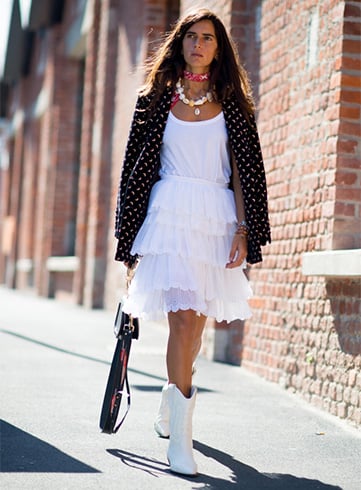 If you ever had a fancy of matching animal prints with abstract art – here is your DIY tutorial.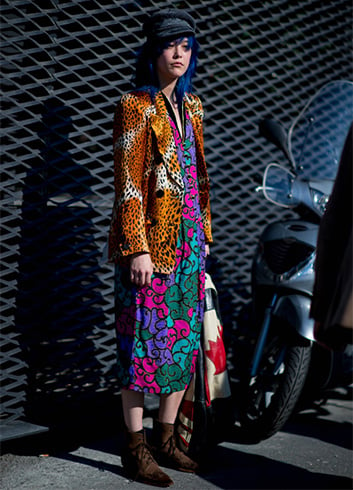 There's a metallic skirt with a rainbow glazing in pride – don't miss the T-shirt sending out the same message.
[sc:mediad]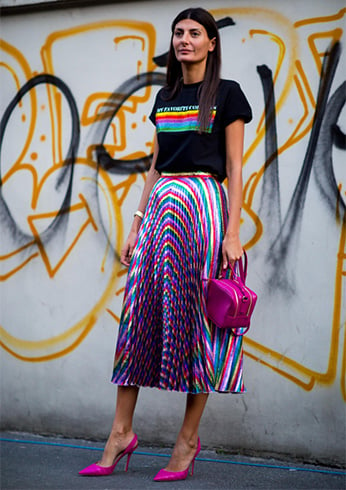 Now didn't we all think Laces, blacks, and black lace dresses were to be kept aside for a dinner date? Elsa Hosk demonstrates how you can wear it even in broad day light.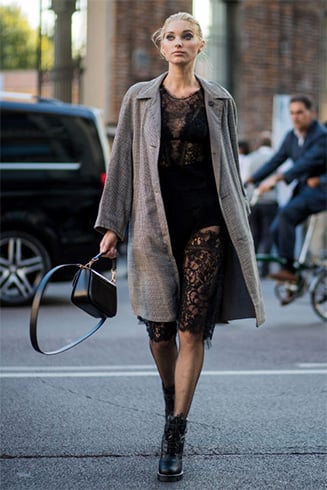 The best for the last – Veronica Heilbrunner in a tailored suit owning the streets of Milan.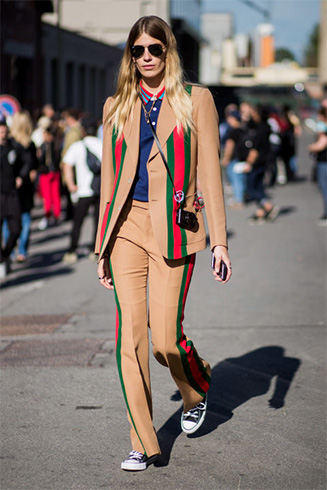 Front Row Fashion at the Milan Fashion Week
Gucci kicked off the MFW show with a coterie of stars, including ASAP Rocky. Scroll on to see what else was on the Fashion menu.
Dolce & Gabbana Show
Sonia Ben Ammar looked stunning in her multi-patterned skirt and white silk blouse.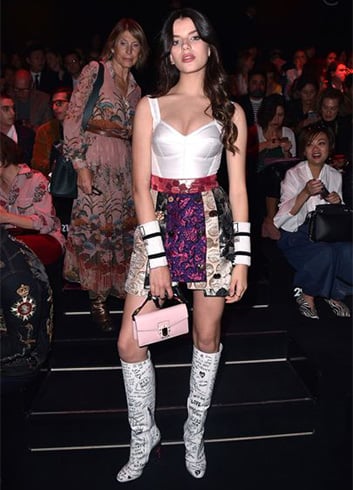 Amelia Windsor teams two classics together – black lace and cheetah print.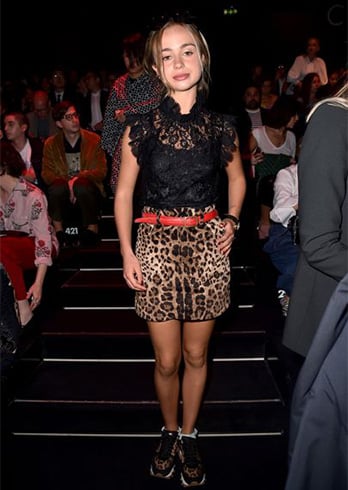 Greta Bellamacina plays it safe in a little black dress – you can never go wrong in one, can you?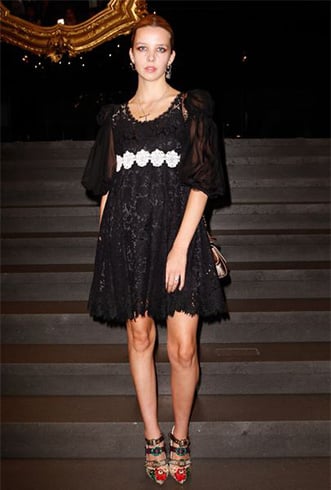 Are we a fan of Kitty Spencer's black and red ensemble? You can guess.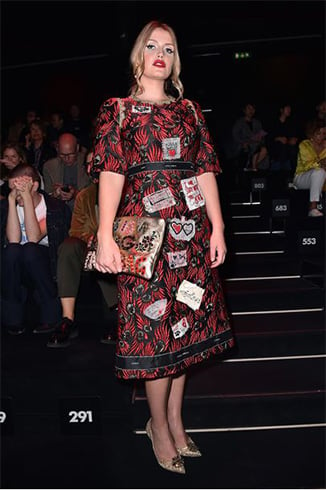 Salvatore Ferragamo show
Anna Della Russo was seen in a sheer frock in hot pink and we are in love.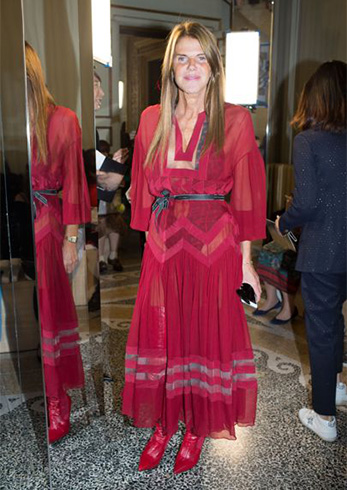 Olivia Palermo is all prepared with her winter arms.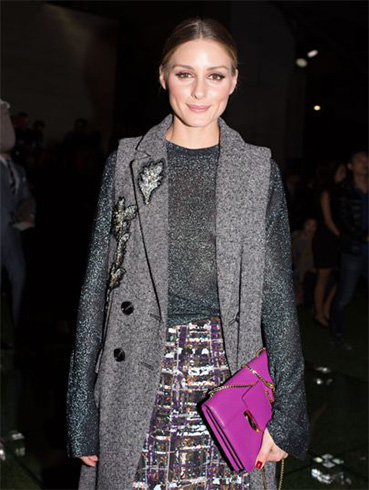 Suki Waterhouse, Immy Waterhouse and Maddi Waterhouse step out in all coordinated outfits.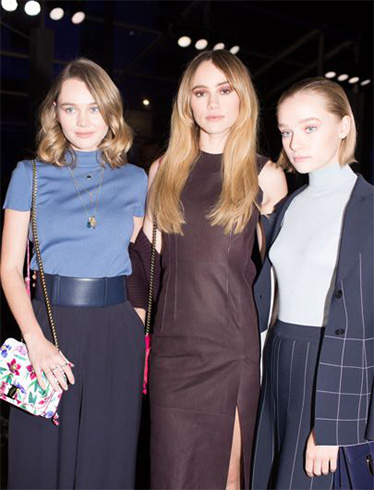 Philosophy di Lorenzo Serafini show
Camille Charriere and Eugenie Trochu complement each other in contrasting shades of light and dark.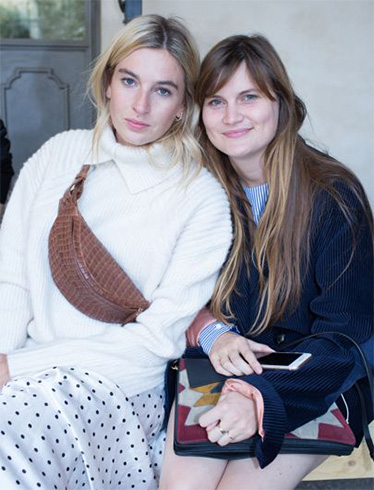 Missoni Party
Margherita Missoni plays the role of a cheerful host dressed in a Chevron print frock.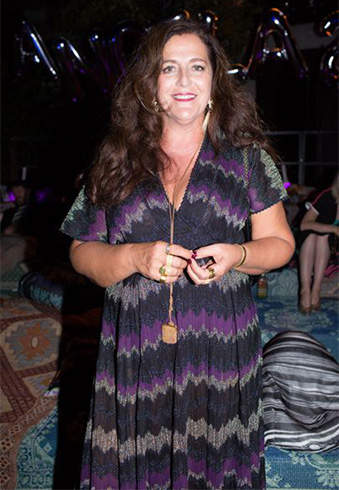 Is that a puzzle going on all over that printed long dress Angela Missoni threw on?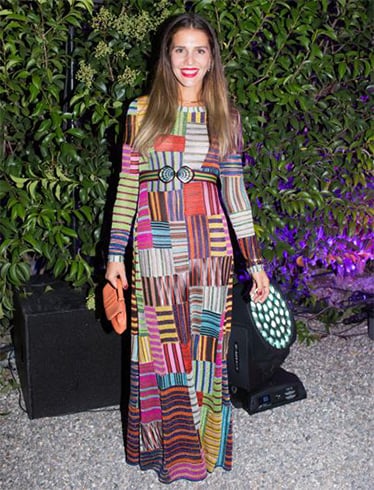 Green Carpet Fashion Awards
The Green carpet of the fashion awards was an added delight. It was the cherry on the cake composed of elite fashion and extraordinary style.
Arizona Muse slays in Stella McCartney dress with its floral-lace combination.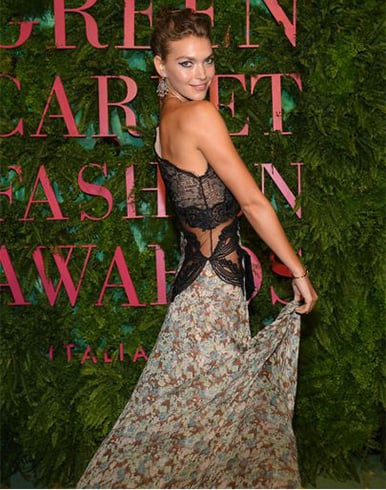 Naomi Campbell looks gorgeous as usual in Atelier Versace gown. The silver of the dress found a befitting change in the feathery detailing. This woman never fails to impress.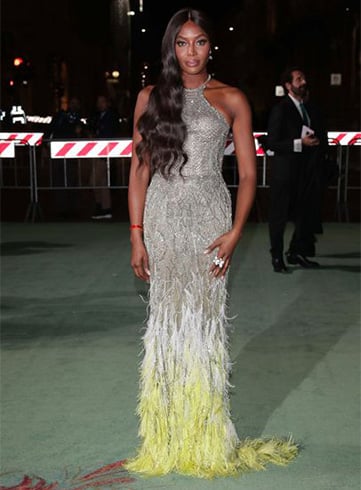 Colin and Livia Firth roll up in a vintage Capucci. Do you see those multi-colored giant ruffles in the mauve gown? You can't miss it even if you wanted to.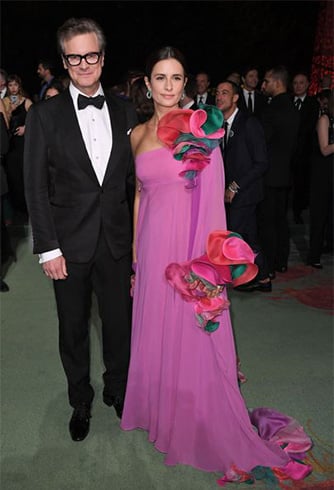 Alessandro Michele and Dakota Johnson pick Gucci for the evening. We totally dig that gold detailing at the bust, Dakota – you look fantabulous.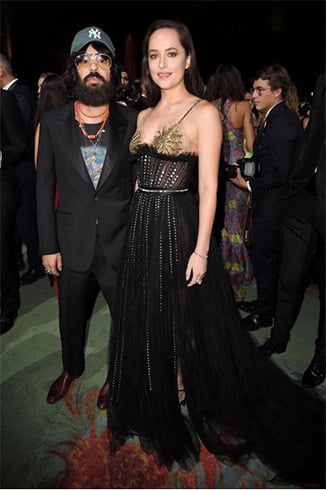 Elsa Hosk looks spectacular in a red hot Alberta Ferretti. The gown sure looks like tons of molten lava – but we have to be honest here. No one is looking at the gown when she made her nips take a peek-a-boo.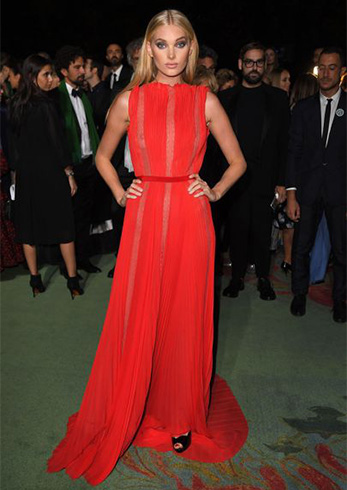 Oh, doesn't Gisele Bündchen look classy and posh in her custom Stella McCartney in green? Love how she has let those manes fall loose in beachy curls.
The last leg of fashion Week has already reached Paris, and we shall continue to update you on everything that's happening in there. Do tune in.
Images Source: theimpression, vogue