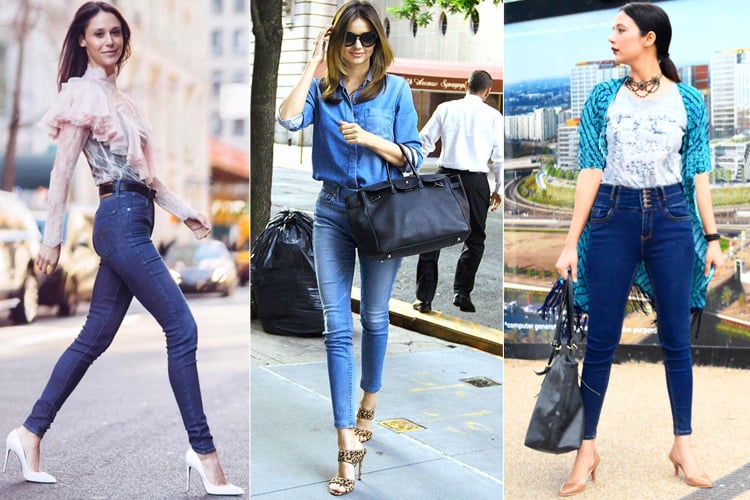 Despite the inrush of trends, the simple skinny cut remains a consistent favorite, and if you're still wearing yours without any qualms, then go on with it. This silhouette has been undeniably season-less and reliable. However, a major hiccup of this style is getting stuck in a fashion rut. The outfits you choose to wear with skinny jeans become repetitive. Hence, we suggest few alternative styles that are simple and just as current, after all, in the end it's about how you style it.
This new perspective can allow you to wear skinny jeans for women in fresh ways daily. Essentially, there is something for everyone, whether its style up skinnies with dressy shoes or skinny pair with rips. These styles are easy to steal and allow bringing your look up to date.
Tricks for Rocking Skinny Jeans for Women:
1. Let's think dressy
This is for those few occasions you don't mind dressing your denims. You can layer a formal blouse on top. The unexpected clash of both is an instant way to look stylish. You can also try a figure-hugging effect of a long top with your skinnies and allow your top-ends to pull out beneath a boxy sweater. A dark patterned top can create an interesting visual interest.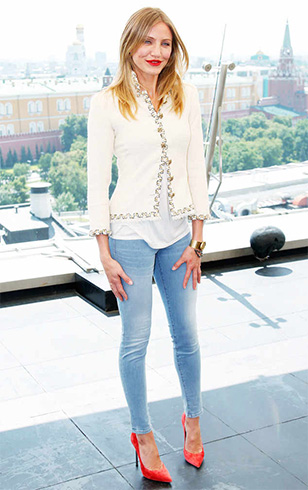 2. Curve for days
Want to show off those sexy curves? Try tucking a slim-fitted blouse with a pair of high waisted skinny jeans. This style can show off your curves or create the illusion of one. For a sophisticated touch to your skinnies, try a delicate necklace or a printed scarf for a touch of flair.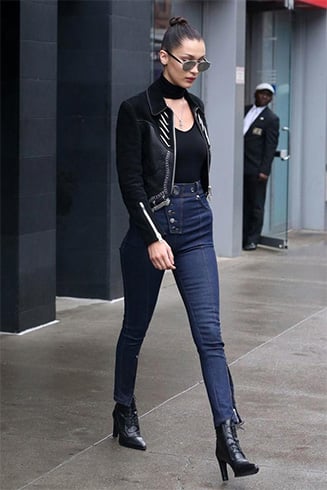 3. Street-chic skinny denims and a fashion hat
Distressed skinny jeans for women can have a polished look too, if you style it right! For a casual outing with your pals, stick with a smart jacket and strappy pumps. For a daytime date, wear your cold knee denims with a fun slogan tee to show off your personality, and a dad's hat to give out a casual vibe. For a night out with your BFFs, choose a distressed denim skirt with a sexy pair of heels.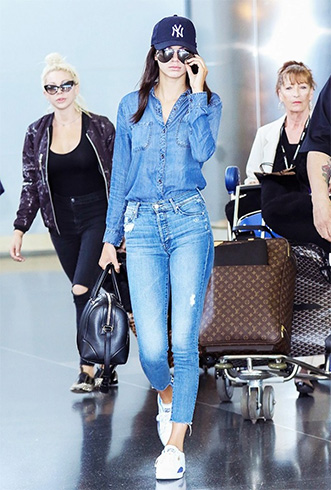 4. Body-skimming vest
Those on the curvier side especially on the bottoms, should look for styles that flatter their body shape. Take for instance, a long body-skimming vest can allow one to achieve right body proportions. Try steering away from boxier shaped vest as it can bring more attention to your thighs and derriere.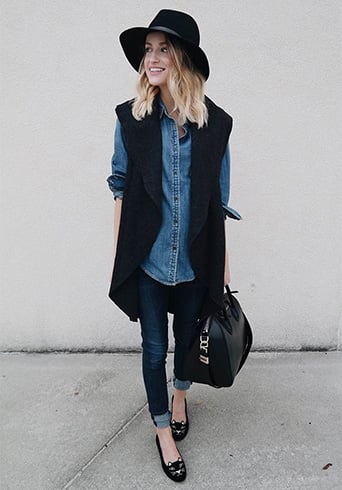 5. Tough-girl leather
Headed for a fierce fun weekend? Create an illusion of biker style by pairing your ripped skinny jeans with a leather jacket. As most would know, this has been a favorite classic mesh. You can wear skinnies and jackets that balance your shape. If you are on the curvier side, then steer away from cropped jackets as this can throw off your body shape. Pair it with few other items like a t-shirt, chunky ankle boots, or flat shoes.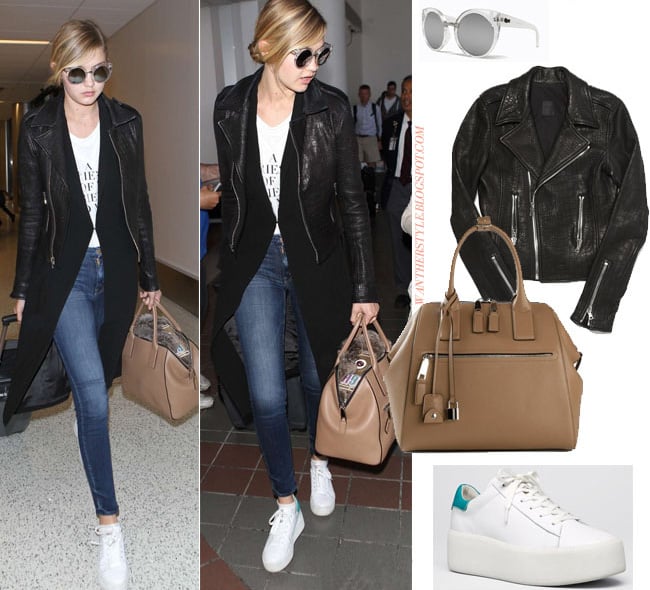 6. Work-skinny denims and tweed
Most of you work in offices that allow wearing denims on certain days. One stylish and comfortable option for work can be skinny jeans. But styling it up enough to look professional can be a challenge for most women. For a more pulled up look, choose from khaki skinny jeans women's in dark hues. If you are in a more creative work space, then you can experiment with oxblood and lighter versions. Layer it with soft printed blouses, structured jackets and menswear inspired loafers.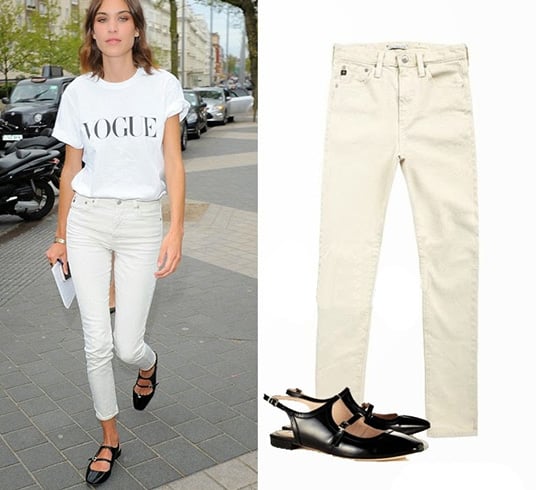 7. One-column of color
Skinny jeans can give an illusion of longer legs. You can accentuate a long leaner body effect by creating a single streak of color matching with your skinnies. To achieve this style, wear your skinny jeans with a top that closely matches the jean shade. For example, if your jeans are in oxford blue then you can pair it with a deep sky blue top.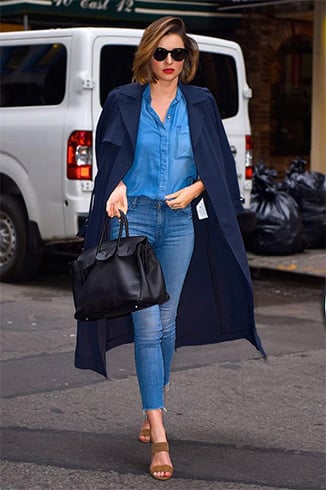 8. Quirky mix up
If you have a slender figure, then you can try this outfit option for a day out shopping with friends and even beyond that! Pair your skinny denims with a short cardigan that rests well at your waistline. Including embellishments like beads, ribbons, and piping can evoke an interesting flair. Play up the look with pointy high heels, ballet flats or loafers.
[sc:mediad]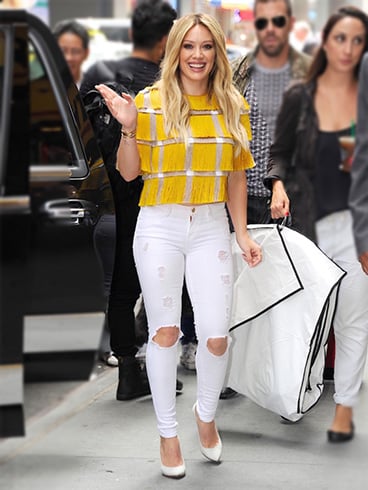 9. Styling your Colored Skinnies
Colored skinnies are a cool option for day out for shopping, weekend outings, and even a causal date. You can wear attention-grabbing skinnies with a denim-hued top or chambray shirt. Dress it up classic gold hoops or tassels, high heels, and a leather tote bag. This look can also be ideal for a creative workspace.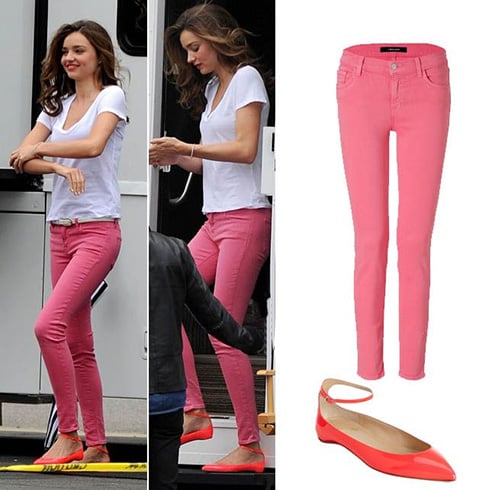 Shoes to pair with skinny jeans for women:
Once you are clear about a pair of skinny jeans, then you can decide upon what shoes you are going to pair it with. You might have plenty of shoe style choices, but be wary of finding the right footwear. This can prevent ruining your perfectly-planned outfit. We suggest you few shoe choices that can go with your slim-fitted denims. This can also save you the time from buying the wrong pair of shoes.
1. Pointy Heels
One ideal match to wear with skinny jeans is pointy heels as it can create an illusion of longer and leaner legs. You should give round toe, square toe, and chunky platform heels a skip while wearing skinny jeans as it can create a thickening effect on your legs.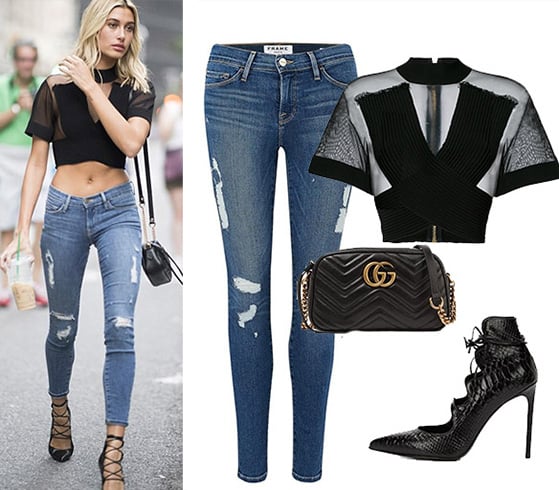 2. Ballet Flats
There is nothing more chic for daytime wear than adopting skinny jeans and ballet flats. If you choose to wear a pair of ballet flats, then go for one that comes with a pointed toe. But if you are petite, avoid wearing ballet flats as it will not flatter your body shape.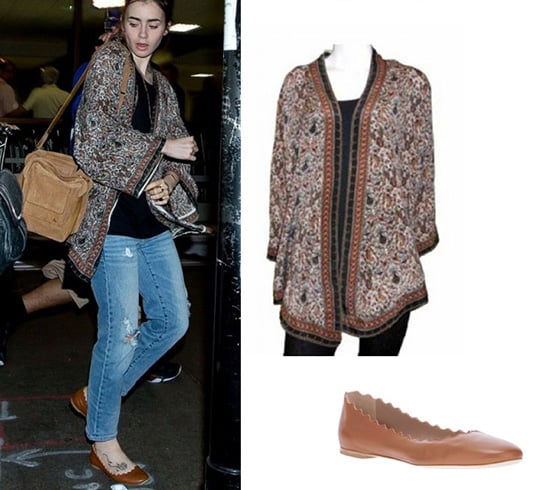 3. Strappy heeled sandals
A pair of strappy high heeled sandals can match with your skinny jeans. You can try strappy heeled sandals in neutral hues for a classic look. This can also be paired with all types of denim washes. Try to avoid wearing bright hued sandals as it might end up looking trashy.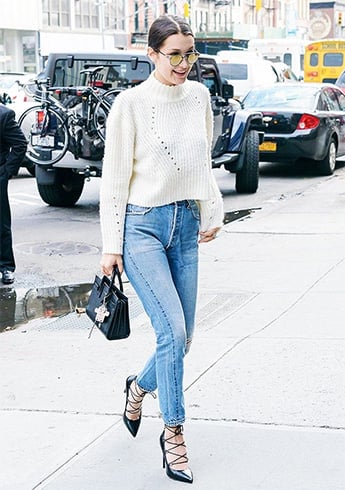 4. Ankle Boots
Ankle boots can be ideal for both casual and dressy affair. But a wrong pair of boots can wear down your skinny jeans. You can go for well-fitted boots that have a pointier edge. For this reason, wedge and stacked ankle boots flatters body shape better. You can also pay special attention to match your boots color with your denim shade as it can help give an illusion of longer legs.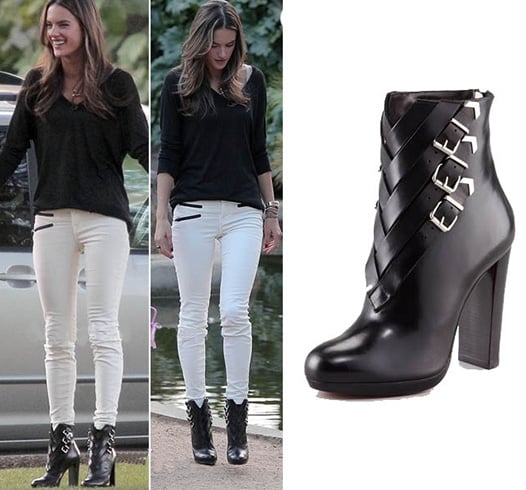 5. Sneakers
Skinny jeans and sneakers are a good combination especially if you make smart choices. For an effortless look, try white sneakers with leather jacket and skinny jeans. You can also put on a tailored blazer instead of wearing a leather jacket. But be wary of going for puffy sneakers as it can visually cut you off.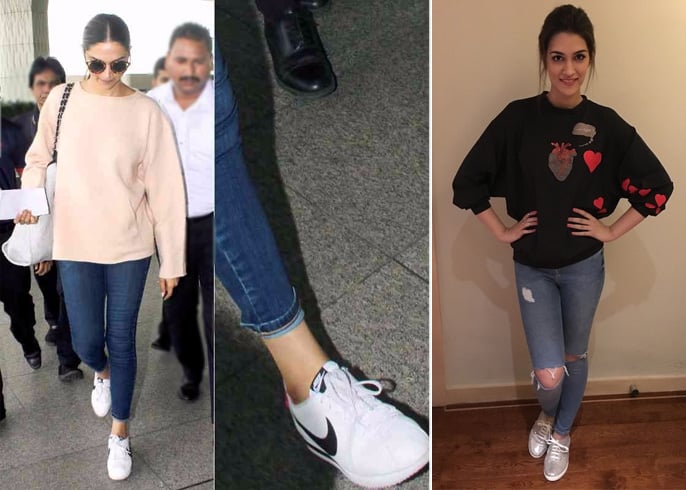 6. Loafers
When you want to give your heels a skip, then a pair of leather loafers is the best way to go. In fact, loafers can also make a great addition for your workday ensembles. You can try slip-on loafers, if you are looking out for comfort, or patent leather loafers for a dressier feel. Trendier styles like metallic loafers should be reserved for after hours. You can match dark hued loafers with dark washed denims and vice versa. But skip wearing loafers with white skinny denims to avoid clunky look.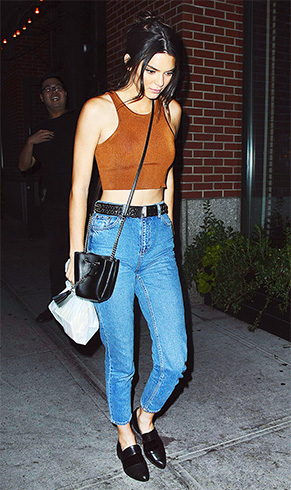 With these few inspirational ideas, you can easily wear one pair of your skinny jeans and look different each day. You can even find cheap skinny jeans or discounted skinny jeans for women online.
Do you have any fashion or style queries? Submit them in the comment box down below or tweet your questions.
Images Source: pinterest