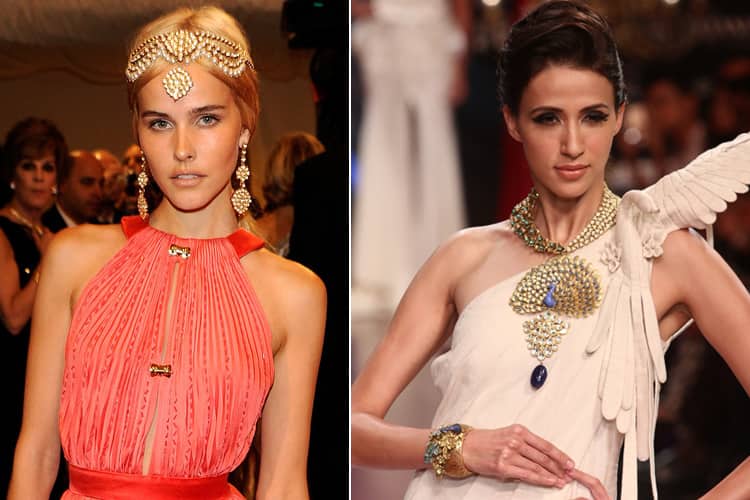 The thing with Indian jewelry is that they can make any outfit look ramp-ready! So when our moms were busy styling their Kundans with sarees, the western world just decided that these Kundans will look equally good with their sartorial experiments too! And needless to say, we have some stunning combinations of ethnic accessories with western outfits that are sure to turn many heads!
Our versatile ethnic accessories go well with western outfits, provided you know how to style them right. Of course, it takes a little bit of sassiness and spark, but you are going to love the results. So let's start!
Meenakari With Dresses:
Meenakari jewelry is one of the prettiest ethnic accessories out there and they can look ravishing when paired with simple dresses. The important point here is to wear dresses that will not overwhelm or dull the meenakari designs because they are a marvel in themselves. Let them steal the show here!
Bangles And Monochromatic Outfits:
For a structured, yet very chic look, pair some colorful bangles with monochromatic dresses. Not only will the pop of color look good but your look also transforms into boho chic with the help of these jazzy bangles. Make sure you keep it simple and not add too many because they might end up making you look clunky!
Bangles also look great when worn with distress jeans. In our Indian culture, a newly-wedded girl will sport a dozen bangles in each hand –and these actually look ethereal!
Sparkles And Kundans For Your Ears:
If you have to take style cues on how to pair your ethnic accessories with western outfits, the best person to take inspiration from is, of course, Sonam Kapoor. The glam diva has been known as a style icon and has paired Indian accessories and western outfits with panache on many occasions. Like in the picture above, she has paired some wonderful Kundan earrings with a shirt to nail her look! Not to mention, the golden jhumkis that she has matched with an aquamarine designer gown. This lady's style is on fire!
Sonam is very bold when it comes to her jewelry choices and is often seen wearing eccentric or statement jewelry with most of her outfits. Don't be afraid to experiment and if you think Kundan earrings are doing justice to your strapless dress or gown, wear them and strut it – there is nothing like wearing confidence!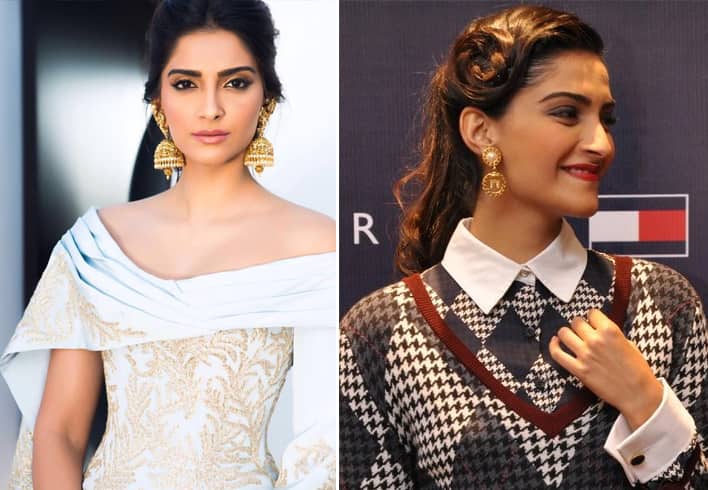 Kundan Necklaces And Dresses:
Now this one is a favorite way for celebrities to flaunt their Kundan wear. These gorgeous and raw cut Kundan necklaces go so well with strapless dresses, or halter neck dresses, or sweetheart dresses. Sonam Kapoor wears her amazing Kundan necklace with a white shift dress. Her look is smart and comfortable. She has also smartly accessorized her dress with flats that are reminiscent of a Greek goddess kind of look. As for Kareena, her sea green wrap dress and golden Kundan necklace set compliment each other completely. Deepika Padukone, on the other hand, is sporting an emerald set Kundan necklace with a black strapless dress – quite a stunning look for a party or a gala evening affair.
Remember, all of them here have downplayed their dresses and kept the focus on the necklaces. Kundan necklaces are always heavy and wearing heavyweight or flashy earrings might make you look OTT. Also, outfits are kept minimalist to let the necklace steal all the thunder.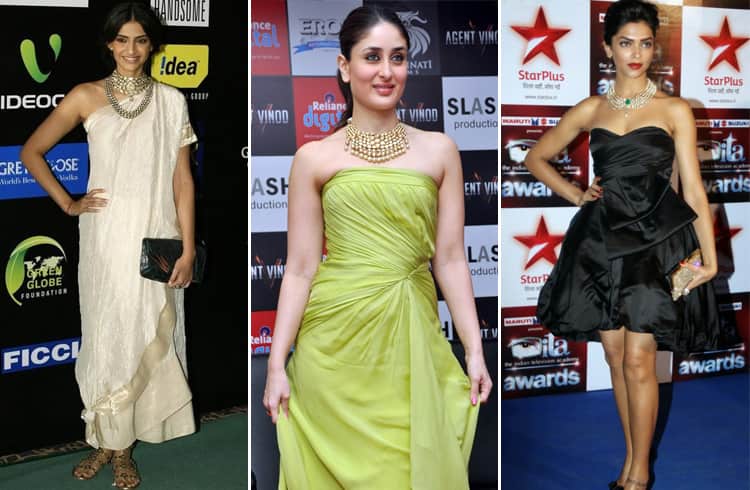 Maang Tika And Western Outfits:
Gone are the days when maang tikas used to be just for the brides. In today's fashion conscious and quirky world, maang tikas have expanded their realm. Recently we saw Deepika Padukone sporting a chandelier maang tika with her sparkly gown. Needless to say, she looked like a literal fairy – glittering away to glory! In another instance, Kangana Ranaut showed off her version of the maang tika (albeit a heavier and more bridal one) in a fashion show and wore it with a halter western dress. This combination too looked stunning and easy to carry off.
[sc:mediad]
So if you are heading to a cocktail party, you can pair a simple maang tika with an LBD to look stunning. Again, remember, the focus here is on the maang tika and not on the dress – so keep the other accessories as simple as can be and ditch the earrings.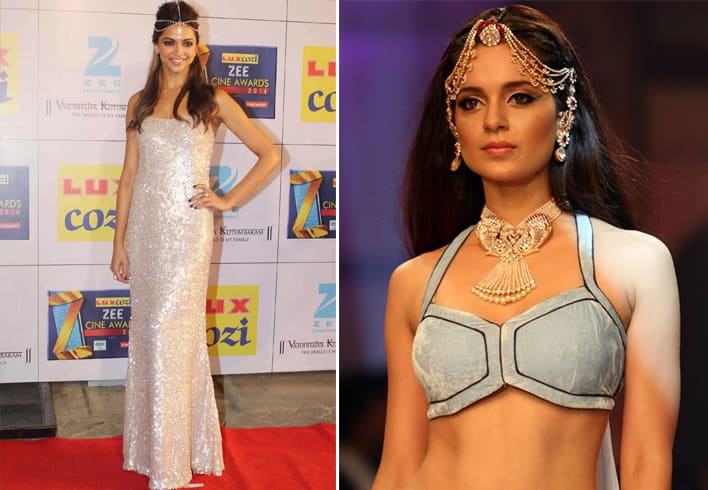 If you are going for an, even more, simpler event, the best option would be to wear a maang tika without any strands with a more somber outfit like the one above. Not only does it look extremely classy, but it also adds a lot of oomph to your look.
See how effortless it is to rock the maang tika with a pair of simple blue jeans:
Rock A Haath Phool:
The haath phool is a version of bracelet that covers your hands. So if you are looking for a rock chick gone traditional kind of look – this is it! A hand-let can easily be worn with a work outfit, a blazer, a dress or an oversized sweater and still look gorgeous. Kendall Jenner and Rihanna have flaunted them with ease and if they can look jaw-dropping with their western looks, so can you!
Flaunt The Payals:
Yes, the humble anklets have made a comeback and they look extremely good! The simpler and the less heavy ones can look extremely good with shorter jeans (and it wouldn't even look like you are heading to a music festival!) Pair them with flats or gladiators and see your look transform into an uber cool one. If you are a fan of heavy trinkets, you can wear them depending on the occasion. Not just denim, but anklets also look super good when paired with dresses. The point is, the focus is on your legs! So choose your anklets carefully and get a pedicure done!
For the more experimental ladies, payals or anklets can also be draped over your boots or booties. But remember to fasten them securely or they might come off!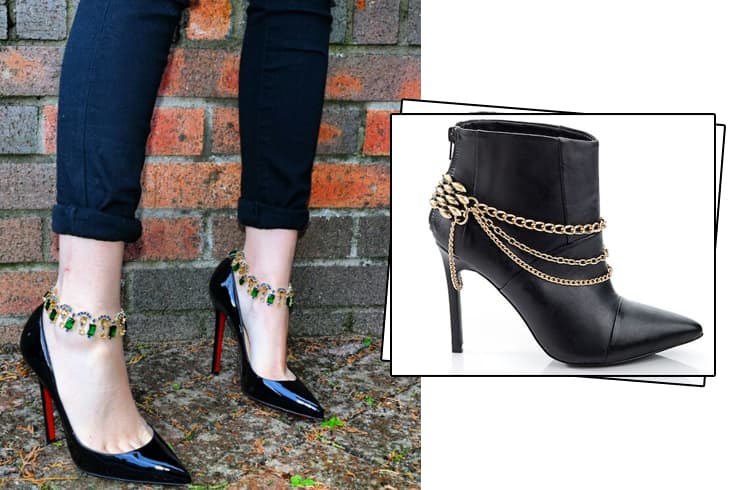 So there you go, here are our best tips on rocking some of our best ethnic accessories with Western Outfits. Our ethnic accessories can add that bohemian charm or that indie-rock vibes effortlessly and without spending a bomb too – as most of us already have a ton of ethnic accessories locked deep in our closets. That are probably waiting for you to take them out for your friend's weddings but now you have a reason to flaunt them even without playing a bridesmaid! Go ahead and glam up your casual avatar! If you have more quirky ideas to pair ethnic accessories with western outfits do share it here to inspire other budding fashionistas.