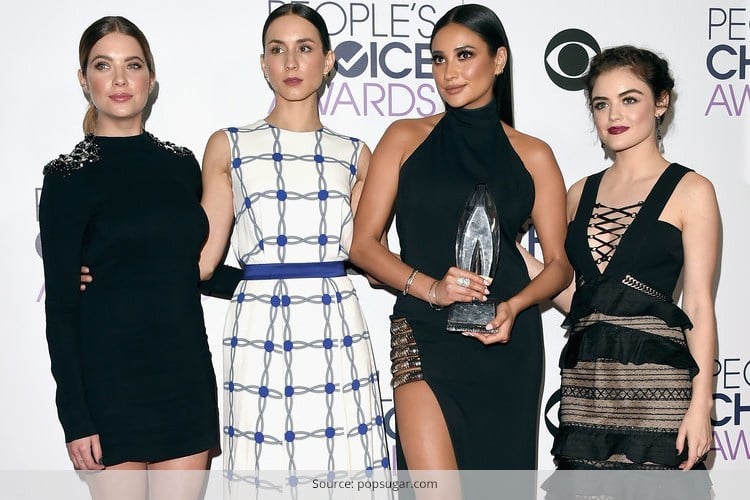 As the year begin I wait eagerly for all these shows because all I want to know is the account of who wore what, or rather, in the world of designer threads, who wore who. For all those like-minded beauties who have landed up in this article, I know exactly what you are looking for. And let me take the pleasure of summing up the People's Choice Award 2016 for you, in terms of fashion.
[Also Read: Here Are The Best Dressed Bollywood Actresses Of 2015]
The PPL Divas: For all the crazy PPL fans, I will break down the style of all the four goddesses. I know a lot of you will be disappointed that our favorite Sasha Pieterse stayed away from this glam event, but the other liars made up for her absence.
Shay Mitchell
Shay Mitchell walked the red carpet just to denounce Angelina Jolie's famous black slit dress, Yaaaas!!!! Move over Angelina Jolie, this is how you wear the slit in 2016. Thanks to snapchat, we know Shay is just back from a Latin vacation and that tan talks for itself. Those legs are sculpted out of unadulterated Shay Butter..errrr.. I mean Shea Butter, and nothing but a slit like that could do justice to that body. On a serious note, this liar was 'unofficially' the best dressed celeb of the entire event and everyone was talking about it. Scroll down and get your eyes blessed by this phenomenal sight.
Lucy Hale
All I wanted to scream after seeing this attire was, Lucy, 'Hale' Noooooo!!! Why would you do something like that? I mean just so much was going on with that Victorian style outfit that the actress's frame was completely overwhelmed. The ruffles, cutouts, sheer panels, and a crisscross neckline make any dress a great work, but when all of them are put into one attire, they mess it up. However, the glossy make-up and the plum lipstick came out for her rescue. And yes, the crown braid was perfection too.
Ashley Benson
One of the central characters of the thriller, Ashley's character is recognized for her distinctive style. The actor did full justice to her role, by walking the red carpet in this black mini dress with an austere look. While flaunting those long well-toned legs, she kept the upper part of the outfit very conservative, hence opting to show a balanced amount of skin. Very clever, Ash. A sleek back hair with a middle partition doesn't work for many people, but was fine on Ashley.
Troian
The gothic scheme created by all the liars was broken by Troian who flashed out in a white Caterina Gatta. The blue and white crew-neck attire had a plain pattern throughout but didn't fail to bring out the best of Troian's figure by hugging her at the waist. The silver clutch and minimal jewelry went well with the look. The mid-partition hair might not have been magical on her, but she was still an artwork to look at.
[sc:mediad]
Priyanka Chopra
Making her debut in American television this year, Priyanka did try her best to stand out at the People's Choice red carpet. Well she did stand out, but I am quite in a fix, not sure if she stood out in favor or not. She was perhaps the most shining of all the stars in the award show, and I mean that literally. Indeed that Award looks great in her hands, and she managed to make an entire planet of women jealous by sharing the stage with John Stamos. But girl, when you get to stand next to a Greek God like John, you just need to look so much more put together. This Vera Wang sequin gown was not really comfortable on the eyes. But congrats on your feat woman, you will be alright.
Kate Hudson
You know what Kate declared on the red carpet – she said that the carpet belonged to her, and boy, can we differ? When you have a personality like that, you can almost wrap yourself in a garbage bag and look like a million bucks. The strapless while jumpsuit might have been plain and unattractive on anyone else, but this 'Rock the Kasbah' star, just rocked every inch of every thread of this apparel with style. The clutch was made to be worn with this outfit and the make-up and hair left us in awe too. Kate, you are the master of your craft.
Keke Palmer
While Lucy Hale ended up lost in yards and yards of lace, Keke demonstrated how exactly you rock the lace with panache during the People's Choice Awards. The crop top with the old Hollywood style sleeve was everything impressive. A plain long skirt complemented the upper half of the outfit and saved her from too much drama happening in the wardrobe department. The hair and make-up stayed to the point.
Vanessa Hudgens
Vanessa was a piece of pure sin on the red carpet of the 2016 People's Choice Awards. But when sin looks like this, who can keep from committing one. Dressed in a KAYAT metallic gown, Vanessa exemplifies how you should shine at the glam destinations. The delicate strappy heels brought down the heaven at her feet, while Pluma Jewelry choker secured her neck. And the bold eye make-up spelled life, period. Let's take a minute to gawk that pose. That pose is eternity.
Megan Trainor
The Songstress has had quite a year and it's success reflected on her face naturally. The entire look of this 'Like I'm Gonna Lose You' singer was truly put together and left nothing else to be desired. The coat-styled black dress, with golden stripes defined her woman curves. The golden pumps were strategically matched with her clutch. By the way, is it only me, who thinks that her golden locks were planned to go with her footwear and hand bag too? If she continues to look like this, we are certainly gonna 'love her like we are gonna lose her'.
So many stars and so much dazzle. We can only crave more style and more fashion. Don't worry guys, it is just the first week of January. We have hordes of Award shows lined up, and I pledge to keep you updated.